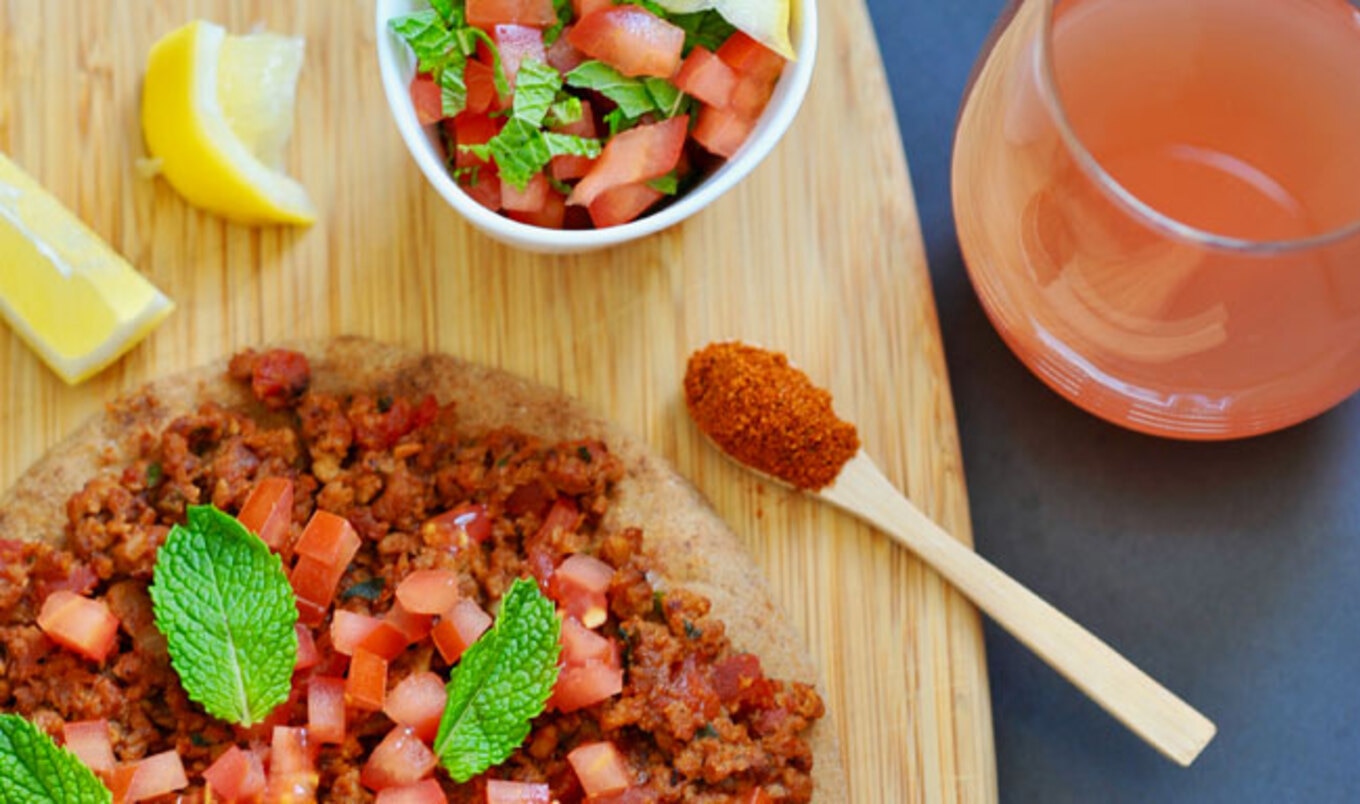 Our veganized version of this Middle Eastern flatbread will have you dreaming of strolls through the Grand Bazaar.
May 9, 2017
Lahmacun, also known as "Turkish pizza," is a crispy Middle Eastern flatbread topped with spiced ground meat, minced vegetables, and herbs. Our easy-to-make vegan version includes plant-based "beef" and spicy, aromatic toppings that'll make your kitchen table feel like a boat ride on the Bosphorus.
 
Serves 4
 

What you need:
 
For the topping:
1 tablespoon olive oil
1 small onion, diced
2 cloves garlic, minced
1 jalapeño pepper, minced
1 12-ounce package vegan beef crumbles
1¼ teaspoon sweet paprika
1¼ teaspoon cayenne pepper
½ teaspoon cumin
½ teaspoon salt
½ teaspoon ground black pepper
⅛ teaspoon cinnamon
¼ cup chopped fresh parsley
1 15-ounce can crushed tomatoes
2 tablespoons water
4 whole wheat pitas
 
For the garnish:
1 fresh tomato, diced
3 tablespoons chopped fresh mint
Lemon wedges
 

What you do:
1. Preheat oven to 450 degrees. If you have a pizza stone, place in oven to preheat.
2. Heat olive oil over medium heat. Sauté onion, garlic, and jalapeño approximately 4 minutes, until onion is softened and translucent. Add vegan beef crumbles and paprika, cayenne, cumin, salt, pepper, and cinnamon. Stir to combine, and cook for approximately 4 minutes, until crumbles are warmed through. Add fresh parsley, mix well, and add tomatoes and water. Stir and cook an additional 5 minutes. 
3. Top each pita with ¼ of mixture, spreading evenly to edges of pita. Bake on a pizza stone or baking sheet for approximately 6 minutes, or until crisp. 
4. While baking, mix chopped fresh tomatoes and mint together in a bowl. Top each baked Lahmacun with ¼ of the tomato salad, and serve with a lemon wedge to squeeze over top. 
Photo courtesy of Leinana Two Moons