Today's Top Stories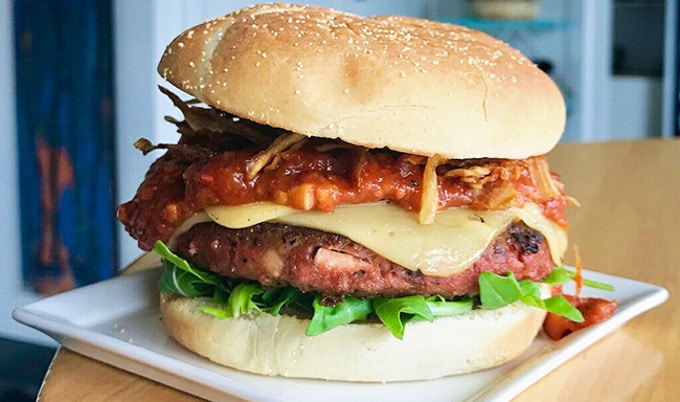 Vegan Burger Enters in Prestigious James Beard Contest
Florida chef Johan Everstijn entered the Blended Burger Project with a Beyond Meat patty topped with eggplant bacon-tomato jam and vegan Gouda.
June 3, 2017
---
This year, a vegan burger is vying for top honors in the 2017 Blended Burger Project—a contest introduced by the James Beard Foundation in 2015, as an initiative to reduce the amount of meat served at restaurants. The contest challenges 300 chefs around the country to create a burger patty that swaps at least 25 percent of its meat for mushrooms. Johan Everstijn, chef owner of St. Petersburg, FL-based vegan eatery The Cider Press Cafe, entered this year's competition with a fully vegan burger made with the Beyond Meat patty blended with mushrooms and garlic, then topped with eggplant bacon-tomato jam, wild arugula, dehydrated onions, vegan smoked Gouda, and served on a kaiser roll. "Although meatless burgers got a bad rap in the past, advances in food technology make the new patties nearly indistinguishable from conventional burgers," Everstijn said. "We challenge diehard omnivores to try our burger and taste for themselves. Our motto is 'vegan for all'—our burger can change minds and eating habits, no compromise in taste required." Contestants are required to keep their blended burgers on their respective menus until July 31, 2017, and winners will be determined by customer votes on social media. Five winners will receive an all expenses paid trip for two to the 2018 Blended Burger event in January, where they will prepare their creations at the historic James Beard House in New York City.
Let's get FABULOUS! Order your copy of the hot-off-the-press VegNews Guide to Being a Fabulous Vegan — filled with everything you need to know to live a super-fabulous vegan life (including our all-time favorite recipes)!
Order Now