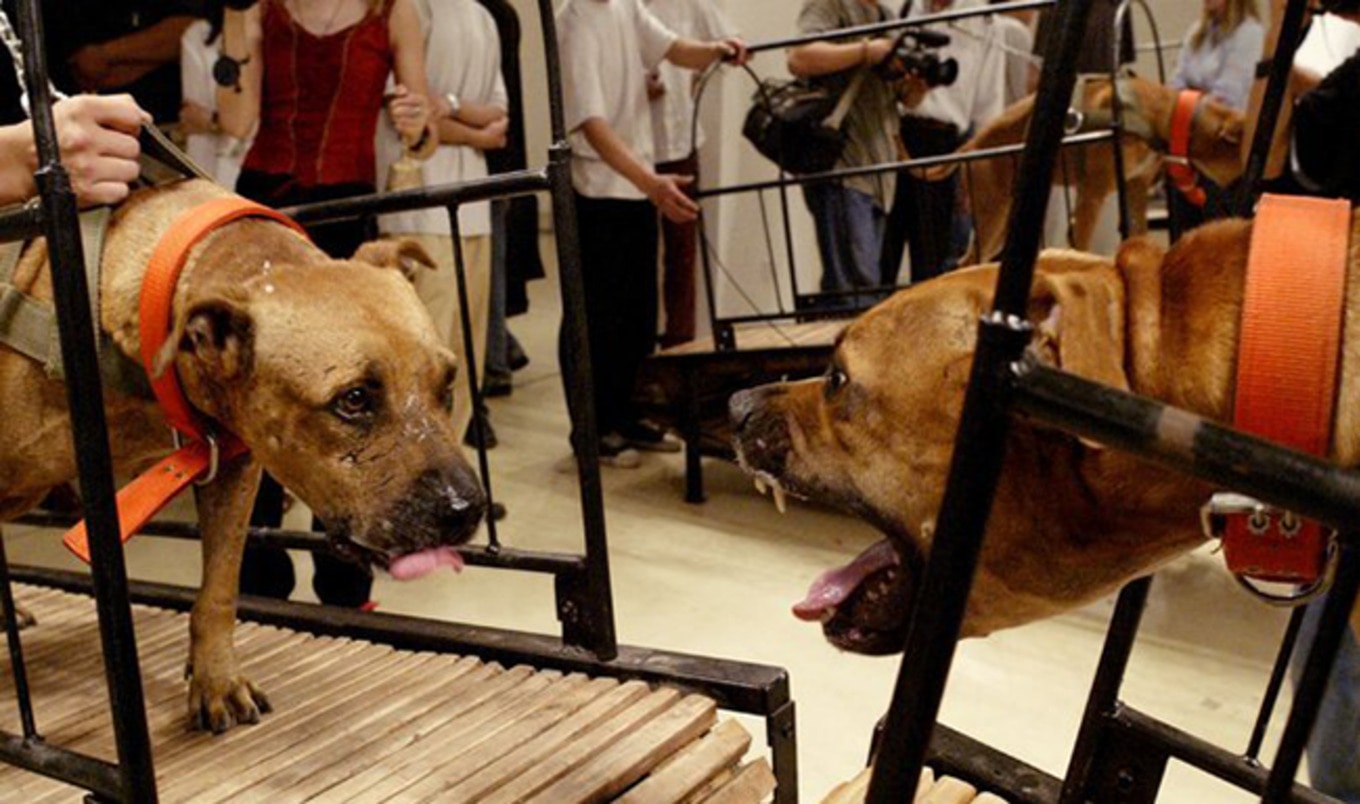 The museum withdrew its intent to display footage of exhausted dogs forced to run on treadmills, tattooed pigs mating, and live reptiles starved to death due to public outrage.
September 26, 2017
---
Three works featuring several forms of animal cruelty from the upcoming "Art and China after 1989" exhibit will no longer go on display at the Guggenheim museum in New York City. The works in question include two videos—one entitled "A Case Study of Transference" in which tattooed pigs are shown mating and another entitled "Dogs that Cannot Touch Each Other" in which eight dogs were filmed as they were chained to a moving wooden treadmill and foaming at the mouth from exhaustion and frustration. The third live exhibit entitled "Theater of the World" would put hundreds of live animals—including geckos, locusts, crickets, centipedes, and cockroaches—on display under a heat lamp while visitors would watch them struggling to survive. "During the three-month exhibition some creatures will be devoured," The New York Times said. "Others may die of fatigue. The big ones will survive. From time to time, a New York City pet shop will replenish the menagerie with new bugs." In a statement released Monday by the Guggenheim, the museum informed the public that the three exhibits in question will not be displayed due to the public outrage they incited. The museum expressed that it pulled the exhibit because it felt concerned for the safety of its staff, visitors, and artists. "Although these works have been exhibited in museums in Asia, Europe, and the United States," the statement noted, "the Guggenheim regrets that explicit and repeated threats of violence have made our decision necessary." The action comes after a petition to remove the works created by animal activist Stephanie Lewis gained more than 670,000 supporting signatures. "Help us send a message to the Guggenheim," the petition said. "Let them know that animal cruelty holds no place in art in the United States, nor should it anywhere in the world. This assault on animals in the name of art will not be tolerated or supported."
JUST LAUNCHED! Get our 10 Easy Vegan Summer Meals recipe book as a FREE instant download.
JUST LAUNCHED! Get our 10 Easy Vegan Summer Meals recipe book as a FREE instant download.