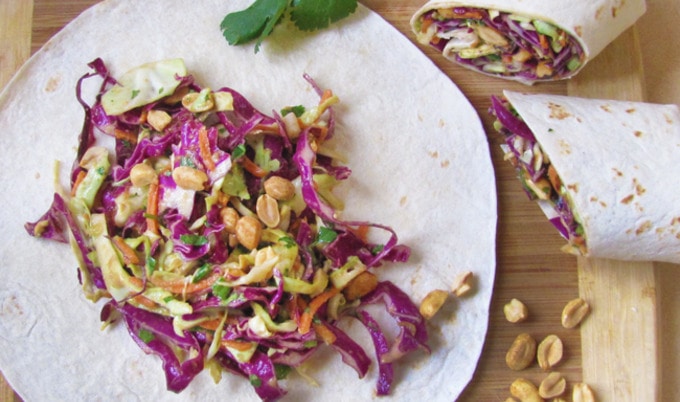 Crunchy, colorful, and easy to make, this wrap ensures you're eating the rainbow.
January 23, 2018
When making any food, including an array of colors is always important. With this in mind, we're loving this crunchy Thai slaw wrap with a simple peanut sauce. The combination of vegetables with crunchy peanuts is a colorful crowd pleaser that will also give your body plenty of nutrients.
Serves 4
What you need:
For the slaw:
2 cups green cabbage, shredded
2 cups red cabbage, shredded
1 cup carrots, peeled and grated
1 cup cilantro, chopped
¼ cup scallions, thinly sliced
1 cup roasted peanuts
For the sauce:
¼ cup peanut butter
2 tablespoons rice-wine vinegar
2 tablespoons agave nectar (or maple syrup)
2 tablespoons soy sauce
1 clove garlic, minced
For the wrap:
4 tortillas
What you do:
1. For the slaw, into a mixing bowl, combine all slaw ingredients.
2. Into a second bowl, combine all the sauce ingredients and stir well to combine, then pour over slaw.
3. Take one tortilla and one cup of the slaw mixture, form wrap, and serve.
Love vegan food and cooking as much as we do?
Get the BEST editor-tested recipes inside every issue of VegNews Magazine. Find out why VegNews is the world's #1 plant-based magazine by subscribing today!