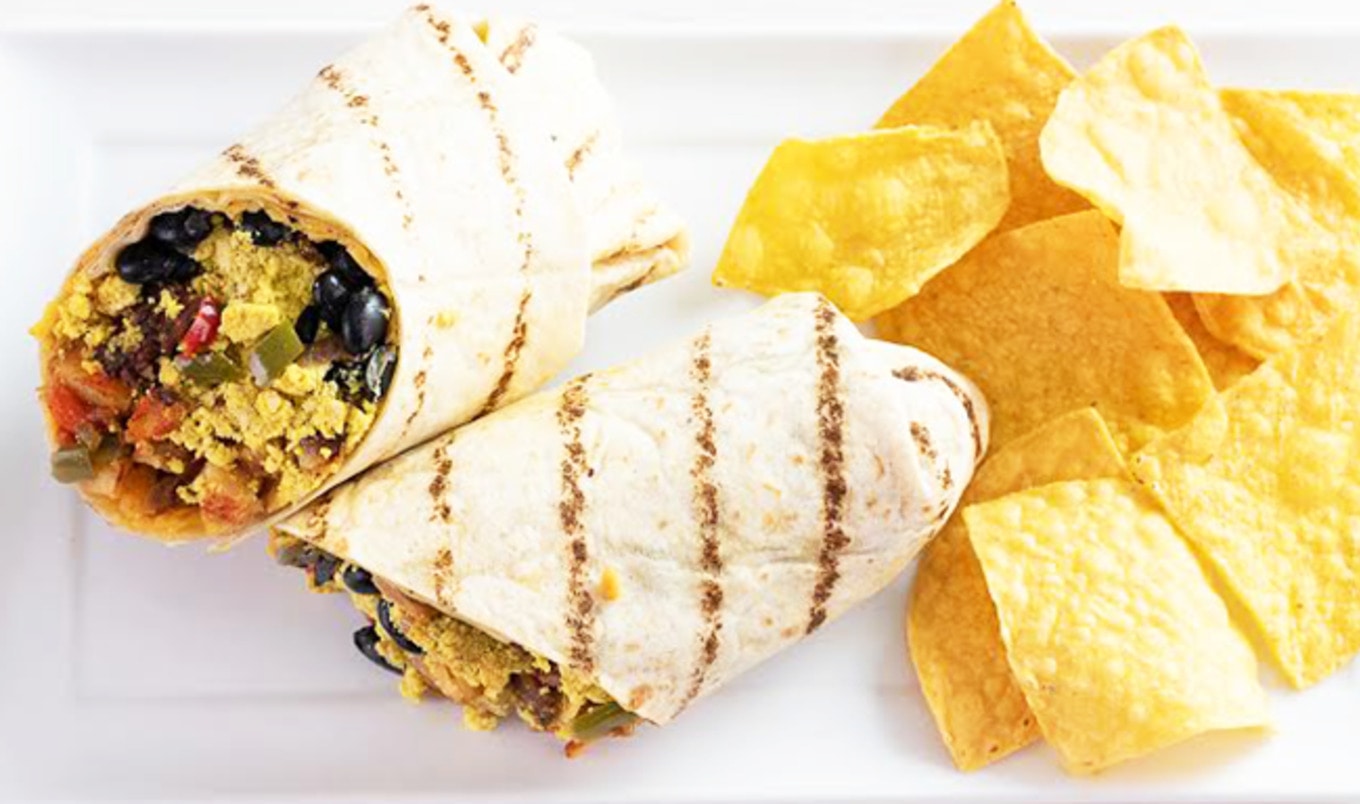 The vegan chain will serve a new breakfast burrito stuffed with mung bean-based Just Egg—formerly Just Scramble—at all locations starting next week.
July 3, 2018
---
Vegan chain Veggie Grill partnered with food technology startup JUST to create its newest menu item, an all-day breakfast burrito featuring the startup's innovative mung bean-based Just Egg, house-made "chorizo," home fries, black beans, cheddar "cheese," and fire-roasted salsa wrapped in a toasted flour tortilla. "Our guests have been asking for breakfast options and we have been working on developing craveable breakfast items for a while," Veggie Grill CEO Steve Heeley told VegNews. "There has not been a great plant-based egg substitute on the market until now, so Just Egg is a perfect fit for our continued product innovation." JUST debuted Just Egg (then called "Just Scramble") last year at restaurant Flore in San Francisco and has since expanded the availability of the new product to deli counters at vegan-friendly supermarket Green Common in Hong Kong and, most recently, Equinox Restaurant in Washington, DC. To actively engage its customers in expanding the distribution of Just Egg, the company has set up a campaign to "demand a better breakfast" on its website, where it lists direct contacts for retailers and chains—such as Walmart, McDonald's, and 7-Eleven—so that customers can request they carry the product. Currently, grocery chains such as Wegman's, Lucky, and Gelson's, along with food-service brands Aramark and Sysco, have agreed to offer the Just Egg. The burrito will be available at all Veggie Grill locations beginning July 11.
JUST LAUNCHED! Get our 10 Easy Vegan Summer Meals recipe book as a FREE instant download.
JUST LAUNCHED! Get our 10 Easy Vegan Summer Meals recipe book as a FREE instant download.