News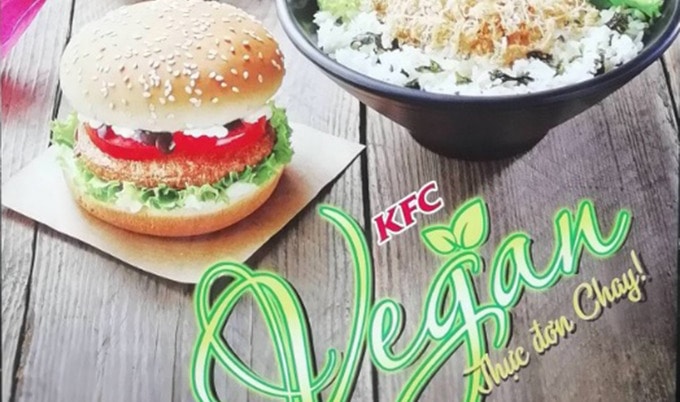 KFC Debuts Vegan Chicken in Vietnam
The international chain added a full vegan menu, complete with chicken sandwiches and salads, to its Vietnam locations before rolling out its plans to expand the offering to the United Kingdom.
July 31, 2018
---
A vegan menu was spotted this week at a Kentucky Fried Chicken (KFC) location in Vietnam. A user of Reddit posted a photo of an in-store advertisement depicting a chicken sandwich and two salads emblazoned with the words "vegan" and "chay"—Vietnamese for strictly vegetarian. According to media outlet CMFE Research, KFC introduced the new menu (which includes two plant-based chicken options) to its Vietnamese locations in July. The launch coincides with the lunar calendar, when the Buddhist population of Vietnam consume plant-based foods on certain days to please deities. Earlier this year, KFC revealed that it is developing plant-based options that it plans to launch at locations in the United Kingdom by 2019. "We know people are more passionate than ever about eating well," Victoria Robertson, Head of Food Innovation for KFC UK and Ireland, said in May, "and we face a big challenge in shifting their perceptions of what we offer."
Let's get FABULOUS! Order your copy of the hot-off-the-press VegNews Guide to Being a Fabulous Vegan - filled with everything you need to know to live a super-fabulous vegan life (including our all-time favorite recipes)!
Order Now