News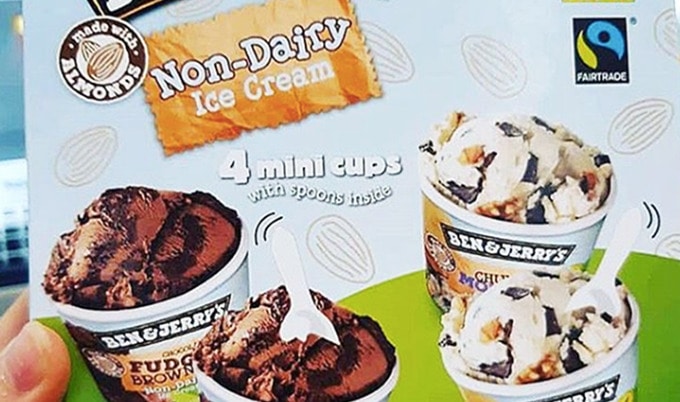 Ben & Jerry's Debuts Mini Vegan Ice Cream Cups
The iconic ice cream brand continues to innovate its dairy-free line, this time with single-serving packs of Chocolate Fudge Brownie and Chunky Monkey flavors.
September 25, 2018
---
Ice cream brand Ben & Jerry's recently debuted a new format of two of its vegan flavors, according to Instagrammer Million Vegans. Almond milk-based Chunky Monkey and Chocolate Fudge Brownie are now available in 100ml (3.4 ounce) cups sold in packs of four (containing two cups of each flavor), complete with miniature spoons. In 2016, Ben & Jerry's debuted its vegan pints in four flavors (PB & Cookies, Coffee Caramel Fudge, Chunky Monkey, and Chocolate Fudge Brownie) before expanding the line to include nine flavors—which comprise 20 percent of its ice cream offerings. Last week, New York-based Greyston Bakery—a producer of mix-in items for Ben & Jerry's pints—reported that its vegan brownie (featured in the Chocolate Fudge Brownie flavor) is its top-selling treat.
Let's get FABULOUS! Order your copy of the hot-off-the-press VegNews Guide to Being a Fabulous Vegan — filled with everything you need to know to live a super-fabulous vegan life (including our all-time favorite recipes)!
Order Now