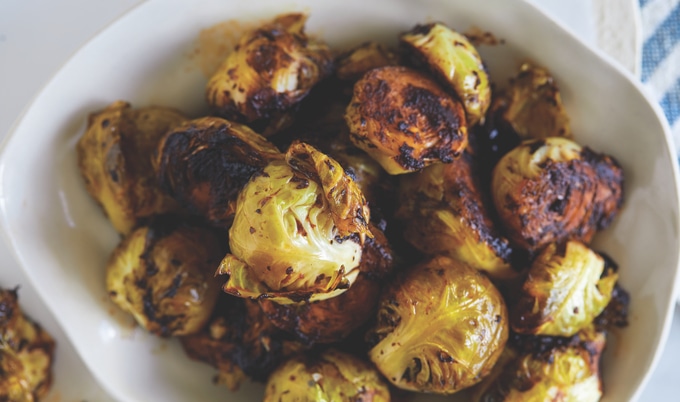 Charred Brussels Sprouts with Black Garlic
Fermented garlic adds a rich umami flavor to these otherwise classic roasted Brussels.
Pair these flavorful roasted vegetables from the Eat Like You Give A Fork: The Real Dish on Eating to Thrive cookbook with creamy mashed potatoes and savory seitan for a classic, satisfying supper.
What you need:
2 tablespoons coconut oil, melted
8 fermented black garlic cloves
2 tablespoons tomato paste
1 teaspoon smoked paprika
2 tablespoons balsamic vinegar
½ teaspoon salt
¼ teaspoon black pepper
1 pound Brussels sprouts, trimmed and halved through stem
What you do:
Preheat oven to 425 degrees. In a large bowl, whisk melted coconut oil, black garlic, tomato paste, paprika, vinegar, salt, and pepper. Add Brussels sprouts and toss to coat.
Onto a baking sheet, spread Brussels sprouts in an even layer and roast for 25 minutes, until golden brown and tender. Roast for four more minutes for a more charred flavor.
Photo credit: Mareya Ibrahim
Love vegan food as much as we do? Then you're going to LOVE the VegNews Ultimate Vegan Meal Planner with THOUSANDS of editor-approved, easy-to-make recipes. On sale now for 40% off!
Click here