California-based vegan brand Ripple Foods recently raised $60 million in a Series E funding round which it will use to explore new dairy-free product possibilities. The vegan brand plans to use funds raised in the investment round—led by Rage Capital, Ajax Strategies, and S2G Ventures—for new product innovations and is eyeing categories such as vegan cheese and dairy-free soft serve.
Ripple Foods, which was created by scientist Adam Lowry and biochemical engineer Neil Renninger, has been using a proprietary pea-protein blend called Ripptein for its vegan milk since it launched in stores in 2016. Since then, Ripple has released a variety of vegan pea protein-based dairy alternatives, including yogurt, creamer, ice cream, and protein shakes.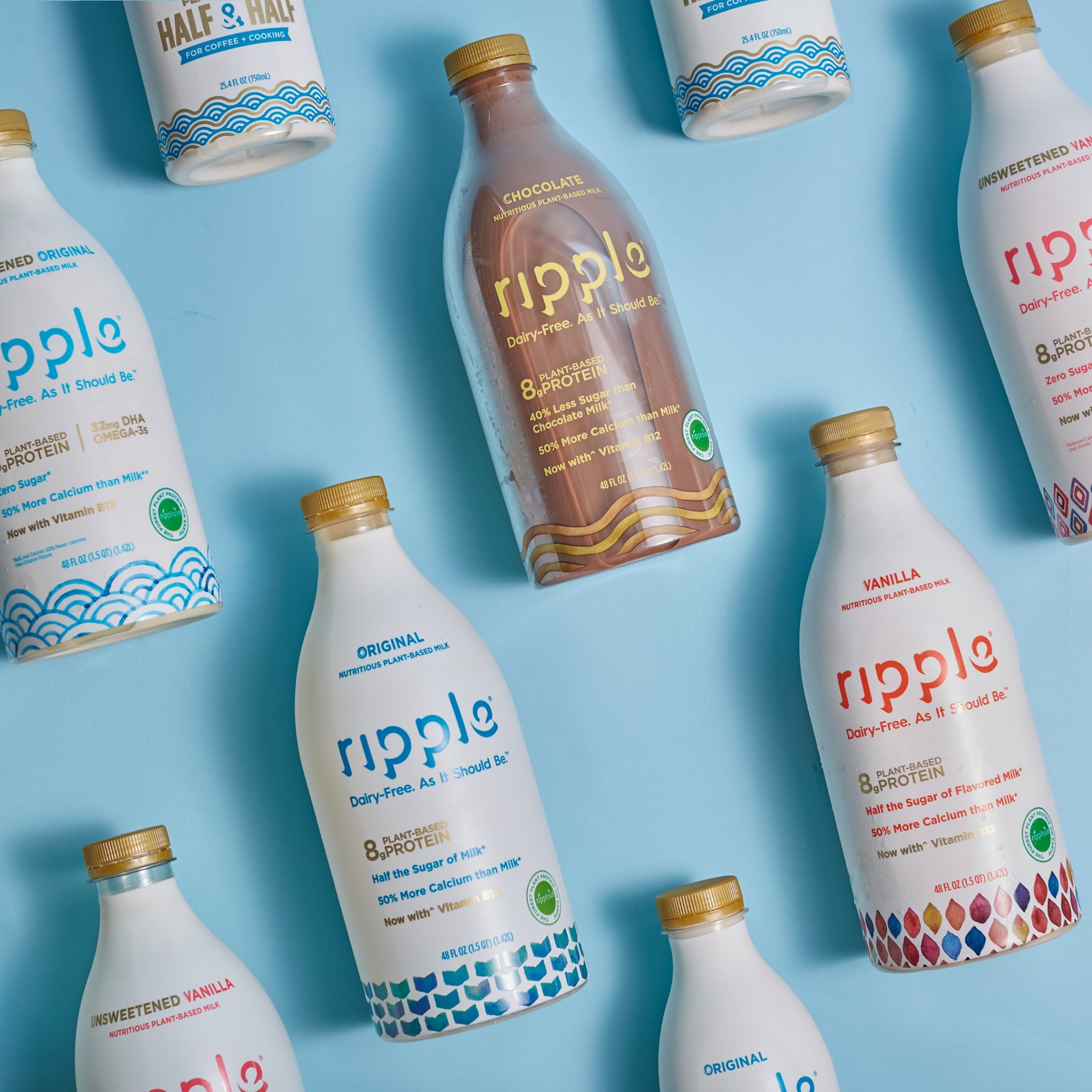 Ripple's dairy-free pea innovations
As it prepares to enter new dairy-free categories with its pea-based innovation, Ripple is making some strides in the plant-based space. According to recent data from market research company SPINS, the US plant-based retail market grew by 27 percent in 2020 and plant-based milk maintained its status as the largest plant-based food category. Sales of vegan milks grew 20 percent to reach $2.5 billion, and though almond and oat milk experienced the most growth, Ripple's pea milk represents a unique segment of the market. According to the brand, its latest vegan milk product, Ripple Kids, is the number one new product in the category at retailers such as Whole Foods Market and Target.
"Ripple will continue to bring new benefits to the milk category, with the most recent example being our Ripple Kids refrigerated milk, which delivers 8 grams of protein in addition to DHA, choline, and prebiotics," Laura Flanagan, CEO of Ripple Foods, told VegNews. "We will also be exploring a number of different categories where we can deliver no-compromise dairy alternatives including soft serve ice cream."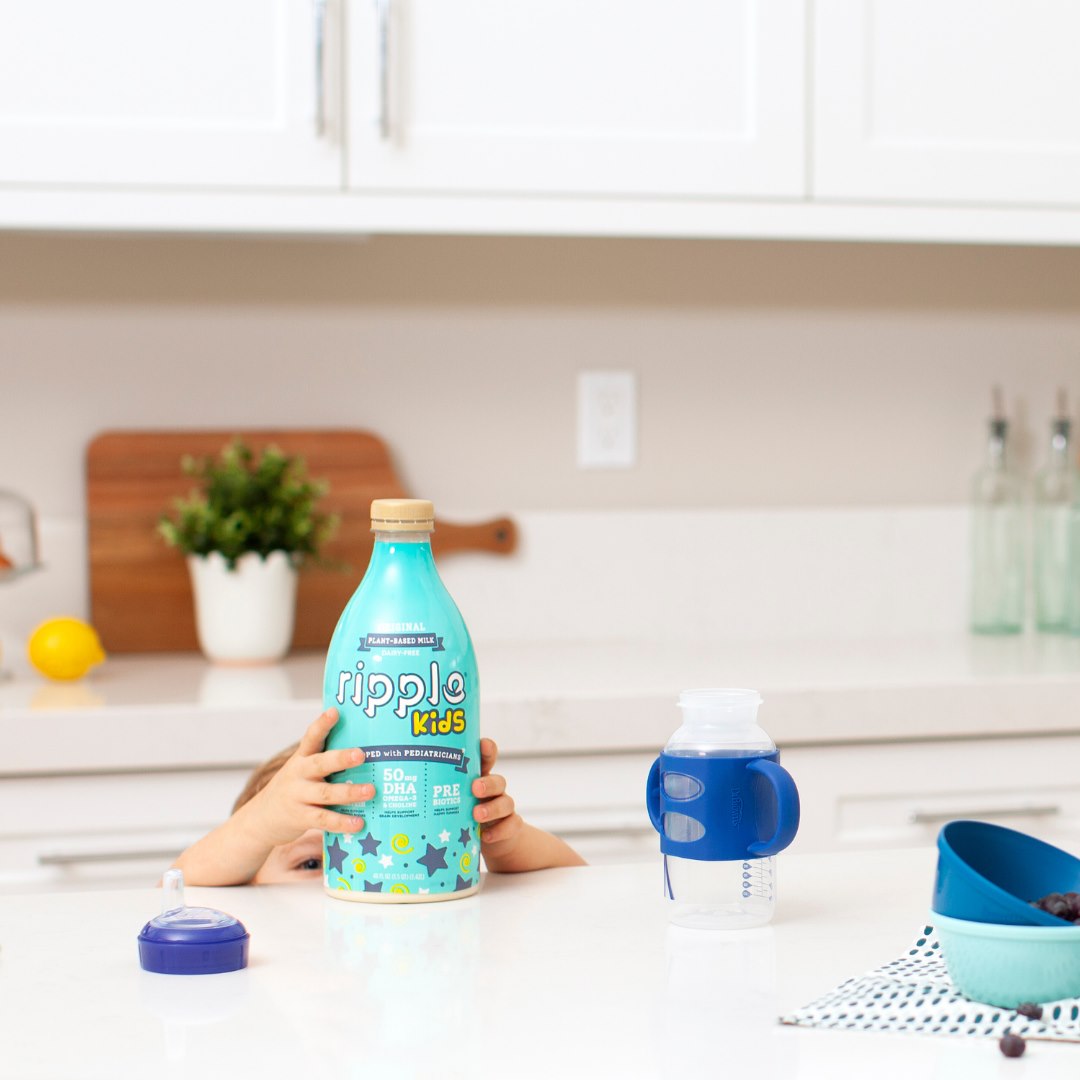 Many of Ripple Foods products are available in retailers nationwide. Its line of pea protein-based yogurt, shakes, and half & half can be found in the refrigerated section of retailers such as Target. Last year, Ripple released its first ice cream line in flavors such as Vanilla, Chocolate, Cinnamon Churro, Mint Chip, and Cookies & Crème. That same year, the brand also expanded its line of protein shakes into 7-Eleven convenience stores across the United States and its vegan pea milk at wholesale retailer Costco. At Costco, the brand offered a three-pack of 48-ounce bottles of the Ripple Original Plant-Based Milk for $8.99 at select stores in the United States.
Why peas?
Ripple uses yellow peas as the base for its products because of the ingredient's high protein content and small environmental footprint. "Peas are a very sustainable crop that is broadly available in the US [and] that is high in protein," Flanagan said. "The downside of peas [is] their taste, particularly in a milk application, but that's where our technology focuses—on getting highly pure pea protein, and pure protein has no flavor."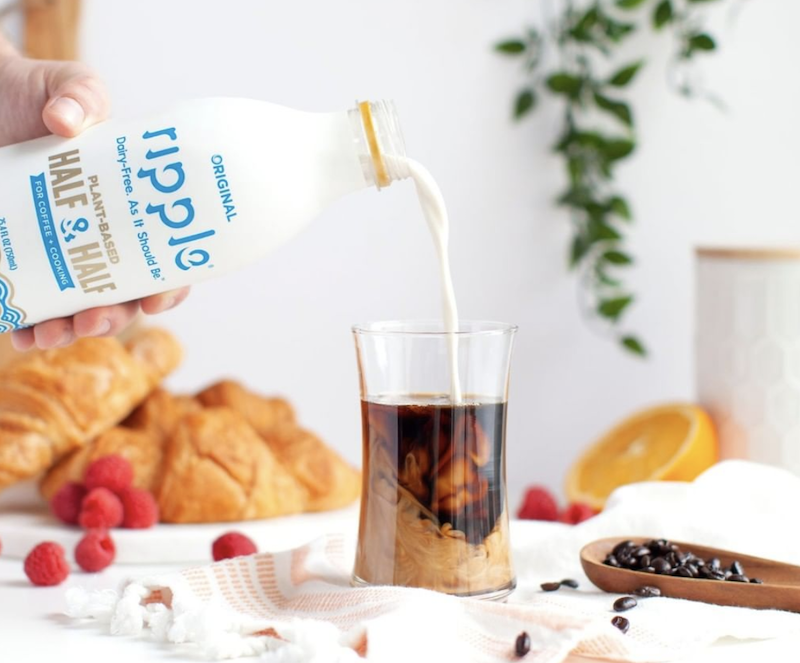 Compared to dairy, Ripple touts that its pea-based milk has zero cholesterol, less than half the sugar, 80 percent less saturated fat, and more calcium and vitamin D—but with the same amount of protein. And, according to the brand, it takes 1,000 gallons of water to produce one gallon of milk, and nearly six times more water to produce the same amount of protein from almond milk than it does from Ripple's pea milk.
"Our investment with Ripple supports its continued growth and success in the milk aisle and its upcoming innovation in new product categories," Chuck Templeton, Managing Director of S2G Ventures, said in a statement. "Ripple is a clear leader in plant-based dairy alternatives, and we are excited to support this team of proven industry veterans as they continue to scale the business."
For more about pea protein, read:Farmers Plant 20 Percent More Peas To Meet Vegan Meat Demand
Swedish Vegan Pea Milk Brand Raises $6.5 Million To Go Global
Dietitians Tout Benefits Of Pea Protein