From now until January 18, 2022, customers at Subway shops in Singapore can order a sandwich made with Plant-Based Chicken Schnitzel. The new meatless chicken patty is supplied by Nestlé-owned foodservice brand Harvest Gourmet and is made with a soy protein base and comes breaded to resemble a traditional German schnitzel cutlet. While Subway is advertising the new protein as "plant-based," the meatless chicken is made with animal-derived egg whites.
Subway operates approximately 50 locations in Singapore and the new meatless chicken schnitzel is its first meatless protein option. The menu in Singapore is similar to other outlets and includes a Veggie Delite vegan sandwich (made with an assortment of vegetable toppings) and a Veggie Patty sandwich (which features a patty that contains egg).
Sandwiches made with the meatless chicken are priced at S$7.50 ($5.48 USD) for a six-inch and S$12.50 ($9.13 USD) for a footlong.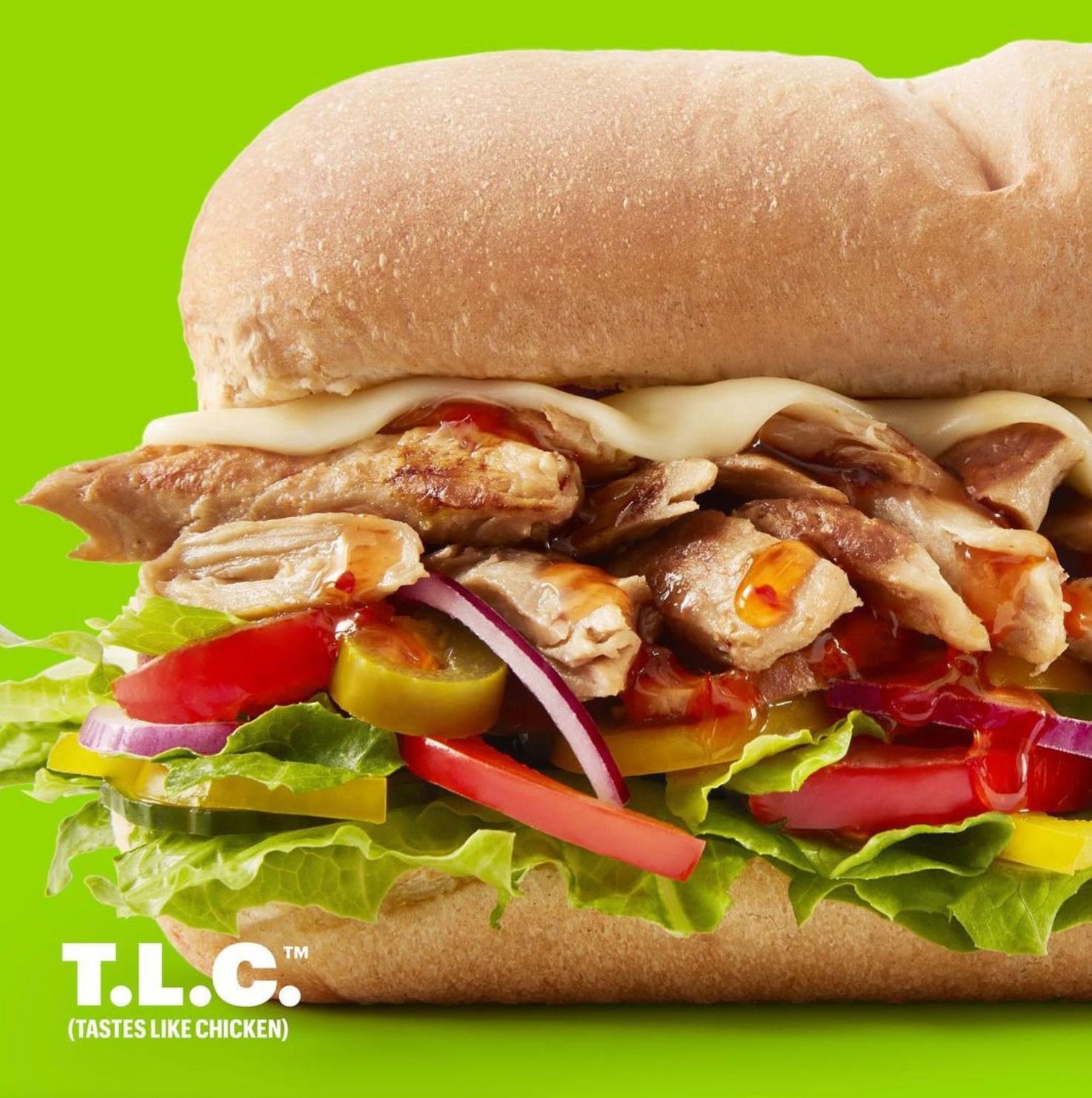 Vegan chicken at Subway
The launch of the Plant-Based Chicken Schnitzel represents the first time that Subway has served meatless chicken in Singapore. However, the chain already serves sandwiches made with vegan chicken elsewhere in the world.
Last year, Subway added the T.L.C. (Tastes Like Chicken) Sub to its locations across the United Kingdom. Made to mimic the taste of Subway's roasted chicken breast strips, the chain spent 10 years developing the soy-based vegan chicken. The T.L.C. is fully customizable and comes topped with Violife vegan cheese slices and a variety of vegetables. Subway UK's vegan options also include a Vegan Double Choc cookie, Meatless Meatball Marinara (which comes with vegan cheese), and a Plant-Based Patty (which is seasoned with red pepper, chili, garlic, and red onions).
In September 2019, Subway began testing the Beyond Meatball Marinara (a meatless sandwich made with Beyond Meat's vegan meatballs and topped with dairy cheese) at many of its locations in the United States and Canada. While the test resulted in a wider rollout of the vegetarian sandwich to thousands of locations across Canada in January 2020, Subway has yet to announce plans for a national expansion of the sandwich in the US.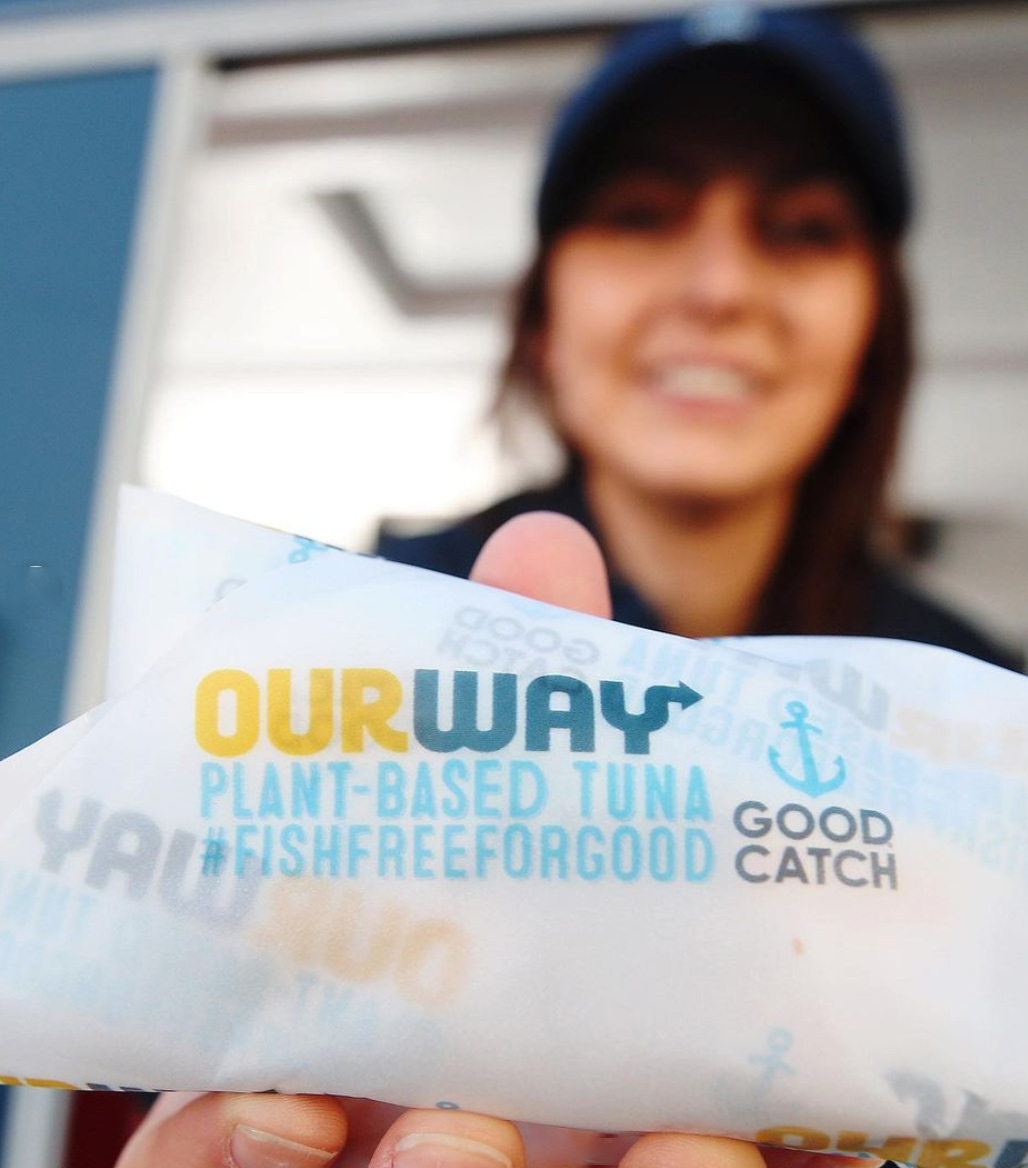 Subway's plant-based promise
Earlier this year, a lawsuit filed against Subway by two customers earlier this year alleged that the sandwich chain's tuna did not contain any fish. The legal proceedings sparked a New York Times investigation to determine if Subway's tuna was indeed fish-free—the verdict is still out. Plant-based seafood brand Good Catch ran with the idea and trolled Subway by giving out "real" fish-free sandwiches made with its own vegan tuna in front of Subway locations in several cities from a van outfitted with an "OurWay" signage made to resemble Subway's slogan. The goal was to show customers that fish-free sandwiches "with no catch"—as in bycatch—were a good thing.
The stunt was part of a larger #FishFreeForGood campaign organized by Good Catch that demanded Subway ditch fish to save our oceans. And while Subway did not fully oblige, the chain did make a bold announcement. Subway sent Good Catch a cease and desist letter in which it addressed its intent to launch more plant-based options. "Subway is not surprised that your company believes that consumers want environmentally friendly food options," the letter stated, noting that the chain is "adding more plant-based options to its menus to meet growing consumer demand for meat-free alternatives."
For more about vegan options at Subway, read:
How to Order Vegan at Subway: A Sandwich Lover's Guide

Subway Expands Vegan Meatball Sandwich Across UK

Subway Adds Vegan Chicken Sandwich to UK Menu