Plant-based options might soon hit the menu at Subway in the United States, the chain revealed amidst a controversy involving its tuna sandwiches. In January, a lawsuit claimed that Subway, the world's largest sandwich chain with more than 40,000 locations, was selling a "mixture of various concoctions" in its popular tuna sandwiches. The plaintiffs alleged that the hero ingredient wasn't what it was being marketed as, but was instead, "made from anything but tuna."
Then, last month, the New York Times revealed the results of its own analysis following the lawsuit. It sampled five-feet's worth of Subway tuna sandwiches purchased from locations across Los Angeles. Its analysis also came to a similar conclusion as the lawsuit.
"No amplifiable tuna DNA was present in the sample and so we obtained no amplification products from the DNA," read the lab results. "Therefore, we cannot identify the species."
A spokesperson for the lab that tested the tuna told the Times that there are two conclusions. "One, it's so heavily processed that whatever we could pull out, we couldn't make an identification. Or we got some and there's just nothing there that's tuna."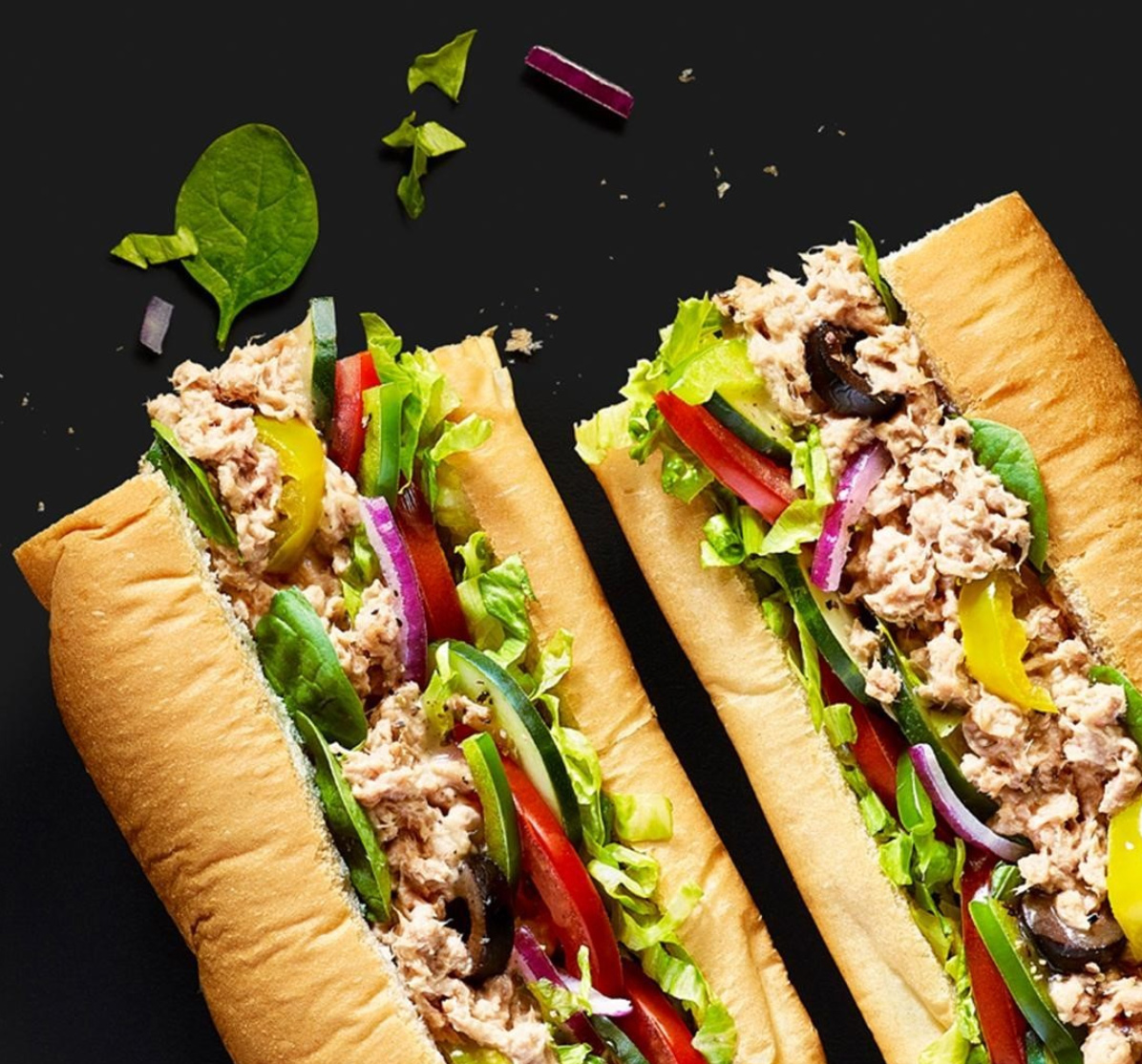 Subway
Seaspiracy exposes the fishing industry
The timing couldn't be worse for the chain. Earlier this year, the Netflix documentary Seaspiracy exposed corruption and destruction tied to the global fishing industry. The film launched as consumers have already been shifting toward more meatless options.
It has been five years since Beyond and Impossible burgers made their market appearances. They are now sold in major restaurant chains and supermarkets across the country, gaining popularity with flexitarian consumers. But plant-based seafood options have been slower to make a splash in the meatless market. Plant-based brand Good Catch Foods is aiming to change that, though.
Vegan seafood
Good Catch, which launched with vegan tuna in 2019 and now also offers crab cakes and fishless filets, trolled Subway locations last week with food trucks branded as "Our Way" using the Subway font. The trucks served "real" vegan tuna sandwiches outside of select Subway locations in three cities.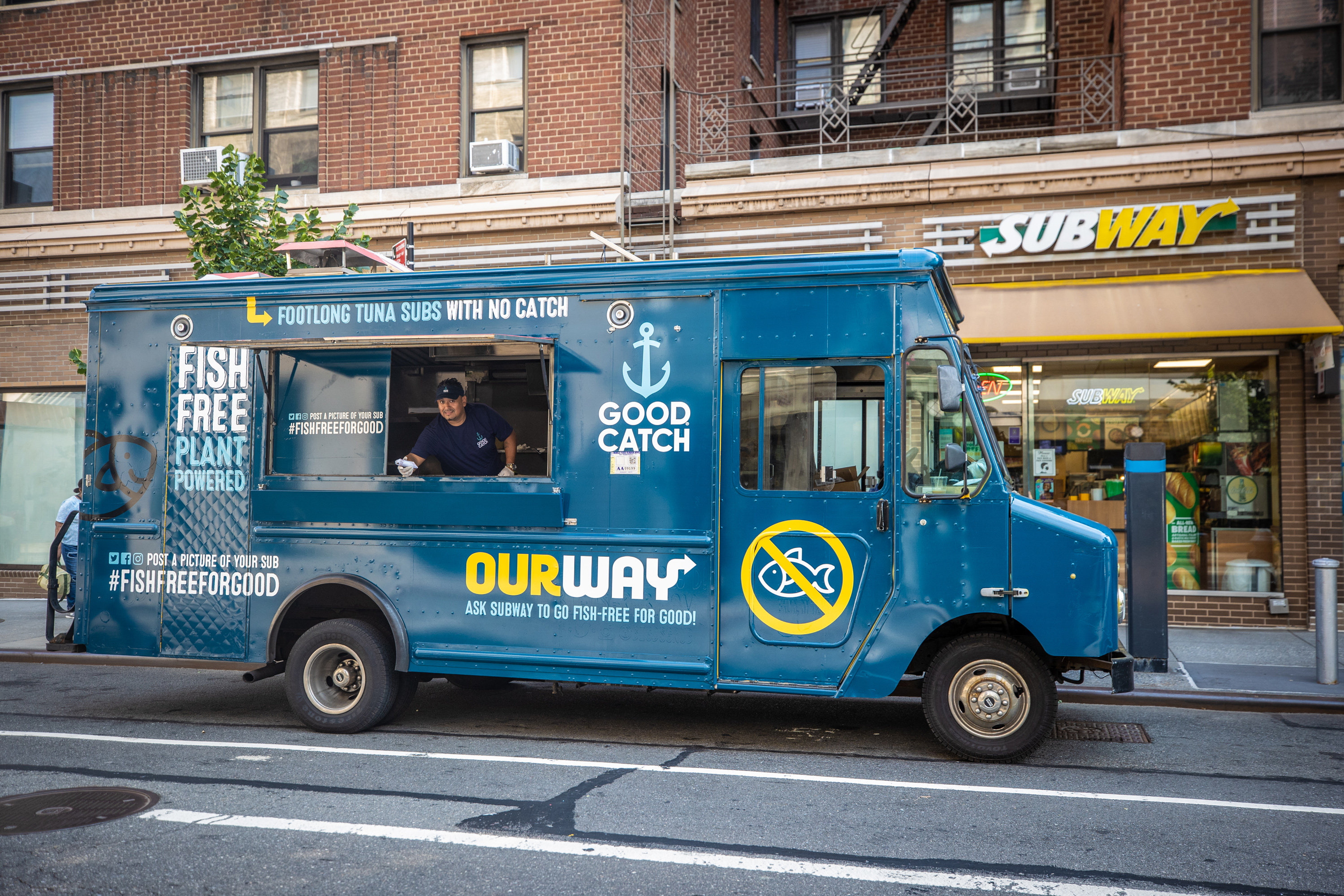 Good Catch Foods
"Our mission is to make plant-based seafood that's good for the sea and all life who call it home. Large commercial fishing is one of the most destructive activities in our oceans," Chad Sarno, co-founder and Chief Culinary Officer at Good Catch, said. "We can do better. We're here to offer great tasting seafood alternatives without bycatch, mercury, or environmental damage."
The trucks, however, weren't well received by Subway. The chain sent the New York-based vegan company a cease and desist for using the brand's likeness on its trucks and marketing materials. The letter also addressed the demand for more vegan options.
"Subway is not surprised that your company believes that consumers want environmentally friendly food options," the letter stated, noting that the chain is "adding more plant based options to its menus to meet growing consumer demand for meat free alternatives."
Vegan options at Subway
Earlier this summer, Subway announced its Eat Fresh Refresh campaign, part of what it calls a "long-term commitment" to the chain's "continual transformation." This includes a shake-up to its core menu, including "refreshed proteins." However, Subway has not added new plant-based protein options to its US locations in 2021. For a short time, the chain did offer meatball marinara subs made with Beyond Meat's vegan meatballs in the US but that test ended in 2019.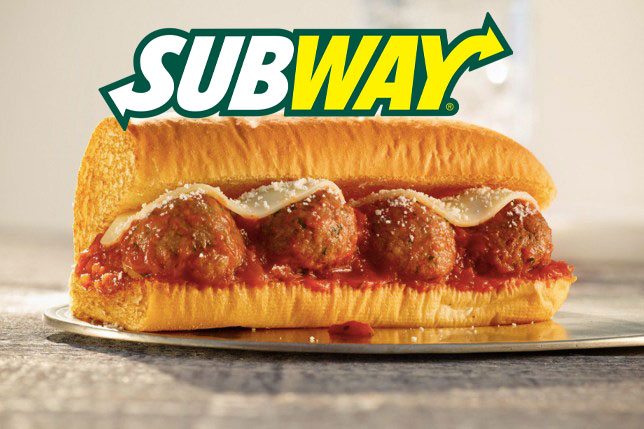 Subway
Outside of the US, Subway has embraced vegan options in a number of key markets. Earlier this year it launched the "T.L.C.", short for Tastes Like Chicken, in the United Kingdom where it also launched Vegan Cheese Toasted Bites and a vegan meatball sub as well as a vegan cookie.
Other regions are also embracing the vegan options. In meat-heavy Brazil, Subway's "Sub Veg" features vegan meat and dairy-free cheese.
For more about Subway, read:
Subway Just Launched Meatless Chicken Schnitzel Sandwiches in Singapore
How to Order Vegan at Subway: A Sandwich Lover's Guide
Subway Launches Beyond Meatball Sandwich Across US and Canada
Jill Ettinger is the Director of Digital Strategy for VegNews and co-founder of sustainable luxury platform, Ethos.