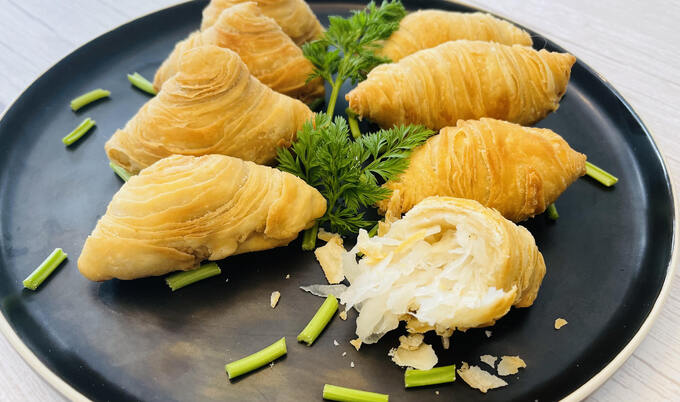 Chinese turnip cake is a popular dim sum item and a festive dish for Chinese holidays.
February 20, 2021
This plant-based variation simply swaps in vegan butter and coconut oil to make a traditional, savory dish vegan-friendly.
What you need:
For the coconut oil dough:
½ cup plus 2 tablespoons flour
2 tablespoons sugar
2 tablespoons coconut oil
¼ cup water
1 tablespoon vegan butter

For the butter dough:
½ cup plus 2 tablespoons flour
2 tablespoons vegan butter
2 tablespoons coconut oil

For the filling:
3¼ cup shredded Daikon radish (long shreds)
1 teaspoon salt
1 tablespoon olive oil
2 teaspoons sugar
2 teaspoons vegan chicken seasoning powder
¼ teaspoon white pepper
3 tablespoons oil, for frying
What you do:
For the coconut oil dough, into a stand mixer, add flour, sugar, coconut oil, and water. Mix until a dough forms. Add butter and mix until dough is glossy and isn't sticky. Let sit for 15 minutes in a bowl covered with plastic wrap.
For the butter dough, in stand mixer, add all ingredients and beat. Place on clean work surface and knead until combined. If not combining, add a bit more butter. Shape into a rectangle and wrap in plastic wrap.
For the filling, sprinkle daikon with salt and let sit for 5 minutes. Squeeze out all liquid. In skillet over medium heat, warm oil and a splash of water. Pan fry Daikon for five minutes. Add sugar, chicken seasoning, and white pepper. Remove from heat.
Cut oil dough and butter dough into 5 pieces each. Take 1 piece of oil dough and press flat like a dumpling wrapper. Then place one piece of butter dough in middle. Wrap oil dough around butter dough and form a ball shape. Repeat with remaining dough pieces.
Take one ball and flatten with a rolling pin, starting from middle and slowly pressing out to top and bottom to make a long vertical shape. Then use your hand to roll dough from bottom up. Place roll in a vertical position and use rolling pin to press out once again from middle to top and roll from middle to bottom. Roll up again using hands.
Cut roll into two pieces vertically. Take one piece and put flattened side on table. Use your palm to press down and then use rolling pin to roll out flat.
After a circle shape is achieved, place a spoonful of filling into middle and fold like a dumpling, crimping edges with a fork to stick together. Repeat with remaining dough pieces and filling.
In skillet over medium-low heat, warm oil. Once very hot, place one dumpling in pan, then turn heat up to high and cook for 8 minutes, or until golden brown. Don't over crowd pan, so pastry doesn't stick together in oil. Repeat with remaining dumplings. Let cool slightly and serve.
Love vegan food and cooking as much as we do?
Get the BEST, editor-tested recipes inside every issue of VegNews Magazine. Find out why VegNews is the world's #1 plant-based magazine by subscribing today!