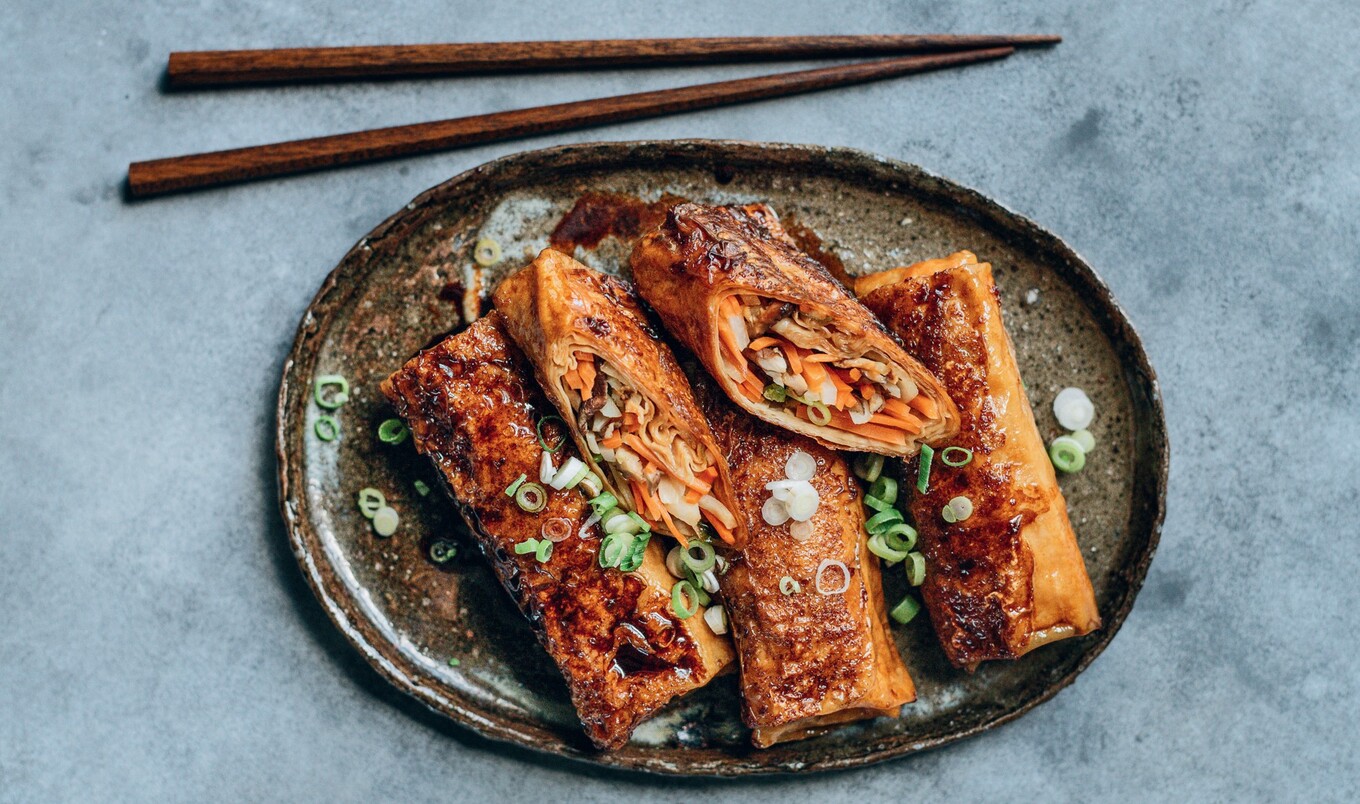 A classic dim sum dish, these flavorful rolls with a shredded vegetable filling are finished with a soy sauce-based glaze.
September 6, 2023
The wrappers of these classic Chinese rolls from the Chinese Homestyle cookbook are soft on the inside and slightly chewy on the outside, perfectly complementing the crispy vegetables to create a satisfying blend of flavor and texture.
What you need:
6 dried shiitake mushrooms
1 cup hot water
3 tablespoons peanut oil, divided
1 teaspoon minced ginger
1 scallion, thinly sliced
½ cup julienned carrots
½ cup julienned bamboo shoots
2 teaspoons toasted sesame oil
2 tablespoons light soy sauce
2 teaspoons dark soy sauce
1 tablespoon sugar
16 fresh yuba sheets
What you do:
In a small bowl, cover dried shiitake mushrooms with hot water and soak 20 minutes, or until tender. Squeeze excess water from mushrooms and rub off any debris. Reserve soaking water. Remove and discard tough stems and slice mushroom caps into thin pieces.
In a medium skillet over medium-high heat, warm 2 tablespoons peanut oil until hot. Add ginger and scallion, stirring to release fragrance. Add mushrooms, and cook and stir for 1 minute. Add carrots and bamboo shoots, and cook and stir for 1 minute. Transfer to a plate to completely cool.
In a small bowl, combine ¼ cup reserved mushroom soaking water, sesame oil, light and dark soy sauces, and sugar. Stir.
On a clean work surface, layer 2 yuba sheets vertically. Spread about 2 tablespoons filling in center, about 1 inch from bottom and leaving 1 inch on each side. Fold up bottom over filling, then fold in left and right sides to cover filling entirely. Fold filling to top to form a roll. Place seam side down on a large plate or tray. Repeat with remaining yuba sheets and filling.
In a medium skillet over medium heat, warm remaining 1 tablespoon peanut oil. Add yuba rolls, seam sides down, without overlapping. Reduce heat to medium-low or low. Cook, flipping frequently, until both sides turn golden brown.
Pour in sauce and stir gently a few times. Simmer until sauce is reduced and slightly thickened, 1 minute or so. Transfer contents of pan to a large serving plate. Serve hot or cold.
To store yuba rolls, place in an airtight container in refrigerator for up to 4 days or in freezer for up to 3 months. Reheat in microwave in 1-minute intervals until heated through.
For more recipes like this, check out:
Here at VegNews, we live and breathe the vegan lifestyle, and only recommend products we feel make our lives amazing. Occasionally, articles may include shopping links where we might earn a small commission. In no way does this effect the editorial integrity of VegNews.