Easter is the only time of year when eggs are fair game for vegans. We're speaking, of course, of the eggs made from chocolate and filled with peanut butter and plant-based crème. Floppy-eared chocolate bunnies are also on the menu, as are gelatin-free jelly beans and foil-wrapped dark chocolate carrots. Whether you're looking for fruity delights or single-origin chocolate eggs, here are 10 vegan candies to ask the Easter bunny to leave in your basket.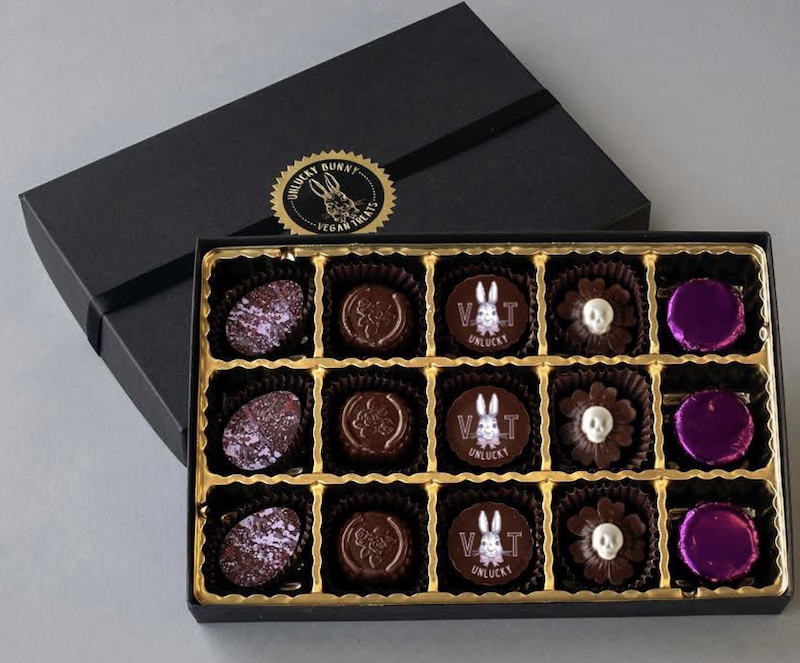 Vegan Treats
Spurred by the pandemic, this award-winning sweet shop now ships nationwide for special occasions. For Easter, the Bethlehem, PA bakery morphed into a chocolatier. Confections include an array of á la carte and boxed arrangements such as peanut butter chocolate eggs, white chocolate bunnies, full-sized chocolate Bunny Bars, "Veganburry" cream eggs, and a sweet assortment of gothic-themed Unlucky Bunny filled chocolates.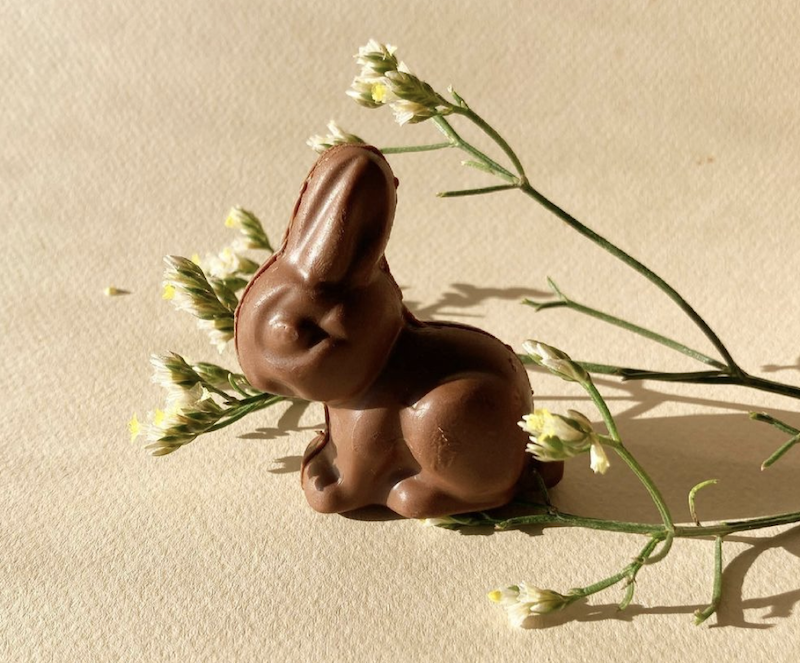 Sjaak's
Let's put it this way: if you bought one of each Sjaak Easter chocolates, you'd have enough candy to last you to next Easter. The new holiday line of sweets involves reusable wooden crates stuffed with bite-sized chocolate bunnies, individually wrapped chocolate peanut butter and caramel eggs, solid chocolate bunnies, and more. Fill your cart and entertain the kids with your haul—they'll be hunting for hours.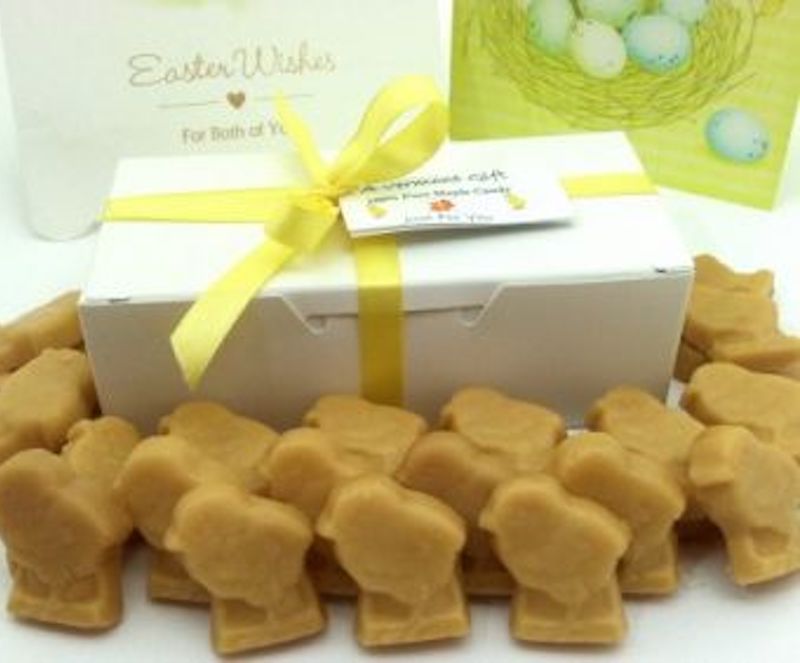 Pieces of Vermont
If you've never experienced maple candy before, you're in for a treat. We'll take these adorable chick-shaped candies of pure, crystalized Vermont maple syrup over mass-produced jelly beans and ultra-processed Peeps any day.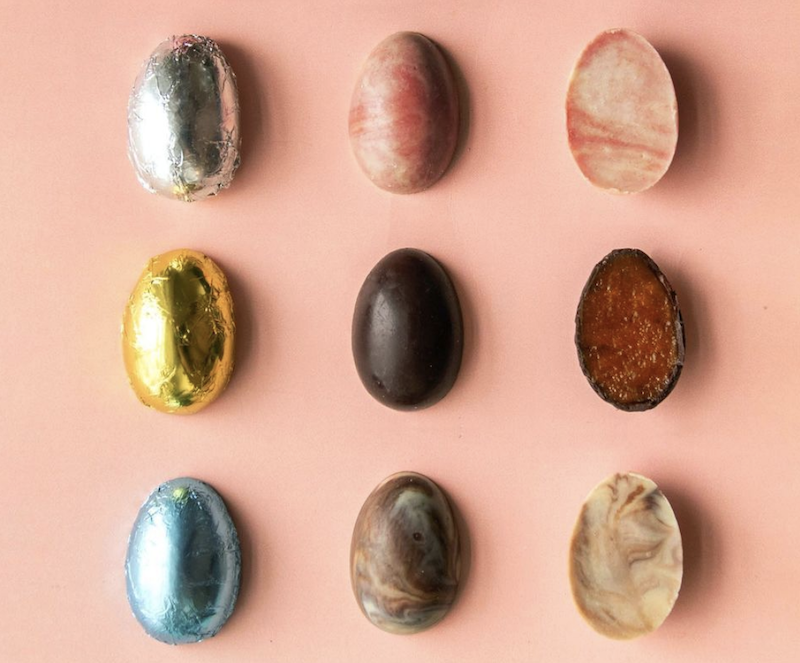 Lagusta's Luscious
We want a chocolate bunny in every flavor! This vegan chocolatier is cranking out sweet bunny-shaped treats in a medley of flavors—from solid dark and strawberry white chocolate to nougat and peanut butter-filled. The adorable lopsided ears of these edible creations make our heart melt every time.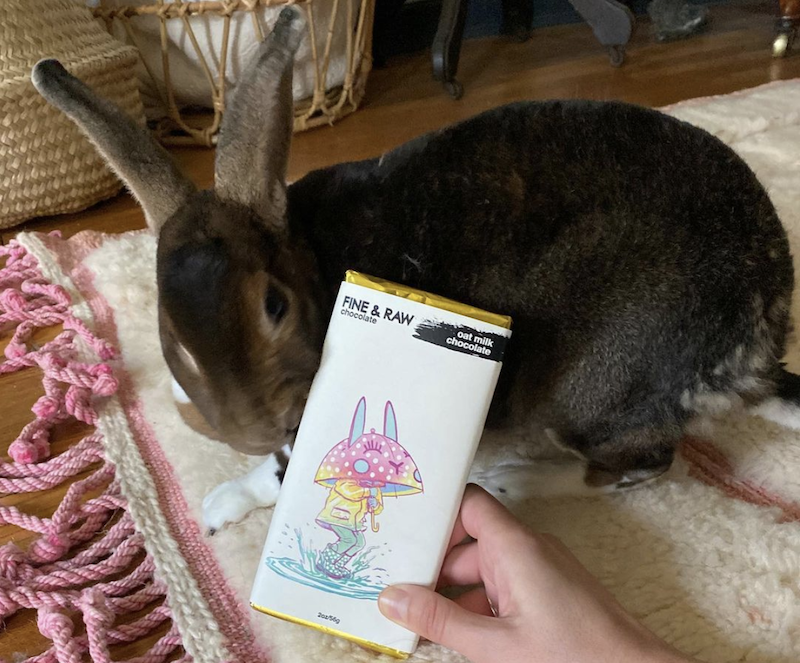 Fine and Raw
Not all Easter chocolate has to be shaped like a bunny—these bars say it all on the packaging. Made by a small-batch, vegan, Brooklyn-based chocolatier, these decorative bars feature bunnies splashing in puddles, playing leapfrog, and unsuccessfully pulling off sweaters. Try the sea salt-studded bar for a sophisticated salty balance to the otherwise sweet collection in your basket.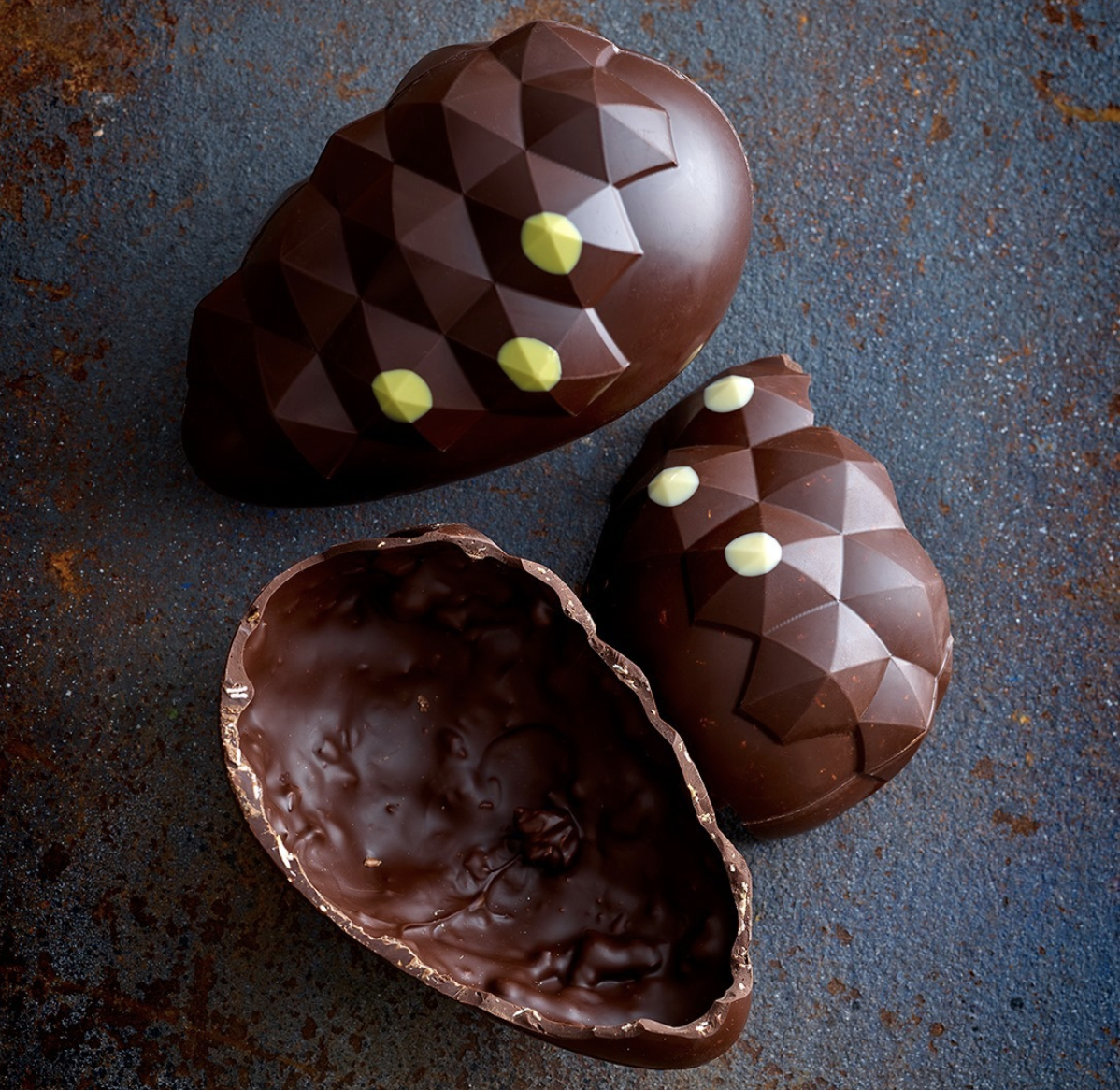 Hotel Chocolat
Save the oat milk chocolate for the kids—this treat is for adults. Crack open a sensuous dark chocolate egg to reveal a tumble of decadent single-origin chocolates from Columbia and Honduras. Savor each like a glass of fine vegan wine. When it comes to chocolate, this is the good stuff.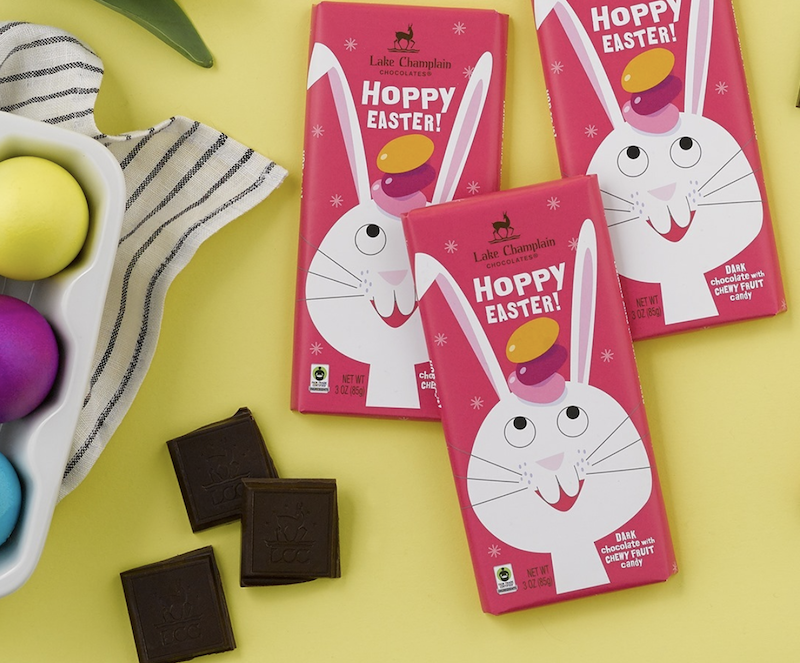 Lake Champlain Chocolates
Vegan options were lacking last Easter at this Vermont-based chocolatier. However, the company underwent a bit of a spring cleaning in 2021 and launched a satisfying range of vegan Easter treats. Fill your basket with classic chocolate bunnies, delightful dark chocolate truffles, and purple foil-wrapped chocolate carrots. The latter may not improve your eyesight, but they're guaranteed to brighten up any lackluster vegan Easter basket.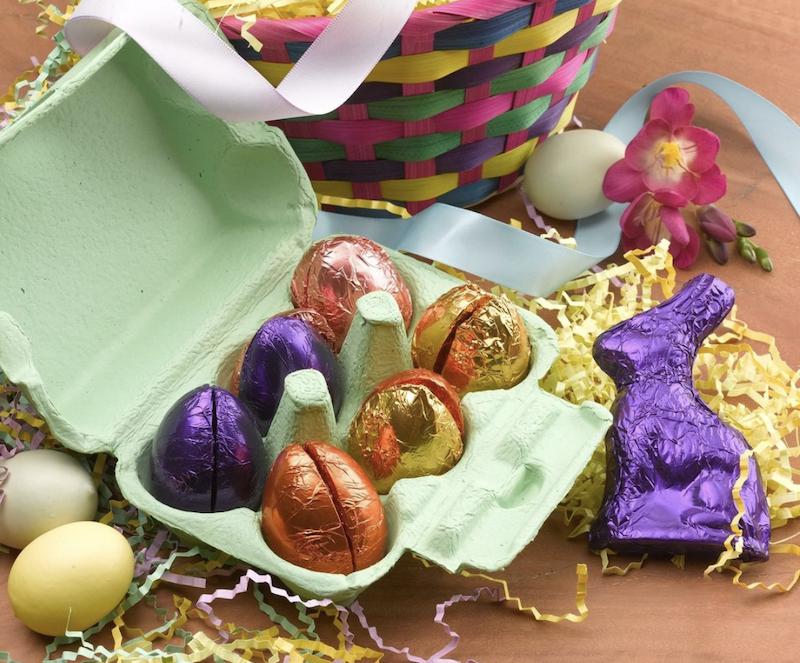 Coracao
Some people don't want to hunt for chocolate, and that's okay. Find all of your Easter treats in one box with Coracao's spring-themed assortments of vegan filled chocolates. These aren't your typical peanut butter or nougat-filled confections—expect sweets such as a Tangerine Fudge Hen, Lemon Caramel Cup, Superberry Egg, and other divine flavor combinations. The company also puts a fun twist on egg cartons, filling each crevice with colorful chocolate eggs stuffed with almond butter, salted caramel, and more.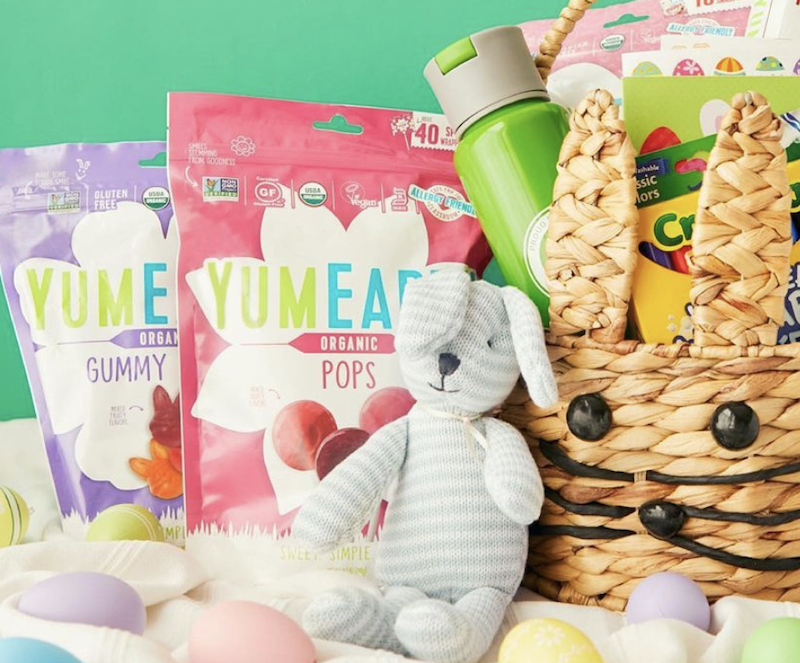 YumEarth
Not a chocolate fan? Stock up on this organic candy company's Easter treats. The chocolate-free line includes juicy bunny-shaped gummies, chewy fruit Giggles (think Skittles), sour beans, and hard candy lollipops. Even chocolate lovers need to add variety to their basket.

Ethereal Chocolate
At this conscious café and chocolatier, chocolate and jelly beans and chocolate harmonize as one. Both the Jelly Bean Bark and Bunny Bark feature non-dairy chocolate studded with vegan fruity jellies. Prefer to keep your fruit and chocolate separate? Ask the Easter Bunny for one of the spring-themed cocoa bombs. Both the salted caramel and dark chocolate varieties are stuffed with vegan marshmallows and cocoa mix. It's going to be a sweet Easter.
Tanya Flink is a Digital Editor at VegNews as well as a writer and runner living in Orange County, CA.