This week, the European Union (EU) rejected Amendment 171, proposed legislation that would extend existing restrictions on dairy-related terms. Terms such as "almond milk" and "vegan cheese" are already banned on products in the EU, but 171 would further restrict dairy alternatives from using descriptive terms such as "yogurt style" and "cheese alternative." The proposed legislation would also have prohibited the use of "milky" imagery such as swirls on a carton of oat milk and any other visuals or statement that it deemed evoked or imitated dairy products. Even helpful allergen information—such as "does not contain milk"—would be prohibited for use by plant-based products if 171 were to pass.
The move comes after a petition started by food awareness organization ProVeg International against the restrictive legislation gained 456,000 signatures. "This is a common-sense victory. Citizens, industry, and experts have spoken and the EU listened," Jasmijn de Boo, Vice President of ProVeg International, said. "It would be absurd to censor plant-based products at the same time as telling consumers to switch to a plant-based diet. Imagine censoring electric cars or recycled paper. We applaud the EU for its clear-sightedness under immense pressure from environmentally reckless interests."
Widespread support for plant-based dairy
The action to stop 171 included support from vegan climate change activist Greta Thunberg, 21 leading NGOs such as Greenpeace and World Wildlife Fund (WWF), 94 food companies such as Violife parent company Upfield, Oatly, Nestlé, and many others.
"As a founding member of the European Alliance for Plant-based Foods, tackling anti-competitive legislation has always been top of our agenda. For the past few months, Upfield has been a vocal opponent of Amendment 171 and today's decision to reject it is a win for the plant-based food industry and for all those people who signed the petition to pledge their support," Jeanette Fielding, PhD, Chief Corporate Affairs and Communications Officer at Upfield, said. "But the battle is not won. Justice for consumers and for our planet will only be achieved when plant-based foods are given fair treatment with animal-based foods under the law."
Amendment 171 was part of a larger agricultural package of measures which included Amendment 165, proposed legislation backed by the EU's meat lobby that aimed to ban terms such as "burgers" and "sausages" on products that do not contain animal meat. Instead, the terms proposed to describe plant-based burgers and sausages were "discs" and "tubes." In August 2020, the Members of Parliament of the EU voted to reject Amendment 165 after receiving similar pushback from companies such as IKEA, Beyond Meat, and Unilever which stated that the proposed measure was "disproportionate and out of step with the current climate."
Dairy-free labeling wars
Stateside, a similar battle has been waged against producers of dairy-free products by those with dairy industry interests. The so-called Dairy Pride Act has been circulating in Congress for several years. The legislation aims to limit the terms plant-based products can use, claiming that using the word "milk" on dairy-free products—even with recognizable qualifiers—is misleading to consumers. Versions of this proposed federal legislation have made it to state courts, receiving mostly opposition, including in Virginia where Governor Ralph Northam vetoed House Bill 119 in 2020 citing his concern that the bill was "unconstitutional and could violate commercial freedom of speech."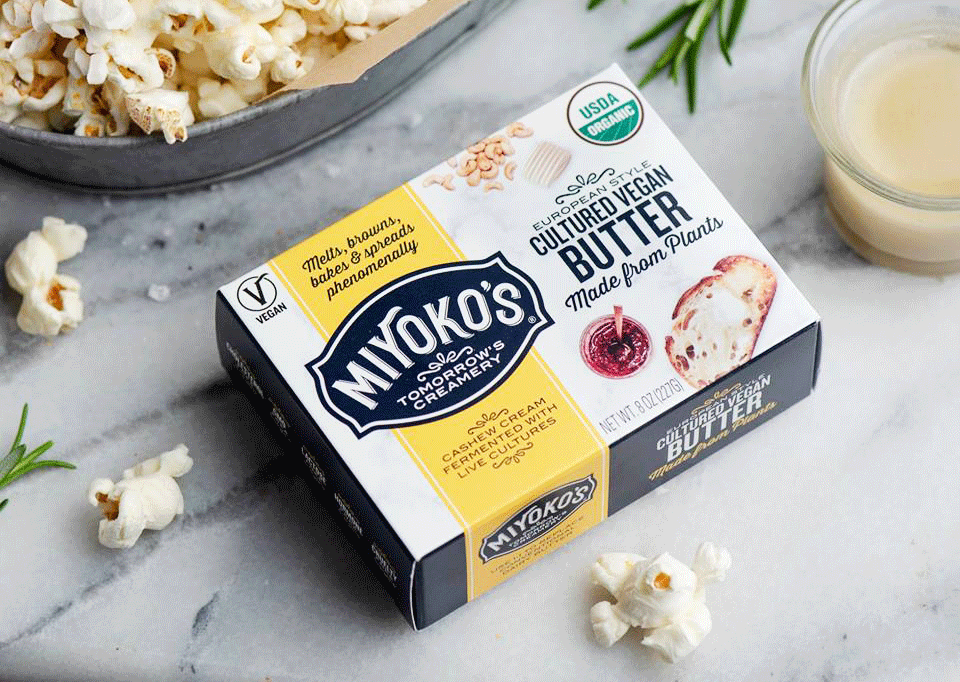 Last year, vegan brand Miyoko's Creamery secured a victory against the dairy-producing State of California. Miyoko's Creamery—which makes dairy-free products such vegan butter and cashew-based cheese—filed a lawsuit against the California Department of Food and Agriculture (CDFA) after the agency demanded the brand remove certain terms such as "dairy" and "butter" from its packaging, despite the company's clear labeling of the products as "vegan" and "made with plants." The CDFA also demanded that Miyoko's cease using the term "cruelty-free" to describe its vegan butter and instructed the brand to remove an image of a woman hugging a cow from its website—a photo that was taken at Rancho Compasión, a farmed animal sanctuary founded by the vegan brand's owner Miyoko Schinner and her husband.
In August 2020, United States District Court Judge Richard Seeborg granted the vegan company a special court order to block the State of California from enforcing its demands, explaining that Miyoko's use of "butter" is entitled to protection under the First Amendment.