On May 26, Impossible Burger will make its convenience store debut at more than 300 locations of 7-Eleven across Singapore. The plant-based Impossible Burger patty will be featured as part of the Impossible Burger Deluxe sandwich, which also features sautéed button mushrooms, spinach, and a sour cream-based sauce. The burger will be available on its own in the grab-and-go section for S$5.90 (USD$4.42) or can be ordered as part of a Super Saver combo for S$7.00 (USD$5.24) which includes a Vitamin Water. Since the Impossible Burger Deluxe is pre-made, it cannot be ordered fully plant-based as the sauce is made with dairy.
"At 7-Eleven, we always put our customers first and we pride ourselves on launching new and sought-after products to meet their needs and wants. With the growing demand from our customers for plant-based alternatives, we're excited to be collaborating with Impossible Foods, Singapore's leading plant-based brand, to launch the 7-Select Impossible Deluxe Burger," Steven Lye, Managing Director of 7-Eleven Singapore, said. "With our extensive network of 7-Eleven stores spread across the island, customers can now get their plant-based fix at their convenience anytime, anywhere."
The Impossible Burger Deluxe is the first addition to 7-Eleven's ready-to-eat category in Singapore and the company is looking to develop additional plant-based options to better meet consumer demand.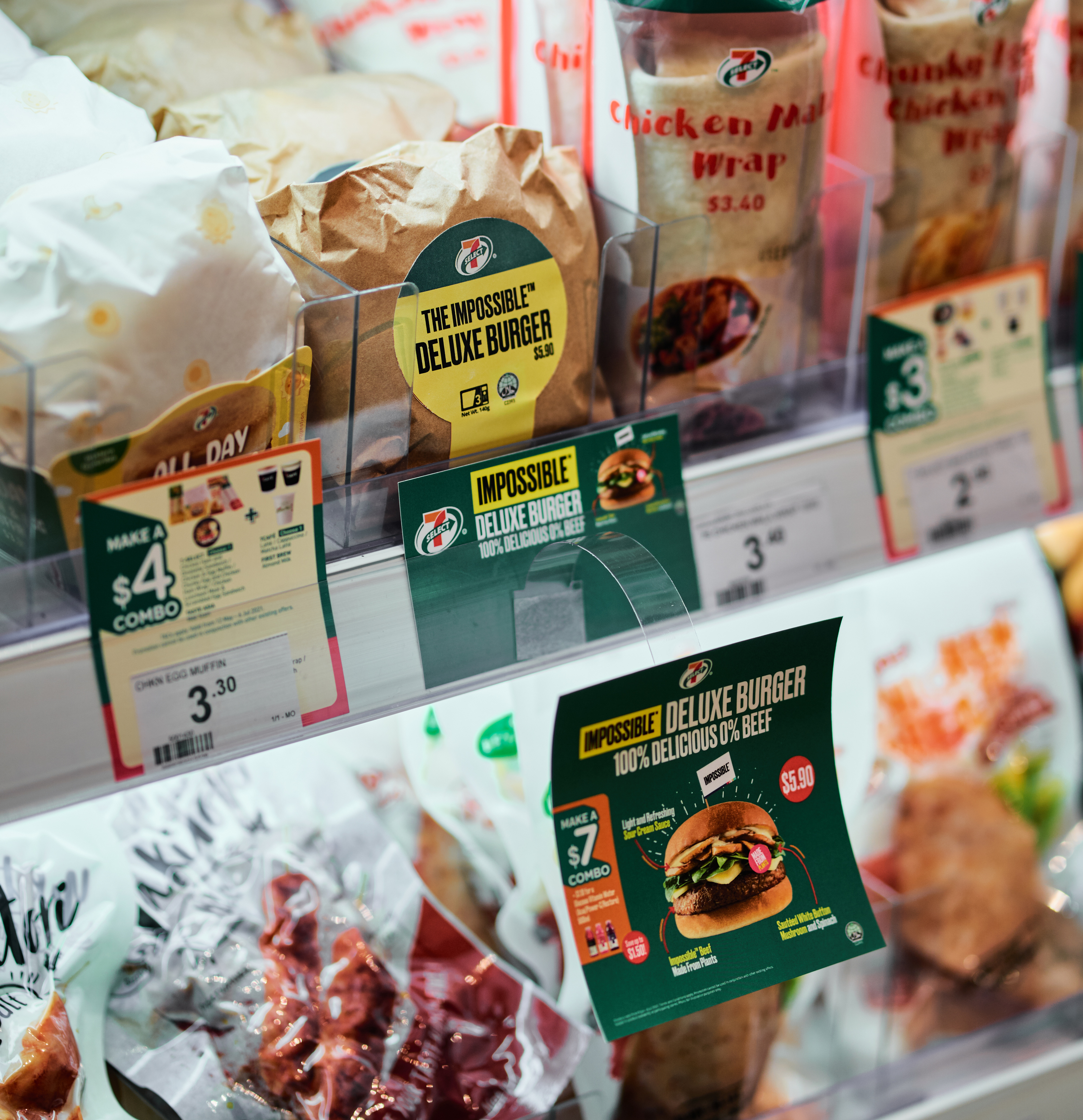 Impossible Foods recently expanded its brand presence in Singapore with the launch of its products at leading retailer Dairy Farm Group and through a food service partnership with Starbucks, which added two menu items (Impossible Pasta Salad Bowl and the Impossible Pie) made with the plant-based meat last year. The 7-Eleven partnership puts the Impossible Burger in front of a new consumer segment in Singapore.
"A huge mission of Impossible is to make our delicious plant-based products available everywhere conventional animal meat is sold today, and this includes the convenience store market," Laurent Stevenart, Singapore Country Manager at Impossible Foods, said. "We are so thrilled to collaborate with 7-Eleven Singapore on this on-the-go option for fans who might have not yet tried Impossible products. We look forward to providing more delicious, plant-based options for their customers, whether they're dining on the go or cooking Impossible in their own kitchens."
Singapore's plant-based revolution
While the Impossible Burger is a United States import, in recent years, Singapore has been teeming with homegrown plant-based innovation. A nation focused on sustainability and technology, Singapore has produced a number of companies working to replace animal products with plant-based alternatives. Float Foods will debut its first commercial product, OnlyEg, in 2022. The innovative replacement to animal-derived eggs—which can be cooked sunny-side up—features a yolk and white made from a combination of legumes. In 2020, manufacturing company Growthwell Foods raised $8 million to invest into the developments of plant-based seafood products such as shrimp, squid, and crab.
Outside of the plant-based space, Singapore is also the first nation in the world to grant regulatory approval to cell-based meat (which is grown using a small amount of animal cells in a lab setting with no need to slaughter animals). Late last year, Singapore approved the sale of cell-based chicken made by GOOD Meat (a subsidiary brand of JUST Egg-maker Eat Just). Dishes made with the slaughter-free chicken were first served in January at upscale Singapore eatery 1880 and became available for delivery via platform Foodpanda this spring.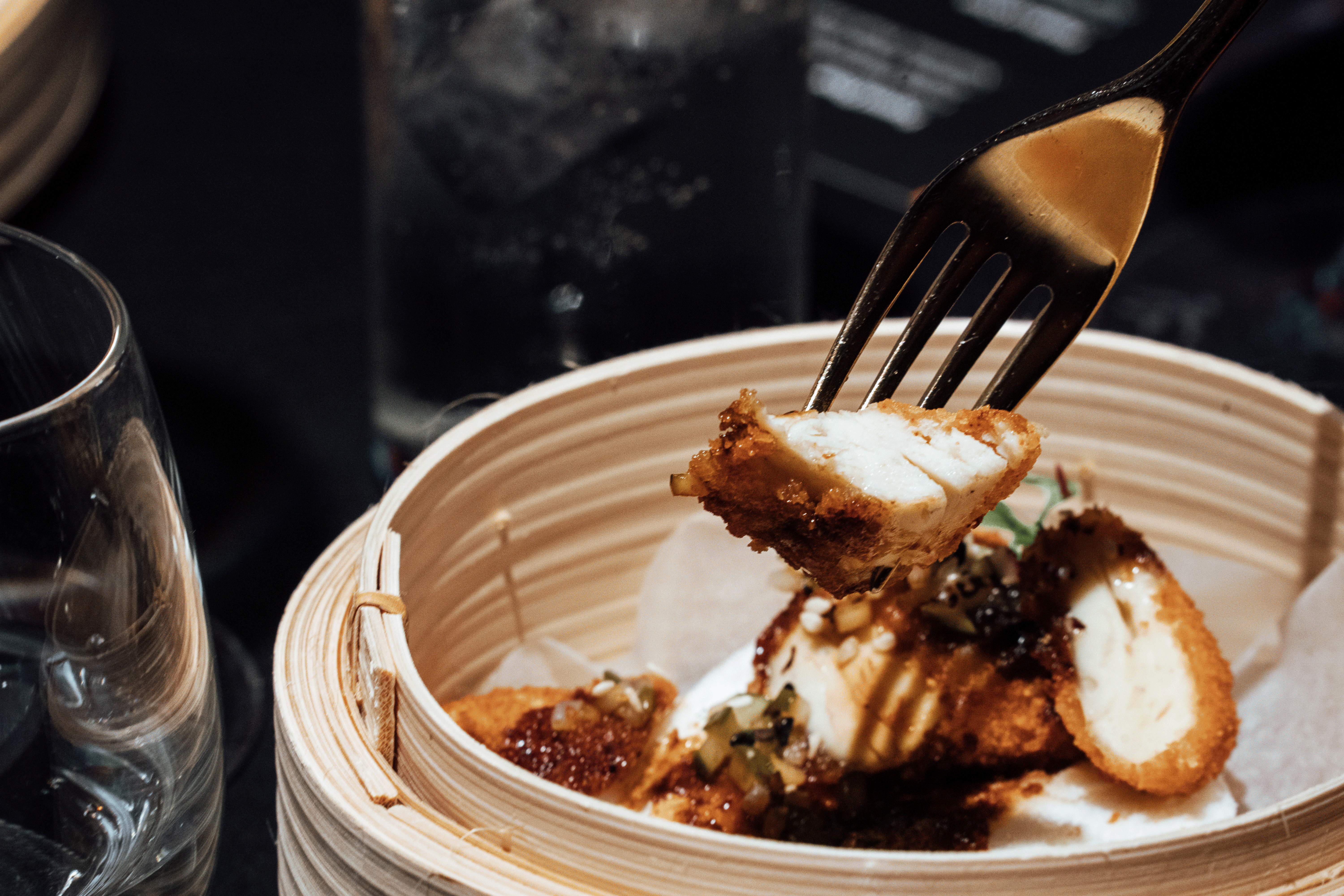 This month, JW Marriott South Beach restaurant Madame Fan will begin to regularly replace conventional chicken with GOOD Meat's slaughter-free version—representing the first step toward a future where traditional animal agriculture is replaced by more sustainable, and less cruel, food technologies.