For a four-letter word with just six ingredients, Spam is a complicated food. American journalists have commented on its peculiar high-low appeal here in the States—Spam doubles as budget food as well as a pseudo-fine-dining trend. But as complex as our relationship is to Spam in the US, it carries even more weight aboard. Spam has become a staple in many Asian countries, but for the older generation, its presence offers an aftertaste of American imperialism thanks to several US deployments and subsequent occupations during wartime. Hong Kong-based OmniFoods is setting out to wipe that slate clean. Its OmniPork Luncheon (aka vegan Spam) erases the cruelty and complicated history of pig-based Spam, and now that it has launched in the US, OmniPork is setting out to satisfy our cravings in a more compassionate way. Here's what you need to know about Spam and its vegan successor.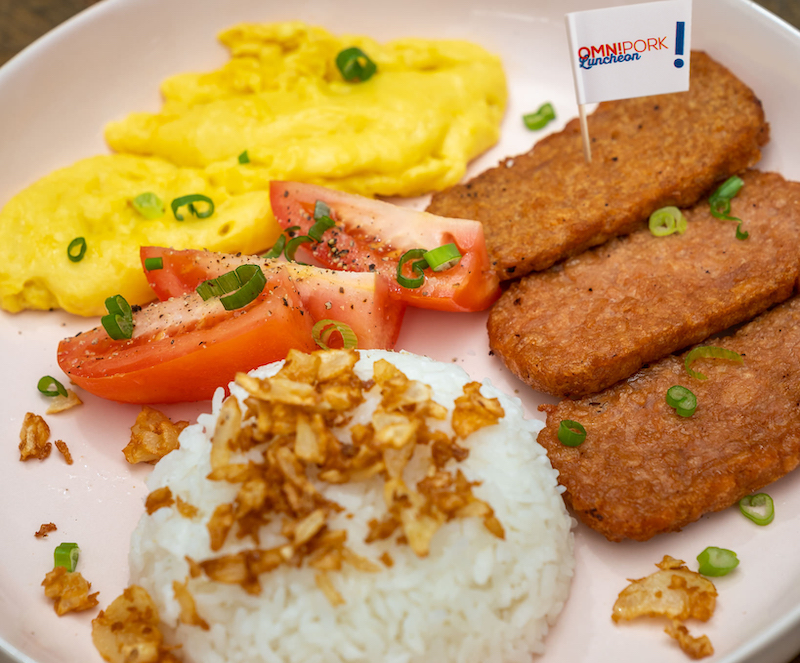 Chef Reina
The rise of OmniPork
The vegan world rose to its feet for a standing ovation when OmniPork launched in Hong Kong in 2018. The plant-based pork product was the first of its kind—a triumph of OmniFoods. This food-tech company falls under the projects of the Green Monday Group—a multinational sustainability organization founded in Hong Kong by entrepreneur David Yeung.
In 2020, the brand debuted its vegan luncheon meat with the intent to combat the popularity of Spam in Asia. While very much entrenched in Asian culture, the food-tech company responsible for creating this product is not Asian—it's Canadian. OmniPork's tagline boasts "Western innovation x Asian application."
Yeung assured us that while the development occurred in Canada, many Asian Canadians were a part of the process. Yeung explained, "We are blessed with a very experienced food scientist R&D team who have an Asian background and understand how Asians apply meat in cooking differently. [Green Monday Group] is based in Asia so our direction on R&D from day one was to develop new innovations that will fit into our ways of cooking and eating."
The Green Monday Group was explicit in its instructions to its R&D team. Not only did the product need to taste and feel like Spam, it had to smell like it, too. Yeung elaborated, "There is a fragrance that is unique about luncheon meat. It evokes childhood memories for many people. So getting that right, along with, of course, texture and nutrition [was] crucial."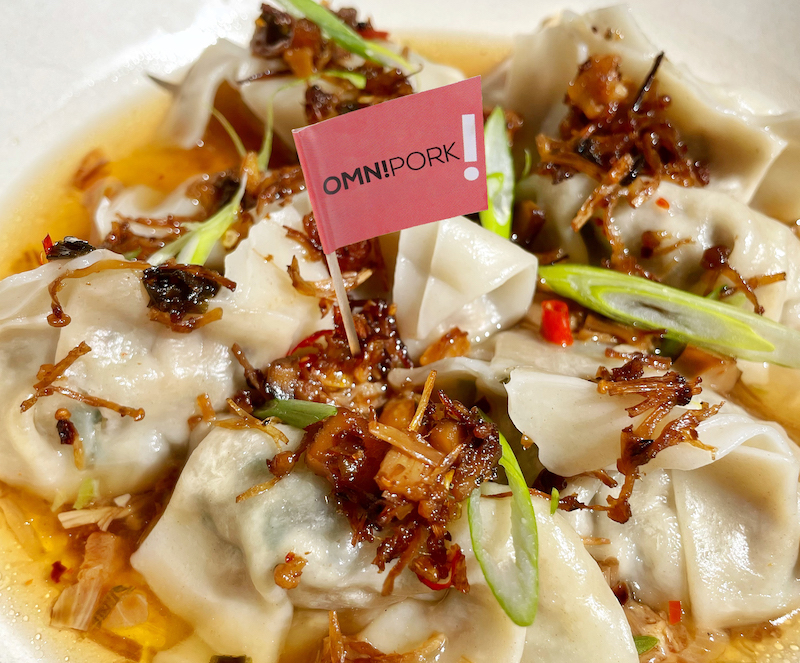 Maneatingplant
Spam and imperialism
There's no argument that vegans take issue with animal-based Spam for a number of reasons. There's the slaughter of animals, the degradation of the environment, social justice issues that come with CAFOs, and the detriment to human health. However, in Spam's case, another pressing factor is of immediate concern: imperialism.
Created by the Hormel company in 1937, the original pig-based Spam (there's a turkey option, too) is a blend of processed pork and ham, water, sugar, modified potato starch, and sodium nitrate. American soldiers brought it along during their wartime deployments and proceeding occupations as a convenient, calorie-dense option for sustenance. However, soldiers stationed in Japan, South Korea, the Philippines, and other Pacific island nations didn't always have a taste for the briny porky product, and it would eventually find its way into the hands of local communities, fed through the handouts American soldiers offered.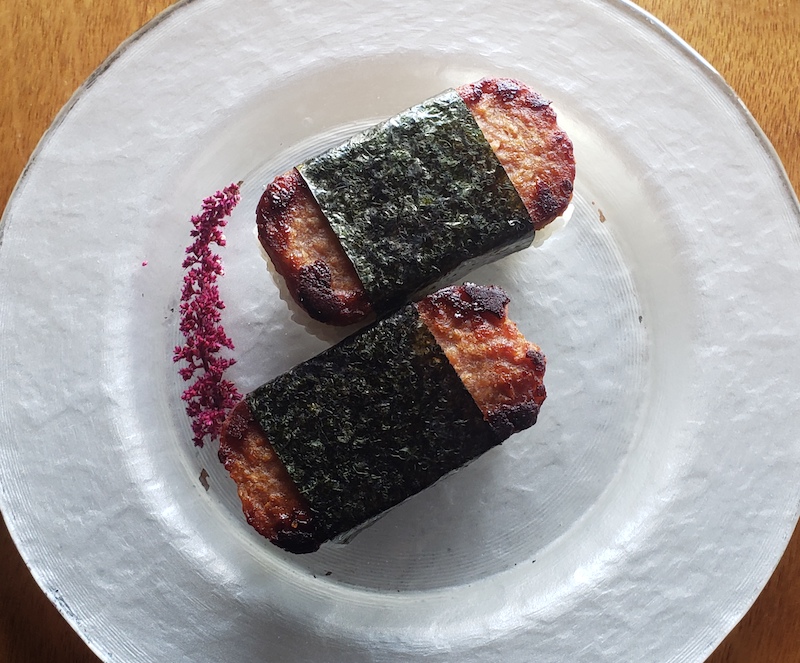 Tane
Spam in Asia
And so, native populations began to incorporate Spam into their cuisines. In South Korea, there's budae jjigae; in Hawaii (not yet a US State during WWII), Spam musubi; and in Guam, Spam fried rice. And once occupying American troops left these regions, Spam didn't fade away along with them—it exploded, morphing from a food equated with struggle and wartime to a bona fide delicacy. Today, South Korea is the second largest consumer of the canned pork product behind the US, and the tiny nation of Guam wins in Spam consumption per capita with a whopping 16 cans per person per year. Overall, Spam ranks sixth in the canned subgroup of Asia's annual Top 1,000 Brands list and has become part of many Asian nations' cuisines and integrated into Asian-American palates as well.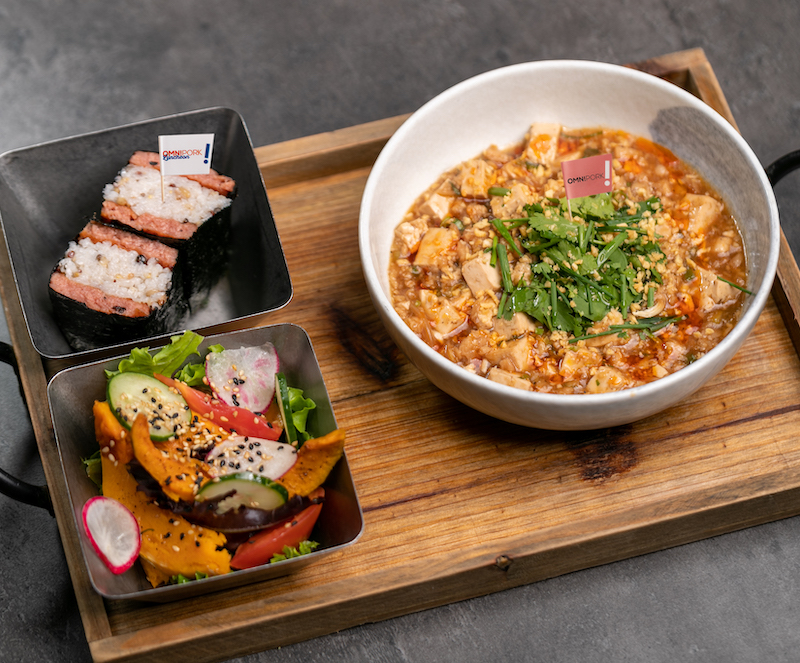 GOEN
Spam and high-speed slaughter
Fast-forward to today, and like so many other industrialized, processed meat products, Spam is under scrutiny. In 2015, a Hormel slaughterhouse was chosen to participate in a USDA pilot program that would abolish the cap on the kill rate of pigs. Before the program, slaughterhouses were restrained to killing 1,106 pigs per hour. Under the new Modernization of Pork Slaughter guidelines, this cap was lifted, allowing for unregulated slaughter at frightening speeds. Despite an Animal Outlook undercover investigation that documented severe animal abuse and workers scrambling to keep up, the program was finalized in 2019 and extended to all swine slaughterhouses nationwide. Hormel—along with other pork operations—is now killing pigs faster than ever with no consideration to the welfare of the animals or the workers. That's a bad taste that cannot be chef'd up, no matter how many Michelin stars or James Beard awards the chef has.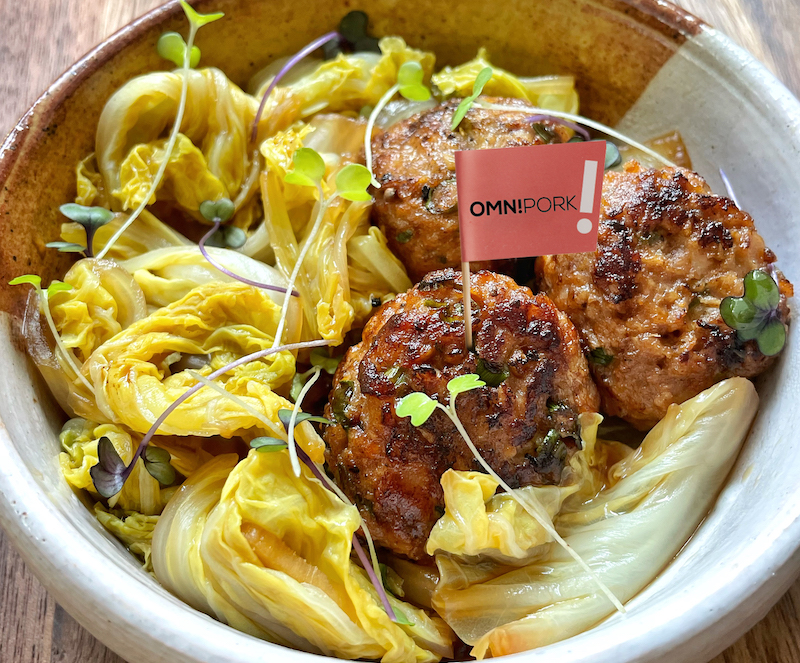 Maneatingplant
Hope for the future
Despite this unregulated slaughter speed, pork production rates have unexpectedly plummeted in recent years, dropping 15 percent from 2019 to 2020. And given plant-based meat sales rose by 45 percent during the same time period, it's reasonable to assume that vegan meat products are at least partially responsible for the decline in pork production. The pivot to plant-based seems to be due in large part to the increased accessibility of vegan meats like OmniPork.
Currently, OmniPork is available in over 300 restaurants across Singapore, Taiwan, the Philippines, Macau, and Hong Kong. Consumers can also find OmniPork in hundreds of retailers across these regions and some areas of mainland China. Like the Beyond and Impossible Burger incorporation into American fast-food culture, the OmniPork option gives customers the opportunity to curtail their meat consumption while still enjoying the foods and eateries they love. Afterall, as long as customers get their pork dumplings, it doesn't matter if they're made with plants. As long as the dumplings evoke the same sensory experience, most people probably don't mind that they're not made with animals.
If OmniPork can further curb consumers' taste for meat, let's keep that vegan luncheon meat coming. The US rollout of OmniPork is controlled to a tight 10 restaurants (see below), but there is a plan for a national retail rollout this summer. Given the juicy OmniPork bao, layered OmniPork-topped sushi, and sweet and sour bola bola OmniPork meatballs these restaurants are cooking up, it won't be long until Americans become smitten with this vegan spam.
OmniPork launched in these US locations:
Los Angeles:
CHIFA
RiceBox
Little Fatty
MANEATINGPLANT
Ramen Hood
Morning Nights
San Francisco:
Honolulu:
GOEN Dining + Bar
Tane Vegan Izakaya
Tanya Flink is a Digital Editor at VegNews as well as a writer and fitness enthusiast living in Orange County, CA.