A majority of Americans (78 percent) are looking to bring plant-based meat to the party this grilling season and a new partnership between delivery platform DoorDash and vegan brand Beyond Meat is helping them do just that. In time for the 4th of July holiday, DoorDash and Beyond Meat will be offering Americans in 14 cities a limited-edition grilling kit featuring the new Beyond Burger 3.0 patty. The grilling kits will be available for $14.99 starting July 1 through DashMart—a convenience store concept from DoorDash—and, in addition to the vegan burger patty, include a custom grilling mitt, apron, grilling tools, a bottle opener, and a recipe card with custom dishes.
"This 4th of July weekend, we're excited to partner with DoorDash to further our mission to make plant-based options more accessible to all," Rebecca Infusino, Beyond Meat Vice President of Retail Sales, said. "There's nothing more classic and delicious than a perfectly grilled, juicy burger on a hot summer day. We've made this classic pastime even better this summer with the great taste and nutritional benefits of our newest Beyond Burger, and the unbeatable convenience of having it delivered to your barbecue in under an hour."
Vegan meat gains grill space at American barbecues
The partnership capitalizes on new data collected by DKC Analytics that reveals American behaviors around cookouts and grilling are shifting this summer. Data collected from a sample of 1,000 US adults between May 27, 2021 and May 28, 2021—which was calibrated to accurately reflect US adult age demographics and provide an even gender split—found that 78 percent of Americans are looking to add plant-based meats to barbecues. A majority (65 percent) are choosing plant-based meat to eat healthier, a trend that is being led by millennials.
The survey also found that the majority of Americans (73 percent) find grilling to be an essential summer activity, more so than visiting family (69 percent) or dating (36 percent). Furthermore, data showed that 60 percent of Americans shop last-minute for barbecue supplies and 72-percent forget an item when doing so—which makes convenient grocery delivery platforms such as DashMart a handy resource.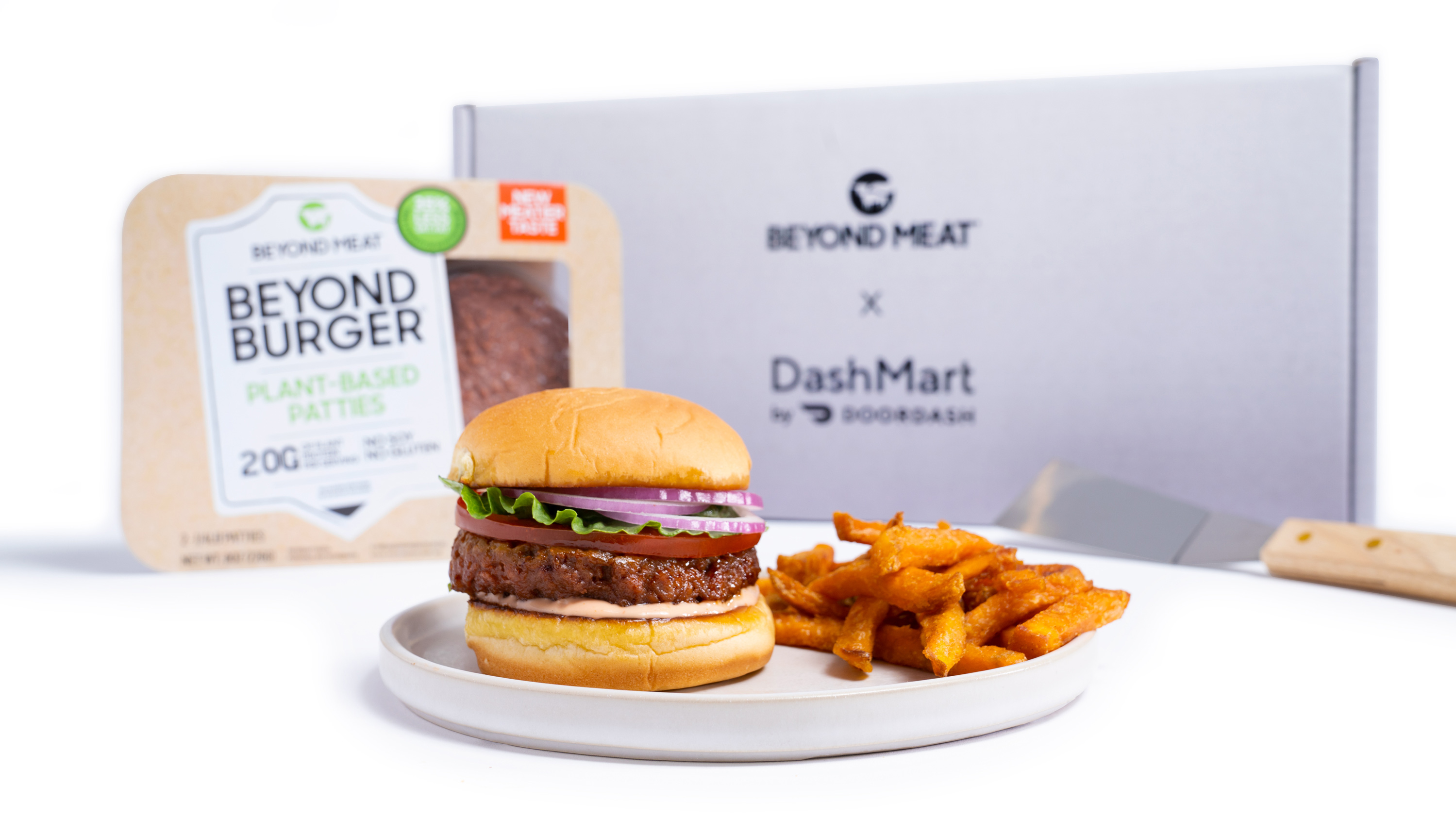 "We're thrilled to partner with Beyond Meat to offer customers their favorite grilling essentials conveniently from DashMart," Andrew Ladd, Director of New Verticals at DoorDash, said. "At DoorDash we're committed to bringing customers all the best of their neighborhoods for every occasion, and as summer gets under way we're excited to unveil this exclusive kit perfect for any barbecue while giving people access to the essentials they need on-demand."
Generally, the popularity of vegan burgers on delivery platforms, including on DoorDash, has been skyrocketing in recent years. According to its internal data revealed in its "DoorDash Deep Dish" report last year, orders for vegan burgers increased by 433 percent in the six-month period from January 2020 to the end of June 2020.
Beyond Meat's new, juicer vegan burger
The DoorDash partnership showcases Beyond Meat's newest iteration of the Beyond Burger—the first version of which it launched at a single Whole Foods Market location in Colorado in 2016. The new Beyond Burger is made to further compete with animal meat in new ways. The new plant-based patty has 35-percent less saturated fat (and 35-percent less overall fat) than an 80/20 beef patty and is fortified with B vitamins and minerals comparable to the nutritional profile of beef. As is the case with all vegan products, the new Beyond Burger does not have any cholesterol.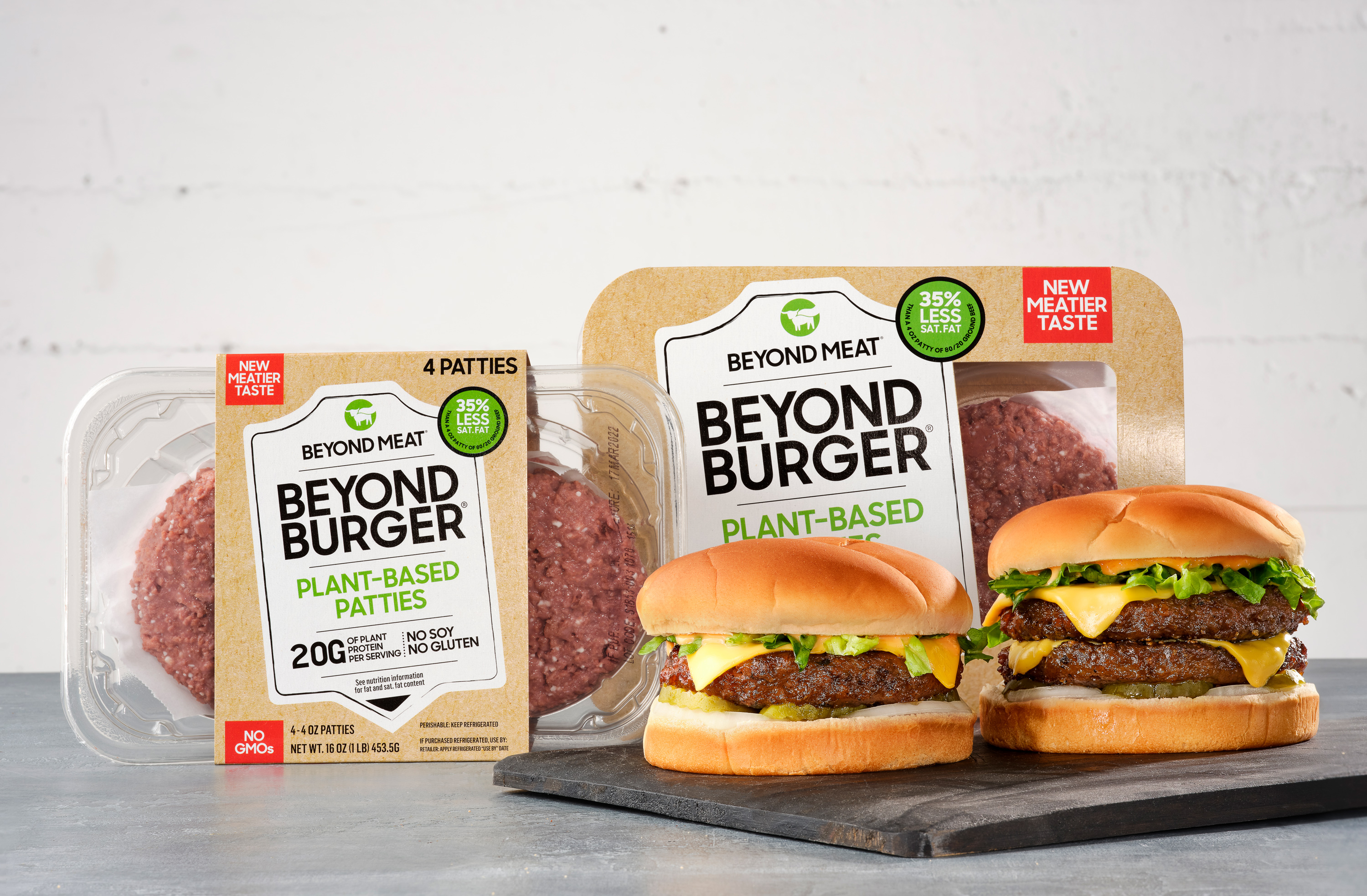 Outside of the DoorDash partnership, Beyond Meat's new patty is available at retailers nationwide—and in new formats that aim to make the Beyond Burger more affordable and accessible. Whereas the brand's original Beyond Burger was sold in two-patty packs, the new iteration is available in both two-patty packs and bulk four-patty packs ($9.99) to better compete with the price of beef. The new vegan meat will also be offered as a one-pound Beyond Beef pack later this summer.
Beyond Meat is also launching its Beyond Burger 3.0 with its foodservice partners this month and aims to release another Beyond Burger patty that features half the saturated fat of an 80/20 beef patty later this year.