Reality star and business mogul Kim Kardashian West is among the first in the United States to try Nestlé's new vegan KitKat bars—and she's obsessed with the vegan treats. Taking to her Instagram stories, Kardashian West shared her gift from Nestlé with her 229 million fans as she unwrapped a personalized box of vegan "KimKat" bars.
"If anyone knows me, my favorite candy is a KitKat. Kourtney has shown you the way that we eat them," Kardashian West said. "But guys, they called it a 'Kim Kat'—the first vegan KitKat. You have no idea how happy this makes me."
While the star enjoyed the candy bar, it is unclear if she ate the vegan KitKat the Kardashian way, which is an involved six-step process of eating the bar one layer at a time.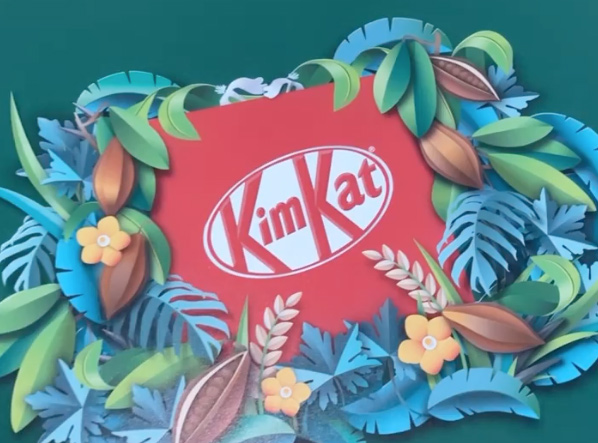 KitKat bars go vegan
Rumors of Nestlé launching a vegan KitKat began circulating mid-February. Speculation turned into reality shortly thereafter when the company confirmed it was working on KitKat V to appease fans on social media who have been demanding vegan KitKat bars for years. Made from a combination of vegan chocolate and vegan wafer fingers, the new KitKat V was created by Nestlé's research and development team in York, United Kingdom—where the original KitKat was first introduced in 1935.
"KitKat continues to surprise people with new flavors and ingredients," Alexander von Maillot, head of confectionery at Nestlé, said. "One of the most common requests we see on social media is for a vegan KitKat, so we're delighted to be able to make that wish come true. This is for everyone who wants a little more plant-based in their life when they treat themselves."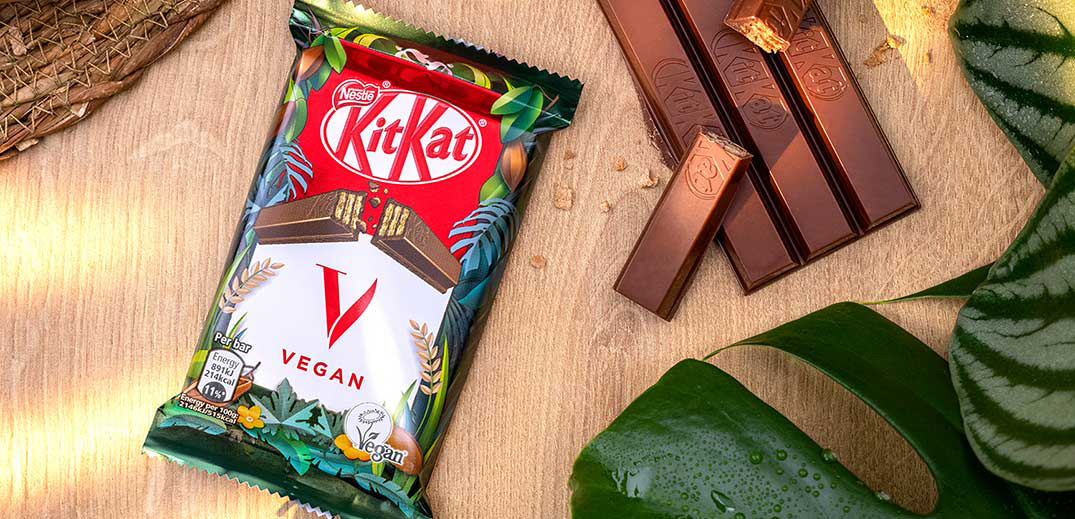 Earlier this week, the vegan KitKat bars launched at grocery stores across the UK. The vegan treats are also available for pre-order in Australia as a nine-piece gift box set (AUS$30) before the vegan KitKat bars officially launch in Woolworths stores on July 26. The KitKat V bars will also be available in Estonia, Poland, Latvia, and Lithuania this month, along with Brazil in July.
"Our challenge when we set out to create a vegan-friendly KitKat was to recreate this iconic product using plant-based alternatives. To achieve this, we worked very hard to get the right balance between the milk alternative and the cocoa," Louise Barrett, head of the Nestlé confectionery product technology center, said. "The result is a vegan chocolate that we're very proud of, and I hope all KitKat fans will love it as much as we do."
While KitKat bars in most regions are produced by Nestlé, in the United States the iconic chocolate treats are produced by Hershey's—which has not announced its intent to launch vegan KitKat bars in the US. However, in February, Hershey's did commit to developing more options in the "better-for-you" category which includes plant-based alternatives, meaning a vegan KitKat in the US is not completely off the table.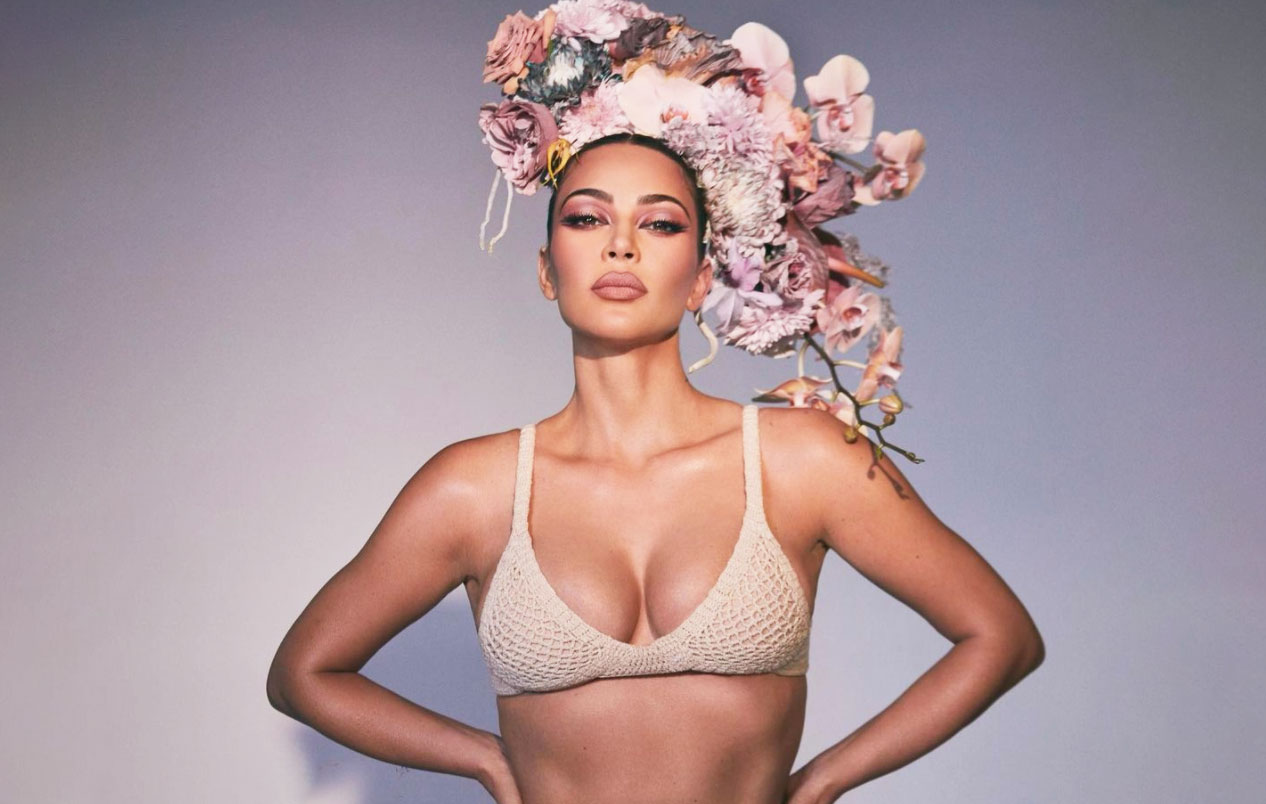 Is Kim Kardashian West vegan?
After watching a documentary in 2019, Kardashian West decided to try the plant-based diet at home. Inspired by chefs that love to prepare meals without animal products, Kardashian West gave plant-based cooking a try. In January, Kardashian West recommitted to the plant-based lifestyle and now prefers products made by Beyond Meat—such as vegan burgers, sausages, and meatballs—over their animal-derived counterparts.
In May, Kardashian West showed off her plant-based cooking chops during her sister Kourtney Kardashian's second annual Poosh Your Wellness Festival. Kardashian West led a virtual cooking demonstration to show attendees how to prepare one of her favorite dishes: vegan tacos made with seasoned Beyond Beef, served in gluten-free almond flour tortillas, and topped with vegan Violife cheddar cheese, dairy-free sour cream, tomatoes, onions, and avocado.
And the 40-year-old star is helping to get the rest of the Jenner/Kardashian clan on board with plant-based living. In January, Kardashian West brought her sister Khloé Kardashian—who ditched meat in 2018 during her pregnancy with True Thompson—along for the plant-based ride during what she called a "Sister Boot Camp" challenge.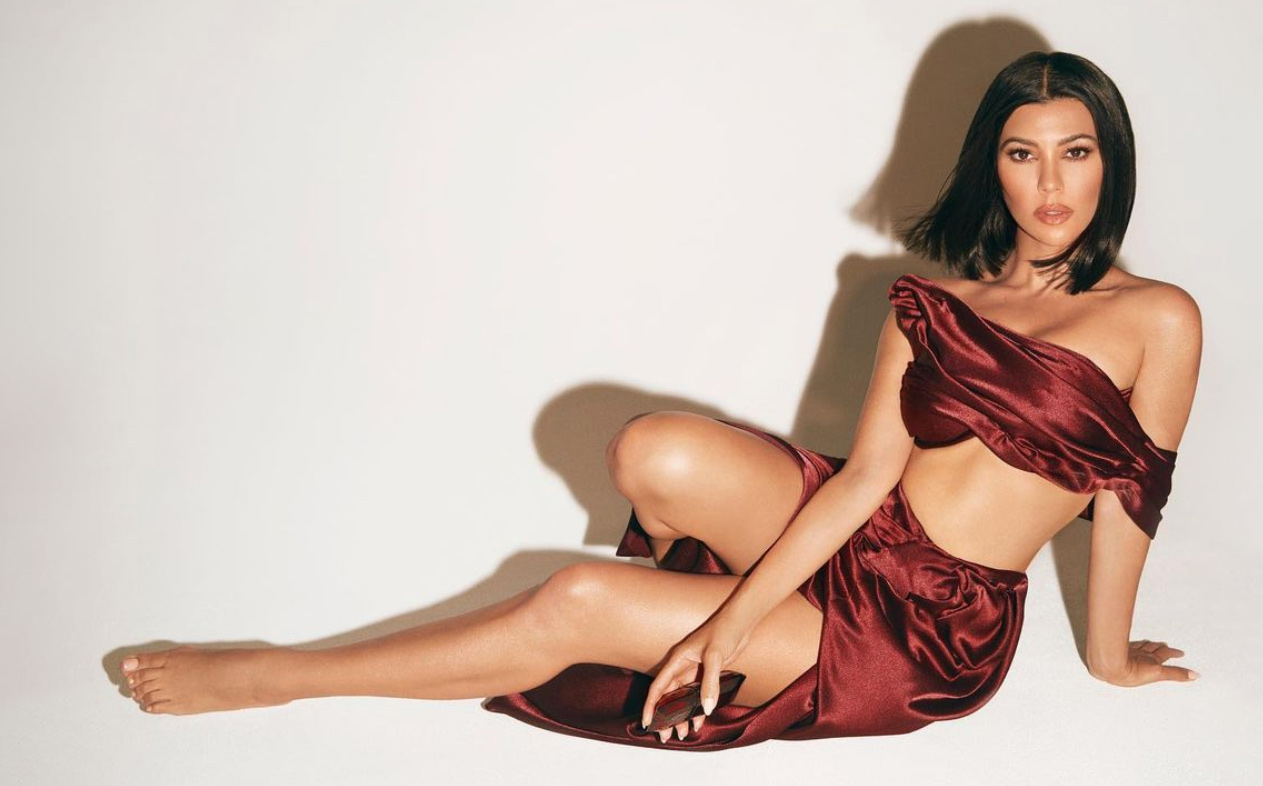 In May, Kourtney Kardashian also jumped on the plant-based train, sharing that she is now "95 percent vegan" through the blog on her Poosh website. Kourtney Kardashian revealed the meals she consumes on a typical day include avocado shakes, vegan tacos and sushi, and zucchini noodles. For "treat" day, she splurges on vegan chicken and waffles from Crossroads Kitchen—a Los Angeles vegan restaurant backed by her vegan boyfriend and Blink-182 drummer Travis Barker.