Today, eco-conscious designer Stella McCartney unveiled her Autumn 2021 collection campaign, called "Our time has come," highlighting a future where animals live freely among humans. The campaign supports Humane Society International's (HSI) petitions to end the cruel fur trade in the United Kingdom and globally.
The Autumn 2021 collection is energetic and colorful, featuring performance wear refocused with softness and sensuality. The collection includes loose joggers, pants, sweatshirts, hoodies, blouses, sweaters, dresses, and jackets that use bold colors across varied and vibrant shades of pink, green, blue, red, orange, and yellow, with textures that range from soft recycled polyester to smooth vegan leather. Accessories include vegan handbags like the iconic Falabella, an oversized Maxi edition, and the Frayme, a bold new style remixing a classic. The collection is made with 80 percent eco-friendly materials—including forest-friendly viscose, ECONYL regenerated nylon, Koba Fur Free Fur, sustainable beech wood, and repurposed old-stock fabrics—making it the British fashion house's most sustainable to date.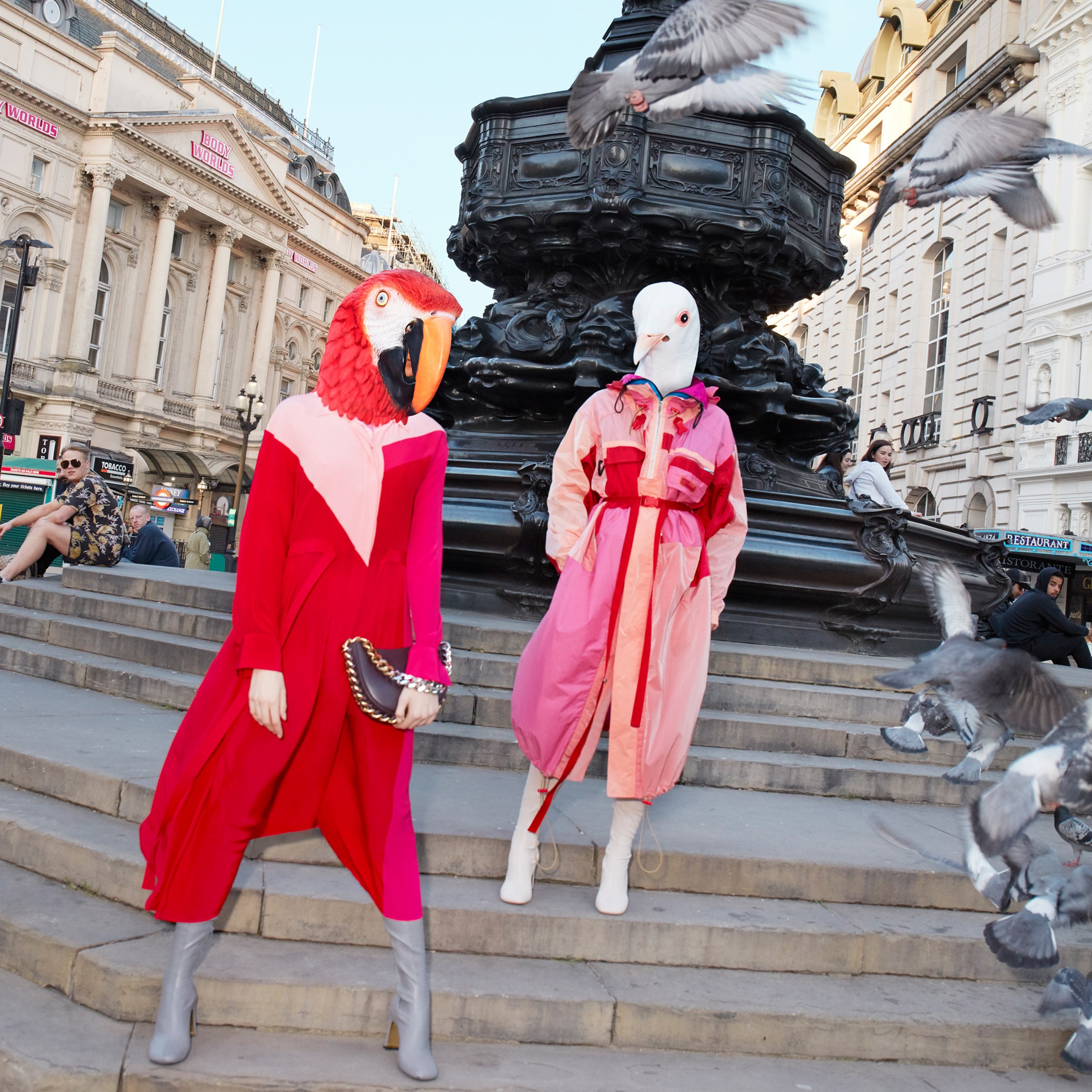 Petitions to end the use of fur
Having never used leather, feathers, fur, or skins since it launched in 2001, McCartney is asking its global community of changemakers to sign HSI's Stop Deadly Fur petition calling on all countries to ban fur farming and highlighting the trade's danger to both human and animal lives during the COVID-19 pandemic. The brand is also raising awareness for HSI's Fur Free Britain petition, urging the UK government to ban the import and sale of fur.
Earlier this year, McCartney was part of a group of eight top fur-free fashion designers—also including Vivienne Westwood, Katharine Hamnett, and Helen Moore—and luxury fashion department store Selfridges to call on United Kingdom Prime Minister Boris Johnson to make the UK the first country in the world to ban fur sales. The designers sent a letter to Prime Minister Johnson in support of HSl's Fur Free Britain campaign.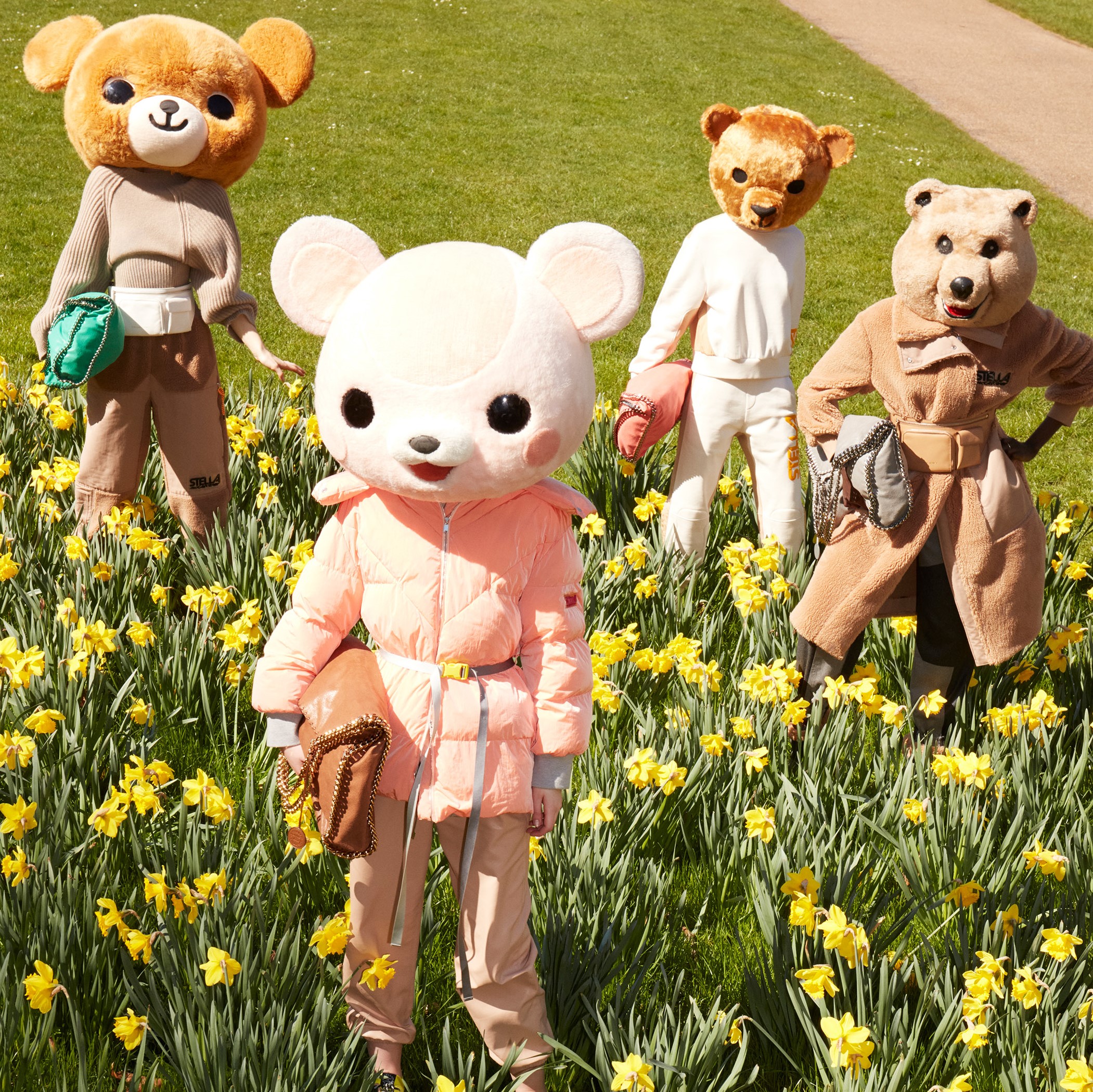 Fur-free fur saves lives
Every year, over 100 million animals are killed for fur, with most of the animals crammed into small, barren wire cages on fur farms for their short lives and unable to act out their natural behaviors like running and digging. McCartney's use of fur-free fur helps prevent 60,000 animal deaths each year. The designer's iconic vegan Falabella bags, over one million of which have been sold, have saved approximately 400,000 cows.
"While this campaign is light-hearted, I wanted to address a serious issue: ending the use of fur. Whether it is being sold here in the United Kingdom or farmed globally, barbarism knows no borders and this effort is key to my life's mission of bringing a conscience to the fashion industry," McCartney said. "I am proud to partner with Humane Society International and to help raise awareness of the incredible work they do—please join us in ending this horrendous practice by signing their petitions now."
The new collection is available in Stella McCartney boutiques, on the designer's website, and will be stocked at select department and specialty stores worldwide.