New vegan gelato and wine bar On Third Thought recently opened in downtown Toronto. The shop was developed by longtime vegan Jade Lalonde and her partner Joey Ottaviano in an effort to create an inclusive eating experience for consumers of all dietary needs.
On Third Thought sells wine by the bottle, cocktails such as sangria mimosas, and aperol spritz, as well as pints of gelato and gelato by the scoop. The shop showcases between eight and 13 gelato flavors daily, such as Strawberry Shortcake, Cookies n' Cream, Mango, Mint Chip, and Chocolate Peanot Butter (made with Sunbutter), along with alcohol-infused flavors such as Aperol Spritz, Mojito, Sangria, and Pina Colada. The gelato is made from a base of rice milk and is free of common allergens like dairy, eggs, gluten, soy, and nuts.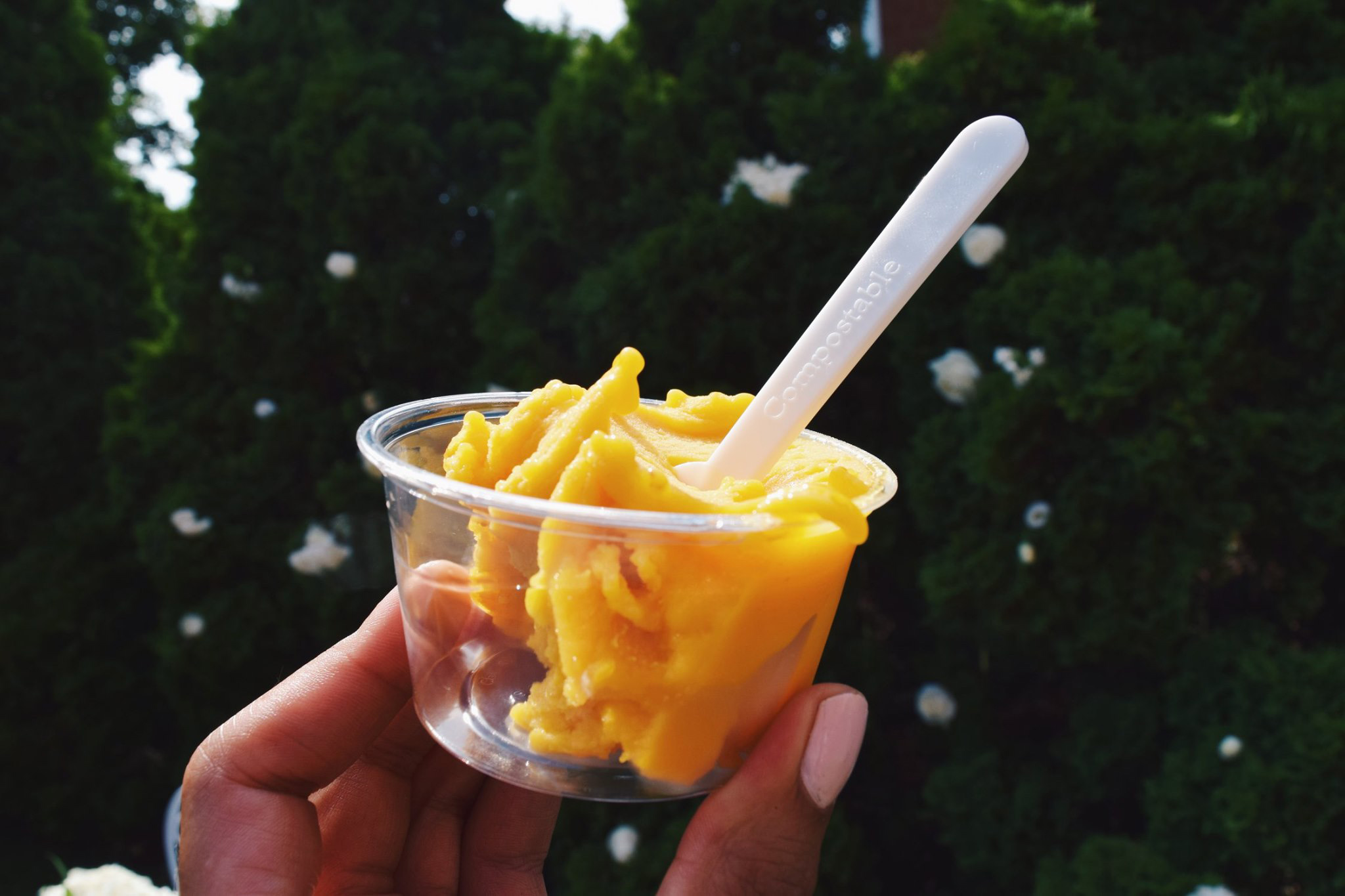 "[I'm] vegan and a bunch of our family members and friends have allergies and dietary restrictions with a wide range of severity. It can be so difficult to share meals together, which is typically such a bonding experience with the people you love," Lalonde told VegNews. "These challenges inspired us to create an inclusive experience for everyone, despite any major allergy or dietary restriction, so that people can share an indulgent treat and focus on the conversation with the people they love as opposed to their restrictions and anxiety that can be associated with these diets."
Pairing wine and vegan gelato
Lalonde and Ottaviano initially launched the gelato business focusing on event catering and came up with the concept of pairing their handmade gelato flavors with wine and cocktails for a totally unique experience. When the location they found came with a liquor license, their concept came to life. On Third Thought offers select wines that are paired to enhance the flavor of the vegan gelato, heighten its intensity, or cut through the sweetness.
"After a conversation with Joey's mom while planning his sister's wedding, they discussed how fun it would be to serve up gelato at weddings as a career. When Joey came to [me] with this thought [I] was completely on board with one twist: allergy conscious gelato everyone could enjoy," Lalonde said. "The intersection of Joey's Italian heritage and [my] passion for vegan and allergen conscious food is where the idea for On Third Thought was born—a treat you won't think twice about."
On Third Thought offers an outdoor patio for guests to enjoy in warmer months. The shop will continue event catering as soon as the city's COVID-19 restrictions allow.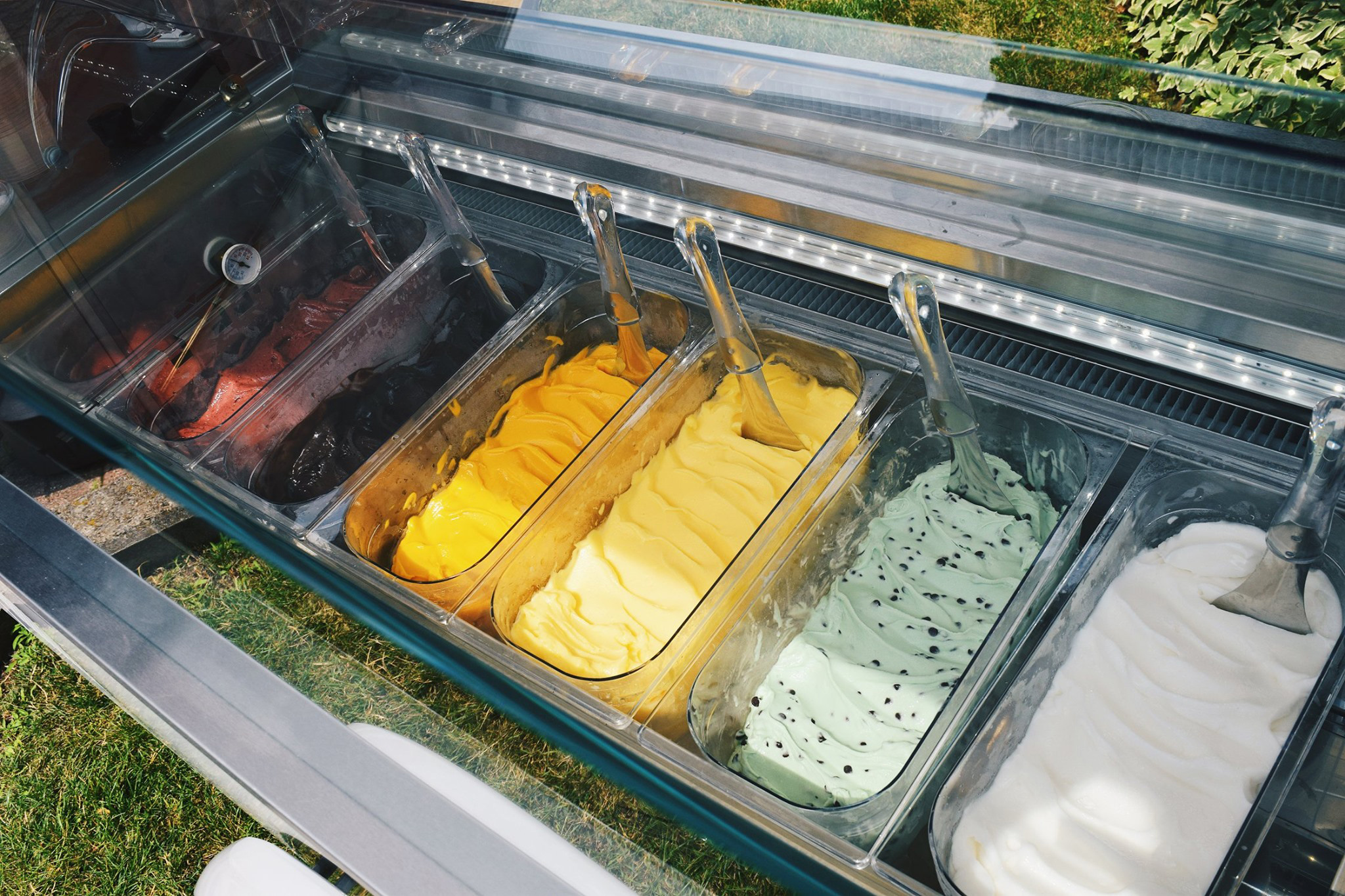 Vegan gelato for all
While On Third Thought offers a unique pairing, it isn't the first vegan gelato shop in Toronto. Last year, vegan gelato shop M!LK opened in Toronto inside a shared space with vegan pizzeria Pizzeria Du. The shop is currently scooping gelato to customers on the sidewalk from the restaurant's front window and offering pints for pickup and delivery. M!LK offers 16 rotating flavors made with a base of coconut, oat, or rice milk that include classic chocolate and vanilla along with unique options such as chai masala, hibiscus, ginger turmeric, dulce de leche, Oreo, and piña colada.