Most summer days, a classic double-scoop nestled in a vegan-friendly waffle cone will curb that summertime ice cream craving. However, inventive ice cream-makers are turning heads with their adorable, monstrous, and one-of-a-kind creations that trigger a "gotta-have-it-now" response. Suddenly, once you know a narwhal-shaped soft-serve exists, you can't think of anything else. Dive into these 10 trendy vegan treats with us and enter into an ice cream-addled sugar comma.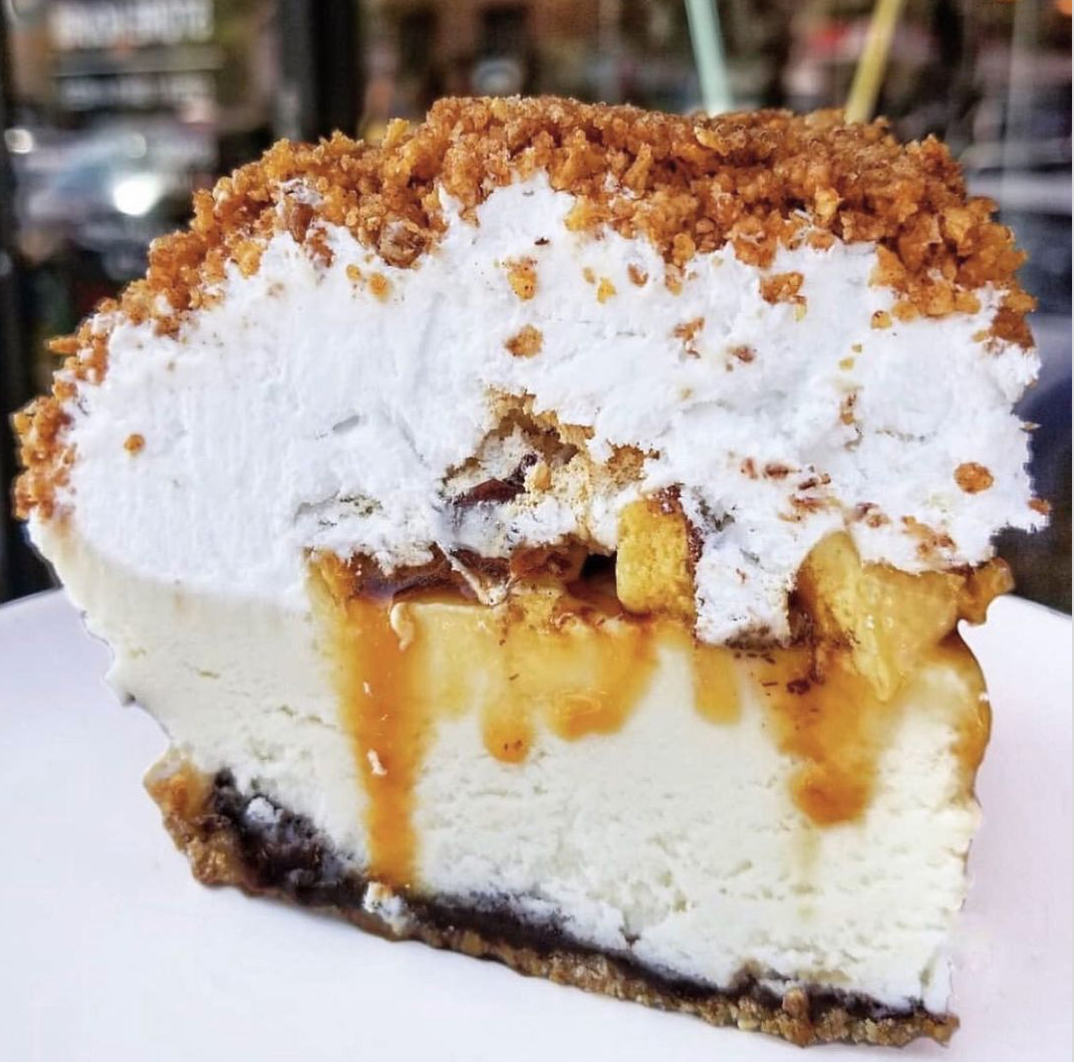 1. Fried Softserve Pie at Magpies Soft-Serve (Los Angeles, CA)
Popular soft-serve shop Magpies Soft-Serve offers at least three to four vegan-friendly ice cream pies, but the one that never leaves the menu board is the iconic Fried Pie. Standing at an impressive four inches high, this treat starts with a graham cracker-base followed by a thick layer of fudge, Corn Almond soft-serve, vegan honeycomb, dairy-free whipped cream, and a fried candied cornflake streusel. Other soft-serve pie options include layers of White Coffee ice cream, vanilla cake, chocolate cookie crusts, coffee crumble toppings, and more. At Magpies, they never say "or," only "and."
2. Vegan Hong Kong Egg Waffle Cones at Eggloo (New York, NY)
Never settle for a stale waffle cone again. These puffy waffles from Eggloo are the perfect vessel for a generous scoop of ice cream, and their pillowy texture can't be beat. This vegan-friendly novelty shop is currently waiting for a safer time to reopen post-pandemic, but in the meantime, it is selling Eggloo-scented candles to remind its customers of its eventual return to business.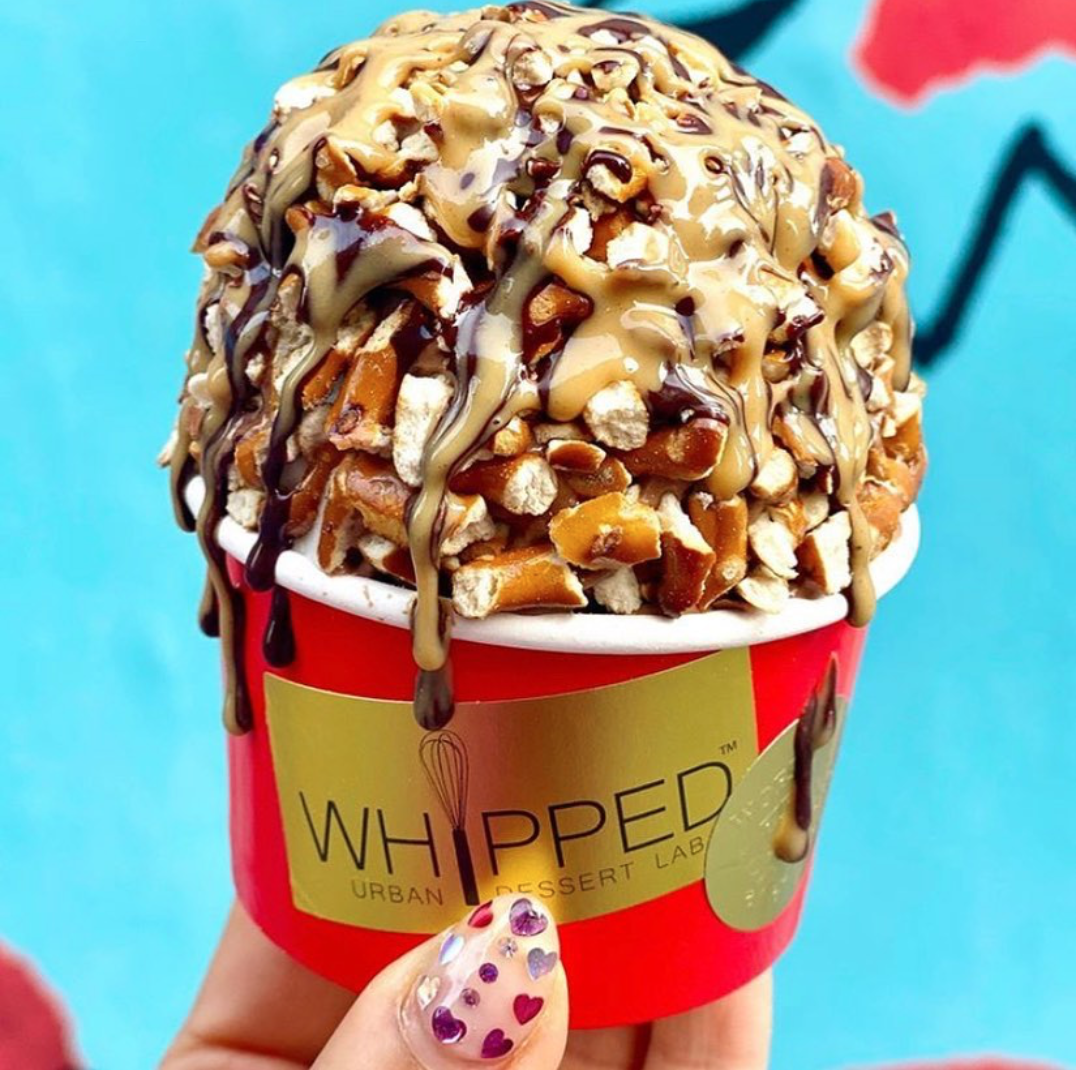 3. Oat Milk Soft-Serve at Whipped Urban Dessert Lab (New York, NY)
Often considered lesser in comparison to gelato or ice cream, Whipped is bringing out the full, glorious potential of soft-serve. Each flavor can be served in a cup or cone and dipped, drizzled, and sprinkled with a sundae-sized array of toppings. While the Oreo and sprinkle-coated creations look appealing, this pretzel-peanut butter-fudge trio has us salivating.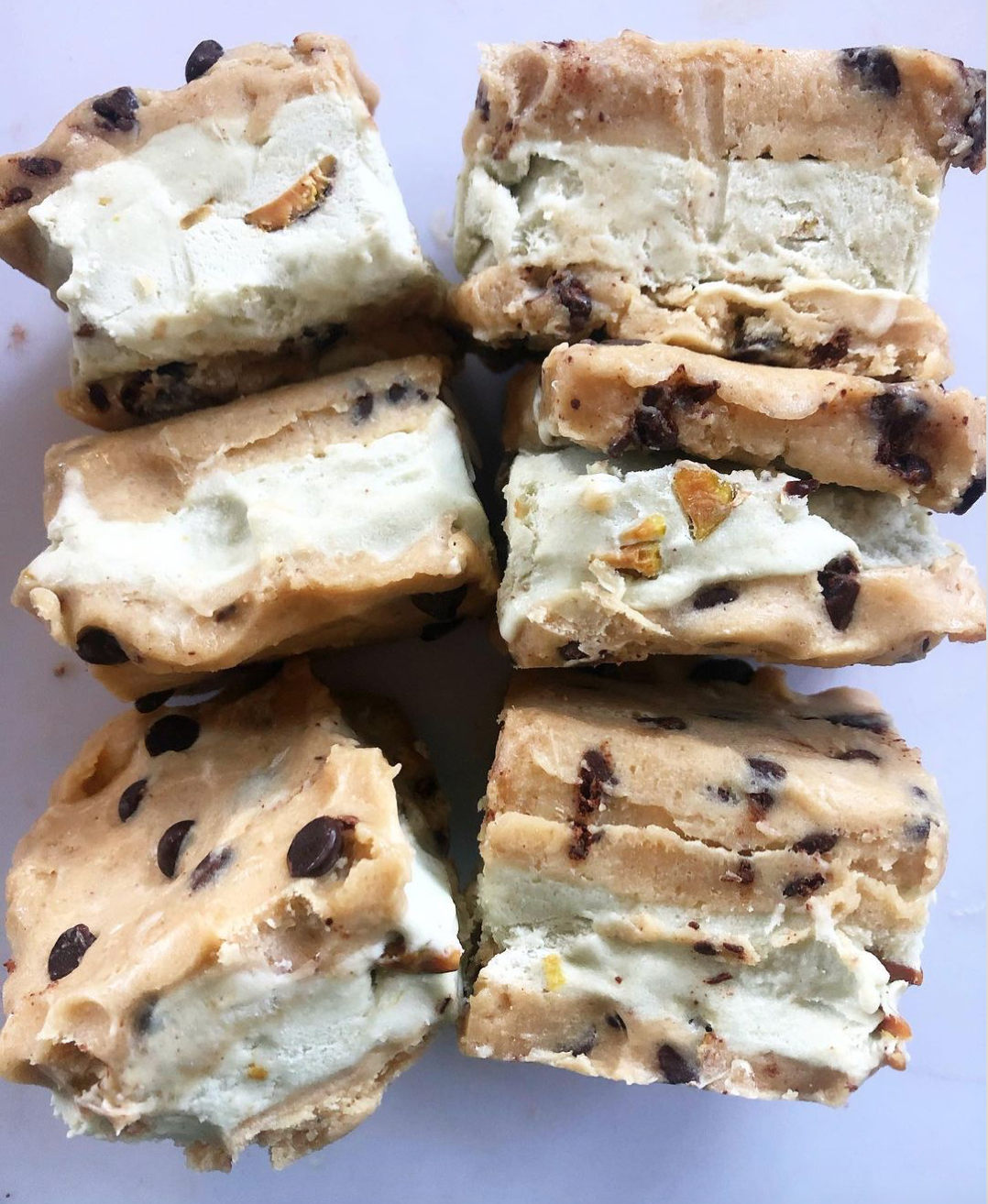 @eatpastry
4. Cookie dough ice cream sandwiches
Recreate the trend anytime, anywhere. All you need is vegan cookie dough and a pint of vegan ice cream (of course, toppings always sweeten the deal). Pat out the dough onto a plastic or parchment-lined baking sheet, freeze, slather with softened vegan ice cream, freeze again, then top with another layer of dough. Freeze the creation so it's easier to cut into squares, rectangles, or triangles (really, whatever shape calls to you). If you have sprinkles, chocolate jimmies, or crushed cookies, roll the exposed ice cream sides in the topping to evenly coat. Best. Sandwich. Ever.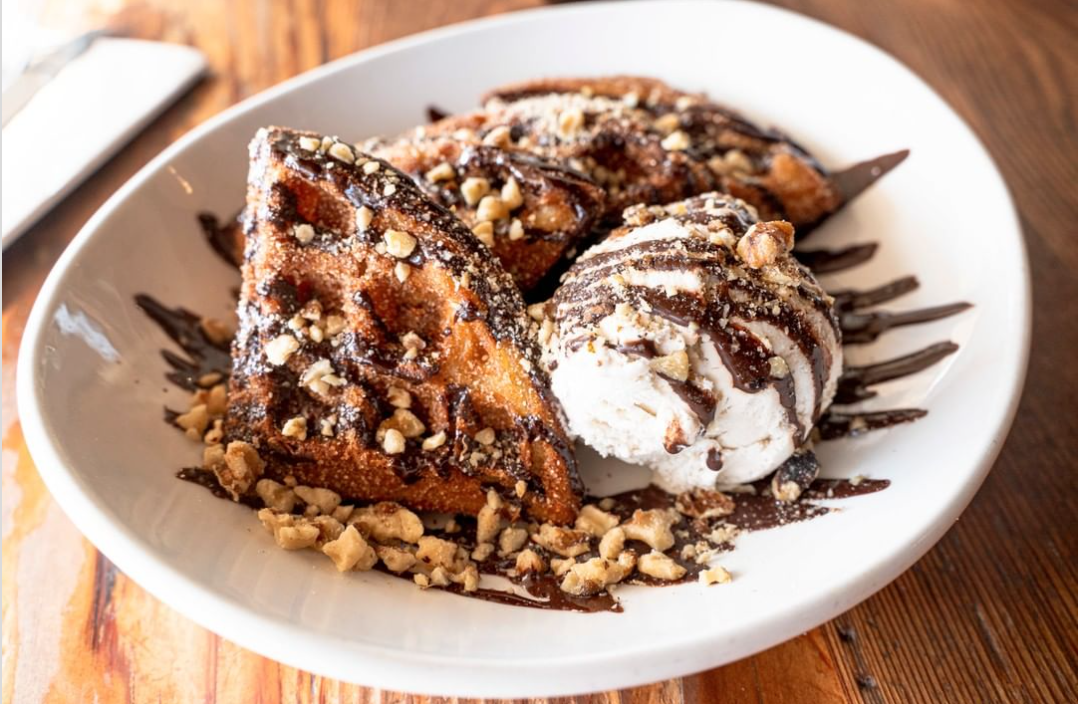 5. The Chaffle at Seabirds Kitchen (multiple locations)
When you know the Chaffle is on the menu, it's impossible not to order dessert. This sharable sweet finale from Seabirds Kitchen is comprised of a churro waffle, vanilla ice cream, hot fudge drizzle, and a toasted walnut garnish. It definitely gives the classic brownie sundae a run for its money.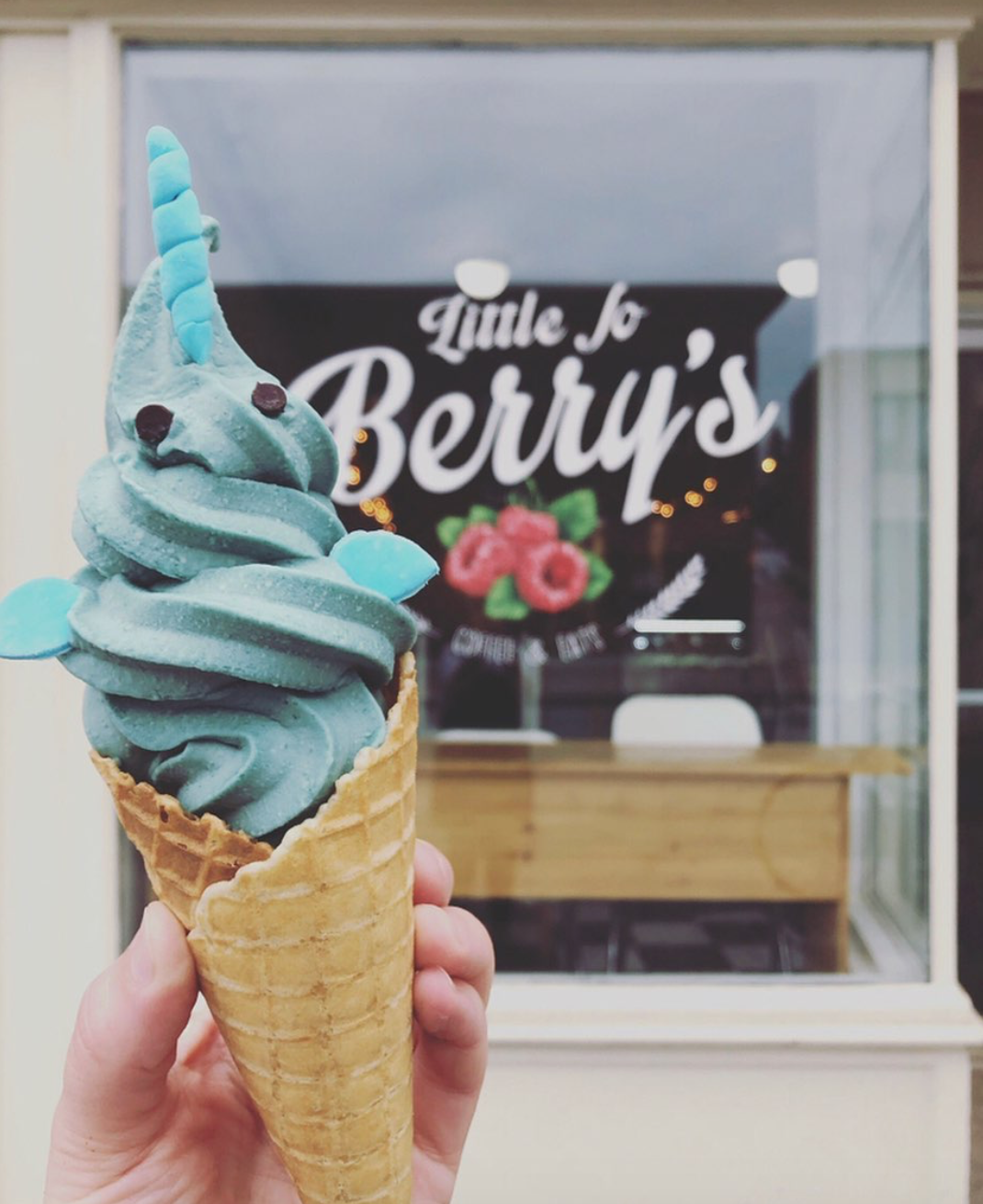 6. Narwhal Ice Cream at Little Jo Berry's (Ottawa, Canada)
What are narwhals but unicorns of the sea? This adorable cool creation from Little Jo Berry's is made with an Earl Grey Cookie soft-serve and comes to life with edible fins, a sparkly horn, and chocolate chips for eyes. It may be too cute to eat, but get over that trepidation fast, because it will melt into a puddle in minutes.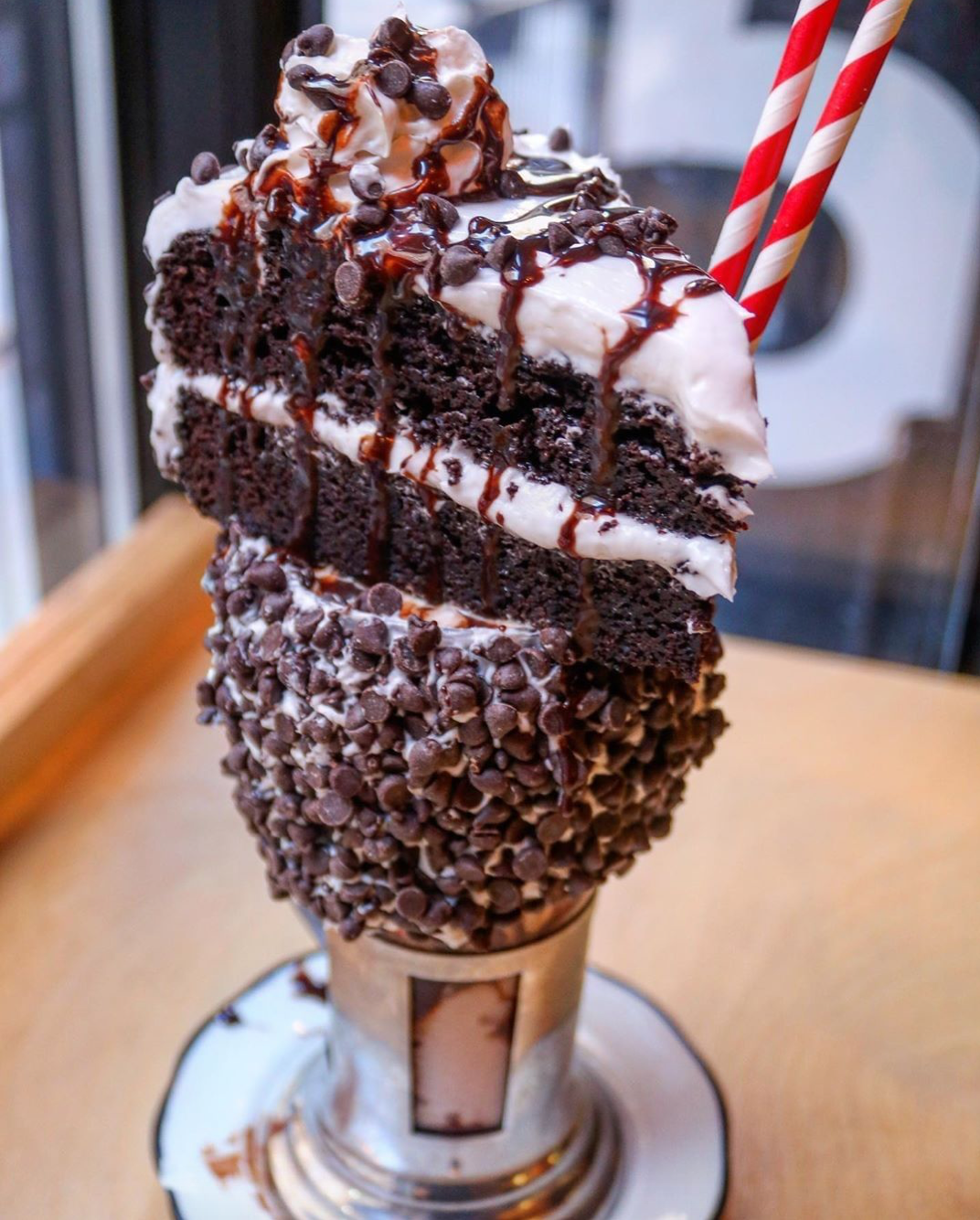 7. The Vegan Black N' White Shake at Black Tap (multiple locations)
At Black Tap, there is no decision between cake or ice cream—you get both. Piggybacking off the crazy shake trend, this stellar vegan option includes a chocolate milkshake base rimmed with mini chocolate chips, topped with a two-layer slice of vanilla-frosted chocolate cake, and covered with whipped cream and chocolate drizzle. Our question is: do you eat the cake or the shake first?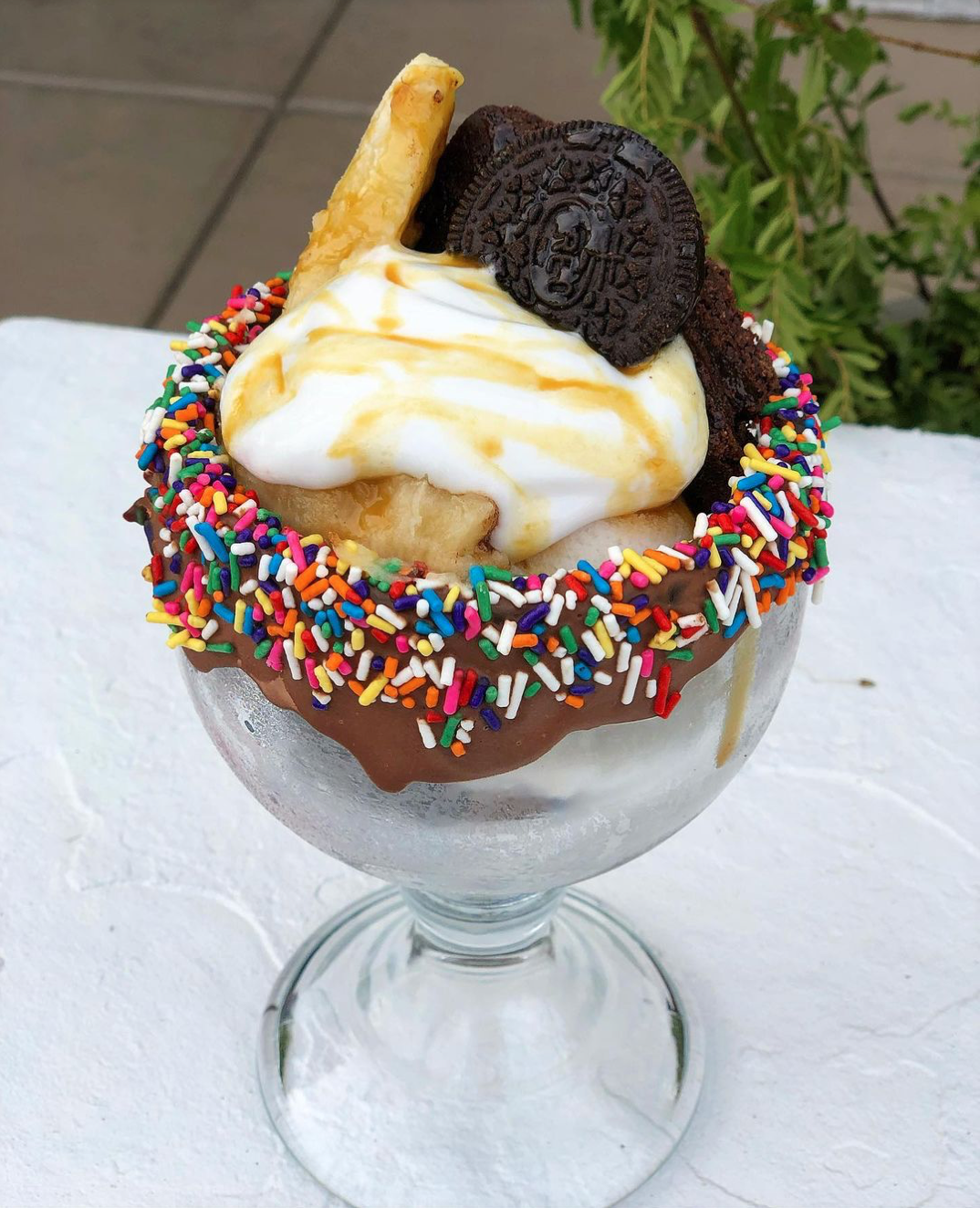 8. Hot Brownie Sundae at Vegenation (multiple locations)
The brownie sundae never goes out of style. This Vegenation iteration is served with a hot fudgy brownie, customer's choice of ice cream, sliced caramelized bananas, coconut shreds, fresh berries, sprinkles, and caramel sauce. When it comes to sundaes, more toppings is always the answer.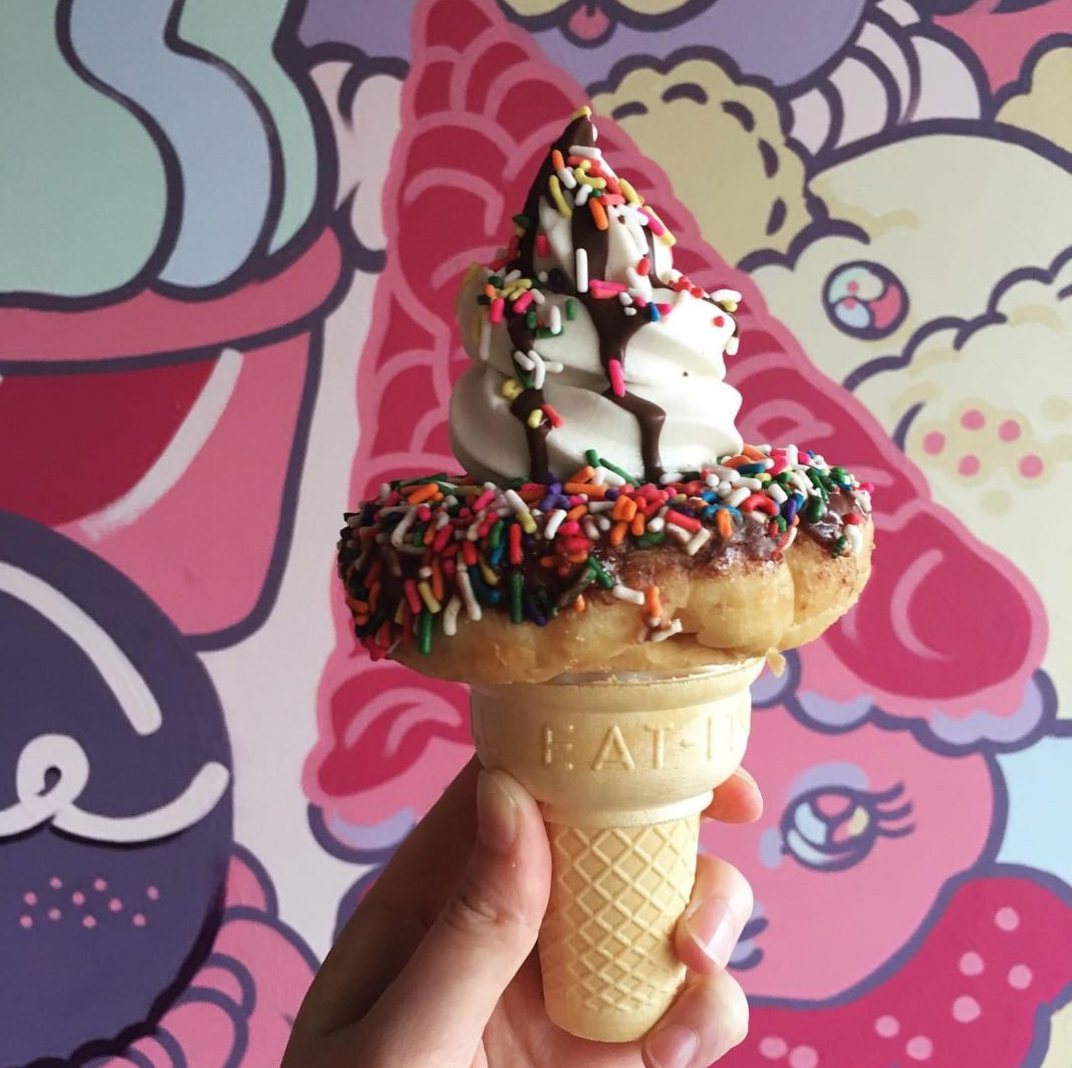 9. Donut Soft Serve Cone at Sweet Ritual (Austin, TX)
There are doughnut ice cream sandwiches, and then there are sweet inventions like this Sweet Ritual soft-serve-topped doughnut in a cone. Customers can customize their perfect cone by choosing the soft-serve flavor, drizzles, and toppings. Now is not the time for restraint.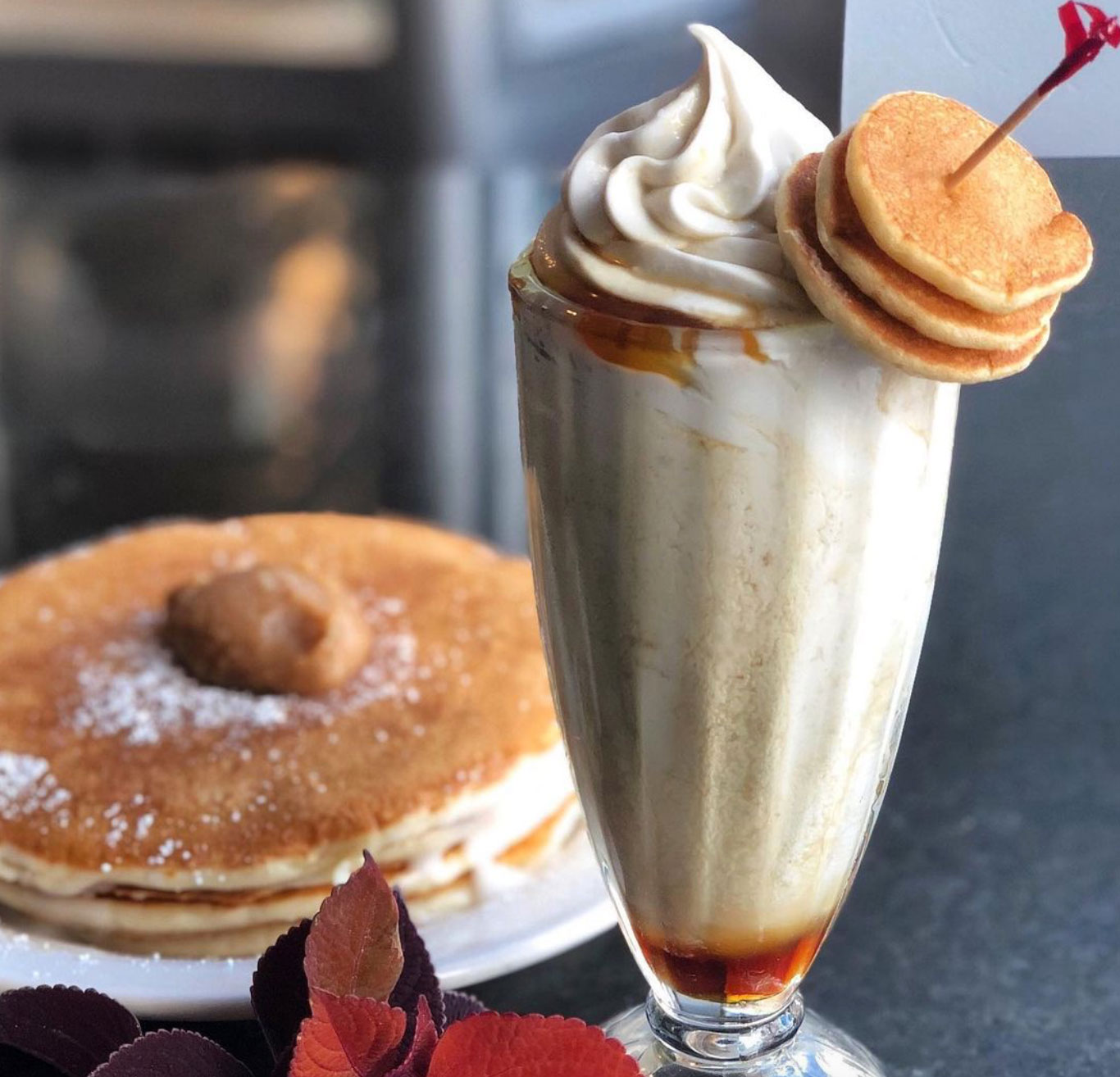 10. Pancake Frapp at Veggie Galaxy (Cambridge, MA)
Many breakfast items cross over into dessert territory—think doughnuts, cinnamon rolls, and frosted muffins—but we've yet to see such breakfast inspiration in the milkshake category. This maple-flavored Veggie Galaxy frapp is the ideal accompaniment to a breakfast-for-dinner tofu scramble. The fluffy silver dollar pancake garnish is arguably the best part!
JUST LAUNCHED! Get our 10 Easy Vegan Summer Meals recipe book as a FREE instant download.
JUST LAUNCHED! Get our 10 Easy Vegan Summer Meals recipe book as a FREE instant download.