Vegan beer and ice cream aficionados can finally imbibe and indulge at once with the recent launch of Hazy-O! vegan ice cream. Created by Delaware-based brewery Dogfish Head in partnership with artisanal ice cream brand Tipsy Scoop, the new ice cream flavor is inspired by the brewery's Hazy-O IPA. The ice cream is made with an oat milk base and features notes of caramel, cinnamon, and coconut, and all ingredients used are free from animal products, VegNews has confirmed. While oat milk has become a popular base for vegan ice cream in recent years, Dogfish Head's version is spiked with enough alcohol (5 percent ABV per pint) to require an ID for purchase.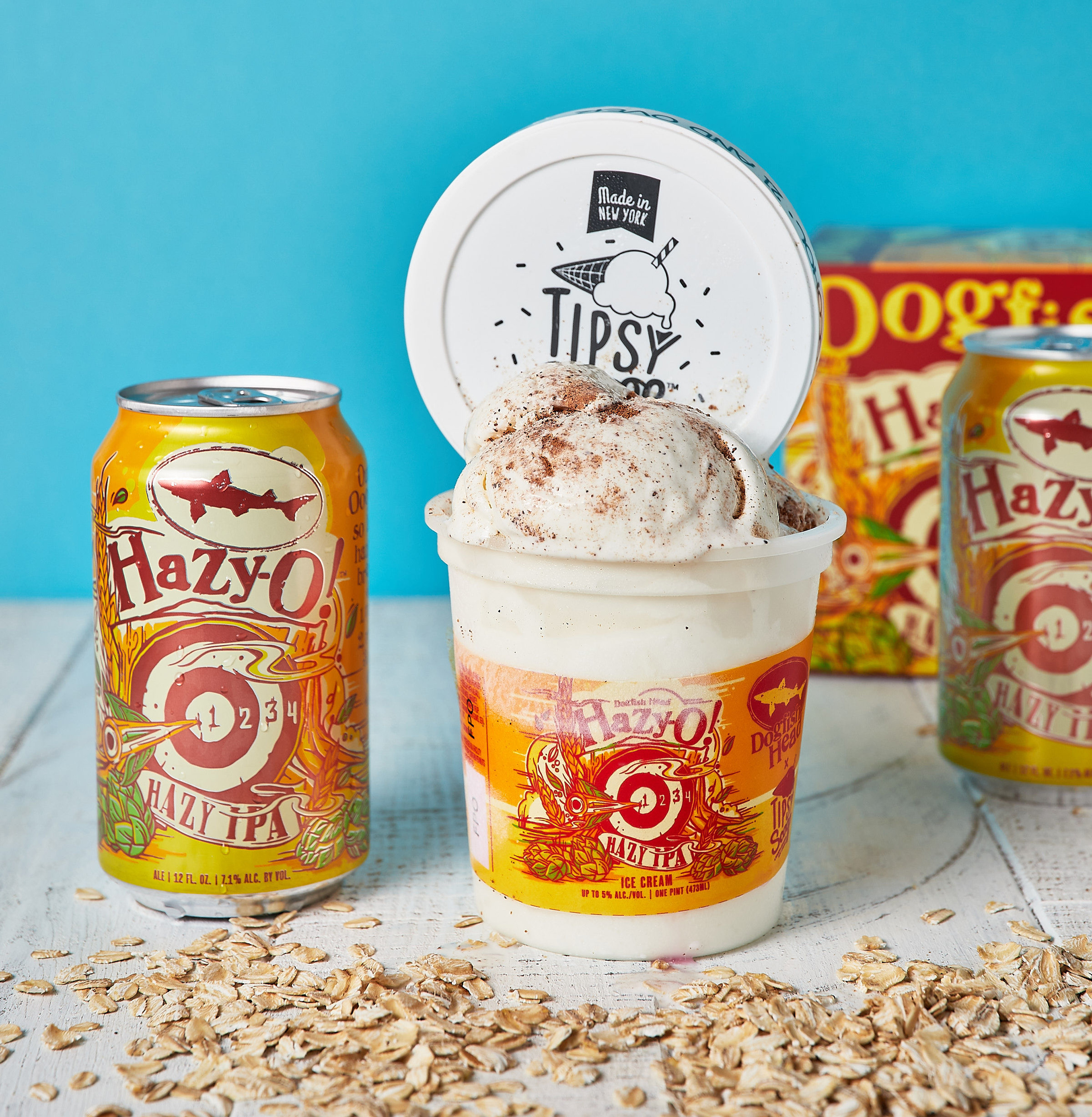 "At Dogfish Head, we're known for brewing off-centered, innovative beer. We gravitate towards 'of-the-moment' culinary ingredients that are atypical, ingredients that will bring our drinkers a flavorful brew they simply can't get anywhere else," Sam Calagione, Dogfish Head Founder & Brewer, said. "And Hazy-O! is no different—the oat milk gives it a dreamy cloudiness, a silky mouthfeel, and a gorgeous, toasted, nutty flavor. It screamed to be made into an ice cream—and we were so excited to take this innovation one step further with Tipsy Scoop."
The new Hazy-O! vegan ice cream is available for purchase online at Tipsy Scoop for $12.95 per pint or a four-pack for $49. Nationwide shipping is available for all 50 states while supplies last.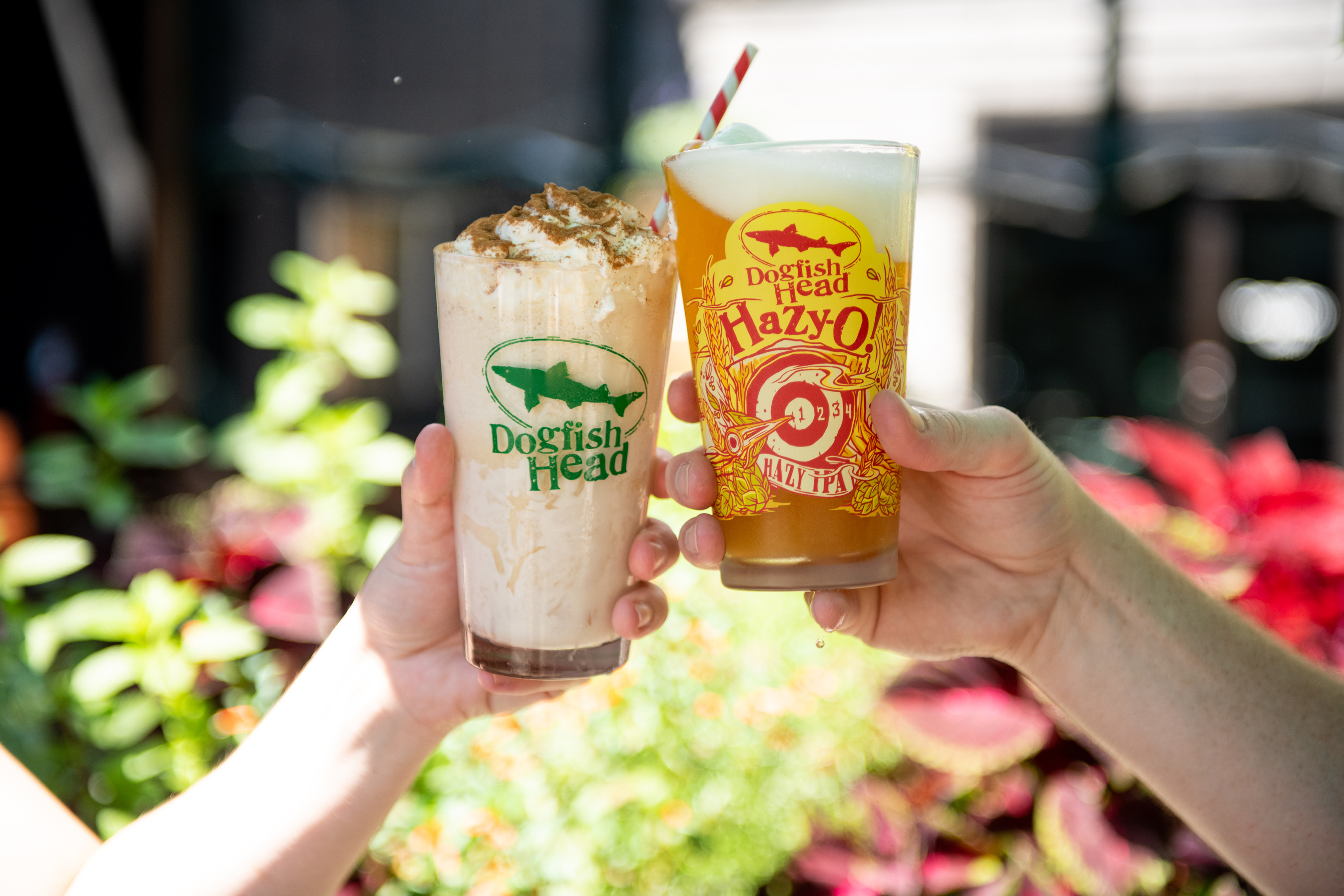 Dogfish Head's oat milk IPA
This year, the brewery made history with the release of its Hazy-O IPA—the first nationally distributed IPA brewed with oats. To create the unique brew, the company worked with oat scientists at Elmhurst, which itself made history when it closed operations as a traditional dairy company after more than 90 years to pursue the business of milking plants.
The Hazy-O IPA uses four different types of oats to impart a distinct flavor and texture profile without needing to rely on dairy milk. Malted oats are used to provide cloudiness, rolled oats create a silky mouthfeel, naked oats add a toasted and nutty flavor, while oat milk is used to amplify the beer's haze and mouthfeel. The Hazy-O comes in at 7.1 percent ABV and has a tropical flavor thanks to a variety of hops.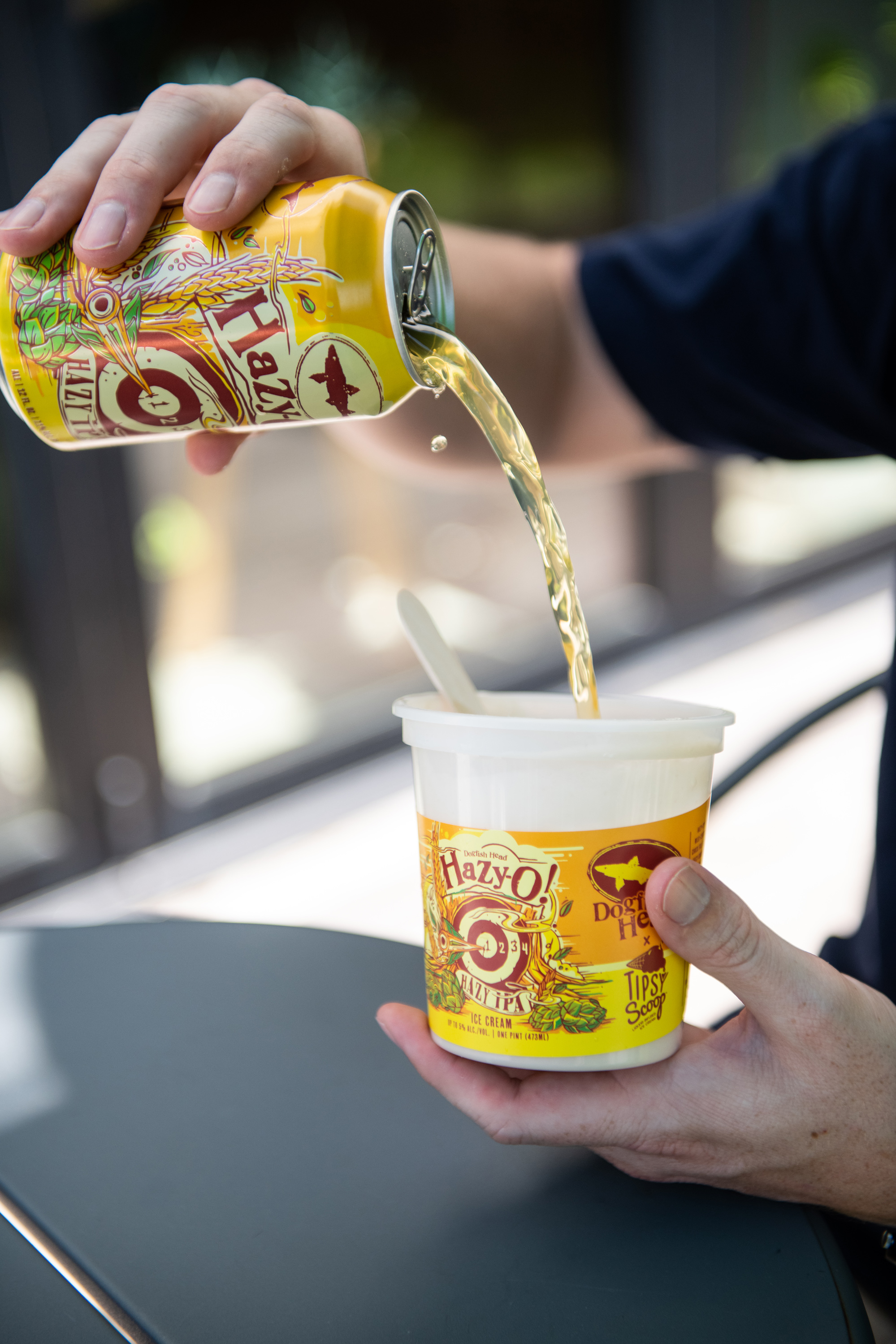 Boozy vegan ice cream
In addition to the release of Dogfish Head's Hazy-O ice cream, Tipsy Scoop previously worked with country star Kenny Chesney to turn his rum into a frozen vegan treat. The company worked with Chesney's Blue Chair Bay Rum to release a limited-edition vegan piña colada ice cream that contained 5 percent alcohol. The flavor was made with coconut milk, fresh coconut, pineapple, and Blue Chair Bay's coconut rum and it could be consumed as-is or blended into a boozy summer drink.
Other brands have played around with adding a tipsy factor to vegan ice cream, as well. In 2019, ice cream giant Häagen-Dazs—which launched its first line of vegan ice cream in 2017— released a Spirits Collection that featured a boozy vegan pint. The Non-Dairy Amaretto Black Cherry Almond Toffee flavor features swirls of black cherry jam and bits of almond toffee and was available at both scoop shops and retail stores.
Vegan mainstay NadaMoo! is also no stranger to adding alcohol to its frozen treats. Last year, the Austin-based brand released an entire line of cider-spiked flavors created in partnership with local company Austin Eastciders. Each with an ABV of 3 percent, the limited-edition coconut milk-based pints were available in three flavors: Vanilla Rosé (vanilla ice cream with rosé cider); Blood Orange Chocolate (chocolate ice cream and orange cider); Piña Colada (coconut ice cream with pineapple cider and chunks of fresh pineapple); and Apple Pie (cinnamon-spiced ice cream with dry apple cider and fresh apple pieces).