A new vegan butcher shop just opened in Rochester, NY. The tongue-in-cheek business—Grass Fed—took up roots just blocks away from a prominent orthodox synagogue, and the entire menu is certified kosher. The plant-based promise of this new business allows many kosher customers to experience foods they have never eaten in their lives—from vegan slab bacon to sliced deli ham. Along with these formerly forbidden meats, plant-based pastrami and brisket remain the most sought-after items on the menu.
Grass Fed is the brainchild of married vegan couple Rob Nipe and Nora Rubel. The idea for a vegan butchery evolved out of Nipe's craving for a quick and greasy vegan breakfast sandwich. Over time, he developed his own recipe. Once both were satisfied with Nipe's plant-based rendition of tofu egg and vegan sausage, he moved on to mastering the iconic Philly cheesesteak, a recipe that was close to both of their hearts.
Word spread of Nipe's success in recreating animal-based foods, and a handful of orders soon turned into a heavy demand. Last year, Nipe quit his job as an analyst for the American Red Cross and devoted his full attention to finding a storefront and building a vegan butchery. Rubel—a Jewish studies professor at the University of Rochester—works part-time at Grass Fed.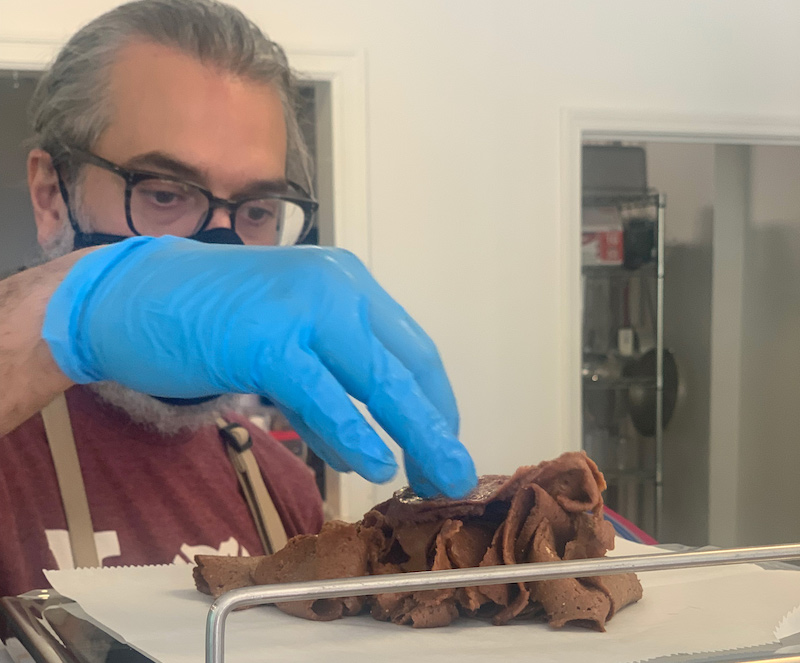 Jasmin Singer
What is kosher?
After securing a spot near an orthodox synagogue, Nipe and Rubel sought out a kosher certification. This certification ensures customers that the restaurant only uses ingredients that abide by the kosher food laws which dictate a standard of quality, cleanliness, and purity. These laws are based on rabbis' scholarly interpretation of the Bible and put into contemporary context. The synagogue's rabbi helped them with the process, pointing out kosher-certified soy sauce brands and other kosher-friendly ingredients. Grass Fed is under the supervision of Rabbi Avi Kilimnick from Congregation Beth Sholom in Rochester to maintain its kosher certification. Unlike a Jewish deli, Grass Fed is allowed to carry a wide array of meats—including the formerly prohibited pork products—due to the fact that everything is made from plants.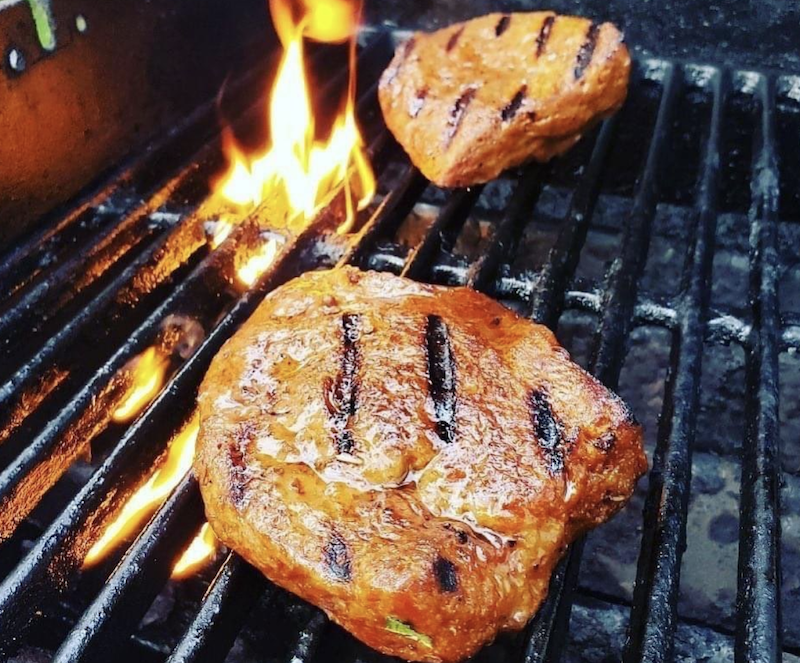 Grass Fed
The future of butcher shops is vegan
Prior to 2016, the concept of a vegan butcher was bizarre and mostly unheard of. The sibling duo behind America's first vegan butchery—Kale and Aubry Walch—forced the term into the national conversation by opening the Herbivorous Butcher in Minneapolis, MN. The pair were adventurous in their offerings—not only did they serve burgers and sausages, they sold vegan cuts of meat that had never (or rarely) been seen before. Think seasoned and smoked ribs, porterhouse steak, and filet mignon.
Not far behind, The Very Good Butchers opened up a plant-based shop in Victoria, Canada, serving up English bangers, burgers, and other meaty goods made from beans and seitan. Vegan butcher shops are steadily popping up across North America—from Vida's Plant-Based Butcher in Columbus, OH to the newly established Grass Fed in Rochester, NY.
Vegan culinary entrepreneurs are proving that plant-based products can contend on both the corporate and small business level. From the integration of Beyond Meat and Impossible products in an assortment of fast-food chains to independently owned vegan butcheries, it's impossible to ignore that consumers' appetites are changing. They still crave meat, but that doesn't mean it must come from an animal.
This article was edited on July 28 to include Rabbi Avi Kilimnick and additional kosher certification details.