Herbie Butcher's Fried Chicken (HBFC) is slated to open in Minneapolis as Minnesota's first vegan fried chicken shop. HBFC is a new concept from Guam-born sibling entrepreneurs Kale and Aubry Walch, who opened Minneapolis-based The Herbivorous Butcher in 2016 as the first vegan butcher shop in the United States. The menu at HBFC will revolve around seitan-based vegan fried chicken—which features Kale Walch's secret breading—served with housemade sauce or as part of a biscuit sandwich. The shop will also offer sides such as mac and cheese and coleslaw, along with biscuits with maple butter and milkshakes (made with NadaMoo ice cream) with various mix-ins.
With the new shop, the Walch siblings aim to continue their mission of creating vegan foods that are improvements, not substitutes, of their animal-derived counterparts. "Our mission has always been to try to save the world by bridging the gap for omnivores that haven't quite made the full jump to veganism yet, and by making vegan meats and cheeses that are even better than the counterparts they were used to we start to accomplish just that," Kale Walch told VegNews. "Herbie Butcher's Fried Chicken continues our brand's mission by making a fried chicken that won't leave anyone questioning if a plant-based lifestyle is possible without sacrificing the foods we love."
HBFC will host its grand opening from May 21 to May 23 (11am to 7pm each day) and offer takeout and delivery.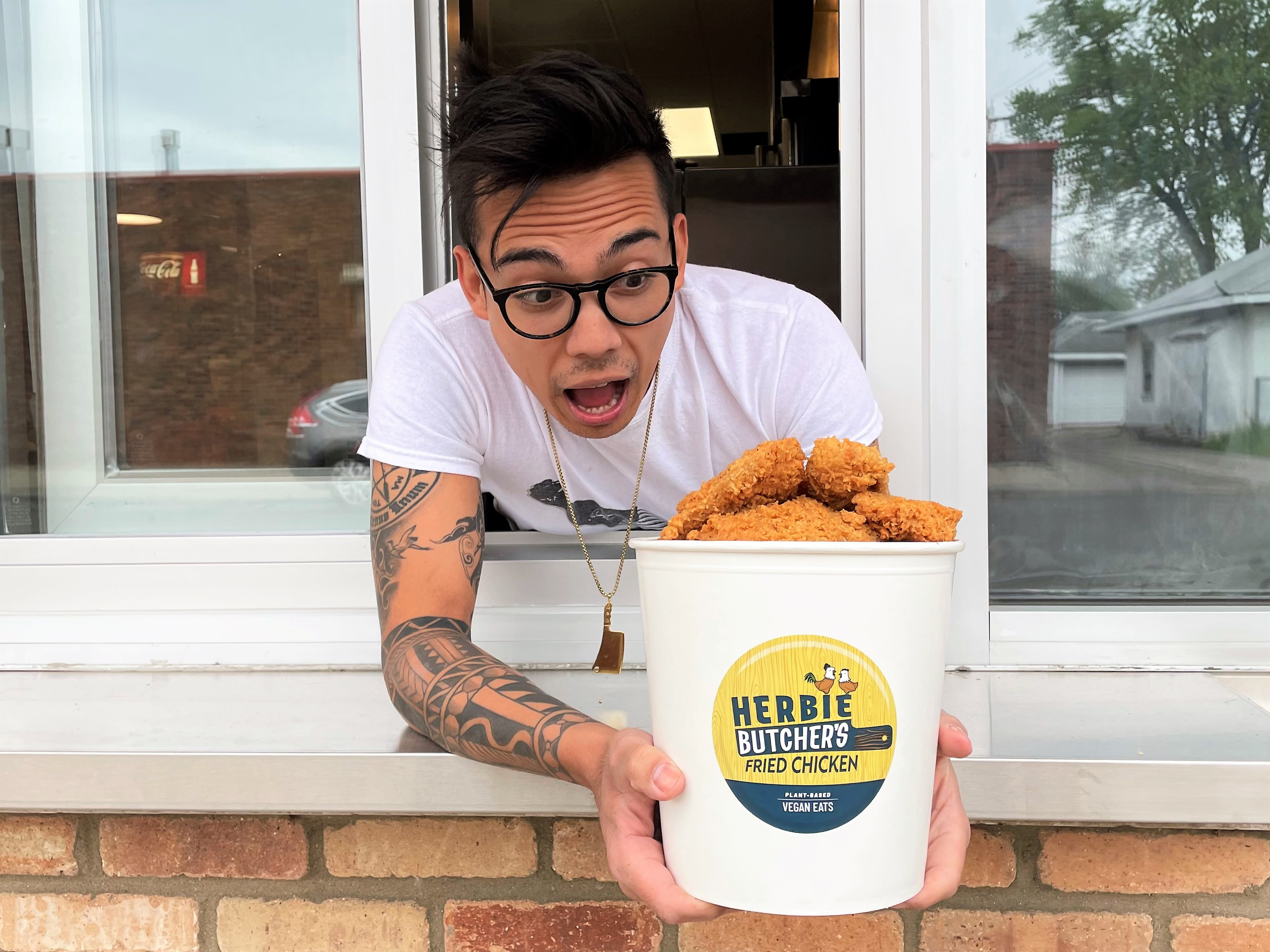 Vegan butcher for the win
Back in 2016 when the Walches first opened The Herbivorous Butcher, the use of term "vegan butcher" received widespread criticism but it has since become commonplace, in no small part due to the popularity of the Minneapolis shop's expertly crafted vegan ribs, sausages, sliced meats, bacon, jerky, cheeses, and deli sandwiches. Given the shift in perception of vegan foods in recent years, Kale Walch does not anticipate that the vegan fried chicken shop will receive similar pushback on semantics. "I think in the past seven years not only have minds been opened in regard to nomenclature, but big brands have decided that the words 'vegan' or 'plant-based' followed by just about anything can be capitalized [on]," he said.
One of those big brands is Nestlé, parent company of vegetarian brand Sweet Earth Foods which makes vegan burgers, grounds, meals, and more. In 2017, the United States Patent and Trademark Office (USPTO) denied The Herbivorous Butcher's trademark application for the term "Vegan Butcher," citing that the term was "merely descriptive." Shortly thereafter, Nestlé applied to trademark "The Vegan Butcher," which the USPTO nearly approved if not for an opposition filed by The Herbivorous Butcher. After a lengthy battle, The Herbivorous Butcher emerged victorious when Nestlé dropped its pursuit of the term.
The Walches do not plan to pursue the trademark in order to leave the term open for all innovators to use. Instead, the duo plans to focus on honing their craft as vegan butchers and exploring new concepts such as HBFC. "The sky is the limit for vegan food right now, and with each passing day, we learn more about new techniques and flavors to make our products even better," Kale Walch said. "We've learned our strengths as a company as well, and what we're truly passionate about which will drive our growth onward and upward."
The VegNews Mega Birthday Sale ends July 31 at midnight! Get the BEST vegan recipes, travel, celebrity interviews, product picks, and so much more inside every issue of VegNews Magazine—at a special birthday price. Find out why VegNews is the world's #1 plant-based magazine by subscribing today!