On September 7, vegan musician and animal activist Moby is releasing a cookbook named after his Los Angeles-based vegan restaurant Little Pine. The Little Pine Cookbook is a hardcover collection of 125 recipes inspired by the restaurant's most popular dishes, such as fried cauliflower with kimchi aioli, orecchiette with braised leeks, asparagus and English peas, butterscotch pudding, and chocolate bread pudding. All profits from the book will be donated to a charity dedicated to helping animals.
"And of course it is my plan to give away any and all profits that I make from the sale of the book," Moby posted on Instagram. "Working to create a world wherein animals are allowed to live their own lives, free from human interference, is my life's work, and I could never look at veganism as a way to personally profit."
A vegan of more than 30 years, Moby opened Little Pine in the Silver Lake neighborhood of Los Angeles in 2015 with a mission of donating 100 percent of its profits to animal charities. The intimate restaurant offers Mediterranean-style vegan and organic dishes such as panko-crusted piccata, fennel flatbread, lemon poppyseed pancakes, and "out of this world" chocolate chip cookies. Since Moby's departure from the restaurant in 2020, Little Pine has been operated by local plant-based investors who strive to continue supporting animal charities.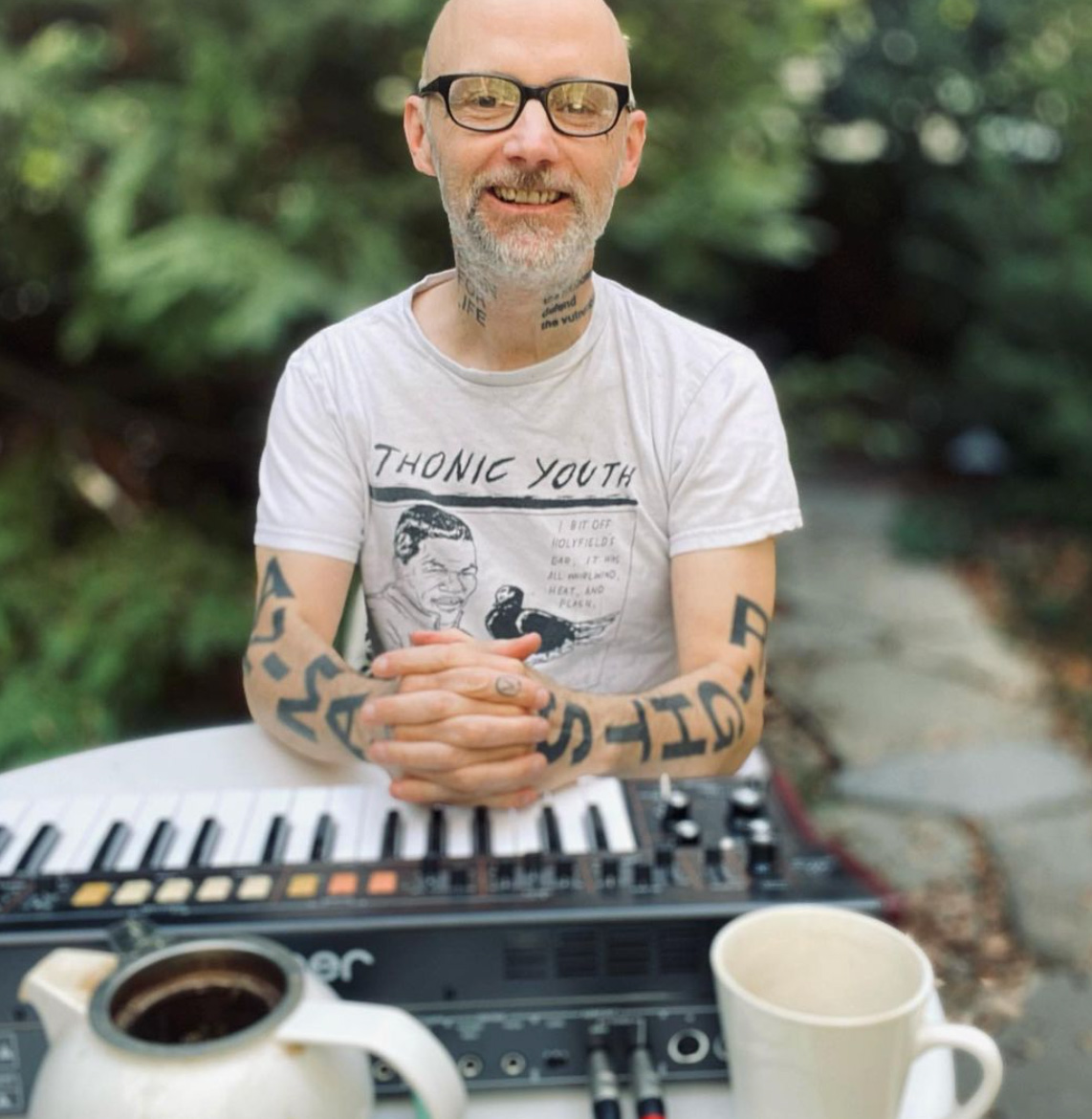 A history of animal activism
This is not the first time the musician has donated the proceeds of his work or possessions to animal-welfare organizations. In 2015, Moby curated Los Angeles-based music festival Circle V with an impressive lineup of artists, speakers, chefs, and food vendors to benefit non-profit organization Mercy For Animals. Moby also sold his musical instruments, DJ equipment, and record collection to benefit the Physicians Committee for Responsible Medicine—a group of medical professionals advocating for plant-based living. The instruments and equipment included more than 100 pieces of his personal collection, such as synthesizers he started using in the '80s, which were used to make his records. The collection included records in multiple music genres, with rare finds from the '80s and '90s that Moby played during his multi-decade career as a DJ, and some featuring handwritten notes by the musician.
Additionally, all profits from his 2018 album, Everything is Beautiful and Nothing Hurts, and his 2019 memoir, Then It Fell Apart, were also donated to various animal-rights organizations. "Animal rights are more important to me than any small, selfish concerns I might have," Moby posted on Instagram. Moby also put his $1.3 million New York property up for sale in 2018 so he could donate all proceeds of the sale to benefit charitable organizations.
To further cement his dedication to the animal-rights cause—and as a way to symbolize his rejection of social norms—Moby got the words "animals rights" tattooed on his forearms and "vegan for life" inked on his neck. At the time, the 55-year-old was celebrating 32 years of being vegan.