This month, international chain Pizza Hut added vegan meat toppings made by Beyond Meat to the permanent menu at its more than 400 Delivery Hut locations across the United Kingdom. The new options include three meatless pizzas and one side all made with dairy-based cheese and vegan meats from Beyond Meat. The Beyond Italian Style Sausage Supreme is topped with vegan Beyond Italian Style Sausage, mozzarella cheese, mixed peppers, mushrooms, and crunchy red onions, while the Beyond Beef Sizzler pizza is topped with vegan Beyond Beef Crumbles, mozzarella cheese, red onion, jalapeños, and green chillies.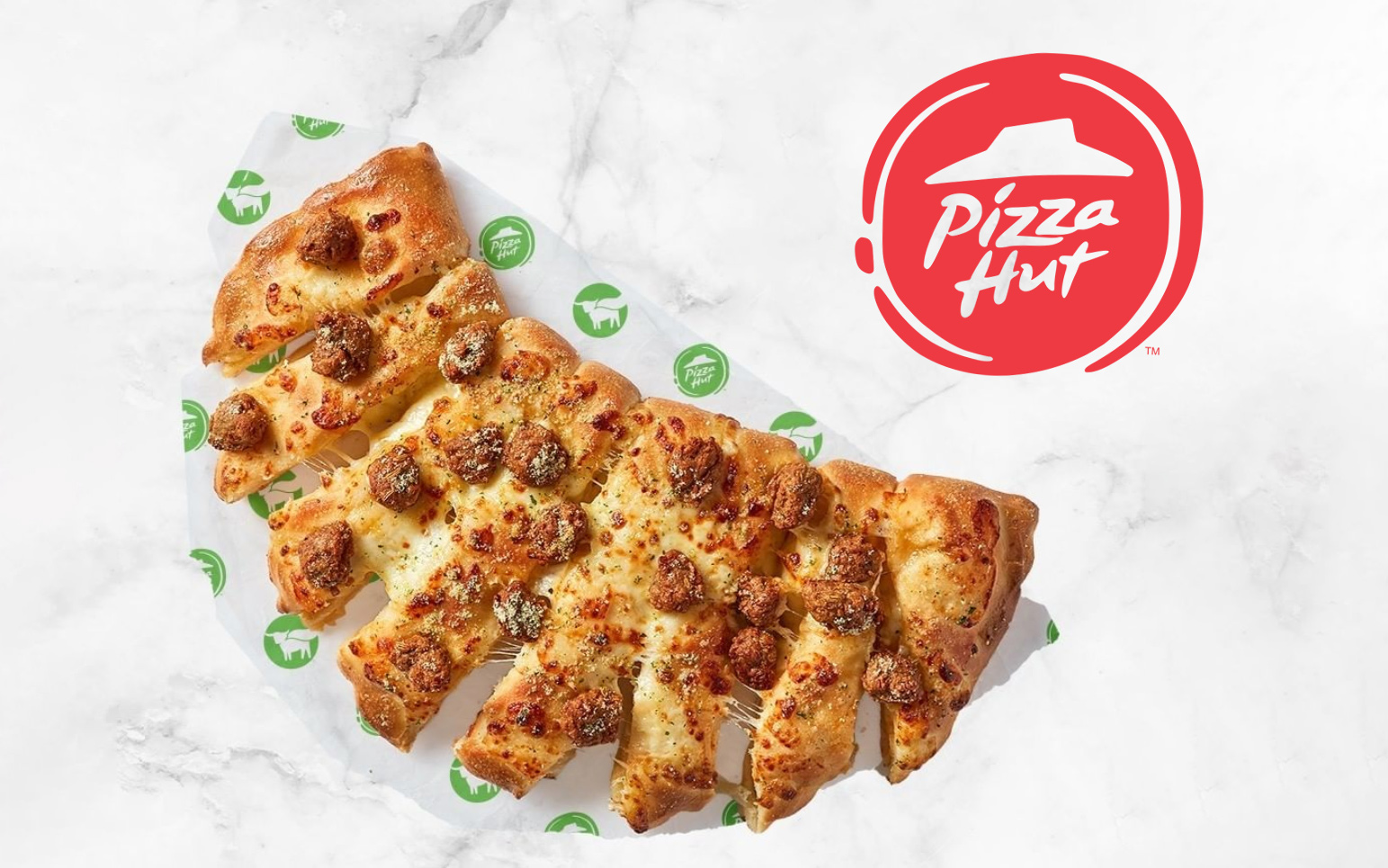 Delivery Hut is also offering the Beyond Three-Meat Three Cheese, which comes topped with three vegan meats (Beyond Italian Style Sausage, Beyond Beef Crumbles, and Beyond Pork Crumbles), along with mushrooms, red onions, and a three-cheese blend. The permanent menu now also features the Beyond Italian Style Sausage Tear & Share Topper, a folded pizza bread stuffed with garlic and dairy cheese and topped with vegan Beyond Italian Style Sausage.
Pizza Hut initially tested Beyond Meat options in November 2020 at five Delivery Huts in London, Liverpool, and Luton. The test included additional options—such as the Beyond Pork & Sweet Chilli pizza—that did not make it on the permanent Delivery Hut menu.
"We are delighted to be the first pizza chain to bring Beyond Meat toppings to the UK. We are constantly challenging ourselves to bring new innovations to our customers, and the Beyond Meat Pizzas are a great option for those looking to try plant-based protein without sacrificing the iconic flavour and texture of our traditional pizzas," Regina Borda, Managing Director at Pizza Hut Europe, said. "Our consumers' preferences are of utmost importance to us, and Beyond Meat's commitment to leading the category in product innovation, high-quality ingredients and accessibility made them the ideal partner for this historic launch."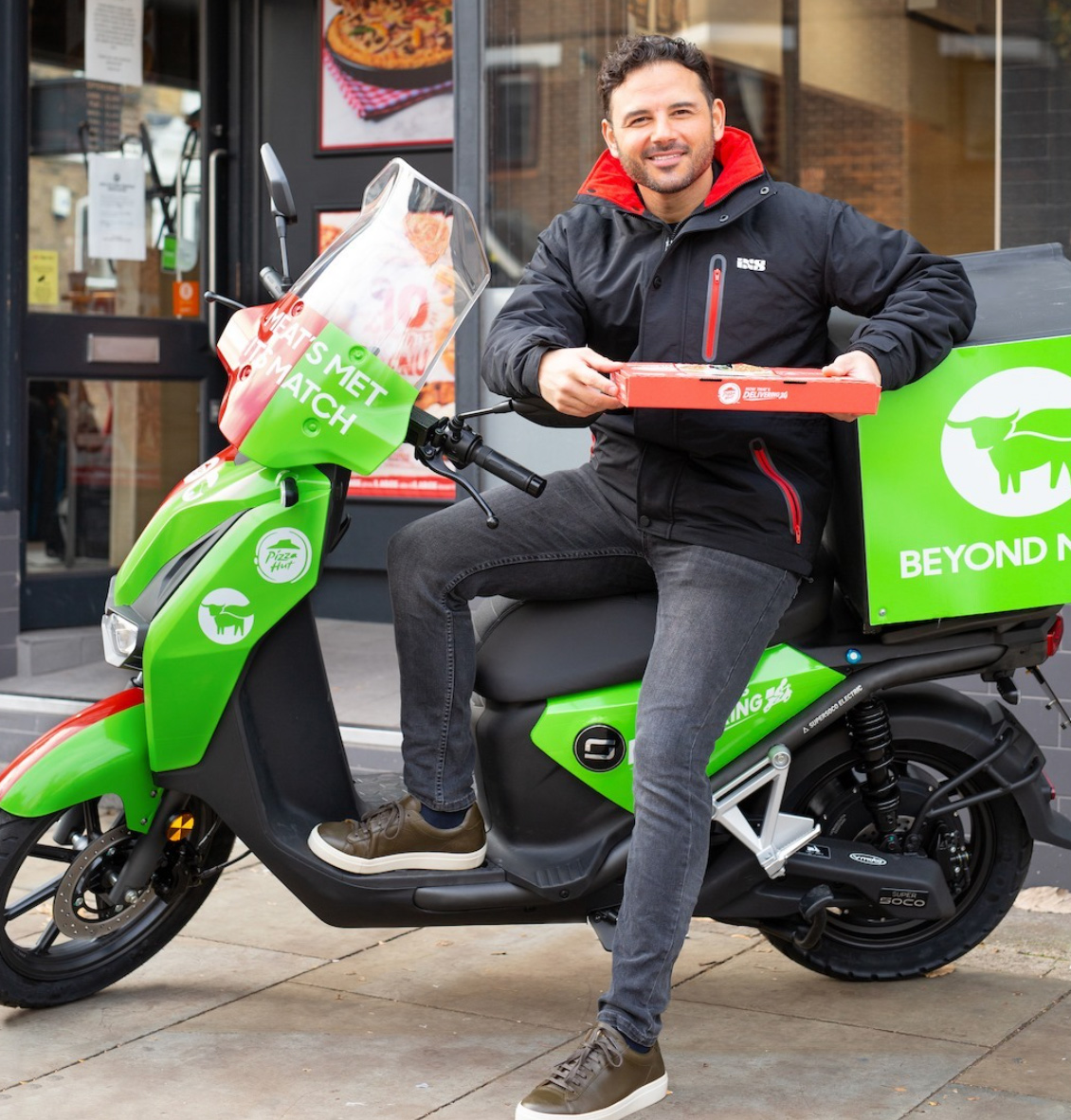 Vegan at Pizza Hut UK
Beyond Meat's place on the permanent menu at Delivery Hut UK means that Brits can get their vegan meat fix delivered but regular Pizza Hut locations also offer a slew of plant-based options. In 2017, Pizza Hut UK began flirting with vegan options with the launch of Violife vegan cheese. UK branches of the chain now serve a dedicated vegan menu that includes meatless pepperoni pizzas, Quorn chicken nuggets, and dairy-free caramel cheesecake.
While Violife is available as a substitute to dairy cheese at all Pizza Hut locations, the chain has not specified if the new Beyond Meat items can be ordered fully vegan from Delivery Hut. "Our partnership with Pizza Hut is a category first and together we will continue to raise the bar on game changing product innovations," Beyond Meat CEO Ethan Brown said. "We're thrilled to be on this journey with Pizza Hut that enables us to further increase access to delicious, better-for-you plant-based meat as we continue to expand our partnership with Yum! Brands."
Beyond Meat at Pizza Hut, KFC, and Taco Bell
Beyond Meat's partnership with Yum Brands!—which, in addition to Pizza Hut, includes KFC and Taco Bell—has resulted in launches at Pizza Hut locations outside of the UK, as well. Last August, Pizza Hut added vegan Beyond Sausage to its menu at five locations across Puerto Rico—becoming the first international pizza chain on the island to offer a plant-based meat topping.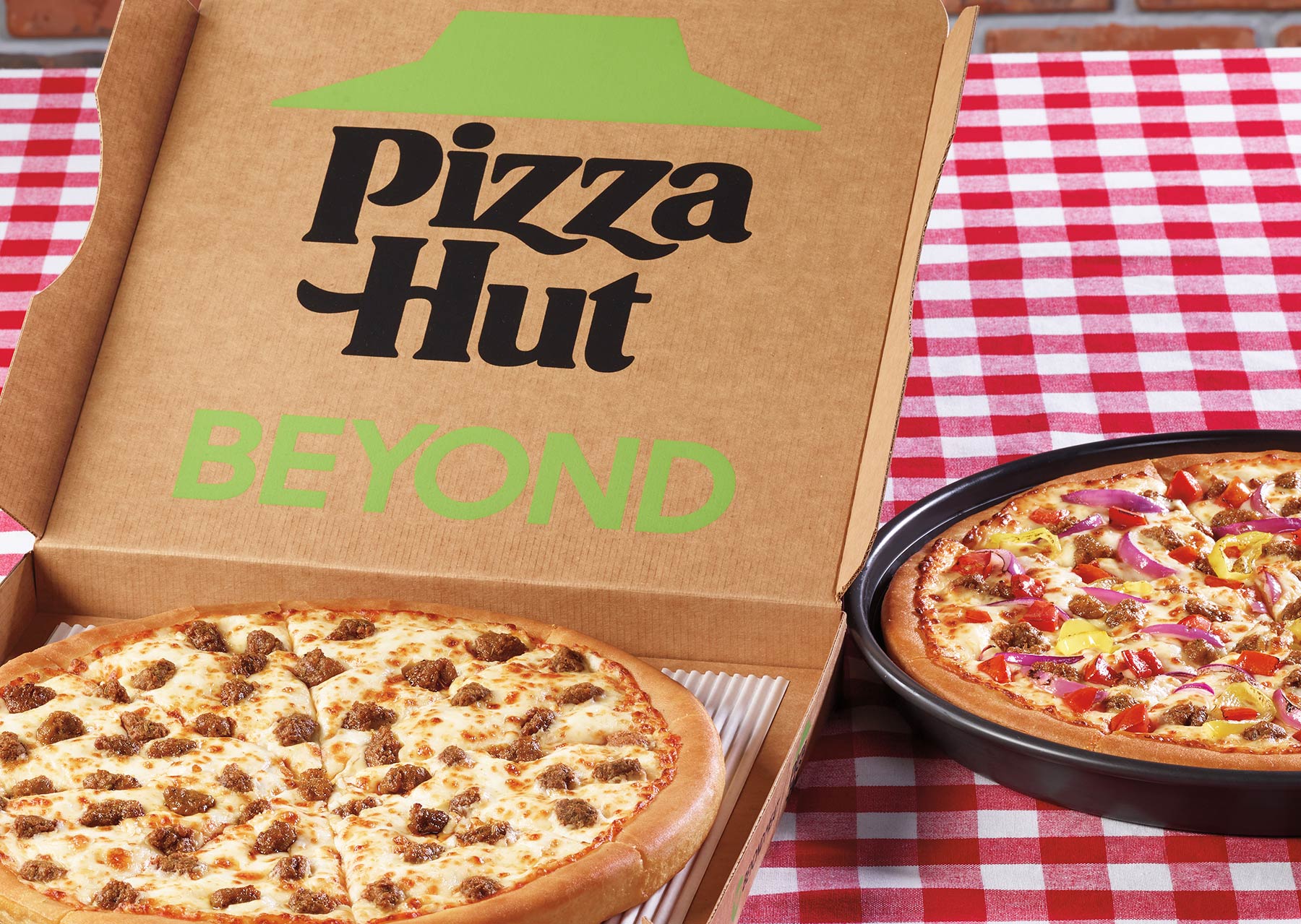 In conjunction with its November 2020 test of Beyond Meat items at UK locations, Pizza Hut also launched two Beyond Pan Pizzas at all traditional locations and participating Pizza Hut Express locations across the United States for a limited time. The culinary teams at Pizza Hut and vegan brand Beyond Meat collaborated on the options which feature the vegan meat brand's Italian sausage. The Beyond Italian Sausage Pizza is a classic (dairy) cheese pizza topped with Beyond Meat Italian sausage crumbles, while the speciality The Great Beyond Pizza (which is similar to the pizza now offered in Canada) features dairy cheese, fresh veggie toppings that include tomatoes, sliced red onions, and tangy banana peppers, the plant-based Italian sausage, and is served on Pizza Hut's classic Original Pan crust. Pizza Hut also launched similar Beyond Meat-based options at select locations in Canada in May.
At KFC, the partnership resulted in the limited launch of Beyond Fried Chicken at one Atlanta location in 2019. The success of that test launch expanded the offering to additional KFC locations in other Southern cities and later in Southern California. KFC has yet to announce a national rollout of the vegan fried chicken.
At Taco Bell, the partnership is still under wraps but the chain is working hard to develop a new-to-the-market vegan protein with Beyond Meat. In the meantime, Taco Bell has showed off its plant-based chops with the hyper-limited test launch of two items: the Cravetarian Taco (filled with a vegan meat Taco Bell developed in-house) and the Naked Chalupa with a Crispy Plant-Based Shell (a chalupa wrapped in a vegan chicken shell that mimics Taco Bell's original idea but without animal meat).