This week, the US District Court for the Northern District of California ruled in favor of vegan brand Miyoko's Creamery—and against the California Department of Food and Agriculture (CDFA)—in a lawsuit about its use of terms such as "butter" and "dairy" on vegan products. The lawsuit was filed earlier this year on behalf of Miyoko's by animal-rights organization Animal Legal Defense Fund (ALDF) after the CDFA demanded that Miyoko's remove certain terms such as "dairy" and "butter" from its packaging, despite the company's clear labeling of the products as "vegan" and "made with plants."
CDFA also demanded that Miyoko's cease using the term "cruelty-free" to describe its vegan butter and instructed the brand to remove an image of a woman hugging a cow from its website—a photo that was taken at Rancho Compasión, a farmed animal sanctuary founded by the vegan brand's owner Miyoko Schinner and her husband. In its lawsuit, ALDF explains that the CDFA is misapplying federal regulations and violating Miyoko's constitutional right to free speech.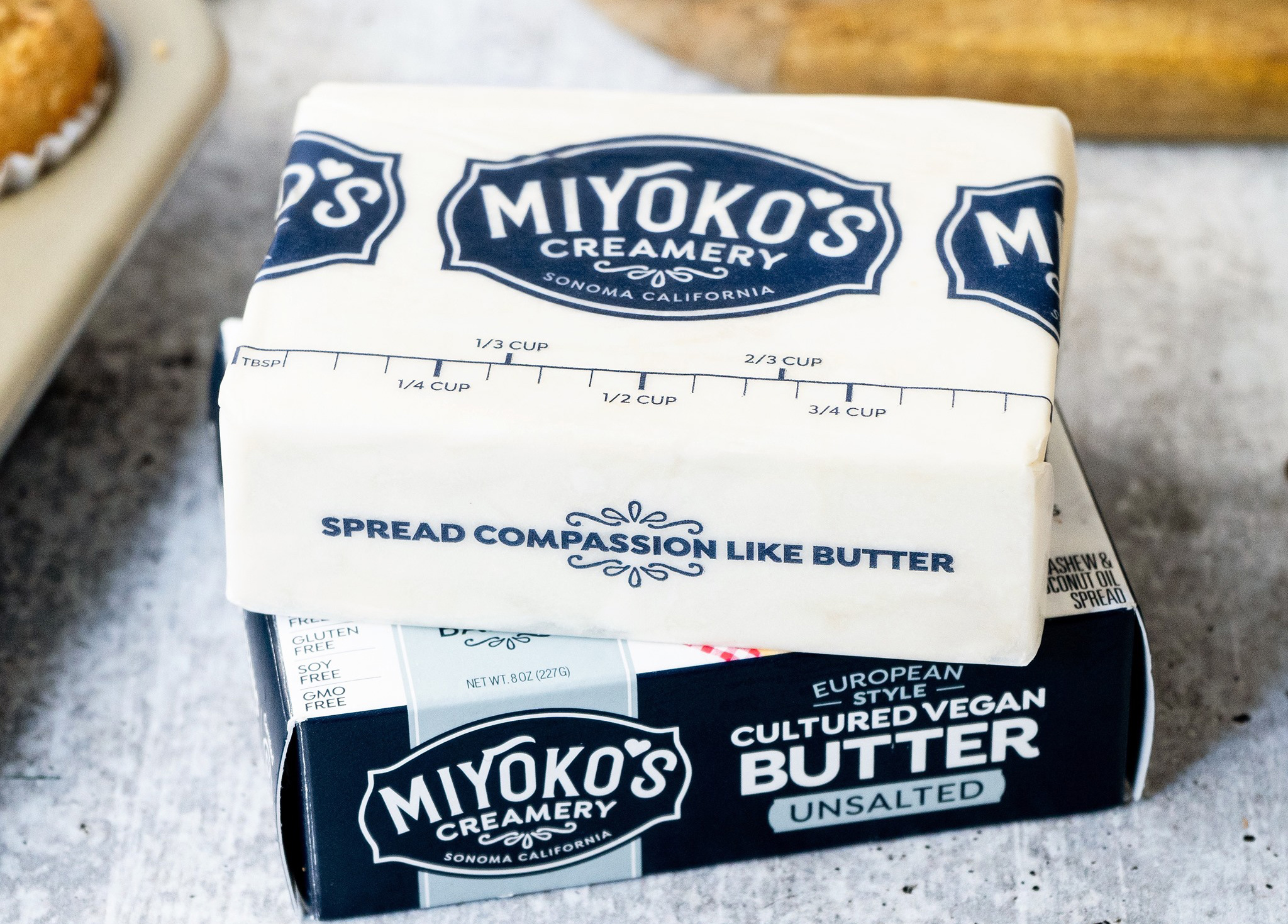 Vegan butter and plant dairy
Last June, the same court denied the CDFA's request to dismiss the lawsuit and granted Miyoko's Creamery preliminary injuction in August 2020, which allowed Miyoko's to maintain its labeling practices while the case continued. The vegan brand's victory in this lawsuit sets a precendent for other brands fighting to defend their corporate free speech rights. "The CDFA's attempt to censor Miyoko's from accurately describing its products and providing context for their use is a blatant example of agency capture,"ALDF Executive Director Stephen Wells said in a statement. "The fact that animal-milk producers fear plant-based competition does not give state agencies the authority to restrict one industry in order to help another."
Meat and dairy industry groups—both in the US and other regions such as Europe where plant-based products are gaining popularity—have used the argument that terms such as "cultured vegan butter" or "plant-based burgers" are confusing to consumers without any evidence to support these claims. Miyoko's Creamery Founder and CEO Miyoko Schinner sees this victory as a step forward in the evolution of food and language.
"Using words such as 'butter' and 'milk' in the context of even products made from plants and not from animals is common parlance among consumers in the modern world," Schinner said in a statement. "Food is ever-evolving, and so too, should language to reflect how people actually use speech to describe the foods they eat. We are extremely pleased by this ruling and believe that it will help set a precedent for the future of food."
For more about Miyoko's Creamery, read:
Starbucks Is Now Testing Vegan Miyoko's Cream Cheese
How Miyoko Schinner Is Making Wine Country More Vegan
Miyoko's Creamery Raises $52 Million to Expand Vegan Cheese Empire