Food and beverage brand Chobani—known best for its Greek-style yogurt—is repackaging its vegan oat milk-based yogurts in paper cups to make the product even more sustainable. The new cups, made from 80 percent paperboard, replace most of the plastic on its oat yogurt packaging, with the exception of a thin plastic lining that preserves the integrity of the yogurt. Chobani already packs its oat milk carton, cold brew coffee, and creamers in paperboard and is continuing its journey toward reducing plastic by repacking its oat yogurts in more sustainable cups.
"We all have a role to play in protecting our planet," Chobani Founder and CEO Hamdi Ulukaya said. "People have been asking for a paper cup, and we welcome this challenge to start reducing our plastic use, and to spark a conversation about how we can drive change together."
Mixed material packaging is difficult to recycle and Chobani is calling upon the fragmented recycling industry—which comprises more than 10,000 municipal-run recycling centers, each with their own rules—to adapt to innovations in packaging. To do its part, the company will work with the Sustainable Packaging Coalition and policymakers to advocate for improvements that expand the US recycling infrastructure.
"While this paper cup is a step in the right direction, it's just the beginning," Ulukaya said. Chobani will complete repacking its oat yogurts in paper cups by the end of the year and is working on other sustainable packaging solutions for the remaining products in its portfolio.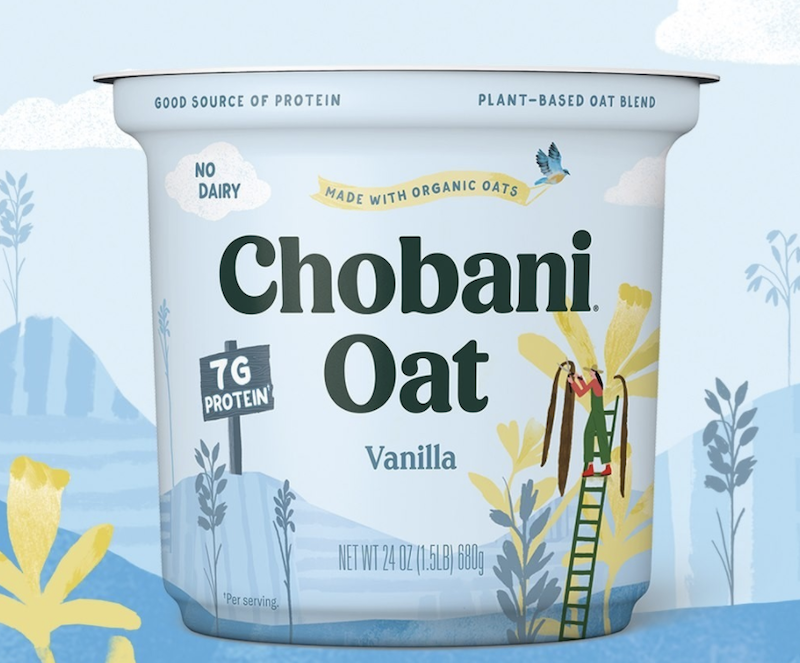 Is oat milk more sustainable than cow milk?
Paper's sustainability metrics are far better than plastic. The same is true when comparing oat milk to animal-derived milk. According to a 2018 Oxford University study, dairy milk production emits three times more greenhouse gases than producing any plant-based milk. It also requires 10 times as much land to produce a glass of dairy milk than it does oat milk. And while almond milk's water usage is a hot topic of debate, producing dairy milk still requires more water than any plant-based milk. In fact, the world's 13 largest dairy farms emit the same amount of greenhouse gasses as the entire nation of the United Kingdom, the sixth largest economy in the world, according to a 2020 report titled "Milking the Planet" compiled by nonprofit Institute for Agriculture and Trade Policy (IATP).
As companies continue to make sustainability commitments, many are looking to plant-based milk as an environmentally friendly solution, including Starbucks—which already has several initiatives in place to reduce its plastic use. After learning that dairy was driving the majority (21) of its carbon footprint, Starbucks CEO Kevin Johnson made a public statement about how the 31,000-unit chain would rely on plant-based milks as one sustainability solution. Last spring, Starbucks launched oat milk across all of its US locations, expanding its plant-based milk options further from soy, almond, and coconut.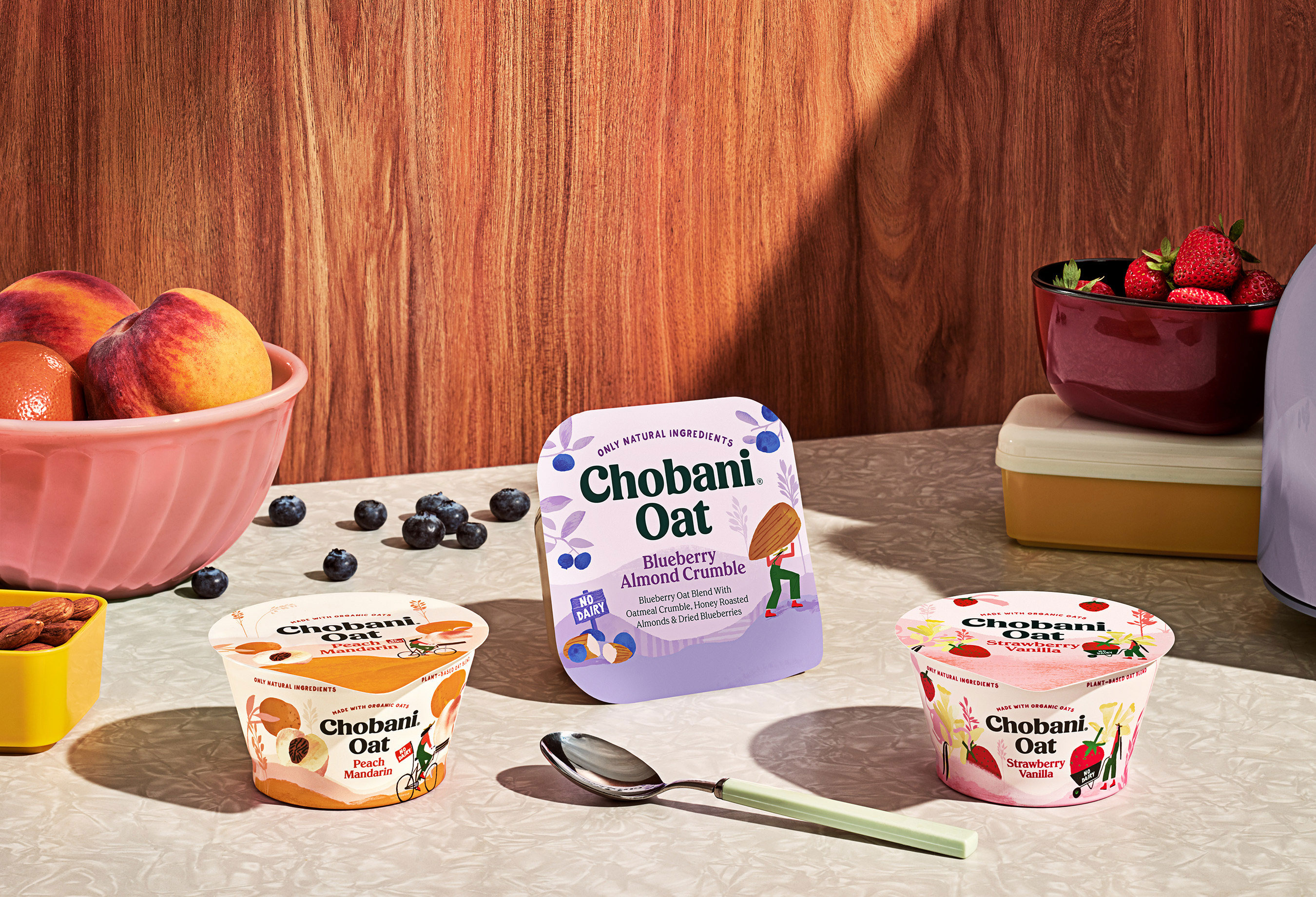 Chobani goes vegan with oat yogurt
Chobani first entered the vegan yogurt space with the launch of a coconut cream-based line in early 2019. Fortified with probiotics, the Non-Dairy Chobani line included single-serving cups of plant-based yogurt in Blueberry, Peach, Slightly Sweet Plain, Strawberry, and Vanilla flavors, along with Mango, Slightly Sweet Plain, Strawberry, and Vanilla Chai yogurt drink varieties.
Chobani continued to explore non-dairy bases throughout 2019 and in November, unveiled its The World of Chobani Oat platform to build upon its existing vegan options. Under the new sustainability focused oat line, Chobani released a wide variety of vegan yogurts (in flavors such as Strawberry Vanilla, Blueberry Pomegranate, and Peach Mandarin) and yogurts paired with crunchy toppings, along with yogurt drinks. Chobani expanded the line beyond yogurt to include barista oat milk (which was developed to perform similarly to whole cow milk).
In 2020, Chobani further explored the coffee category with the launch of two oat-based creamers in original and vanilla flavors and in 2021, the Greek yogurt brand launched ready-to-drink coffee beverages, one of which it blended with oat milk.