On August 9, athletic brand Adidas will launch its newest vegan leather Stan Smith style, inspired by Miss Piggy. The flirty Muppet will be featured on the new Stan Smith design through various elements, including a stamp of her portrait on the tongue, her name embossed alongside an oversized "P" on the side, and an insole with her face. Part of Adidas' "Going Green" collection, the Miss Piggy style is made from PRIMEGREEN, a vegan leather composed of recycled materials that does not use any virgin polyester.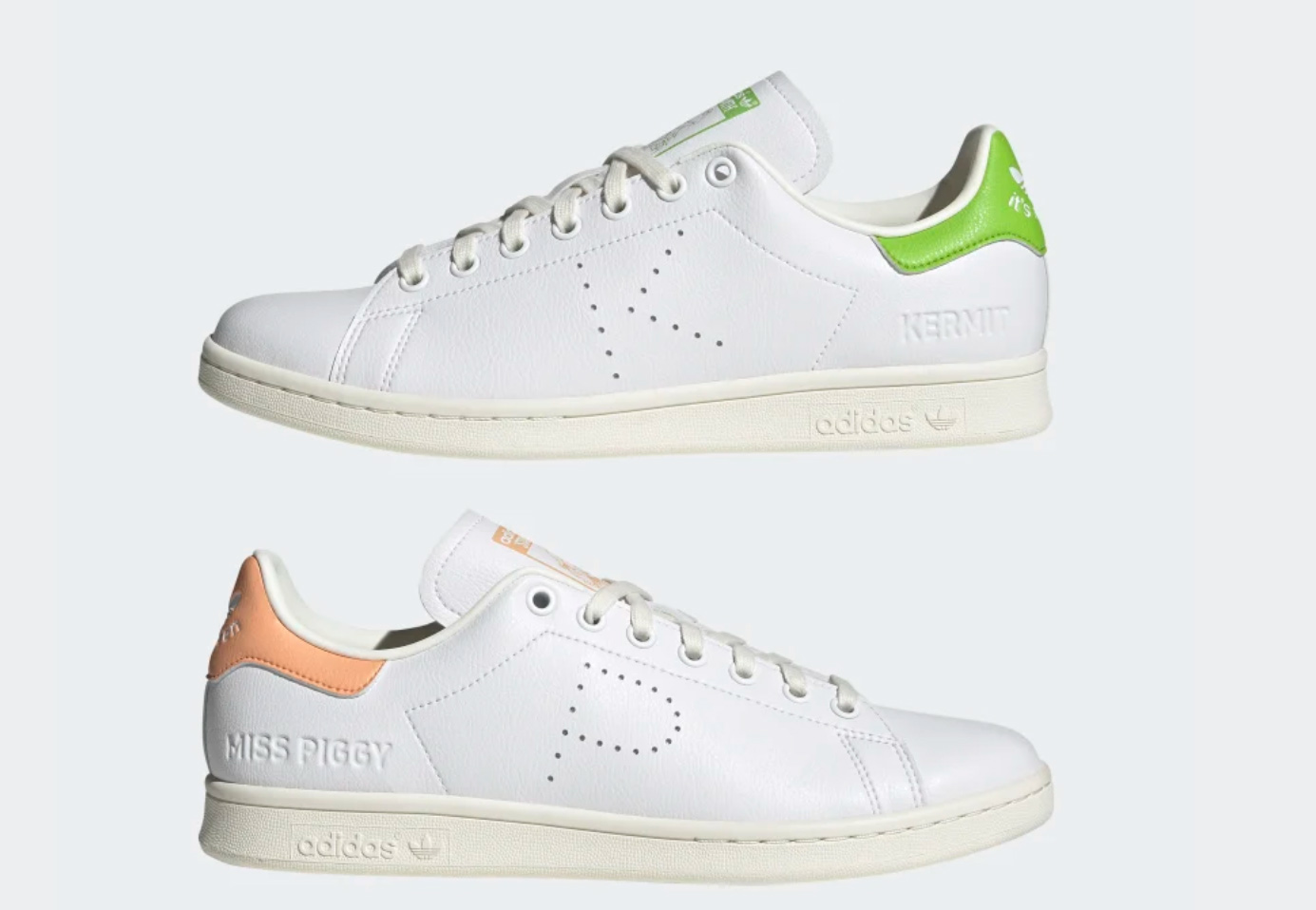 Miss Piggy joins her beau Kermit the Frog as part of the new collection of Stan Smith styles. The Kermit the Frog style ushered in a new, more sustainable era of Stan Smiths when it debuted in March. This style is also made from PRIMEGREEN and features the slogan "it's not easy being green" on the back—a nod to Kermit's popular Sesame Street song.
To promote the launch and its mission of ending plastic waste, Adidas released a commercial featuring the green Muppet and the shoe's namesake, tennis legend Stan Smith, which concludes with a moving conversation between the two legends. "It's not easy being green, " Kermit says. "But nothing great ever is," Smith responds.
Vegan leather Stan Smiths
The original Stan Smiths are made with an upper of white animal-derived leather. However, in 2018, Adidas partnered with eco-friendly designer Stella McCartney to create the first vegan leather version of the iconic shoe made from recycled polyurethane. These Stan Smiths featured star designs in place of stripes on the sides, a color-block heel with McCartney's signature, and embossed tongues—with McCartney's portrait on the right and tennis legend Stan Smith's on the left. The popularity of the vegan leather Stan Smiths resulted in an expansion of the Stella McCartney collaboration to additional designs, including a style made with rainbow accents.
The brand now offers dozens of different styles of Stan Smiths made in partnership with Disney, Marvel Studios, Lucasfilm (Star Wars), and more. In addition to the Miss Piggy style, Adidas wil launch vegan leather Stan Smiths in Peter Pan, Toy Story, Wall-E, and Monsters Inc. styles on August 9. All of the new generation Stan Smiths retail for $85 to $100 per pair.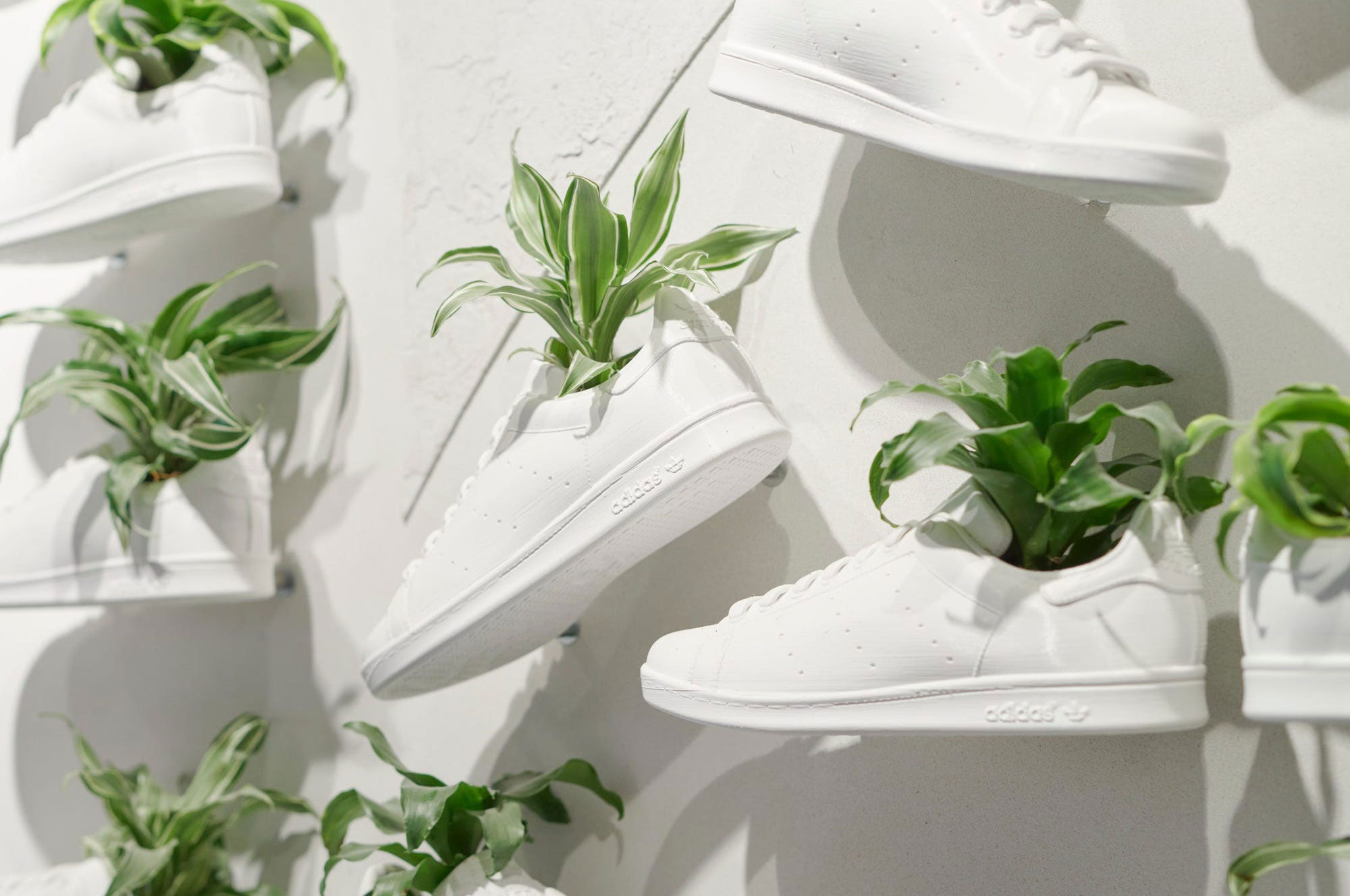 Adidas makes strides toward sustainability
Adidas is striving to create a more sustainable brand through various initiatives. The company developed its PRIMEGREEN vegan leather material to help it meet its goal of ending the use of virgin plastic by 2024. Adidas also developed PRIMEBLUE, a material made out of recycled ocean plastic in partnership with environmental organization Parley for the Oceans.
To further mitigate the damaging environmental effects of animal leather, Adidas is also recreating its classic styles without animal products. The "Our Icons Go Vegan" collection includes the Samba ($80) and Continental 80 ($80), both embossed with a "Adidas Original Vegan" logo and made with animal-free materials, down to the glue. In addition to vegan leather, the latter style features environmentally friendly algae-based EVA foam for the construction of its midsole.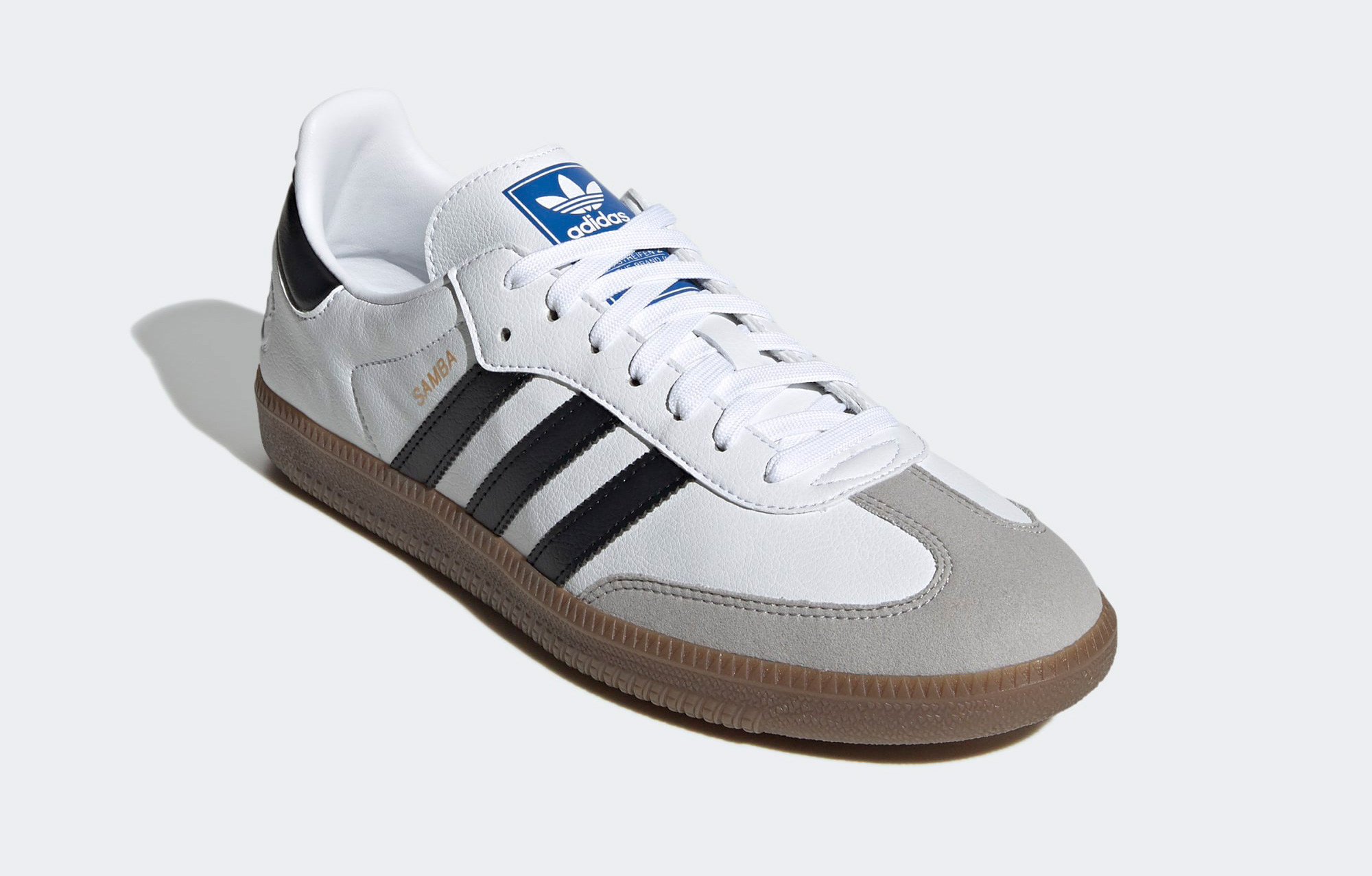 The brand is also exploring new sustainable materials such as Mylo—a sustainable and renewable vegan leather made by startup Bolt Threads from the fast-growing root systems of mushrooms. While conventional leather is grown on a cow over the course of months and sometimes years, the mycelium used in Mylo grows in less than two weeks in a resource-efficient manner.
Last year, Adidas joined Bolt Threads' Mylo Consortium, a coalition of fashion giants such as Stella McCartney, Lululemon, and Kering (which manages Gucci, Saint Laurent, Bottega Veneta, Balenciaga, Alexander McQueen, and more). Brands in the consortium are exploring the innovative mushroom leather and, in April, Adidas unveiled its first Mylo concept: a Stan Smith style made from the mushroom leather which is expected to launch commercially in the near future.