Colorado Governor Jared Polis and now-husband Marlon Reis recently tied the knot in an all-vegan wedding. The celebration included a catered vegan meal made by vegan chef Chloe Coscarelli and her team, along with custom vegan suits designed by Colorado-based menswear tailor Machete & Sons. The couple, who wed after being together for 17 years, decided to have a wedding that was in line with Reis' values as a vegan and animal-rights activist. The wedding also marked the first gay marriage of a sitting governor in the United States.
The lunchtime reception menu created by Coscarelli included vegan charcuterie boards featuring vegan cheeses, pepperoni slices, crackers, grapes, olives, and fresh figs. The lunch buffet featured rosemary cashew nut roast, butternut squash mac and cheese, roasted carrots with gremolata, miso kale, sweet corn-jalapeño lasagna, and peach-basil caprese skewers. For dessert, the chef served a 12-layer lemon-vanilla wedding cake decorated with white flowers.
"It was an honor and a privilege to cook the vegan wedding of Governor Jared Polis and First Gentleman Marlon Reis with my amazing team," Coscarelli said on Instagram. "Congratulations to the most beautiful couple. And thank you to my chefs … for not sleeping for a week to make everything perfect."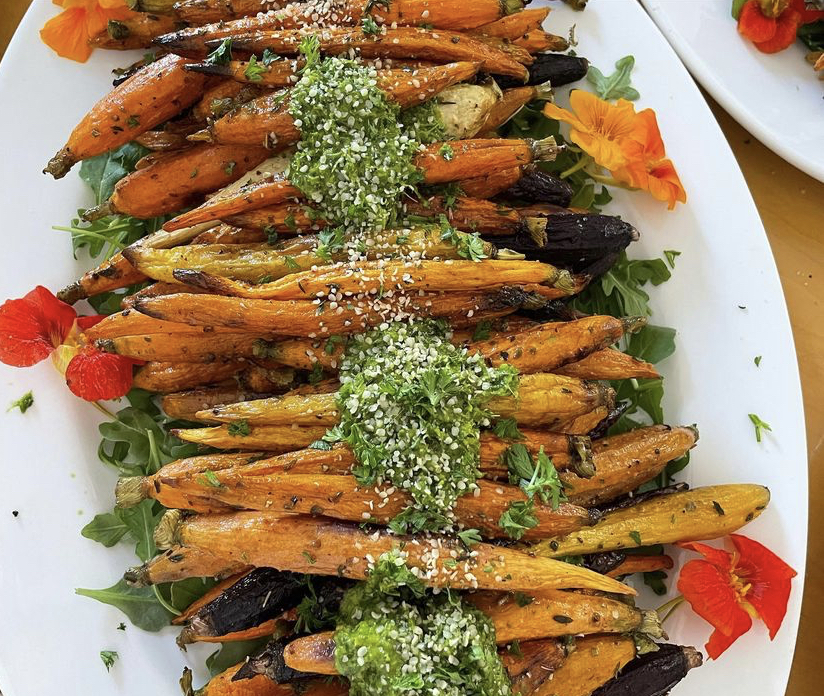 Jared Polis' vegan wedding suits
Polis and Reis also had their suits custom made by local tailor Machete & Sons using vegan and cruelty-free materials. Surprisingly, the menswear industry still relies heavily on materials derived from animals, right down to the threading to sew the clothing, which is traditionally made from silk or hand-waxed with beeswax.
"The most classic menswear hasn't changed very much since the 1930s and even the Victorian Era in terms of the materials, so a lot of times the buttons are made from animal horns, the fabric is made from wool, the canvas inside of the jacket is made from horsehair or goat hair," Machete & Sons co-founder AJ Machete told media outlet 303 Magazine.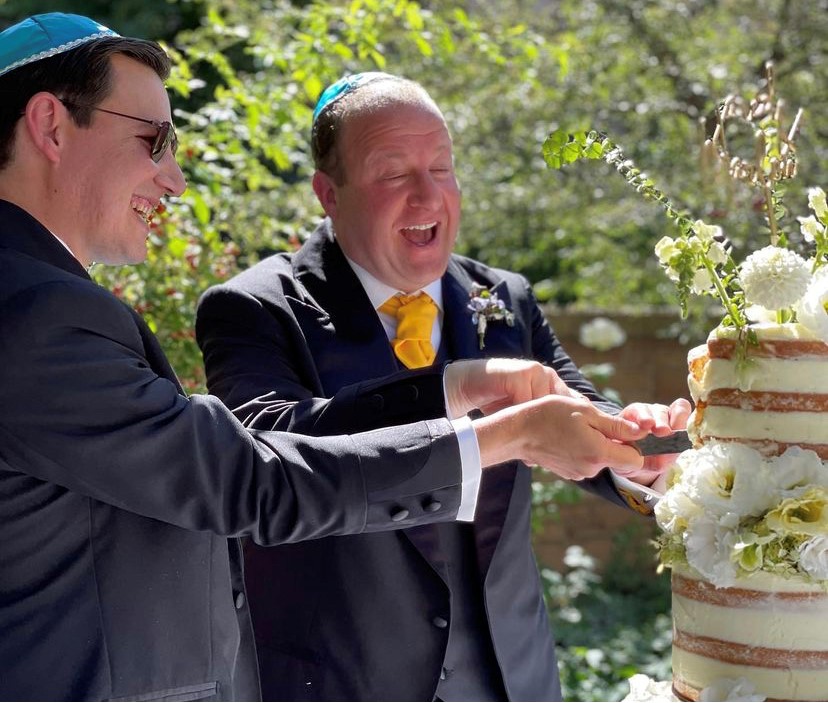 The wedding suits ultimately took approximately 50 hours to create, and Machete replaced traditional materials with fabrics such as linen canvas and animal-free threading. Machete worked with Polis and Reis to design the pieces because the couple wanted suits that are versatile enough to wear for other occasions after the wedding. The resulting suits were classic tuxedos with a 1930s vibe with unique art-deco details on the cuff, and vibrant, oversized bow ties.
For the wedding, Machete also created looks for Polis and Reis' children—their son, Capsian, and daughter, Cora—that match their fathers' ensemble. For Capsian, Machete designed a similar suit as his fathers' but without the suit jacket. For Cora, he created a flower girl dress that matches the mens' suits.
Celebrity vegan weddings
Though this was the first known vegan wedding for a US governor, many other individuals in the public eye have hosted their own cruelty-free nuptials. On Christmas Eve last year, actress and vegan activist Pamela Anderson married her bodyguard Dan Hayhurst in an intimate backyard wedding. The celebration included a decadent vegan, two-tier triple coconut cake topped with a glass deer ornament, white carnation, and a glittery heart.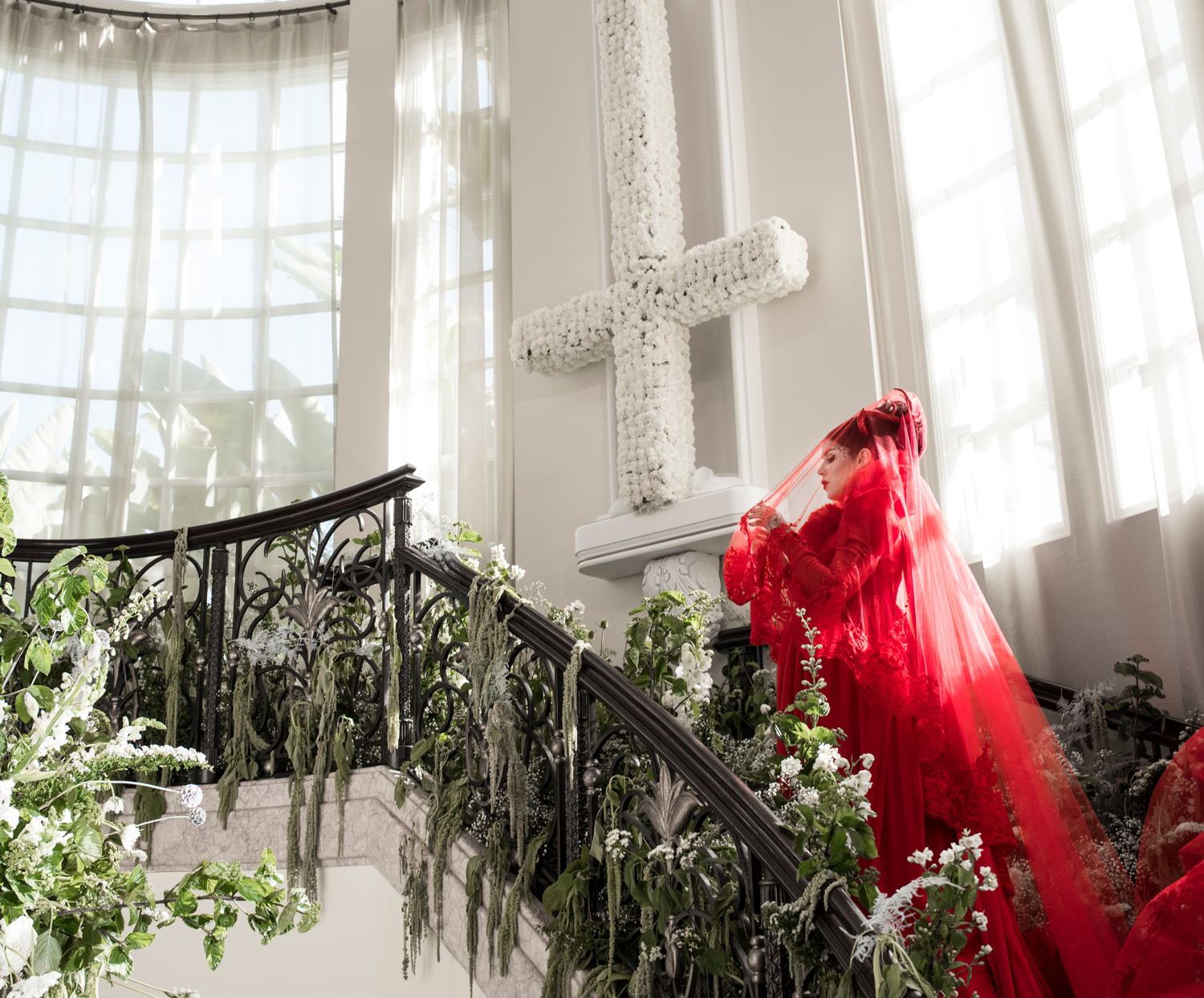 In 2018, vegan entrepreneur Kat Von D had a gothic-style vegan wedding celebration to partner Leafar Seyer in Beverly Hills. The celebration featured classy hor d'oeuvres and a five-course dinner with dishes such as spicy corn empanadas, corn tortellini, and a harvest vegan roast, along with a dramatic red velvet castle cake adorned with gold leaf and spiretopped towers. For Von D's wedding attire, she chose a lavish red bridal gown made by LA-based designer Adolfo Sanchez that featured a dramatic train, full sleeves, and a cape.
Photo Credit: Chloe Coscarelli