On September 29, legendary rapper Eminem will open his first restaurant in Detroit and vegan meatballs are on the menu. Mom's Spaghetti—named after popular lyrics in his song "Lose Yourself"—serves a curated menu of spaghetti and meatballs as plates or a sandwich. The song was written for Eminem's 2002 biographical film 8 Mile and the vegan "Rabbit" meatballs are named after his character.
The 48-year-old rapper previously tested the Mom's Spaghetti concept at several pop-ups, not all of which featured vegan meatballs. At one pop-up during the 2018 Coachella Valley Music and Arts Festival, prior to hitting the stage to headline the festival, Eminem treated fest goers to plates of spaghetti with the option of adding vegan meatballs.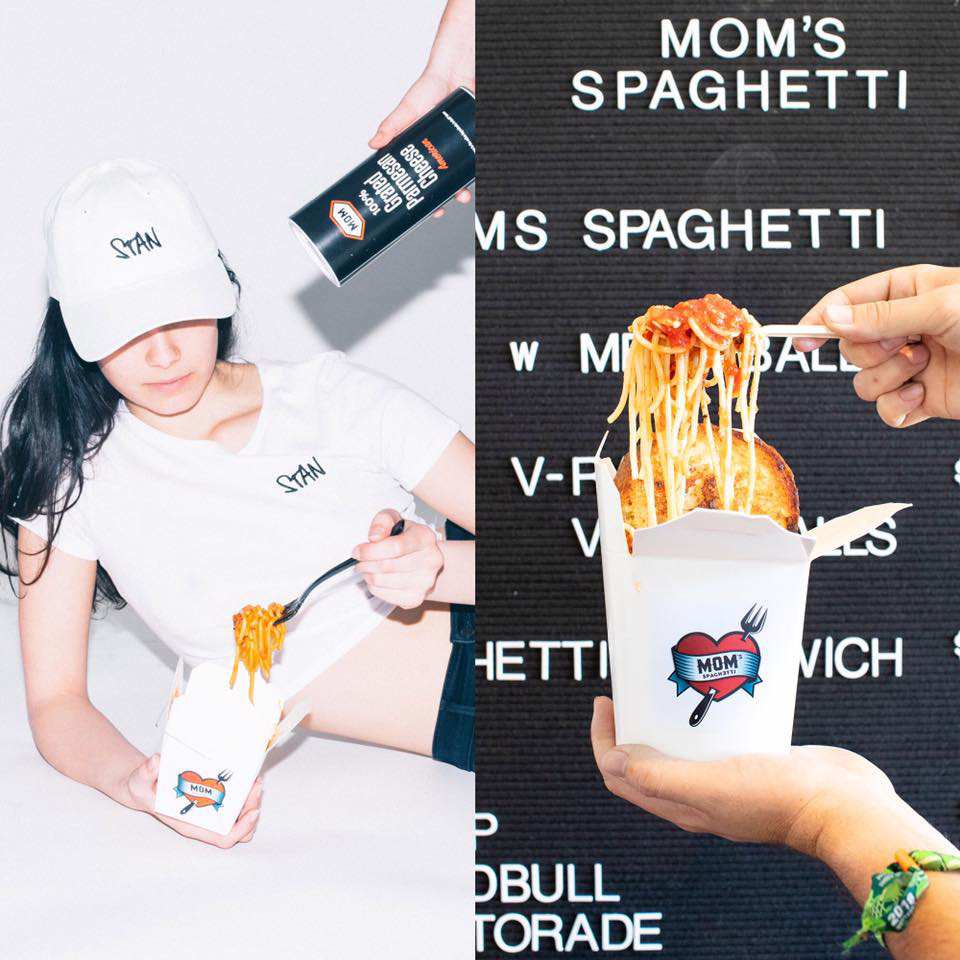 For the brick-and-mortar business, Eminem chose to keep vegan meatballs on the menu and worked with his manager, Paul Rosenberg, and restaurant group Union Joints to bring the concept to life. "We've had a lot of fun putting this project together with the folks at Union Joints, and the response from fans has been overwhelmingly positive," Rosenberg said in a statement. "The previous pop-ups were really a test for us to determine whether there was enthusiasm for a regularly-occurring Mom's Spaghetti spot that would be open all year long."
Eminem is ready with (vegan) Mom's Spaghetti
By design, Mom's Spaghetti sits inside a small bodega space and orders are made from a walk-up window in the alley with very limited seating inside. Designed by Ann Stevenson, the space is meant to evoke a nostalgic feeling of a longstanding neighborhood restaurant. The opening of Mom's Spaghetti was teased with a '90s-style infomercial that was aired on local television stations over the weekend.
Upstairs from the Mom's Spaghetti restaurant, Stevenson also designed The Trailer, a "uniquely-curated environment" related to what Rosenberg calls Eminem's "pasta operation." There, only eight "stans" are allowed to enter at a time and can peruse Eminem merchandise (including limited editions and coveted dead stock) and memorabilia from the Eminem archives.
"The opportunity to build a permanent location based on an incredibly meta reference was one that everyone at Union Joints, as a Metro Detroit restaurant group, took very seriously," Union Joints Co-owner Curt Catallo said in a statement. "We're proud of the fact that we created a scratch sauce that tastes like it's straight from the jar, and wok-firing the noodles gives it that leftover pasta snap. The walk-up window and small diner-like spot for people to eat add to the feeling that this is a homegrown, DIY experience. And The Trailer retail space that Ann (Stevenson) designed is a nod to Eminem's character in 8 Mile … it's something that belongs in Detroit, and it feels right at home in this space."
To help the local community and Eminem's childhood home city, throughout the pandemic, Shady Records worked with Union Joints to deliver the Mom's Spaghetti menu to frontline workers at eight local hospitals and to those administering COVID-19 vaccinations.