Canadian chocolatier Purdys recently introduced a new line of vegan chocolate bars at its more than 75 locations across the country. The new 50-gram vegan bar line includes three varieties: Vegan Mylk Chocolate, Vegan Mylk Trail Mix, and Vegan Dark Trail Mix. Both trail mix bars include the addition of pumpkin seeds, almonds, raisins, and dried cranberries. The vegan bars are sold individually or as part of a six-piece assorted bag.
Purdys created a vegan version of its dairy-based chocolate by using rice milk powder instead of dairy milk. For its vegan dark chocolate, the company sourced vegan-friendly beet sugar. And for all of its vegan products, Purdys uses a designated vegan-only molding and packaging line at its production kitchen.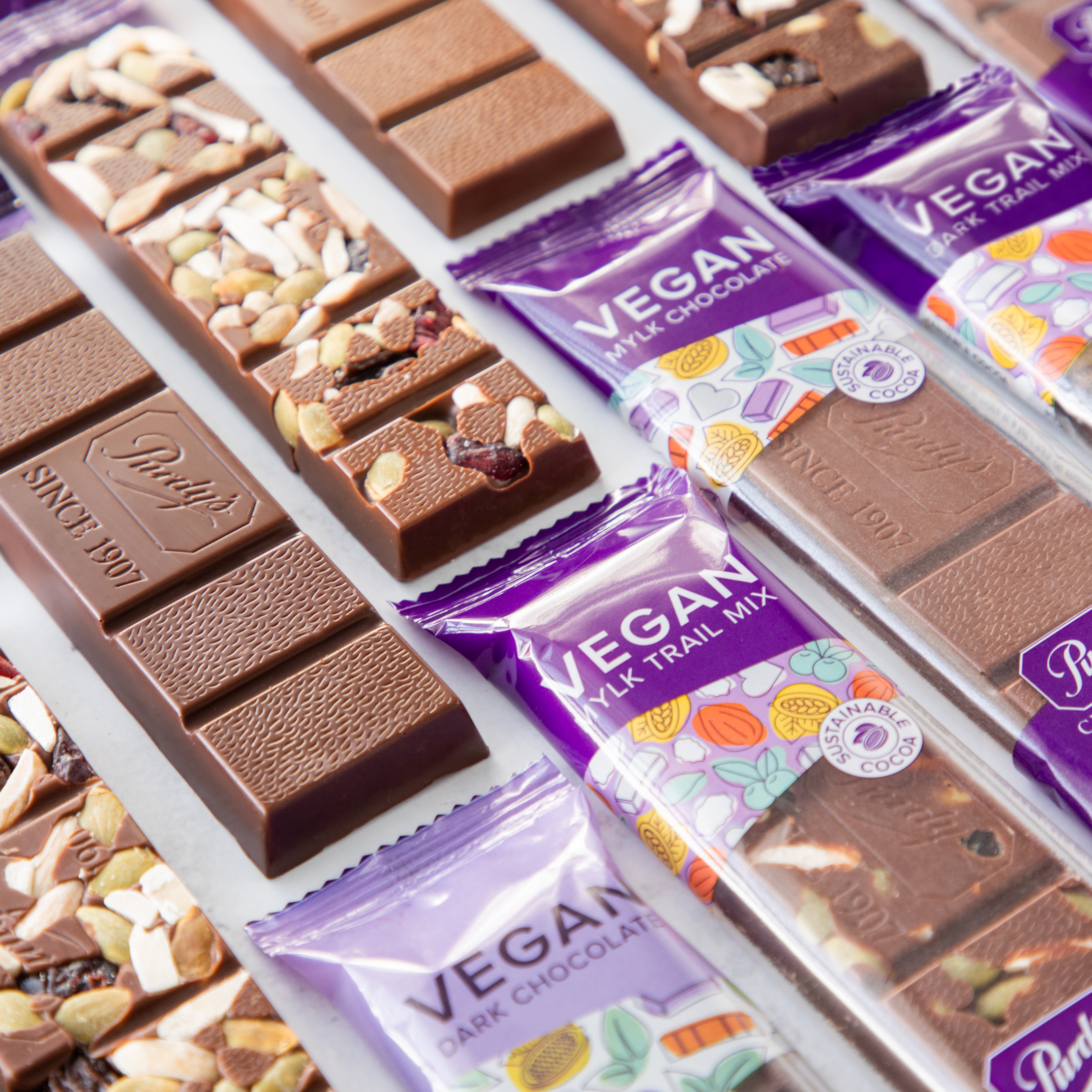 Vegan chocolate for everyone
The new vegan line adds to Purdys' already existing and very popular Vegan Dark Chocolate Bar and was introduced because the company recognized that customers' dietary preferences and needs continue to evolve over time. Customers are choosing dairy-free options and are on the lookout for products that not only taste good, but provide them with an experience they can feel good about. Purdys—which has been in business since 1907—aims to offer different types of chocolates that meet the needs of its diverse customer base, and vegan chocolates are a part of its evolution as a company.
"These vegan chocolates are very special as they mark the first ever vegan line of chocolate at Purdys," Purdys Master Chocolatier Rachel McKinley said. "When I started thinking about how to create these vegan chocolates, I had to first consider which dairy-free alternatives can measure up to our customers' favourite non-vegan Purdys chocolates, and the standards they have come to expect from us. The result is a line of delicious vegan chocolates that can be enjoyed by everyone, including those who still consume dairy products."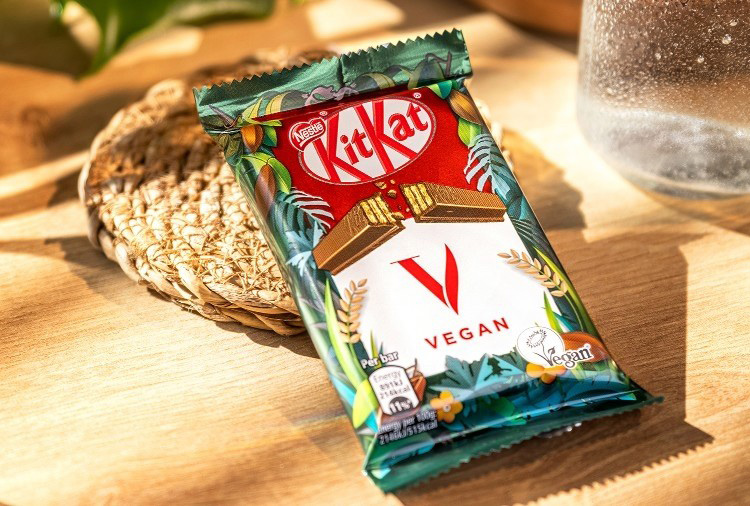 Major chocolate brands go vegan
In recent years, major chocolate and confectionary brands around the world have launched vegan options of their popular products to meet the growing demand for dairy-free options. Earlier this year, a vegan version of the iconic KitKat bar began making its way to store shelves. Made from a combination of vegan chocolate and vegan wafer fingers, the new KitKat V was created by Nestlé's research and development team in York, United Kingdom.
One of the first people to try the new vegan KitKat bar was plant-based celebrity Kim Kardashian, who received a personalized box of vegan "KimKat" bars in June. The KitKat V bars initially launched in the United Kingdom, followed by Estonia, Poland, Latvia, Lithuania, Brazil, and other regions—but not the US, unfortunately.
Stateside, the Hershey Company just launched its first vegan chocolate bars made with a base of oat milk at limited retailers, including select Target locations. The new line of Hershey's Oat Made bars comes in flavors such as Classic Dark and Extra Creamy Almond & Sea Salt with each oat milk-based bar clearly labeled vegan. The launch of the bar is part of a real-time marketing test Hershey's is conducting. The new vegan chocolate bars are available until June 2022.