Fast-casual chain Just Salad is a leader in helping consumers make a connection between their food choices and the climate crisis. Founded in 2006, Just Salad is a New York City-based chain with more than 60 locations across six states and Dubai. In 2020, the chain became the first of its kind to put the carbon footprint of its meals right on the menu, empowering consumers to make climate-friendly choices.
That same year, Just Salad committed to adding more plant-based proteins to its "Climatarian" menu, which consists of 15 chef-designed salads, wraps, warm bowls, avocado toast, soups and smoothies. This week, the chain furthered its commitment to give consumers more climate-friendly choices with the addition of vegan bacon made by San Francisco-based Hooray Foods.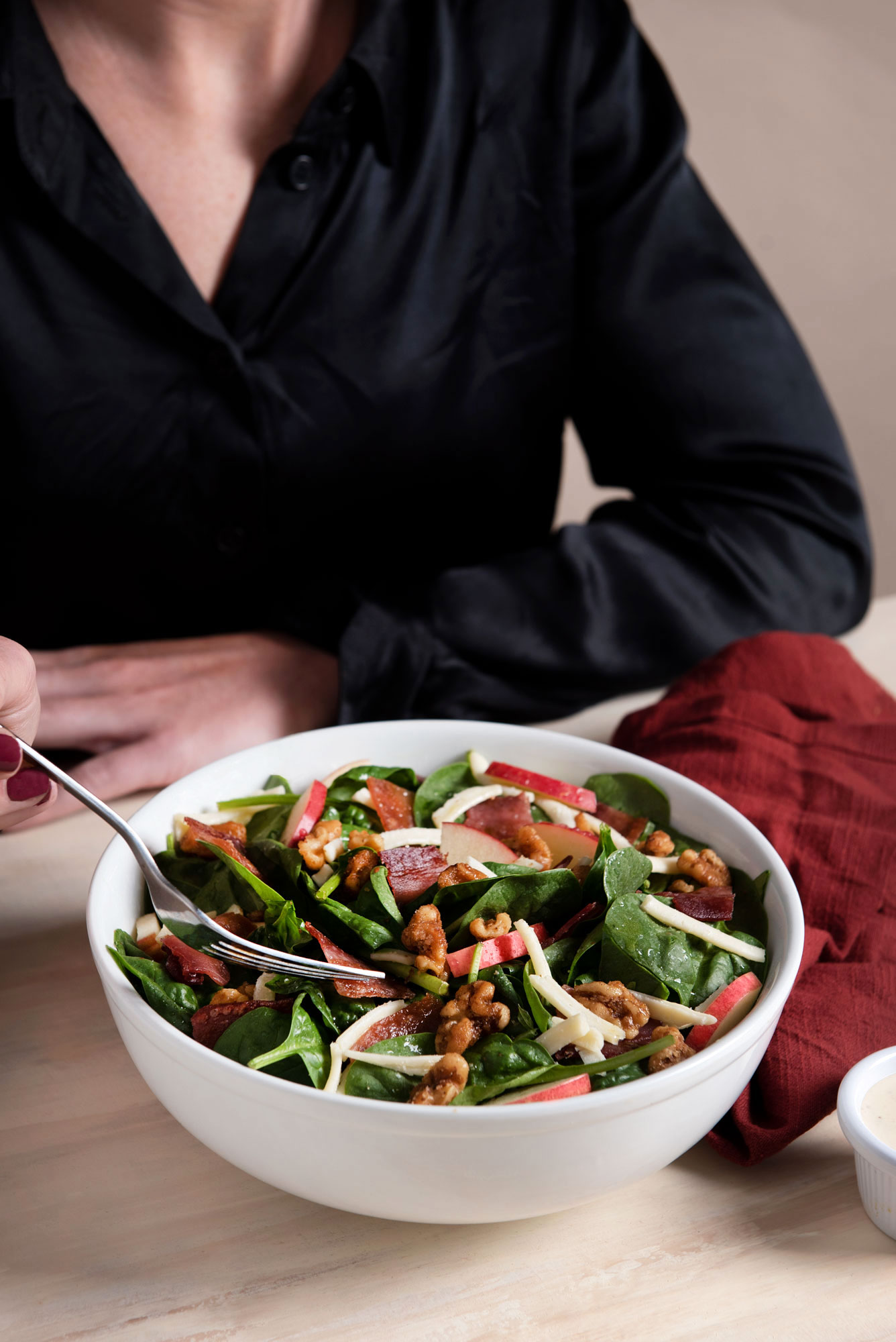 Just Salad
The new vegan bacon is featured in the Sweet Mama Salad which is made with baby spinach, white cheddar, sliced apples, honey maple walnuts, and maple cider vinaigrette—which can be ordered without the walnuts and with Violife's vegan feta instead of dairy cheese. This salad previously featured turkey bacon but Just Salad wanted to find a viable plant-based alternative to continue evolving its menu in line with its sustainability mission.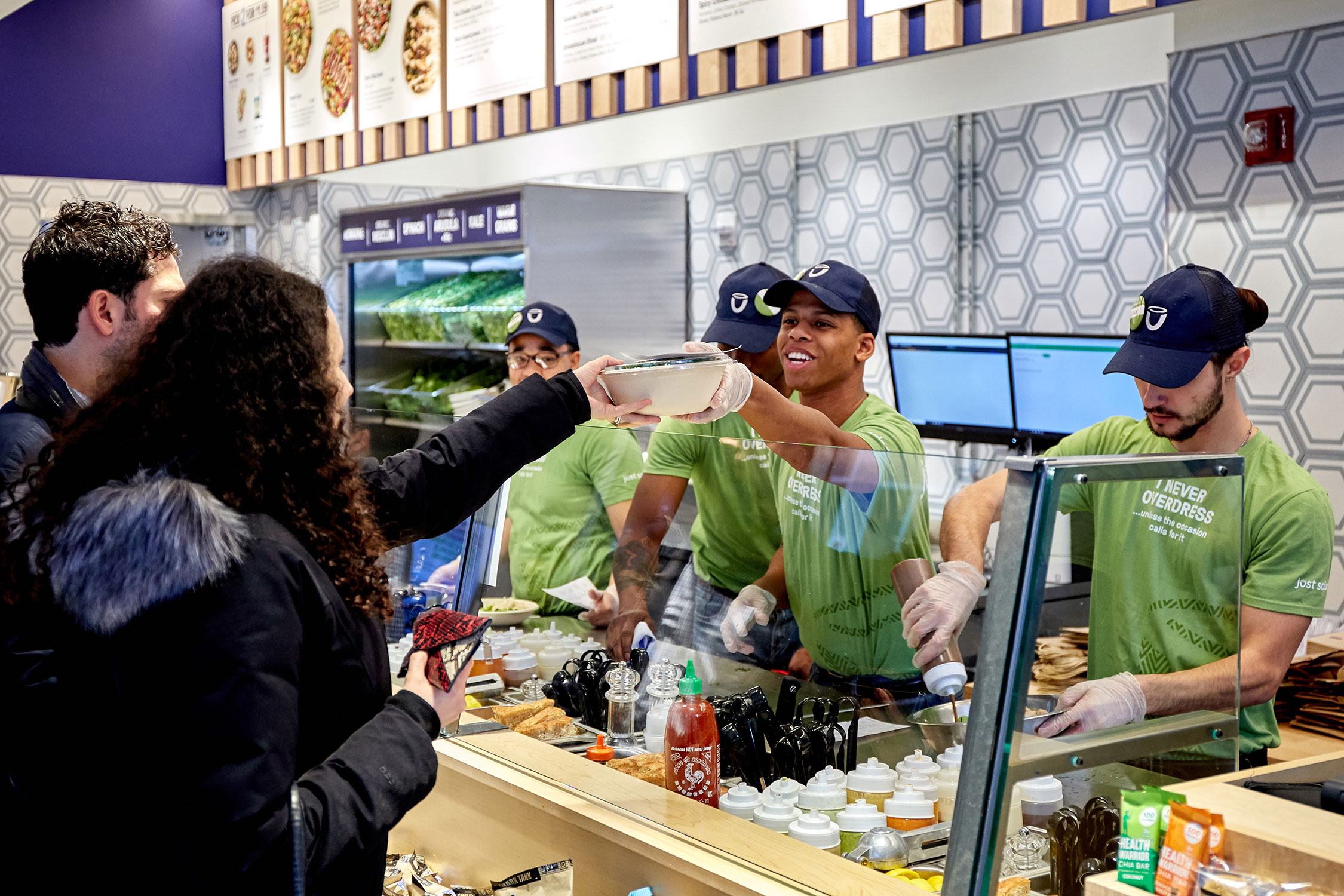 Just Salad
"For many of our customers, animal welfare is an important consideration, so plant-based substitutes align with their values," Sandra Noonan, Chief Sustainability Officer at Just Salad, tells VegNews. "Additionally, reducing demand for industrially farmed animal protein, scaling appealing plant-based alternatives, and promoting lower-emissions options are crucial for reducing the greenhouse gas emissions of the food system."
Vegan bacon replaces turkey to up sustainability
Founder and CEO Sri Artham created Hooray Foods with both animal welfare and sustainability in mind. Artham was first inspired to develop a better alternative to pork bacon after witnessing the wildfires that ravaged California in 2019. This catastrophe led Artham to make a connection between the climate crisis and the pork industry—which is the second largest agricultural source of greenhouse gasses in the United States after the cattle industry.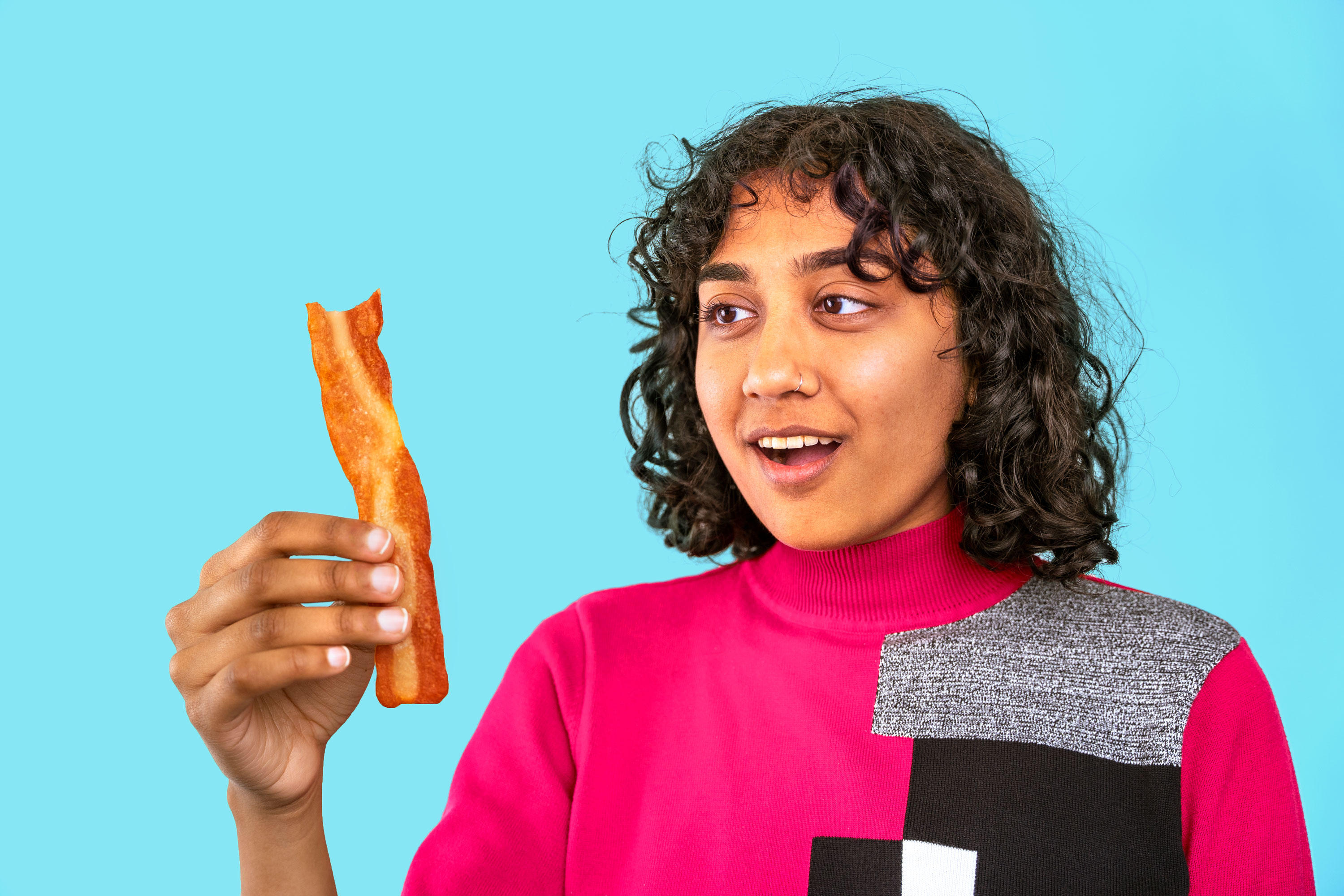 Hooray Foods
Hooray's vegan bacon first launched at Whole Foods Stores stores in 2020 and sold 1.3 million vegan bacon strips that year. Since then, Hooray's vegan bacon has expanded its retail distribution and made its way onto select restaurant menus.
In July, Hooray released an AWESOMER iteration of its vegan bacon that better resembles its animal-derived counterpart with both chewy and crispy parts in each strip created using the brand's evolved proprietary emulsion forming technology.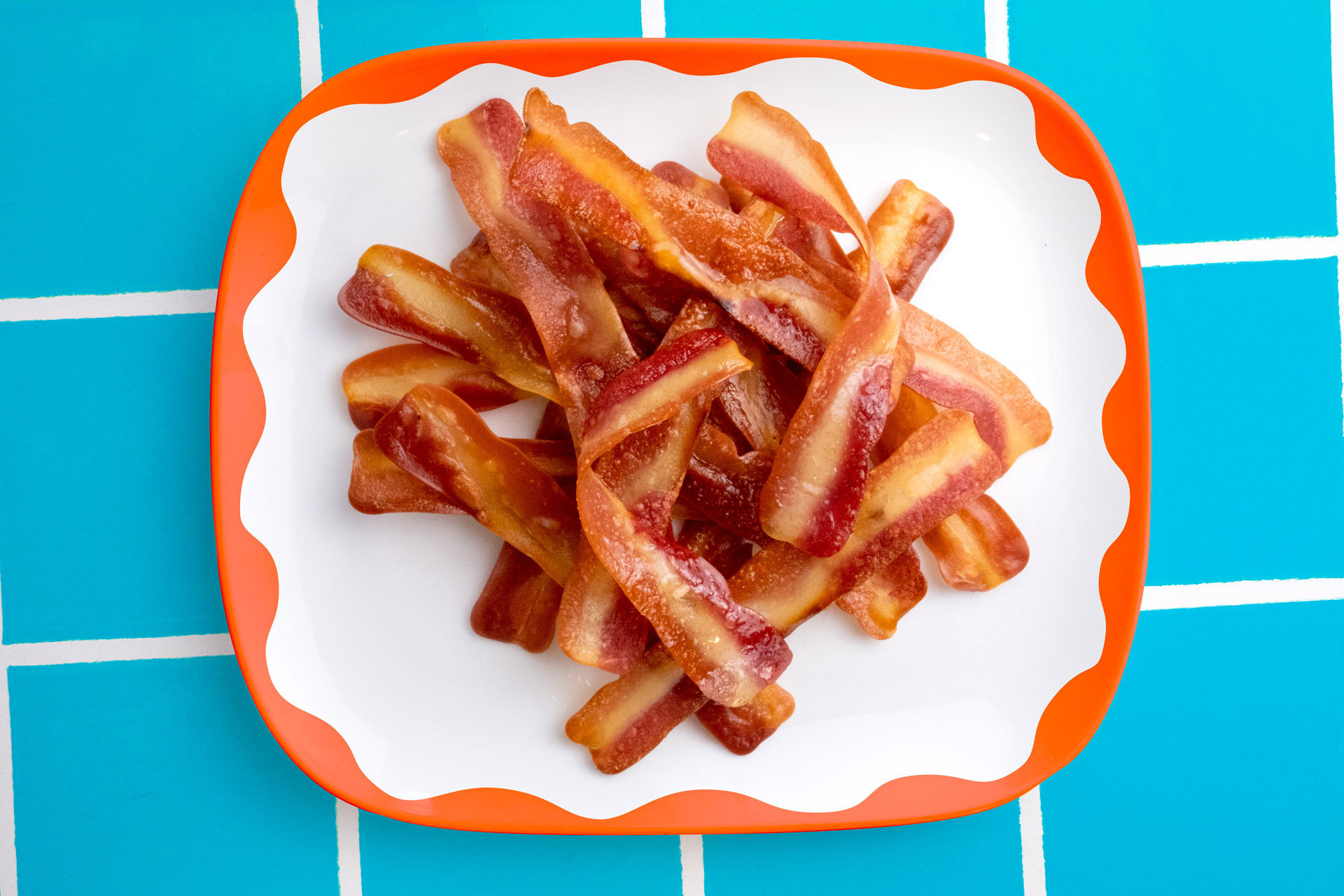 Hooray Foods
"This is our largest restaurant partnership yet, and we couldn't have asked for a better alignment of values," Artham said in a statement. "We admire everything Just Salad stands for as a company, and we're honored to be a part of its delicious menu, making plant-based meats more accessible."
Hooray's vegan bacon features 65 percent fewer calories, 75 percent less fat, and 40 percent less sodium than pork bacon, all the while delivering the same flavor and chew without harming animals or the environment. These features made the plant-based meat an attractive addition to Just Salad's menu.
"Our mission is to make everyday health and sustainability possible," Noonan says. "Hooray has fewer calories, fat, and sodium than bacon, and it's made without animals. That checks the boxes for us, and for any customer who craves bacon flavor and is curious about non-traditional options."
Hooray's vegan bacon is available for a limited time at all Just Salad locations through December 22. During this time, the chain will test the plant-based meat with consumers to determine more permanent viability.
Just Salad gets into vegan meat
From its EPA-award-winning Reusable Bowl Program to other sustainability initiatives, Just Salad has been committed to evolving its practices to better serve the planet for years, including by making key menu adjustments.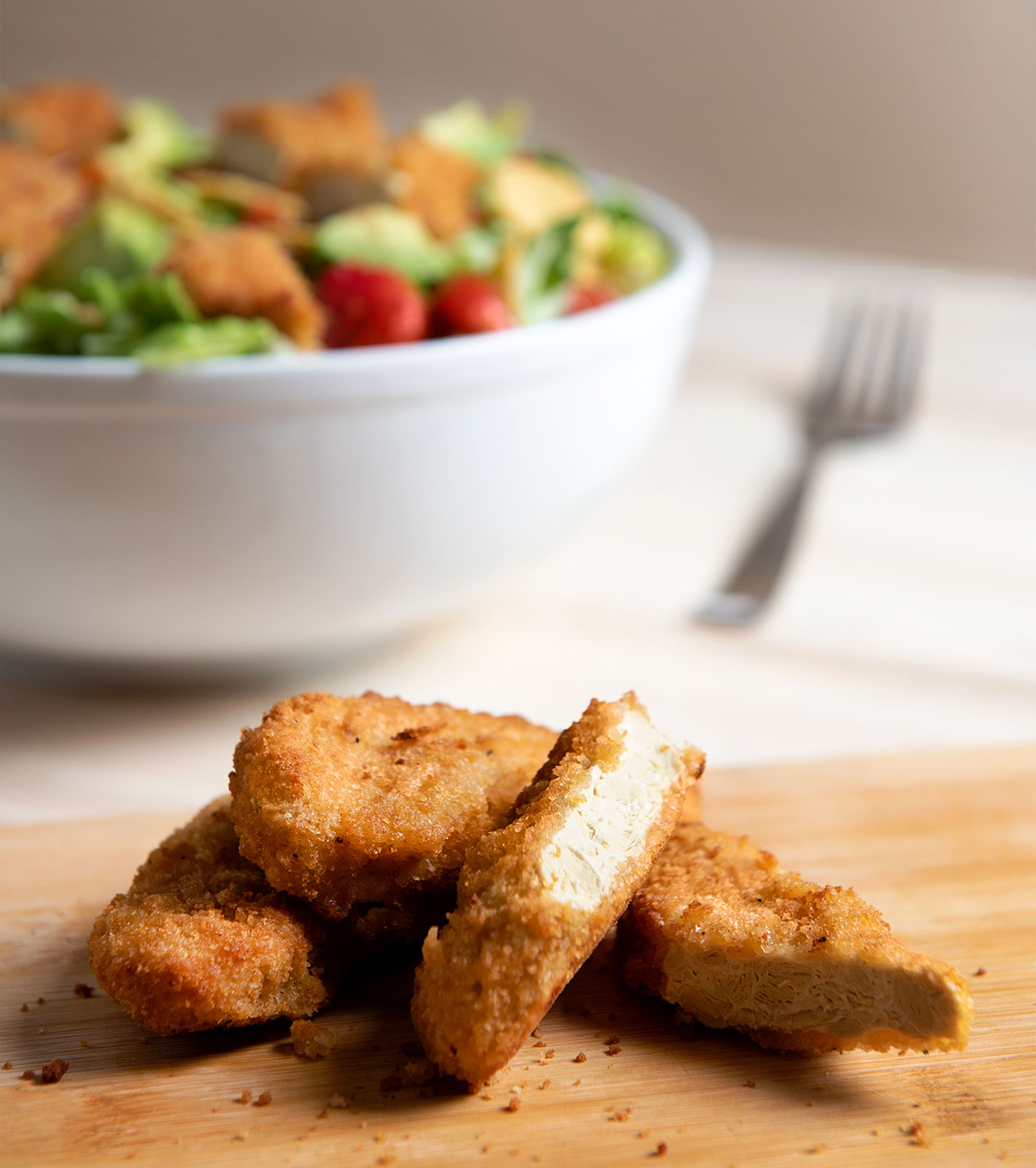 Just Salad
In 2019, Just Salad replaced its Smokehouse Steak option—which accounted for 20 percent of its protein add-on orders—with more sustainable vegan meatballs made with Beyond Meat's Beyond Beef. This move eliminated animal-derived beef from Just Salad's menu.
In 2020, the chain went a step further by removing dairy-based Greek yogurt from its smoothies and making a more sustainable swap with oat milk.
In addition to its new vegan bacon option, Just Salad recently expanded its Beyond Meat offerings. Last month, the chain added Beyond Meat's vegan chicken to its menu as a permanent option which is featured in the vegan as-is Chipotle Cowboy Salad and can be ordered as a protein add-on for customized meals.
For the latest vegan news, read: