Chocolate is a delicious treat that often comes with a host of ethical considerations. For one, an alarming amount of chocolate is made by children forced into modern slavery. One 2020 report from the University of Chicago estimates that more than one million child slave laborers work in Ivory Coast and Ghana, where 75 percent of the world's cacao is grown.
Another concern is deforestation. In the Ivory Coast—a biodiversity mecca—80 percent of its forests have been lost, mostly to chocolate production, in the last 50 years.
There are many chocolate companies working to change the system by implementing ethical bean-to-bar practices within the cocoa industry such as creating well-paying jobs and engaging in anti-deforestation practices. However, what if there was another solution?
That's what Johnny Drain, PhD, and Ahrum Pak were thinking when they founded modern chocolate company WNWN Food Lads—a name that points to the chocolate brand as a win for people and a win for the planet.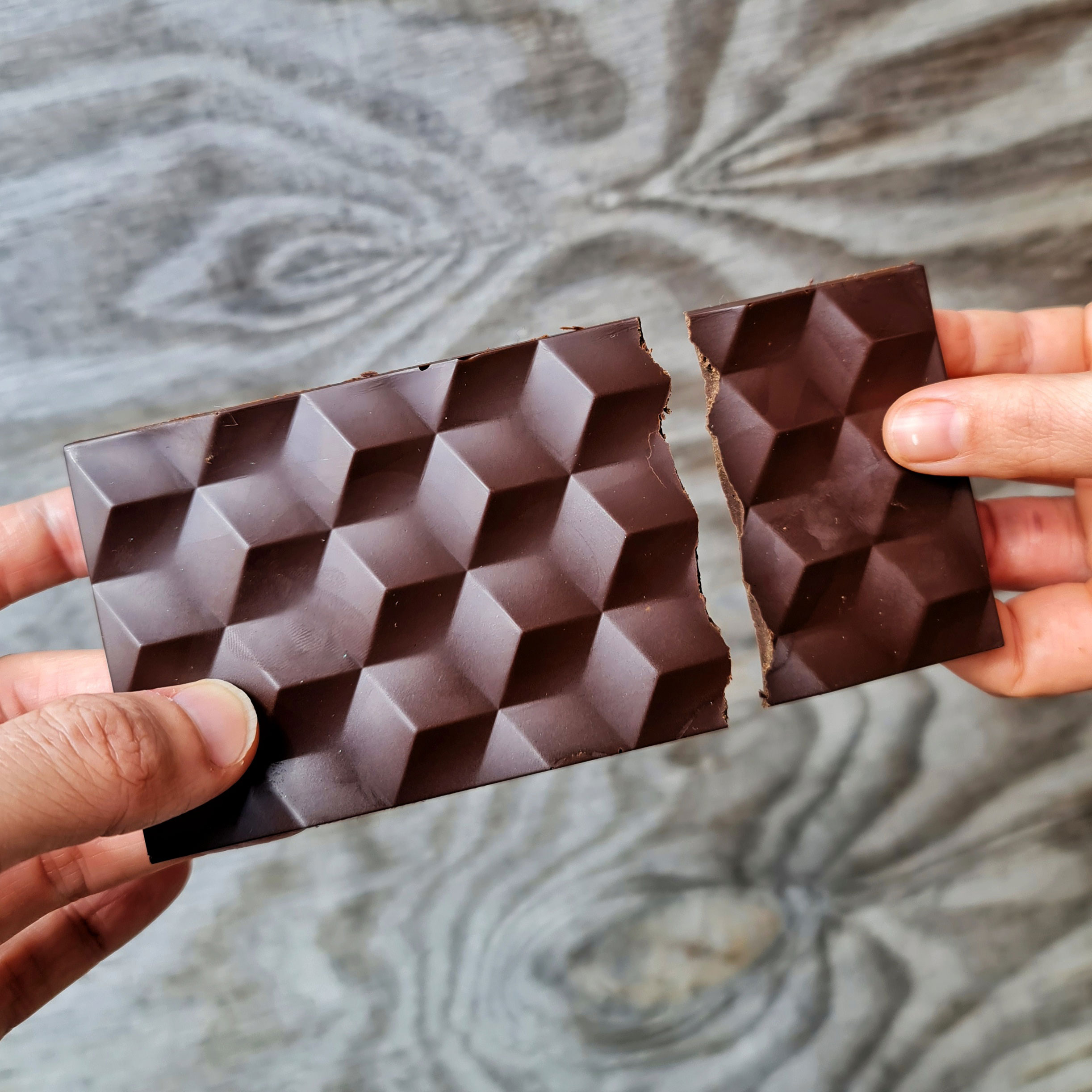 WNWN
To ensure that its chocolate is always ethical, United Kingdom-based WNWN does not use cocoa at all. Instead, the brand uses the power of fermentation to transform ethically sourced ingredients such as carob and cereals like barley into a chocolate substitute that tastes and behaves just like the real thing.
"Alt protein is having its heyday but there are so many ingredients out there that have huge water usage footprints and carbon emissions and also really bad labor and sustainability metrics that no one really thinks or talks about," Pak tells VegNews. "No one has actually come up with a huge innovation in chocolate for, arguably, centuries now."
Cocoa-free chocolate to the rescue
Based on a formulation Drain created five years ago, WNWN makes its cocoa-free chocolate taste exactly like traditional chocolate by layering complex flavors while staying away from problematic ingredients such as palm oil.
Founders Johnny Drain (left) and Ahrum Pak (right)/Caitlin Isola
One of WNWN's key ingredients is carob which got a bad rap in the 1950s and 1960s. However, Pak says that depending on quality, carob can actually deliver much of the complexity of cocoa beans. The company extracts the ingredient from carob pods and puts it through a similar process to cocoa beans—drying, roasting, curing, and all.
Together with its other key ingredient, barley, the base is transformed using fermentation into a delectable cocoa-free chocolate that delivers on flavor and texture but without any of the unethical elements.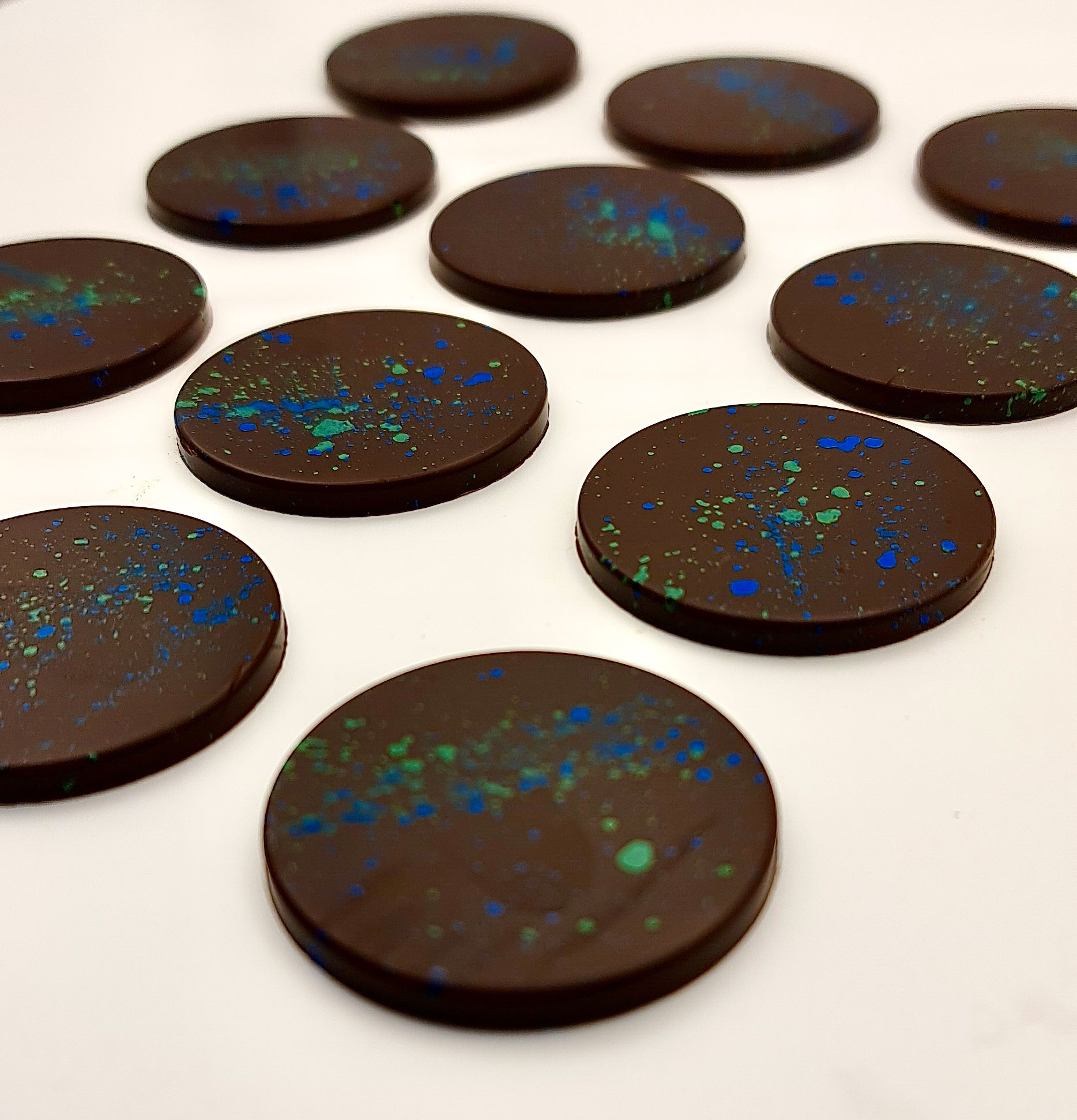 WNWN
"We made something that tasted and smelled a lot like chocolate. That means there are a lot of aroma and flavor compounds present in other ingredients out there that you can then put together and create an alternative," Pak says. "It's definitely possible to create a more sustainable and ethical alternative sourcing local ingredients."
Ditching dairy for the win
The company's first product was a dark chocolate bar made to showcase a pure form of its cocoa-free creation. Another win here is that pound for pound, its chocolate—priced to be competitive with premium dark chocolate—creates 80-percent fewer carbon emissions than traditional chocolate.
And WNWN wanted to come to showcase its enrobing possibilities with a unique offering: a cocoa-free take on Europe's popular Daim chocolate bars. "This way, we can show the makers of Daim, for instance, that they can really use our chocolate the way that you can use any chocolate," Pak says.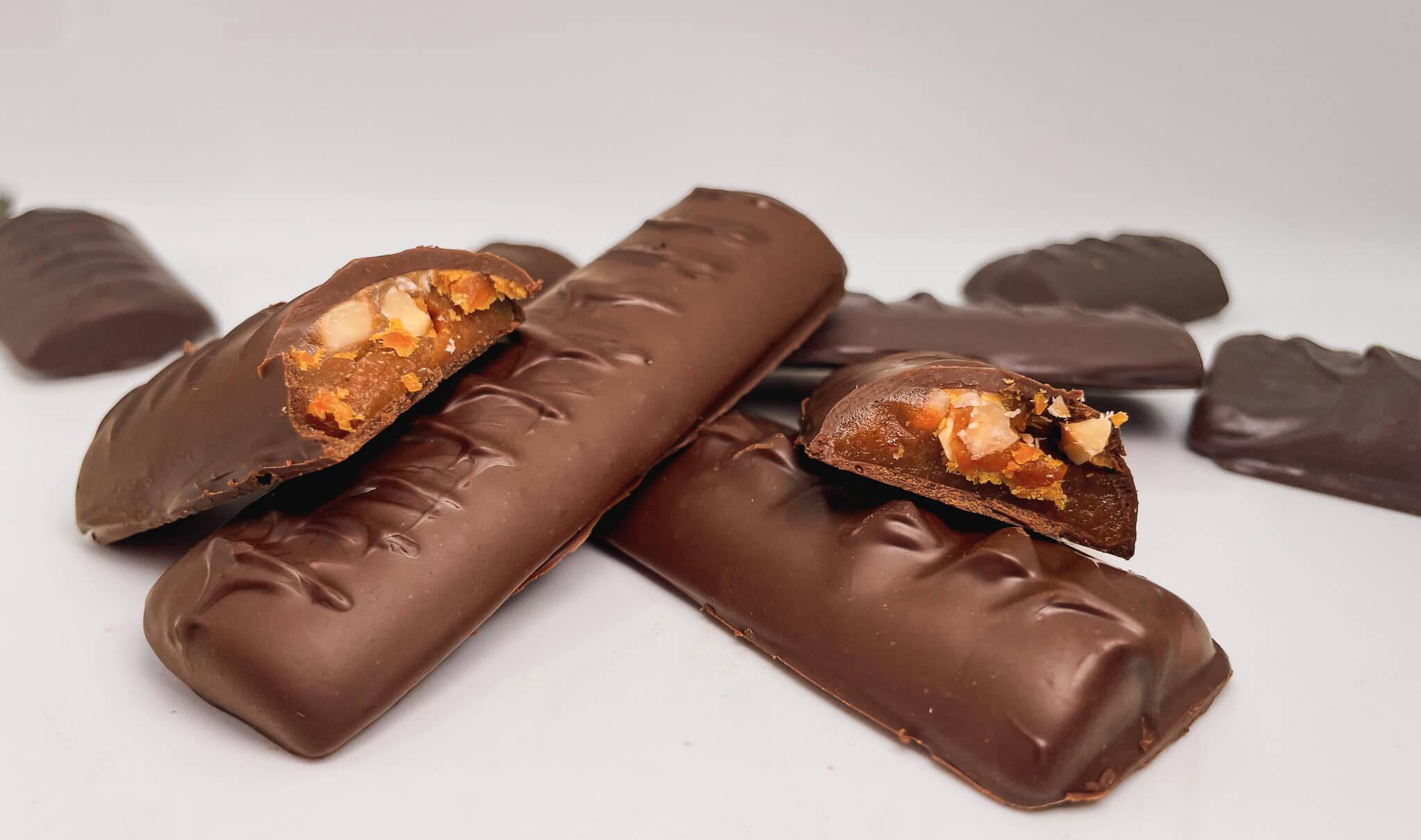 WNWN
Its version, the Waim! bar, is free from cocoa but was initially made with butter for its toffee center—a component that gave the founders pause. The company decided early on that its chocolate formulations would be vegan but did not consider how additional ingredients, such as a toffee center, would play out.
WNWN decided to pull the original Waim! bar formulation, retool it without dairy, and commit to being a vegan company henceforth to make its chocolate offerings truly ethical.
"It really comes down to the fact that we're fighting 'Big Choc' in a way," she says. "When you look at dairy and butter, that's 'Big Ag.' We don't want to substitute a bad product with potentially another bad product."
"We took a harder route as a company," Pak says about making WNWN fully vegan. "But it was the right route to take."
In addition to cocoa-free chocolate bars, WNWN will continue to innovate its portfolio to develop additional products in other categories. WNWN will first target the UK market with its consumer-facing brand next year, then expand across the European Union, before hitting the United States.
The next generation of KitKats, Hershey's, and Cadbury?
As a newly minted vegan company, WNWN is continuing its mission to replace cheap, cruelty-filled chocolate with a cocoa-free version that is more ethical on every level. While the company will maintain a consumer-facing brand, WNWN's goal is to become a business-to-business (B2B) ingredient supplier to make the largest impact on the global chocolate industry.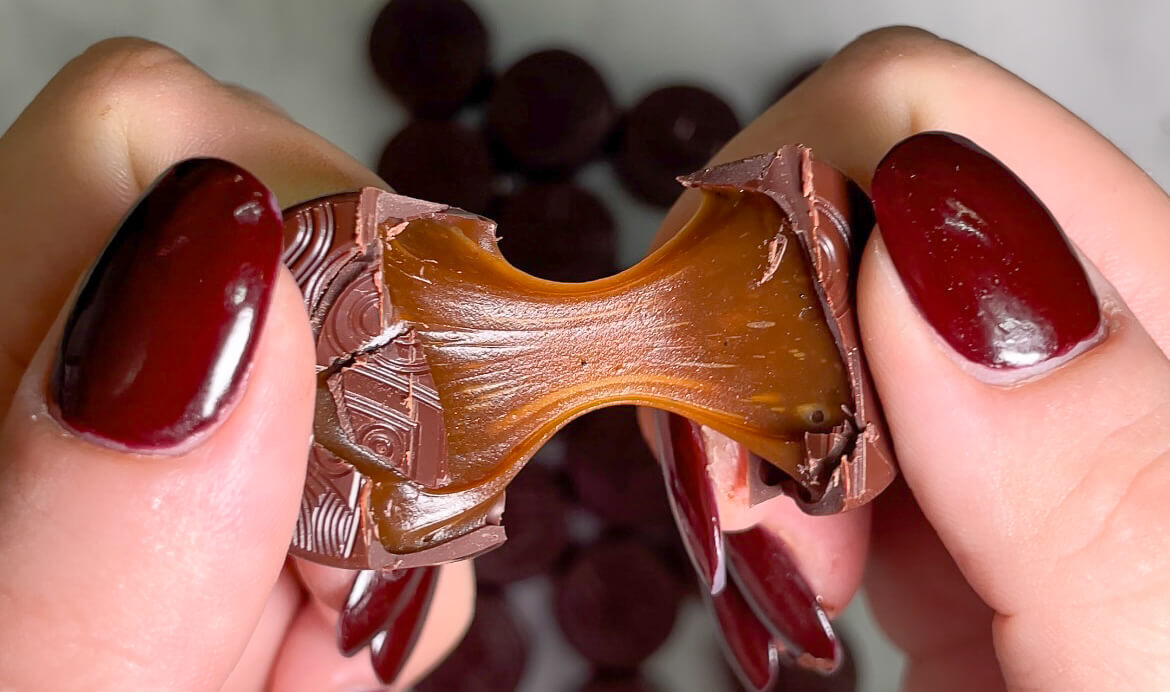 WNWN
What does that mean? WNWN hopes to partner with chocolate giants and help them remake their iconic bars with its cocoa-free formulation. "The reason why we want to go B2B is for impact at scale" Pak says. "We really want to change [the chocolate industry] from the inside out."
To truly transform the problematic chocolate industry, Pak says that every solution is needed—from companies making cocoa-free chocolate to chocolate made with ethically sourced ingredients. "It's an industry-wide moment that we want to spark," she says.
"We're not anti-chocolate. We love it," Pak says. "But we recognize that there are just finite resources and consuming chocolate the way we do on Halloween and Easter is simply just not possible any more."
Pak explains that while WNWN is vegan, the end formulation might not be depending on what its partners decide to create. However, the upswing in dairy-free chocolate—and consumer demand for animal-free options—might dictate that even the chocolate giants will go the vegan route.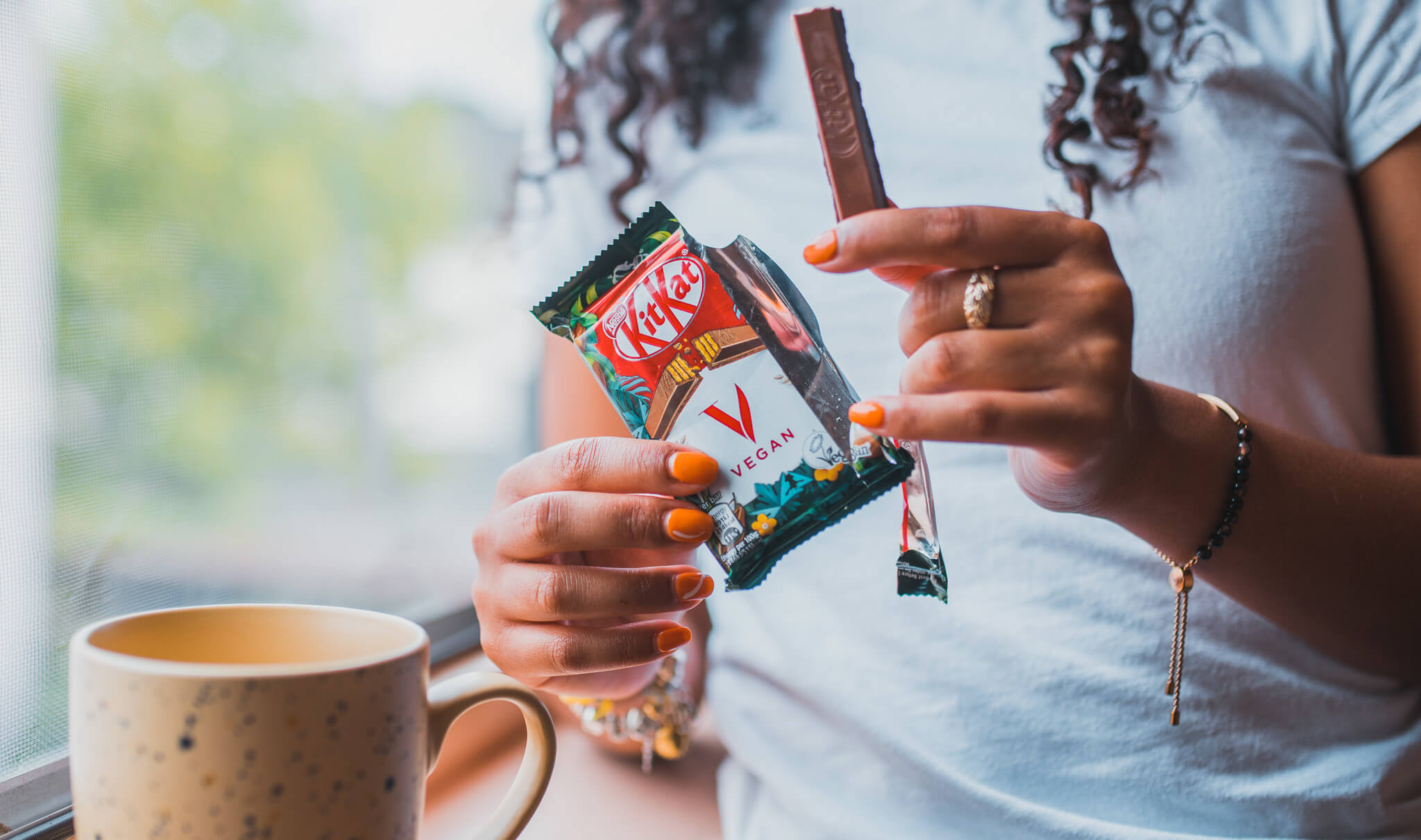 Nestlé
In recent years, many of the top players in the chocolate industry have released vegan options, including Nestlé (which launched its KitKat V in 15 countries this year); Mondelez International (which opened a vegan chocolate shop in the UK this year to showcase its vegan Plant Bar); and The Hershey Company (which ran a test launch of its Oat Made vegan oat milk bars in the US in June).
Now imagine if these bars were also made with WNWN's ethical cocoa-free chocolate? We'd say that's a major win-win.
For the latest vegan news, read: