Nestlé's vegan KitKat—called KitKat V—is now rolling out across 15 European countries following a test launch in the United Kingdom and some other countries in 2021. The expansion of the vegan KitKat is one of the biggest launches of a vegan version of a major confectionery product. And because of its successful test launch, Nestlé is starting production with 300 tons of the chocolate with room to produce more.
The new KitKat V was developed by chocolate experts at Nestlé's confectionery research and development center in York, UK over the course of two years. The milk in the original KitKat is replaced with a rice-based alternative, and it still offers the crispy wafer and smooth chocolate textures that consumers know and love. During its research and development, Nestlé sampled many non-dairy alternatives including oats, soy, and almond before settling on its rice-based formula.
"Last year, we took the decision to produce KitKat V in our R&D production facilities so we could bring the product to the shelves much faster and test with our consumers," Louise Barrett, Head of the Nestlé Confectionery Product Technology Center in York, said in a statement. "The response from consumers was overwhelming, and we are now excited to launch it at a much wider scale."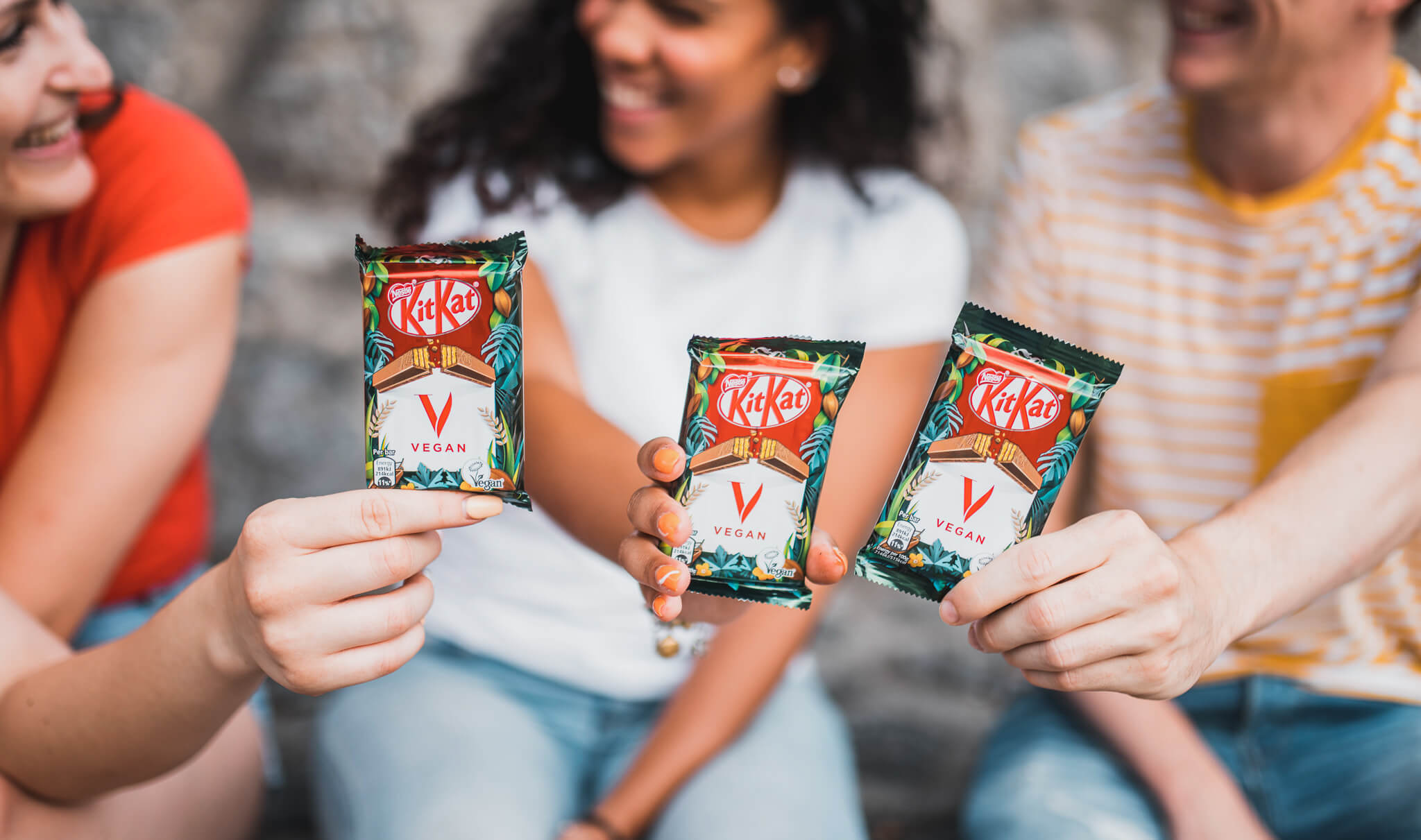 Nestlé
Where you can find the vegan KitKat
The new vegan KitKat will be produced at Nestlé's confectionery site in Hamburg, Germany and sold in 15 countries across Europe including Germany, the United Kingdom, France, Austria, Denmark, Sweden, Finland, Latvia, Lithuania, Estonia, Greece, Portugal, Poland, Hungary, and the Netherlands.
According to the company, the KitKat V has an 18-percent lower carbon footprint compared to the traditional milk-chocolate KitKat over its full life cycle from farm to consumer. This is because of its fully plant-based ingredients, which is what consumers are now looking for.
"We are seeing a strong trend in food with more people looking for plant-based options, including for treats," Corinne Gabler, Head of Confectionery for Nestlé in Europe, said in a statement. "This is one of the biggest launches ever of a vegan alternative of a major confectionery brand and it shows our confidence in this trend. We're delighted to offer KitKat V to all those KitKat fans out there who asked us to make it happen."
In the United States, KitKat is owned by H.B. Reese—a division of The Hershey Company—which has not announced plans to launch a vegan KitKat bar.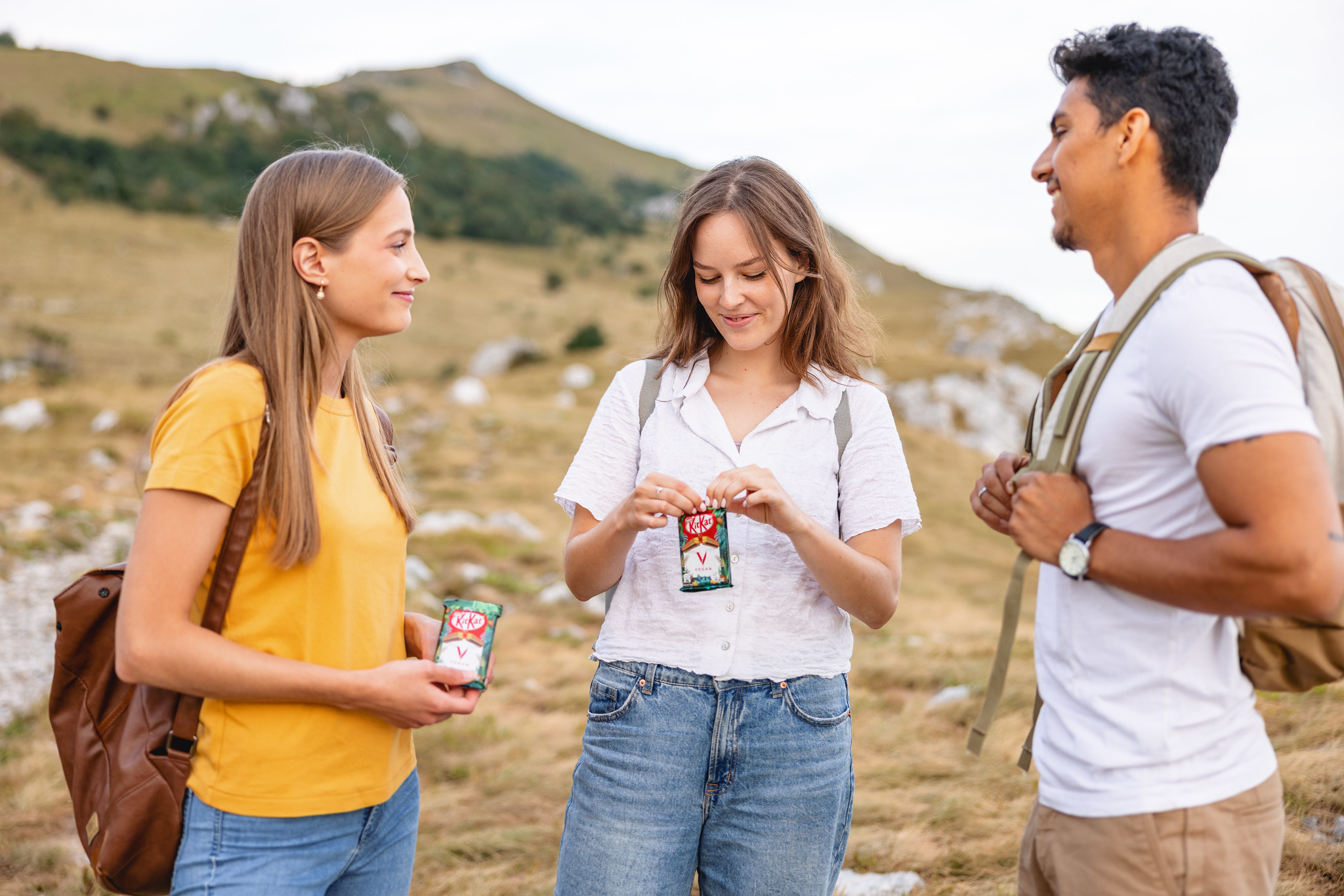 Nestlé
McDonald's offers vegan KitKat McFlurry
Earlier this year, Nestlé partnered with fast-food giant McDonald's to offer a vegan KitKat McFlurry at McDonald's locations in Germany. The McFlurry is made with a base of dairy-free soft serve—which McDonald's introduced in Germany in 2020—along with pieces of vegan KitKat V and sweet strawberry sauce.
"Vegan and vegetarian meals have not been a niche trend for a long time—and we as a brand also want to and will continue to develop here. Becoming better also means breaking new ground—for our company and our planet," Susan Schramm, Marketing Director at McDonald's in Germany, said in a statement at the time of the launch. "Our new vegan chocolate soft serve combination brings even more variety to our colorful McFlurry world and thus meets the exact taste of our dessert fans."
Major brands get into vegan chocolate
Nestlé's foray into vegan chocolate-making follows the introduction of similar products by smaller labels and big brands. Swiss chocolatier Lindt & Sprungli rolled out Lindt Classic Recipe Oatmilk vegan chocolate bars made with oat milk and almond paste. The bars are now available in the United States and Canada in three varieties (Original, Hazelnut, and Salted Caramel) and in the United Kingdom in two Smooth and Hazelnut flavors.
The Hershey Company launched its first vegan chocolate bars made with a base of oat milk at limited retailers, including select Target locations, last year. The Hershey's Oat Made bars were available for a limited time in flavors such as Classic Dark and Extra Creamy Almond & Sea Salt with each oat milk-based bar clearly labeled vegan.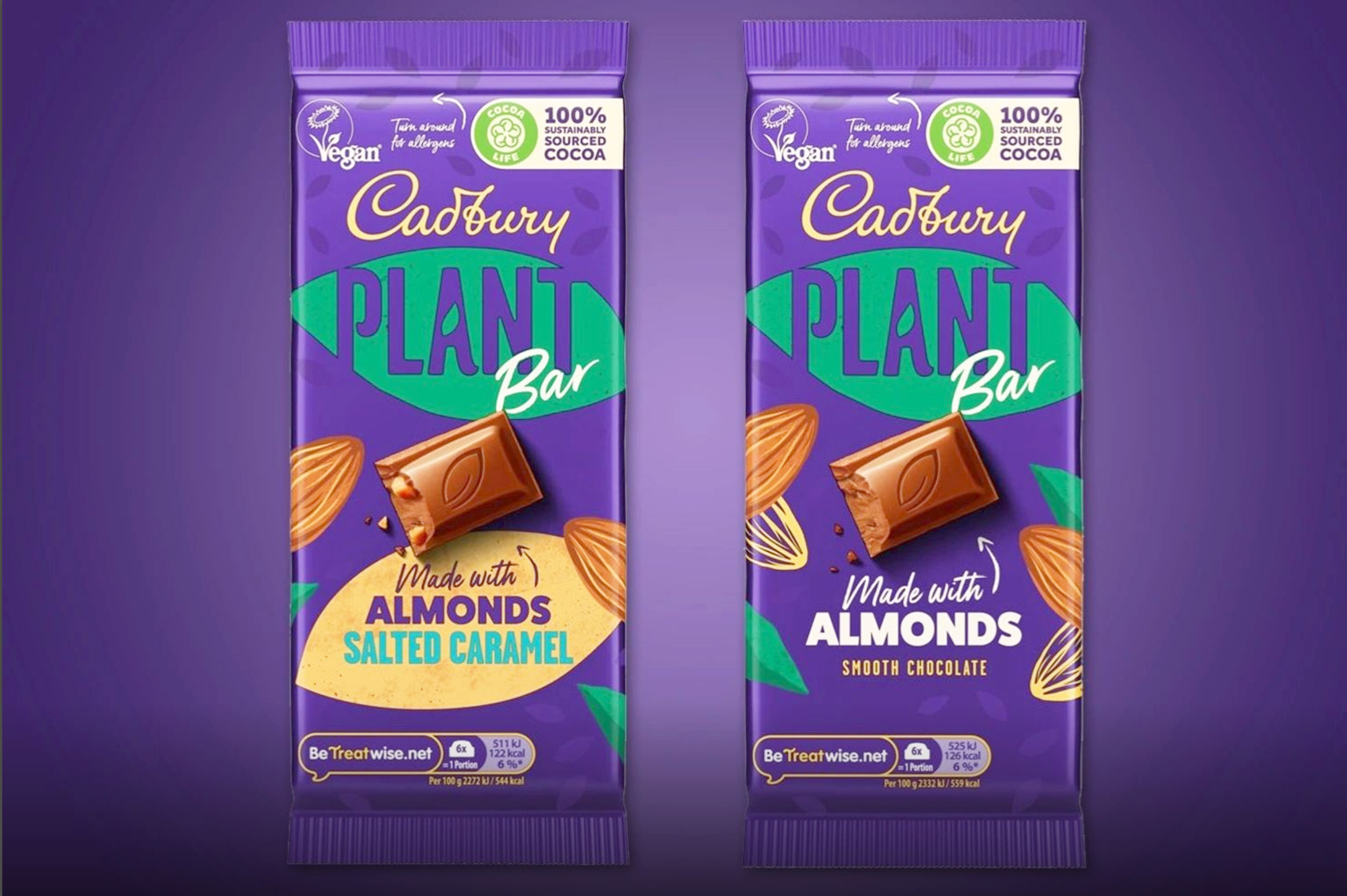 Cadbury UK
Over in the United Kingdom, Mondelez International Inc.'s Cadbury brand released the Plant Bar, presented as a vegan edition of Dairy Milk. The company took two years to develop a vegan version of its classic milk-chocolate bars, and they are now available in two flavors: Smooth Chocolate and Salted Caramel. To create the Cadbury Plant Bars, the company replaced the dairy milk with almond paste.
Earlier this year, Cadbury opened an all-vegan chocolate shop that was stocked entirely with the Plant Bar. Called the "Mean Tweetshop," the limited-time pop-up store aimed to turn hate towards veganism into love with each Plant Bar wrapped in limited-edition packaging that featured a negative social media comment about plant-based products. "The Mean Tweetshop is a true celebration of Cadbury Plant Bar and we feel that this is a chocolate anyone can enjoy, including the skeptics," Michael Moore, Marketing Manager at Cadbury, said in a statement. "We hope that some of those who have been quick to judge plant-based products are brave enough to come down and try one for themselves, they really are that good."
For the latest vegan news, read:
92-Year-Old Clint Eastwood: Plant-Based Diet Is Critical For the Planet
Will Burger King Become the First Major Fast-Food Chain To Drop Meat?
Starbucks' Very First Vegan Fall Drink Has Arrived. And It's Not a PSL.