Starbucks introduced the Pumpkin Spice Latte (PSL) in 2003 and the beverage has since become synonymous with the start of fall. However, the PSL—in the United States at least—contains dairy ingredients in its pumpkin base so those looking for a plant-based beverage have not been able to celebrate fall in quite the same way. And while this year, Starbucks has not reformulated its PSL without dairy for its US stores, the coffee chain is launching its first vegan-by-default fall beverage to give everyone a fall option to be excited about.
Starting tomorrow, Starbucks will debut its fall menu which highlights the Apple Crisp Oatmilk Macchiato, its first vegan-as-is drink that is built around Starbucks' Blonde Espresso. The fall beverage is crafted with oat milk to complement its apple, cinnamon, and brown sugar flavors. Available hot, cold, and blended, the new Apple Crisp Oatmilk Macchiato comes topped with a spiced apple drizzle.
"Crafting the Apple Crisp Oatmilk Macchiato with Starbucks Blonde Espresso gives the beverage a soft and smooth foundation that ties all the flavors together," Harvey Rojas Mora, Starbucks beverage developer, said in a statement. "The oat milk adds a creaminess and brings forward the oat flavors of a traditional apple crisp topping."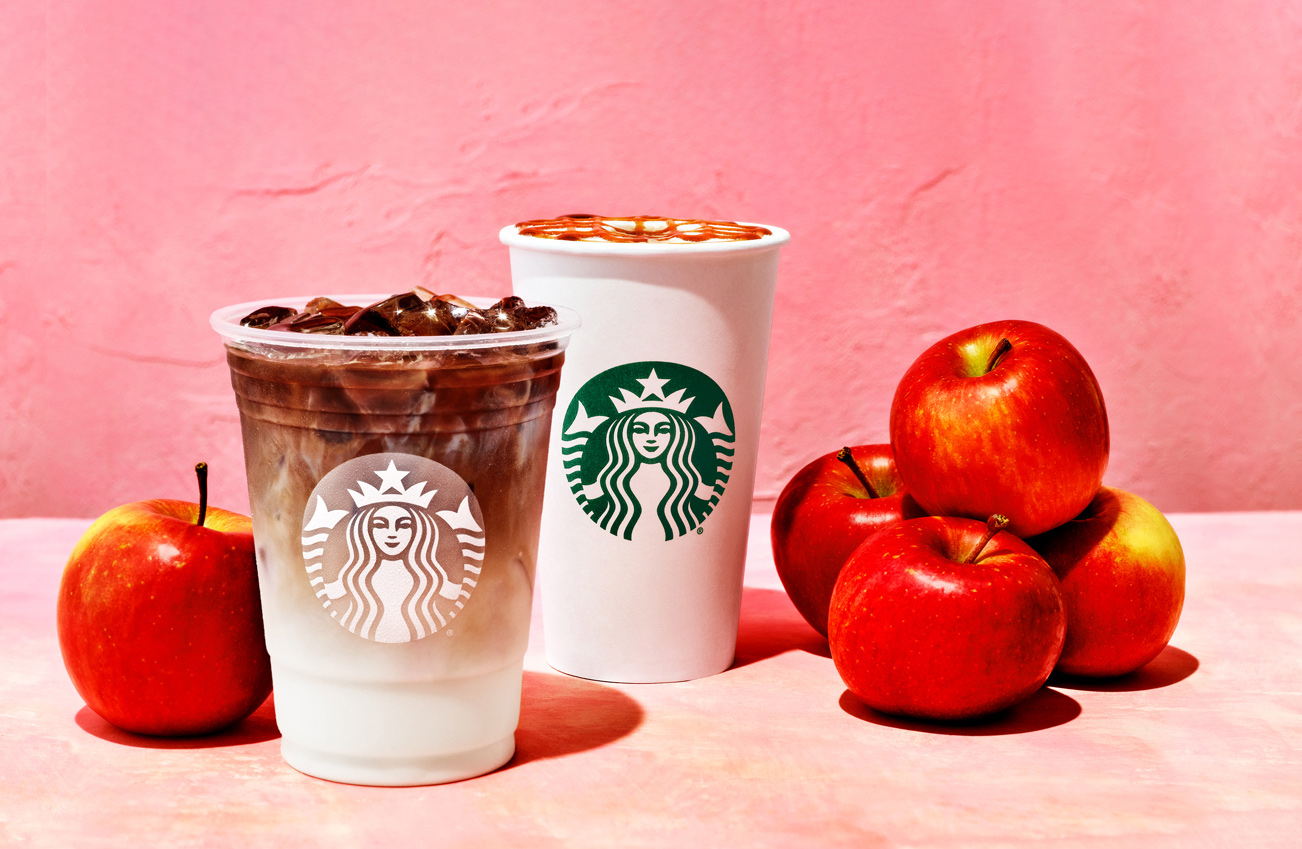 Starbucks
Starbucks' first vegan fall drink
If the Apple Crisp Oatmilk Macchiato seems familiar that's because last year, Starbucks launched a similar fall beverage but it was made with dairy by default. Initially inspired by the idea of a fall harvest, the Starbucks research team developed the Apple Crisp Macchiato by tasting a variety of apple products, such as apple maple syrup, apple cider doughnuts, and baked goods such as apple pies and crisps.
The team landed on a macchiato (which translates to "marked") format where espresso is poured over top of steamed milk and then further "marked" the drink with a spiced apple drizzle in a lattice pattern to evoke the top of a pie. The hot version of the drink is crafted to bring forth flavors of an apple crisp while the cold macchiato is made to be reminiscent of apple pie à la mode.
And while it was easy to order last year's version of the drink vegan by swapping in a plant-based milk, this year, Starbucks took out all the guesswork by making oat milk part of the standard recipe. In doing so, Starbucks hopes to make the fall beverage more accessible to its customers, who are increasingly choosing alternatives to dairy milk.
"As you know, the Apple Crisp Macchiato was first introduced last year, and is returning this year with oat milk and Starbucks Blonde Espresso as the standard recipe," a Starbucks spokesperson tells VegNews. "We are always listening to our customers and partners (employees) and evolving our menu to meet their unique tastes and preferences."
"As interest in alternative dairy continues to grow, we're thrilled to bring our customers Starbucks' first non-dairy fall beverage," a Starbucks spokesperson said.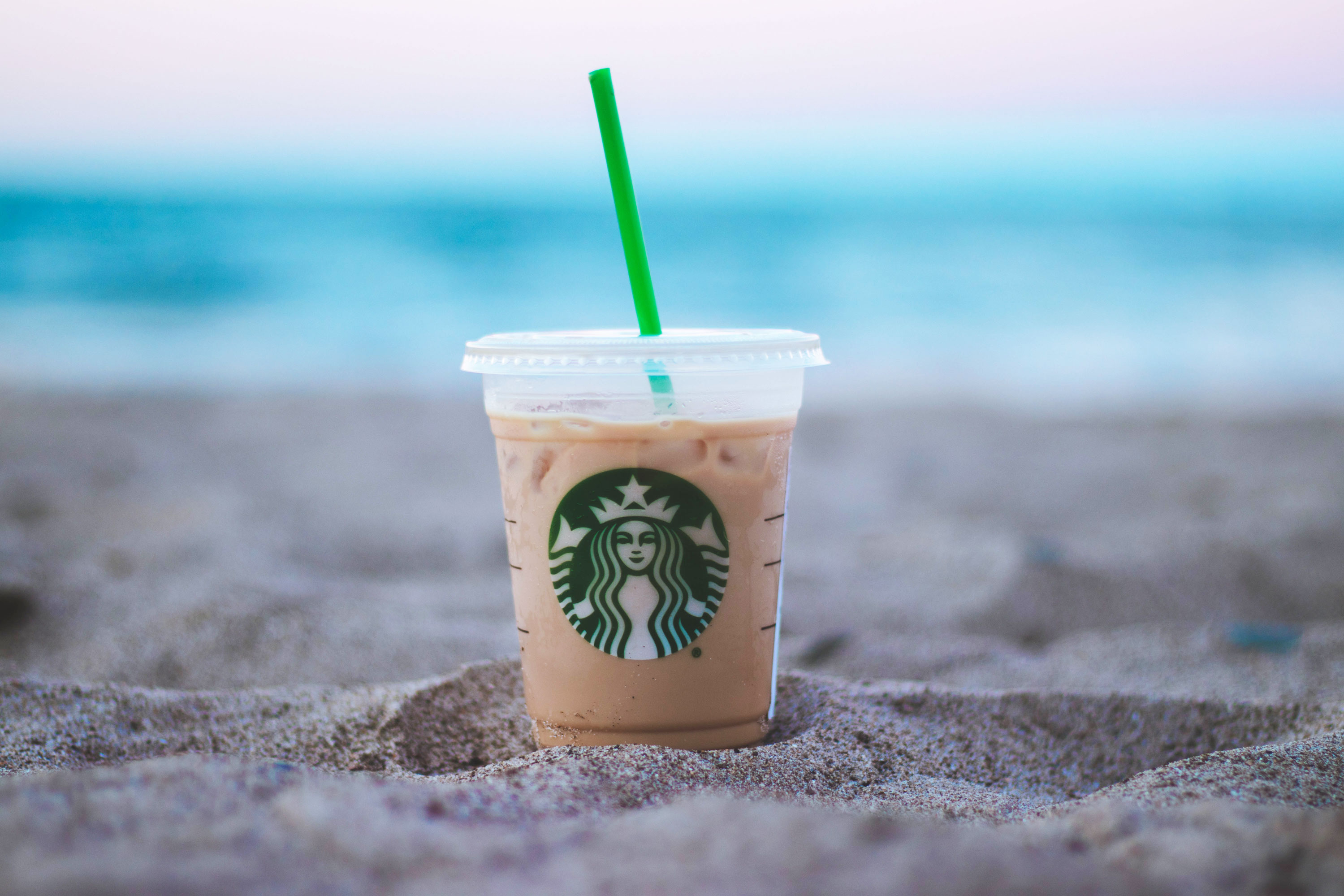 Is Starbucks dropping the vegan milk upcharge?
While Starbucks is making strides with its first vegan-by-default fall beverage, its policy to charge up to $0.80 extra for vegan milk substitutions in milk-centered beverages such as lattes continues to stir protests. Many argue that the charge is unfair for several reasons, including that it creates a barrier for consumers looking to make a more environmentally friendly choice with plant-based milk—which seemingly goes against Starbucks' own sustainability goals to become a resource-positive company by 2030. Others point to the fact that the charge is disproportionately absorbed by people of color, who suffer from lactose intolerance more often than other demographics.
These reasons have motivated a growing number of demonstrations around the country asking Starbucks to make vegan milk available at the same price as dairy in every drink. This summer, Babe actor James Cromwell joined an effort led by People for the Ethical Treatment of Animals (PETA). The 82-year-old Succession star—who has been vegan since 1995—superglued his hand to a Starbucks counter in Manhattan in protest of the charge.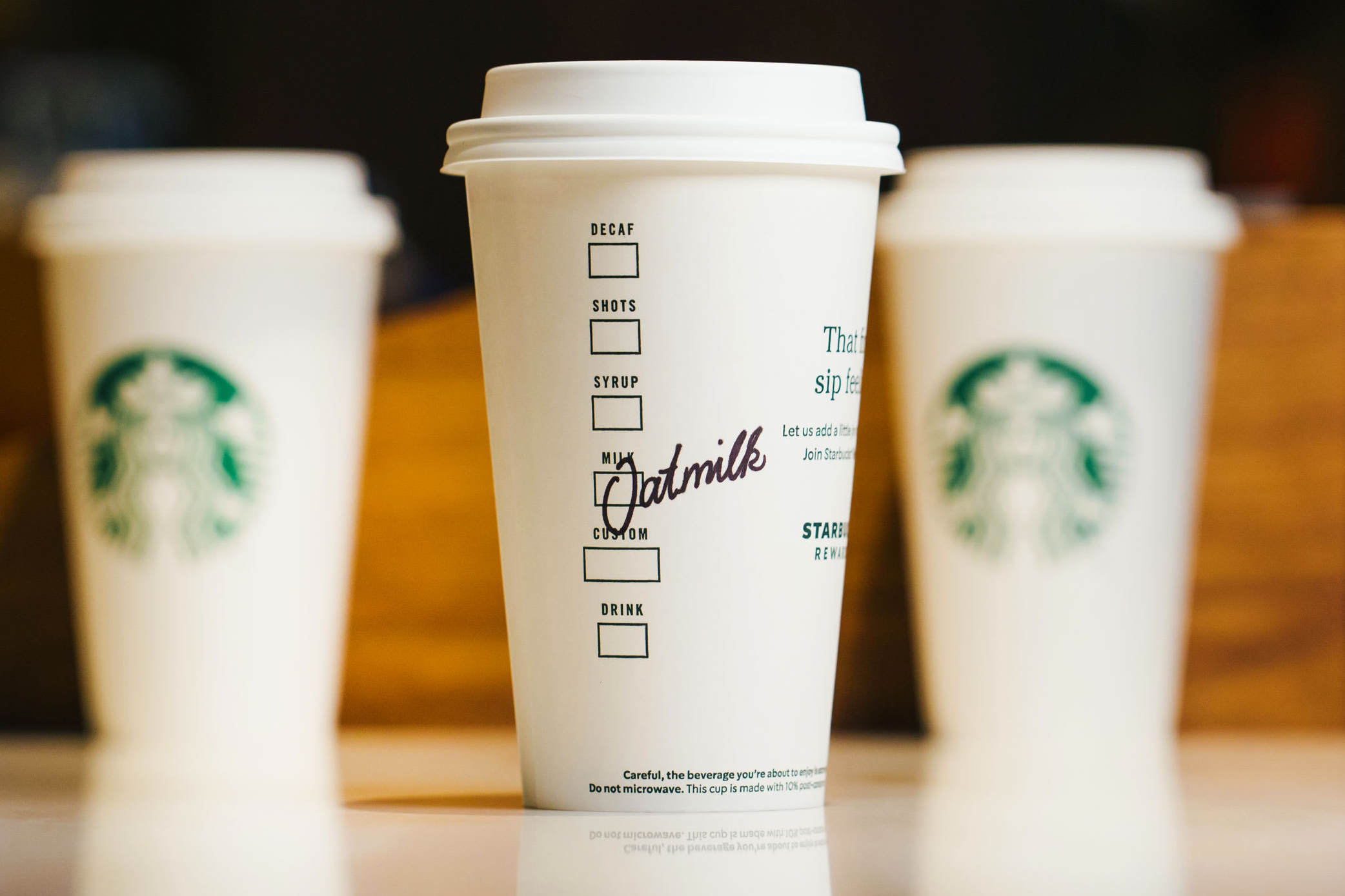 Starbucks
Prior to Cromwell's protest, in April, Sir Paul McCartney joined the cause, pointing to the fact that Starbucks dropped the vegan milk surcharge at its 1,020 United Kingdom locations at the onset of 2022. "It recently came to my attention that Starbucks in the USA has an extra charge for plant-based milk as opposed to cow's milk," McCartney wrote in the letter, first published by Billboard. "I must say this surprised me as I understand that in other countries like [the] UK and India, there is the same charge for both types of milk and I would like to politely request that you consider this policy also in Starbucks USA."
As of now, Starbucks does not plan to chain its policy at its US stores. "We have nothing immediate to share on plans in the US, but will keep you updated as we continue to learn and evolve," the spokesperson says, explaining that "adding a splash of any non-dairy milk to Brewed Coffee, Iced Coffee, Cold Brew, and Americano beverages is offered free of charge."
For the latest vegan news, read:Can the World's First Cultivated Lamb Slash Methane Emissions?
Phoebe Bridgers' Vegan Homestate Taco Benefits Kids in LA
How This Vegan Cheese Will Change Pizza Forever