Starbucks Japan has expanded its plant-based offerings this summer with five vegan menu items. The new menu options are part of Starbucks' efforts to expand plant-based menus globally in an effort to pursue its carbon reduction goals.
The new menu items include a Spinach, Corn, and Soy Patty English Muffin, which features a spiced soy-based patty with spinach corn cream mixed with maple mustard and sandwiched between a toasted whole-grain English muffin. The Tomato and Soy Ball Brick-Oven Filone features a French baguette with soy-based meatballs, pomodoro sauce, and plant-based cheese. The chain also offers a prepared Shaken Meal Soy Bolognese, a tossed salad featuring purple cabbage, a variety of beans, red peppers, plant-based cheese, sun-dried tomatoes, cucumbers, cauliflower, and greens with a tomato dressing and soy bolognese sauce.
For vegan dessert offerings, Starbucks Japan has added vegan Sugar Doughnuts, which are a veganized version of the chain's already popular traditional plain doughnuts with a sugar glaze. As well, an Almond Milk Matcha Mousse cake has been added to the Starbucks menu and features a matcha mousse that sits on a crushed graham-cracker crust and topped with a thick layer of almond milk and matcha whipped cream.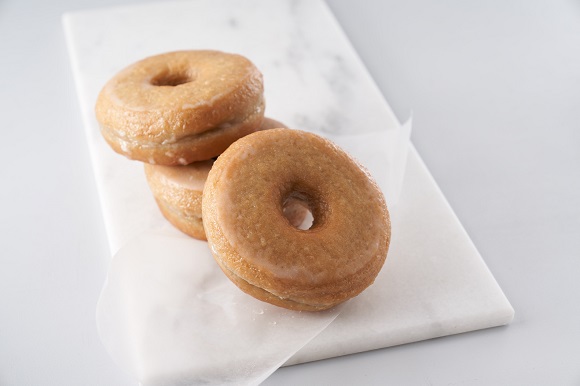 Starbucks' sustainability efforts
The addition of plant-based offerings in Japan is part of Starbucks' wider goal to innovate its menu to help reduce its carbon footprint, along with incorporating more greener store features such as more efficient energy use, using recycled building materials, and reducing in-store waste. The Starbucks Japan website notes that the matcha used in the new Almond Milk Matcha Mousse cake is grown using recycled coffee bean grounds from Starbucks stores.
In recent years, Starbucks Japan has been finding new ways to recycle its discarded coffee grounds in a circular economy. This initiative includes working with local farmers to use the grounds for agricultural compost to grow products like matcha green tea and vegetables, which are in turn used for new menu items, such as its new Almond Milk Matcha Mousse Cake.
With sustainability in mind, the Starbucks chain has also been building out a Greener Store initiative in recent years, with locations planned for Japan, as well as in Chile, the United Kingdom, and the United States. The first Greener Store concept is already open in Shanghai and serves as a blueprint for the additional locations. Developed in partnership with World Wildlife Fund, the Greener Store concept offers a menu that is more than 50 percent plant-based. The Shanghai store, specifically, features a menu with 15 plant-based options, including OmniPork Truffle Focaccia and Omni Luncheon Cuba Sandwiches. At this Starbucks store, oat milk is served as a default. In China alone, this builds on the plant-based options Starbucks added in 2020 to its more than 4,200 locations in China, including products made by Beyond Meat, Omni Foods, and Oatly.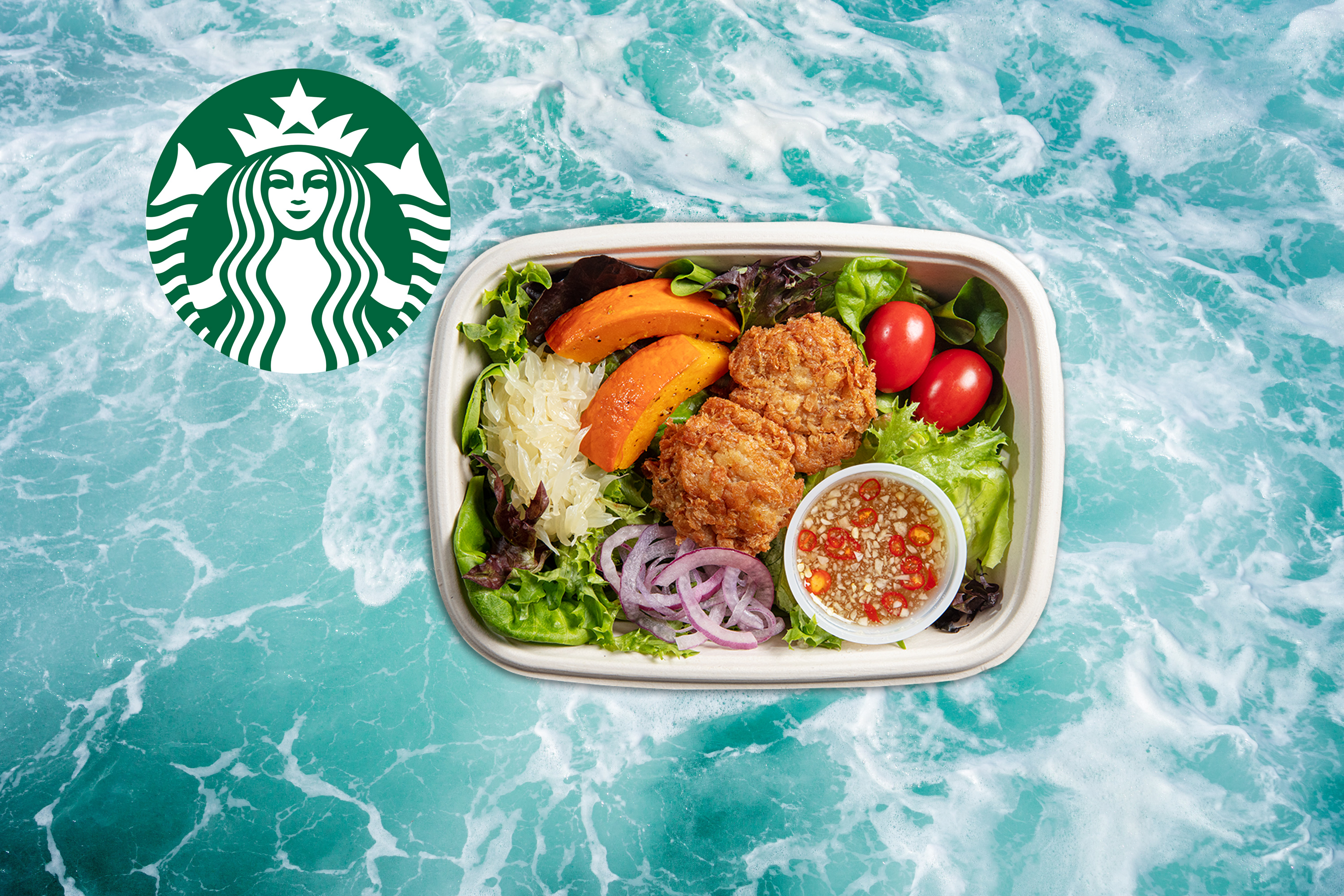 Following the launch of its Greener Store concept in Shanghai, Starbucks added vegan crab cakes to its menu at its 170 locations in Hong Kong—representing the first time the international coffee chain has served vegan seafood. The Thai Style New Crab Cake Salad menu item is made with vegan crab cakes by OmniFoods, a local vegan meat brand founded by entrepreneur David Yeung. The salad features Omni Crab Cakes along with mixed lettuce, pumpkin, tomato, fresh pomelo pulp, and a salad dressing made with fish sauce that is served on the side.
Starbucks greener stores to expand globally
By 2025, Starbucks aims to operate 10,000 new and retrofitted Greener Stores globally. "Our work to become planet positive begins with coffee at origin, and carries through to our stores, right to our customers' hands," Michael Kobori, Starbucks Chief Sustainability Officer, said in a statement. "I'm proud to say that our partners' energy and passion for sustainability pushes us every day and is the reason why we've seen great adoption of our Greener Store standards."
While its North American Greener stores offer similar eco features to the new Shanghai location, Starbucks does not (yet) offer a 50-percent plant-based food menu or vegan milk as a default in the United States or Canada, despite dairy being the driver of 21 percent of its global carbon footprint. In fact, the chain still charges extra for substituting plant-based milk for most beverages, an upcharge vegan activists, including Paul McCartney, have been battling for years.
For the latest vegan news, read:
50 Percent of Supplements Contain Hidden Animal Byproducts
Nutritional Yeast to Become a $1 Billion Industry By 2032
55 Percent of New Parents Want More Plant-Based Protein For Children