At one location of Starbucks in Shanghai, China, the menu is now more than 50-percent plant-based and oat milk is the default in most beverages. Developed in partnership with World Wildlife Fund (WWF), this Starbucks location is the first Greener Store concept the coffee giant has opened outside of North America. Located in Qiantan Taikooli, the Shanghai store recently expanded its menu with 15 new plant-based options such as baked goods, wraps, salads, and more—which builds on the plant-based options Starbucks added last year to its more than 4,200 locations in China, including products made by Beyond Meat, Omni Foods, and Oatly. This location is also offering two new plant-based beverages, the Salted Caramel Breve and Salted Caramel Flat White, for a limited time.
"Our work to become planet positive begins with coffee at origin, and carries through to our stores, right to our customers' hands," Michael Kobori, Starbucks Chief Sustainability Officer, said in a statement. "I'm proud to say that our partners' energy and passion for sustainability pushes us every day and is the reason why we've seen great adoption of our Greener Store standards."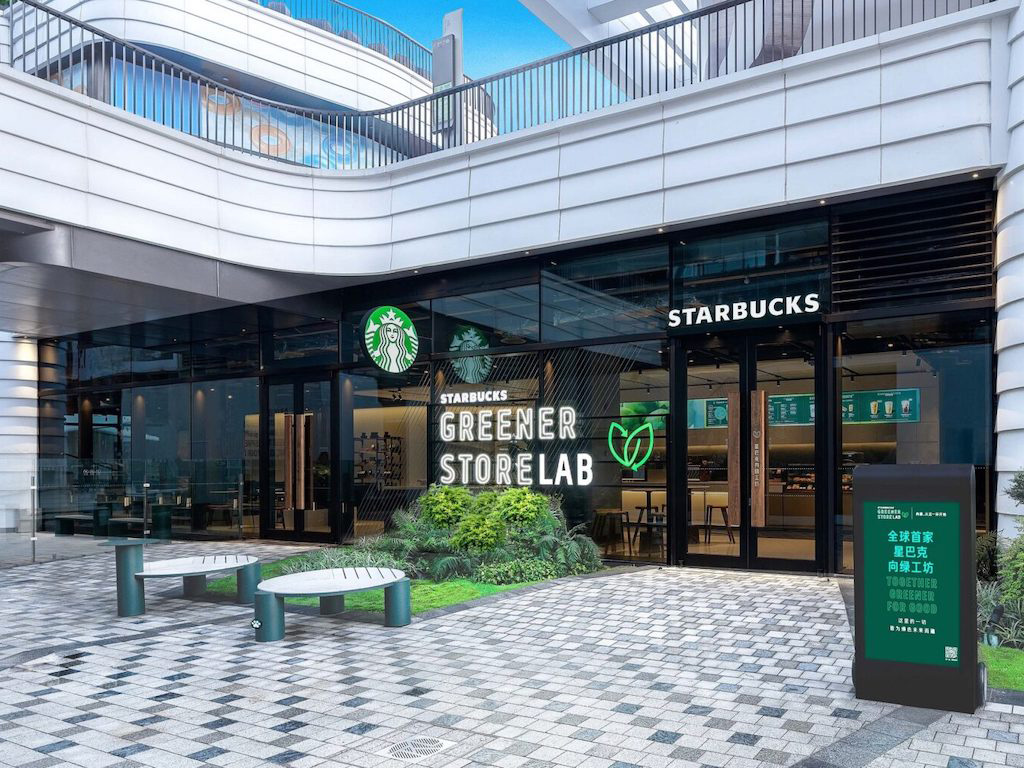 In addition to focusing on plant-based food and beverages, the Shanghai Greener Store promotes sustainability in numerous ways. The store offers a reusable Grande-sized cup to reduce waste, showcases sustainability focused artwork, and features a modular bar that can be adjusted without the need for new construction. The store also reuses pieces of other Starbucks locations in China such as reclaimed wood and door handles; uses energy-efficient lighting, air conditioning, and water systems; and recycles coffee grounds into fertilizer. Here, the barista's signature green aprons are made from recycled Starbucks cups and paper receipts are no longer provided to further reduce waste.
The Greener Store in Shanghai will serve as a blueprint for additional eco-focused locations, which Starbucks will open in Japan, Chile, the United Kingdom, and the United States. By 2025, Starbucks aims to operate 10,000 new and retrofitted Greener Stores and will open an additional 60 locations in China by 2022. The global chain is also working to open a research facility in December in partnership with the Arizona State University, where it will develop open-source tools that can be used by others to design, build, and operate portfolios of buildings that minimize environmental impacts throughout their life cycle.
"Starbucks expansion of the Greener Stores program demonstrates a continued commitment to environmental stewardship and innovation," Sheila Bonini, WWF Senior Vice President of Private Sector Engagement, said in a statement. "By making this program open source, and expanding it globally, Starbucks is creating a path toward a resource positive future within their own four walls and beyond."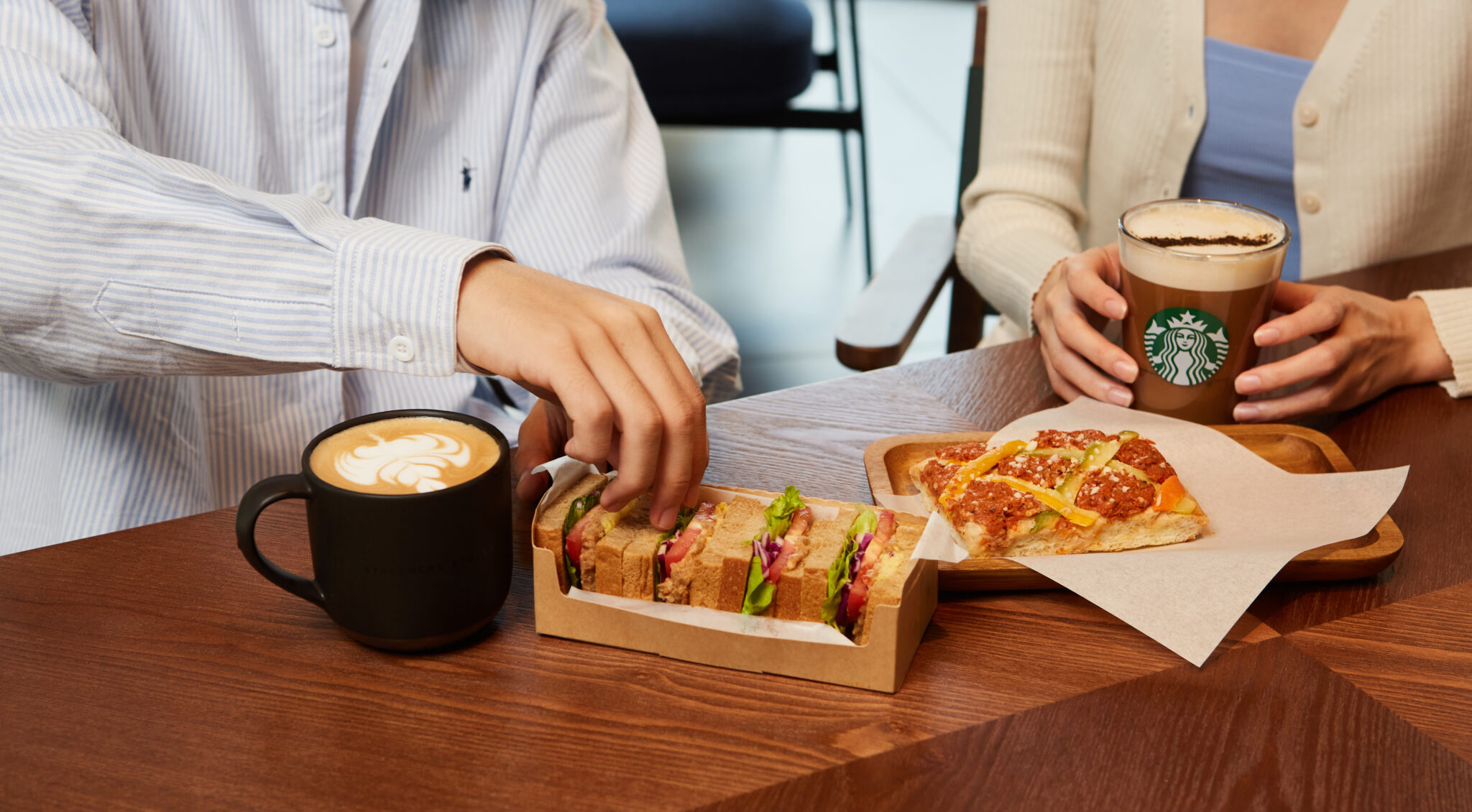 Plant-based at Starbucks' Greener Stores in North America
Since announcing the Greener Store initiative in 2017, Starbucks has shifted more than 2,300 locations in North America to be more environmentally friendly in an effort to become a resource positive company by 2030. "We've proven designing and building greener stores is not only responsible, but also good for business," Andy Adams, Starbucks Senior Vice President of Store Development, said in a statement. "In 2018, we created a new benchmark in retail that goes beyond construction and design to address long-term, eco-conscious operations. Today, we expand the Greener Stores benchmark globally to accelerate our progress toward our Planet Positive goals."
While its North American Greener stores offer similar eco features to the new Shanghai location, Starbucks does not (yet) offer a 50-percent plant-based food menu or vegan milk as a default in the United States or Canada, despite dairy being the driver of 21 percent of its global carbon footprint. In fact, the chain still charges extra for substituting plant-based milk for most beverages, an upcharge vegan activists, including actress Alicia Silverstone, have been battling for years.
Globally, Starbucks has launched a variety of plant-based food options—most recently sandwiches made with The Not Company's vegan beef in Chile. In the US, Starbucks is slowly working to modernize its menus with plant-based options. Last June, Starbucks US made its first foray into plant-based meat by adding the Impossible Breakfast Sandwich to its national menu, alongside its first vegan cold foam made from almond milk. While this sandwich is not entirely plant-based (as it is pre-made with dairy and eggs), Starbucks has been testing the vegan Plant Powered Breakfast Sandwich at select locations since last year.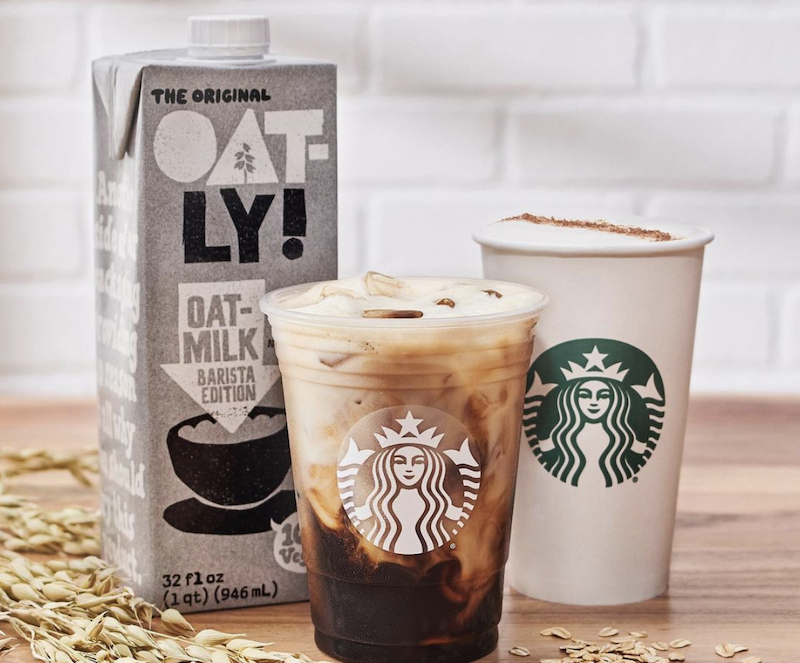 In March, the chain added Oatly's oat milk—its fourth vegan milk option next to soy, almond, and coconut—and debuted The Chickpea Bites & Avocado Protein Box, its first vegan protein box, at its locations nationwide. Starbucks is also currently testing a vegan whipped cream made from lentils at two locations.
Using Shanghai as a model, the next two experiential Greener Stores are planned for Southern California and Starbucks' hometown of Seattle, WA. VegNews reached out to inquire whether these stores will emulate the Shanghai location in terms of their commitments to a 50-percent plant-based menu and oat milk as the default. A Starbucks spokesperson told VegNews that the chain does not have any further information to share about these stores at this time.
For more about plant-based at Starbucks, read:
Starbucks Launches Vegan Beef Across IndonesiaThe Essential Vegan Guide To Starbucks Fall DrinksStarbucks CEO: Vegan Milks Are Big Part Of Climate Solution