Starbucks just added vegan crab cakes to its menu at its 170 locations in Hong Kong—representing the first time the international coffee chain has served vegan seafood. The new Thai Style New Crab Cake Salad menu item is made with vegan crab cakes by OmniFoods, a local vegan meat brand founded by entrepreneur David Yeung. The salad features Omni Crab Cakes along with mixed lettuce, pumpkin, tomato, fresh pomelo pulp, and a salad dressing made with fish sauce that is served on the side.
"We are thrilled to have Starbucks Hong Kong to be one of our first OmniSeafood launch partners," Yeung said in a statement. "Besides the exciting menu item we are introducing, we trust this is the beginning of raising awareness that ocean preservation and reduction of seafood consumption should be high on everyone's agenda in terms of combating climate change and ensuring food security for the planet."
OmniFoods is best known for its pork alternatives, including a vegan version of SPAM called OmniPork Luncheon. However, OmniFoods launched its OmniSeafood line earlier this year to further its mission of making animal products obsolete. The line includes Omni Classic Fillet, Omni Golden Fillet, and Omni Ocean Burger—in original, battered, or breaded fish burger varieties—along with OmniTuna and, eventually, OmniSalmon. Yeung is also the founder of social enterprise Green Monday under which he operates vegan grocery chain and café Green Common, which offers the full line of OmniFoods products.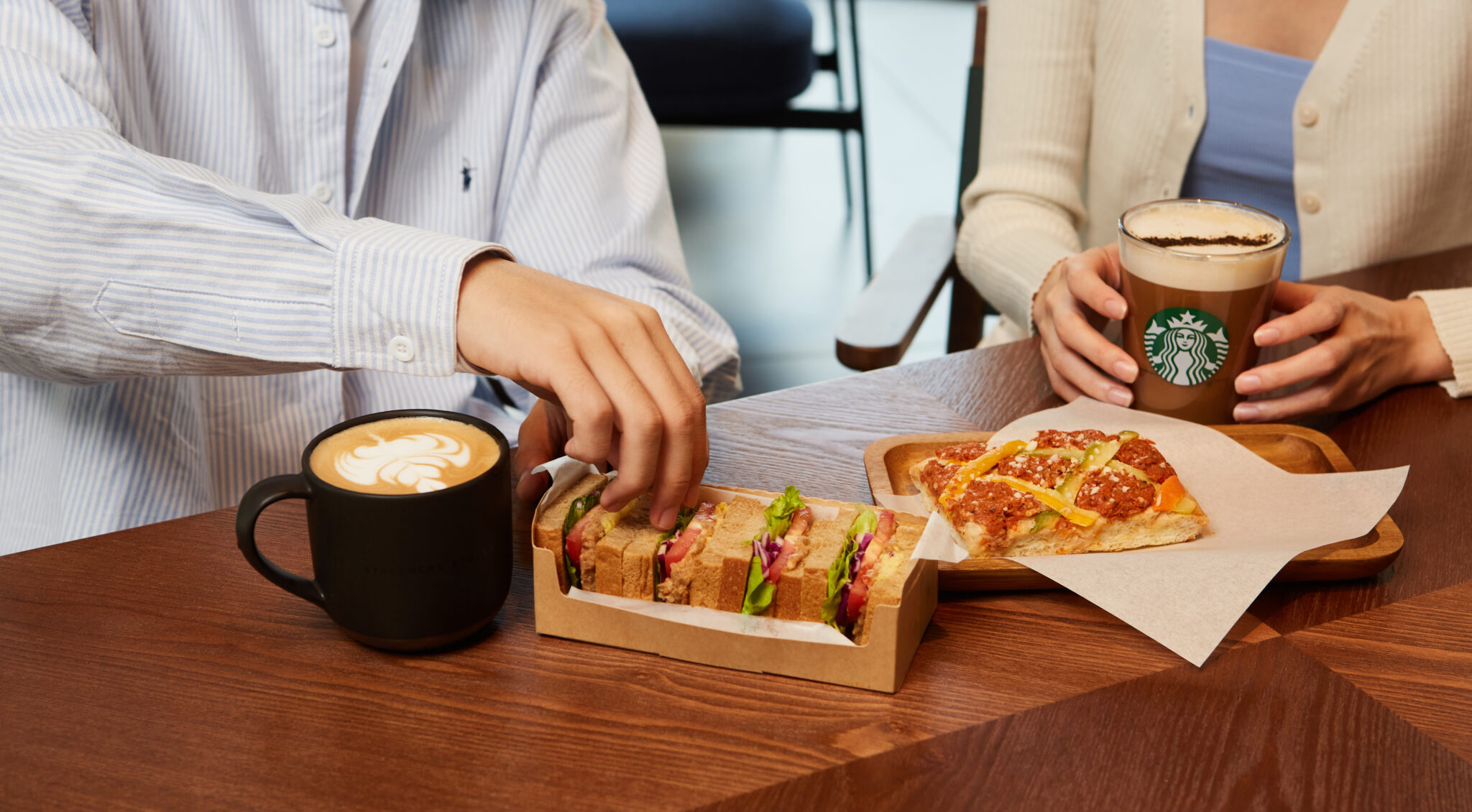 Starbucks gets into plant-based seafood
While the Thai Style New Crab Cake Salad is Starbucks' first foray into vegan seafood, the chain has previously worked with OmniFoods on other plant-based launches. In 2020, Starbucks added a variety of vegan products made by Oatly, Beyond Meat, and OmniFoods' vegan pork to its menus at 4,200 locations across China. In the Philippines, Starbucks is now serving BBQ Mochi Bun, Mince Roll, and Classic Lasagna, all featuring the OmniPork series of vegan pork grounds, luncheon, and strips.
OmniFoods is also on the menu at a special Starbucks location in Shanghai, where more than 50 percent of the menu is plant-based. Developed in partnership with World Wildlife Fund, this Starbucks location is the first Greener Store concept the coffee giant has opened outside of North America. Located in Qiantan Taikooli, the Shanghai store recently expanded its menu with 15 new plant-based options, including OmniPork Truffle Focaccia and Omni Luncheon Cuba Sandwiches. At this Starbucks store, oat milk is served as a default.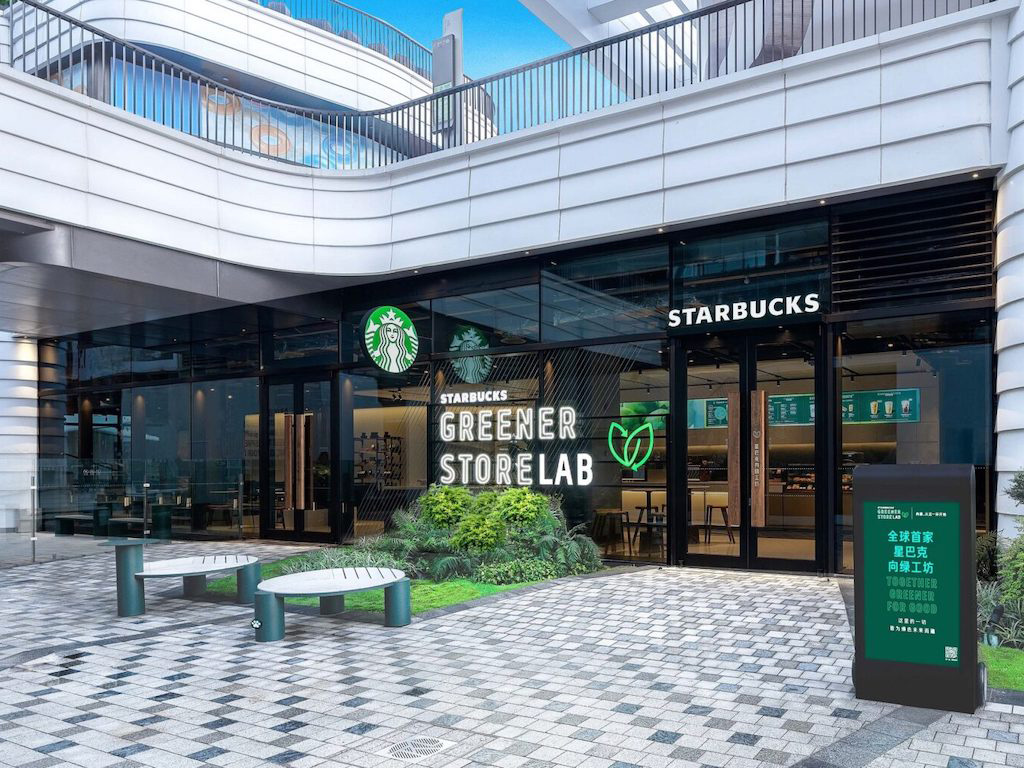 Starbucks greener stores to expand globally
The Greener Store in Shanghai will serve as a blueprint for additional eco-focused locations, which Starbucks will open in Japan, Chile, the United Kingdom, and the United States. By 2025, Starbucks aims to operate 10,000 new and retrofitted Greener Stores and will open an additional 60 locations in China by 2022. The next two greener stores are planned for Southern California and Starbucks' hometown of Seattle, WA.
While the greener stores will feature elements of sustainability tied to more efficient energy use, recycled building materials, and in-store waste reduction, Starbucks is also looking at menu innovations to help it reduce its carbon footprint, including adding Beyond Meat's vegan beef on menus in the United Kingdom and Impossible Foods' plant-based sausage in the United States.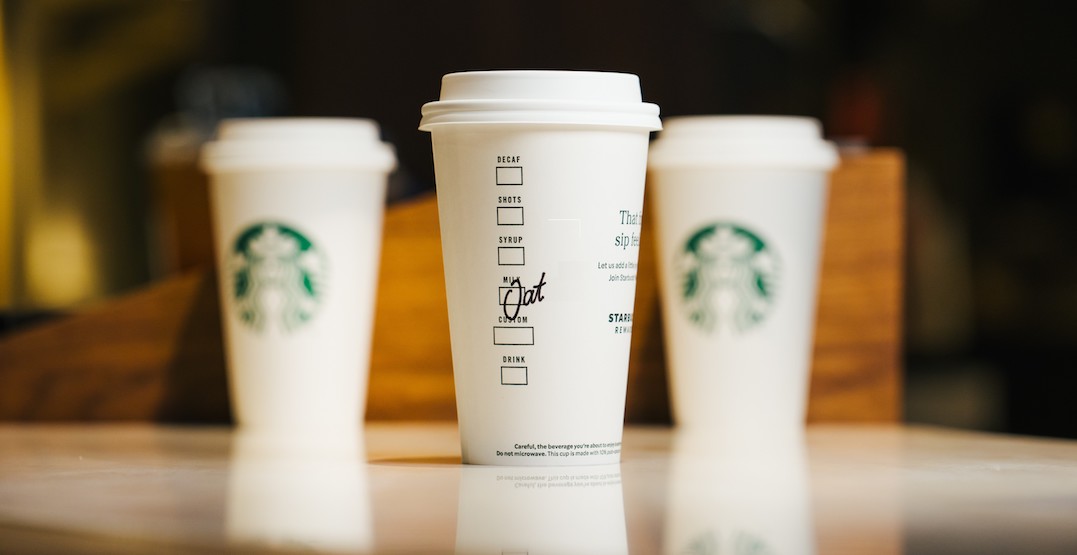 Dairy drives 21 percent of Starbucks' global carbon footprint, and in order for the chain to meet its climate goals of becoming a resource positive company by 2030, the chain has been exploring animal-free alternatives in the beverage department, too. In the UK, Starbucks reformulated its Pumpkin Spice Latte base without dairy and launched non-dairy whipped cream to make a fully vegan option of its most popular seasonal beverage available to Britons. Last March, Starbucks launched Oatly's oat milk (its fourth vegan milk option) at its locations across the United States. In September, the coffee giant also tested vegan whipped cream—made from a base of lentils—at two Seattle area locations .
Unlike its Shanghai Greener Store, Starbucks' vegan milk options still come with an upcharge at its US locations, creating a price barrier for customers looking to make a more sustainable choice.
For more about vegan food at Starbucks, read:
Starbucks Just Launched Its First Vegan Protein Box Nationwide
Starbucks Adds Meatless Beef Sandwiches to 130 Stores in Chile
Starbucks Vegan Breakfast Sandwiches Spotted in Dallas