Today, Hong Kong-based vegan brand OmniFoods debuted OmniSeafood, a line of vegan seafood products. The range of products includes Omni Classic Fillet, Omni Golden Fillet, and Omni Ocean Burger—in original, battered, or breaded fish burger varieties—along with OmniTuna and a soon-to-be-launched OmniSalmon. Eco-conscious entrepreneur David Yeung—who owns social enterprise Green Monday—founded OmniFoods with the mission of curbing meat consumption in Asia, and his new OmniSeafood range aims to promote a sustainable ecosystem. Unlike other meats like pork and beef, seafood comprises countless species, each with different tastes, textures, and applications, which is why OmniFoods has created a range of vegan options.
The success of OmniPork
The new line follows the success of the company's OmniPork series, which includes OmniPork Mince, OmniPork Strip, and OmniPork Luncheon, a plant-based version of Hormel's popular canned meat that launched last year. Since then, Omnipork has expanded to 20 markets across the globe and is now widely available in 40,000 retail stores. In 2019, Taco Bell China offered a limited-time Yu-Xiang OmniPork taco made with OmniPork at all of its Shanghai locations. Last year, Starbucks added new plant-based options to its menu at 4,200 locations across China, including salads and bowls topped with Omnipork. And in October 2020, OmiPork's vegan spam debuted at 280 McDonald's and 122 McCafé locations in Hong Kong and Macau before expanding to the McDonald's menu in three Chinese cities (Shanghai, Guangzhou, and Shenzhen)—the first time McDonald's has added vegan meat to its menu in China. Earlier this year, chef Reina Montenegro's new vegan restaurant Chef Reina in Brisbane, CA became one of the first places in the United States to serve OmniPork's Vegan Luncheon. This month, IKEA will offer vegan pork cutlets on its menus in Hong Kong.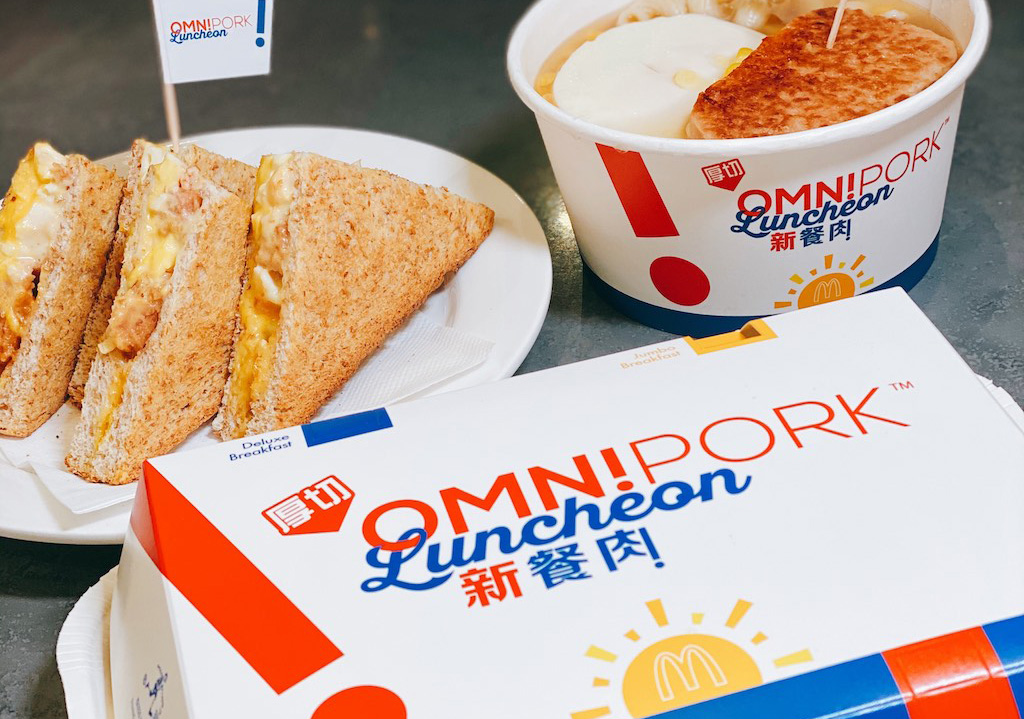 More about OmniSeafood
Made with a proprietary blend of plant-based protein from non-GMO soy, pea, and rice, Omni Classic Fillet, Omni Golden Fillet and Omni Ocean Burger offer different preparations of mild white fish in plant-based versions. Apart from the trio, OmniTuna is the first ambient product of OmniFoods, offering a safe alternative to the world's most widely consumed fish. The products are free from trans-fat and cholesterol, contain no hormones, artificial colours, MSGs, added antibiotics, or preservatives, and are high in protein and contain omega-3 ALA derived from non-GMO expeller-pressed canola oil.
"We cannot tackle climate change without taking care of the ocean. Overfishing and bottom trawling are the most destructive actions that devastate our marine ecosystems. That explains why since the breakthrough launch of OmniPork in 2018, we started setting our focus on seafood," Yeung said. "After years of R&D and dedication, we are thrilled to officially unveil this revolutionary OmniSeafood series on this special occasion of World Oceans Day. Plant-based fish and chips, filet-no-fish burger, or Sichuan spicy boiled fish all become a reality. This breakthrough guarantees not only to wow our taste buds, but also to awaken our consciousness towards the ocean and the planet. With today's milestone launch of OmniSeafood, we believe it is a big leap forward to a real sea change."
Where to find OmniSeafood
In June, Hong Kong vegan grocery store Green Common will roll out new menus with an ocean theme, including exclusive dishes made with the OmniSeafood series, such as OmniTuna tartare and spicy OmniFillet.
In July, upscale hotel Cordis Hong Kong and Michelin-starred Chinese restaurant Ming Court Wanchai will launch an innovative dish collection created with OmniSeafood, including sautéed Omni Classic Fillet, Kung Po style; fried Omni Classic Fillet with dry chilli, Sichuan style; braised Omni Classic Fillet with spicy wine sauce; and sautéed Omni Classic Fillet with pumpkin in black truffle paste. At Cordis Hong Kong, OmniSeafood will be offered in three of its outlets in dishes such as Omni Classic Fillet sauteed with fresh peppercorn, bell pepper, basil, and dried shallot; fish & chips; and OmniTuna Taco.
"In traditional Chinese cuisine, white-flesh fish which carries the delicate ocean flavor is always a feature in seafood dishes," Ming Court Wanchai Culinary Director Tsang Chiu King said. "I am particularly impressed by OmniClassic Fillet. Its high versatility and indistinguishable mouthfeel allows me to create a wide variety of dishes, especially the Chinese traditional dishes featuring white-flesh fish. It recreates the taste of the sea, becoming an ideal plant-based alternative to fish."