Whipped cream at Starbucks' United States locations has always been made with dairy, until now. The chain is officially testing vegan whipped cream at two Seattle area Starbucks locations, VegNews can confirm. The innovative vegan whipped cream Starbucks is testing is made from lentils, a unique base for a non-dairy topping.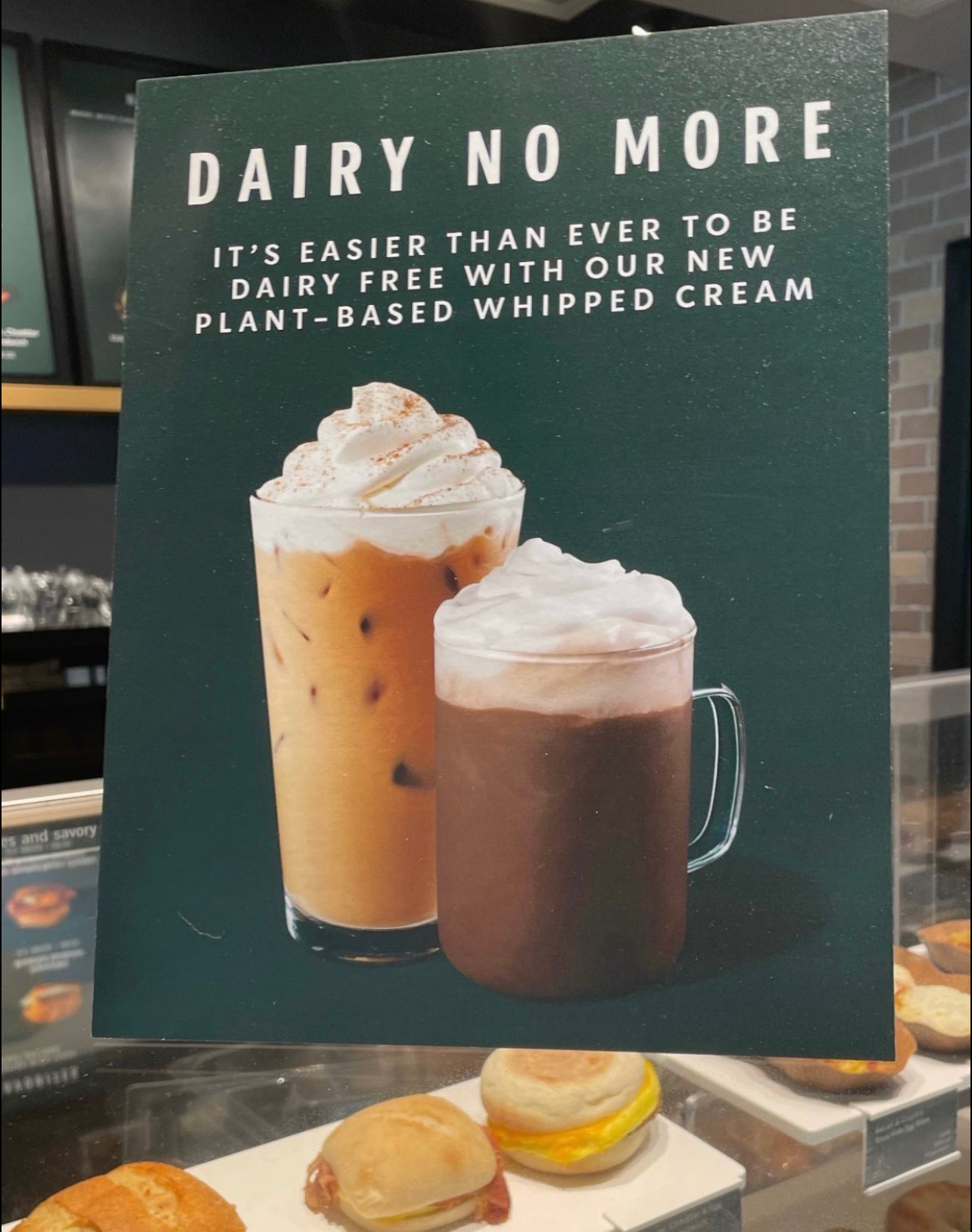 Vanessa Thomas
Outside of the US, Starbucks added vegan whipped cream to its menu in the United Kingdom last year to complement its reformulated Pumpkin Spice Latte—the base of which no longer contains dairy in Europe. While the US test is limited, Starbucks is exploring vegan whipped cream as a way to slash its carbon footprint. "Building on Starbucks sustainability commitment, the company's goal is to expand plant-based choices as an environmentally friendly menu contributes to our goal to be a resource positive company," a Starbucks spokesperson told VegNews.
The vegan whipped cream is being tested at Starbucks locations at 1350 156th Ave. NE in Bellevue, WA 98007. Starbucks is keeping the other location a secret.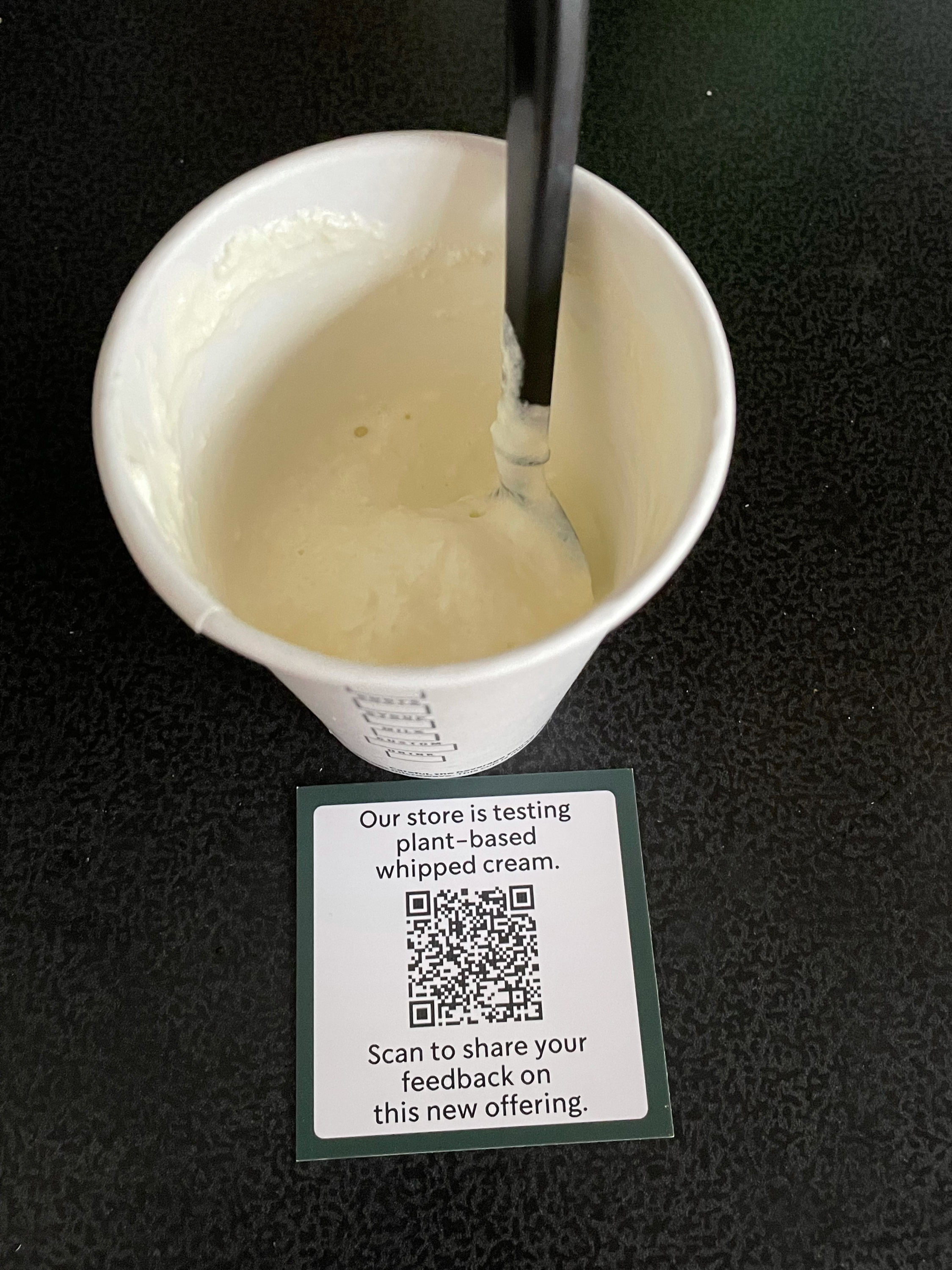 Steve Gordon
Starbucks bets on vegan alternatives to offset carbon footprint
Starbucks committed to reduce its greenhouse gas emissions, water usage, and waste production by 50 percent by 2030 by engaging in what it calls "Planet Positive Initiatives." Since 21 percent of its carbon footprint is driven by dairy, Starbucks has been exploring planet positive vegan alternatives in the beverage category.
In March, Starbucks added Oatly's oat milk to all of its locations nationwide after a successful test at 1,300 locations in the Midwest. Its fourth plant-based milk alternative next to soy, almond, and coconut, Oatly's oat milk was featured in the Iced Brown Sugar Shaken Oatmilk Espresso which combines brown sugar and cinnamon, and is then topped off with oat milk. By April, the beverage proved so popular that some Starbucks locations were reporting oat milk shortages. The chain also introduced its first vegan cold foam, made with almond milk, to its core menu last summer allowing customers to add the new option to a variety of drinks.
While the popular PSL continues to be formulated with a base that contains dairy stateside, Starbucks gave vegan customers a treat this fall with the launch of the Apple Crisp Macchiato. The seasonal beverage was inspired by apple-forward baked goods and can be ordered vegan with a simple non-dairy milk swap.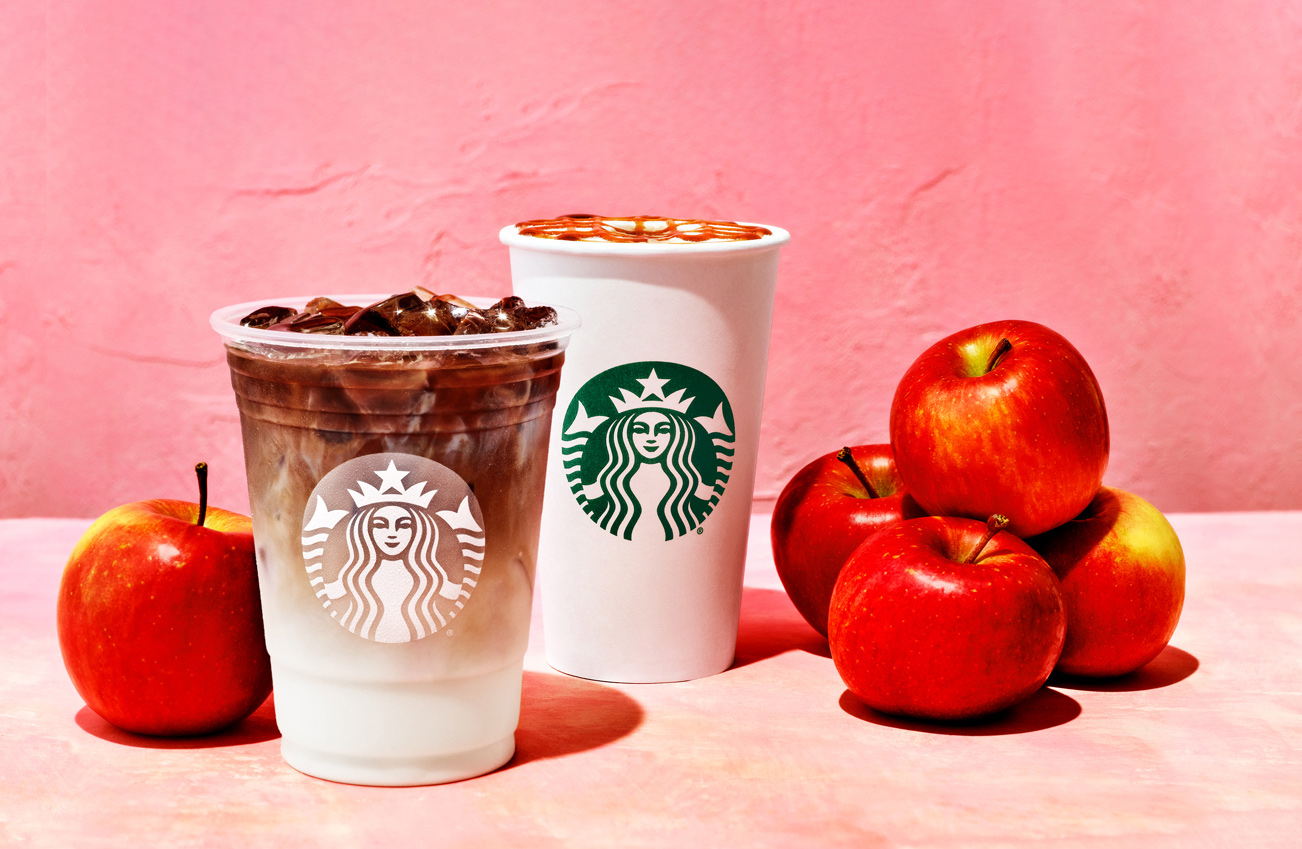 When it comes to food, Starbucks has yet to make a sweeping vegan menu update at its US stores but continues to explore more climate-friendly alternatives. In March, Starbucks added its first vegan protein box option to the national menu. The Chickpea Bites & Avocado Protein Box features chickpea bites (nuggets made with chickpeas), snap peas, mini carrots, dried cranberry nut mix, and an avocado spread. Prior to adding them to the protein box and launching them nationwide, Starbucks tested the bites at one location in Issaquah, WA—where it has tested other exciting vegan items.
Starbucks' plant-based food plans
In June 2020, the chain added the Impossible Breakfast Sandwich, its first option made with plant-based meat, to its menus nationwide. This option is pre-made with an Impossible Sausage patty, dairy-based cheese, and animal-derived eggs, meaning it cannot be ordered vegan. However, Starbucks took to its Issaquah test location to try out another item last fall: the Plant Powered Breakfast Sandwich, a fully vegan option made with plant-based sausage, mung bean-based eggs, dairy-free cheese, all served on an English muffin. This vegan breakfast sandwich expanded to additional test locations in the Dallas area in January 2021.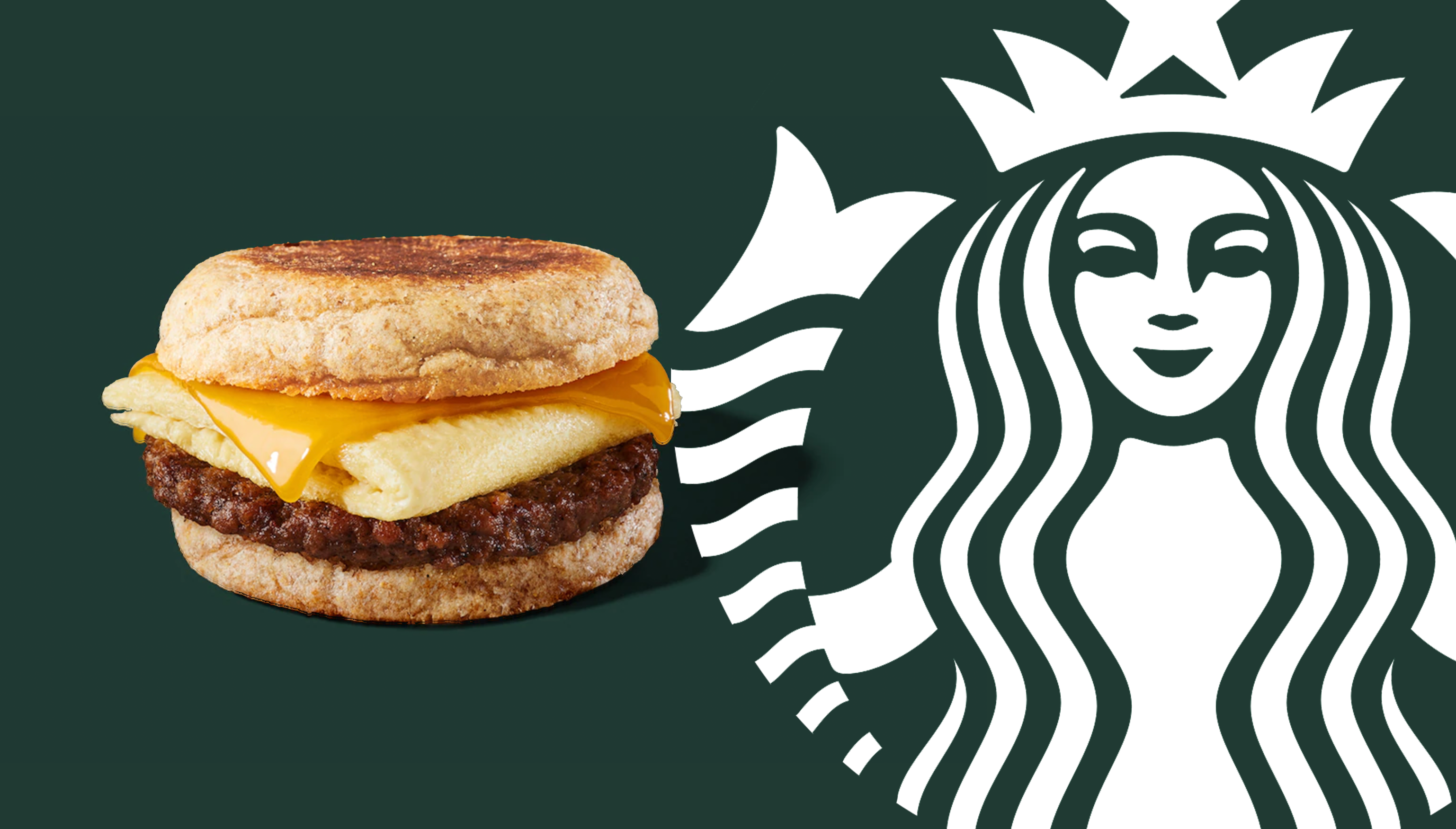 The Plant Powered Breakfast Sandwich and lentil-based vegan whipped cream have yet to hit Starbucks national menu but its test of these items signals the promise of a plant-based future at the coffee chain. "Testing is a way of life at Starbucks, and we continue to introduce new drinks and food to menus globally while innovating with plant-based ingredients across key platforms like espresso, cold brew, refreshment, food, and more," the spokesperson said. "We aim to provide our customers a variety of choices as part of their Starbucks experience."