This week, Starbucks launched its anticipated fall menu which features a brand new beverage: the Apple Crisp Macchiato. The new apple-forward drink is made with a combination of milk, brewed espresso, apple brown sugar syrup, and comes topped with a spiced apple drizzle. The deep apple flavor of the beverage comes from apple purée, apple juice concentrate, cinnamon, nutmeg, brown sugar, and, luckily, zero animal products. To order the drink vegan, customers can swap the dairy milk for any of Starbucks' four vegan milk options (oat, almond, soy, or coconut).
"For many customers, Starbucks signals the start of the fall season and has inspired a cultural phenomenon around fall flavor and products," Raegan Powell, senior manager on the Starbucks research and development team, said. "Fall at Starbucks brings customers back to the nostalgic flavors of the season and our team used that inspiration to create a new flavor that celebrates those feelings of comfort and familiarity."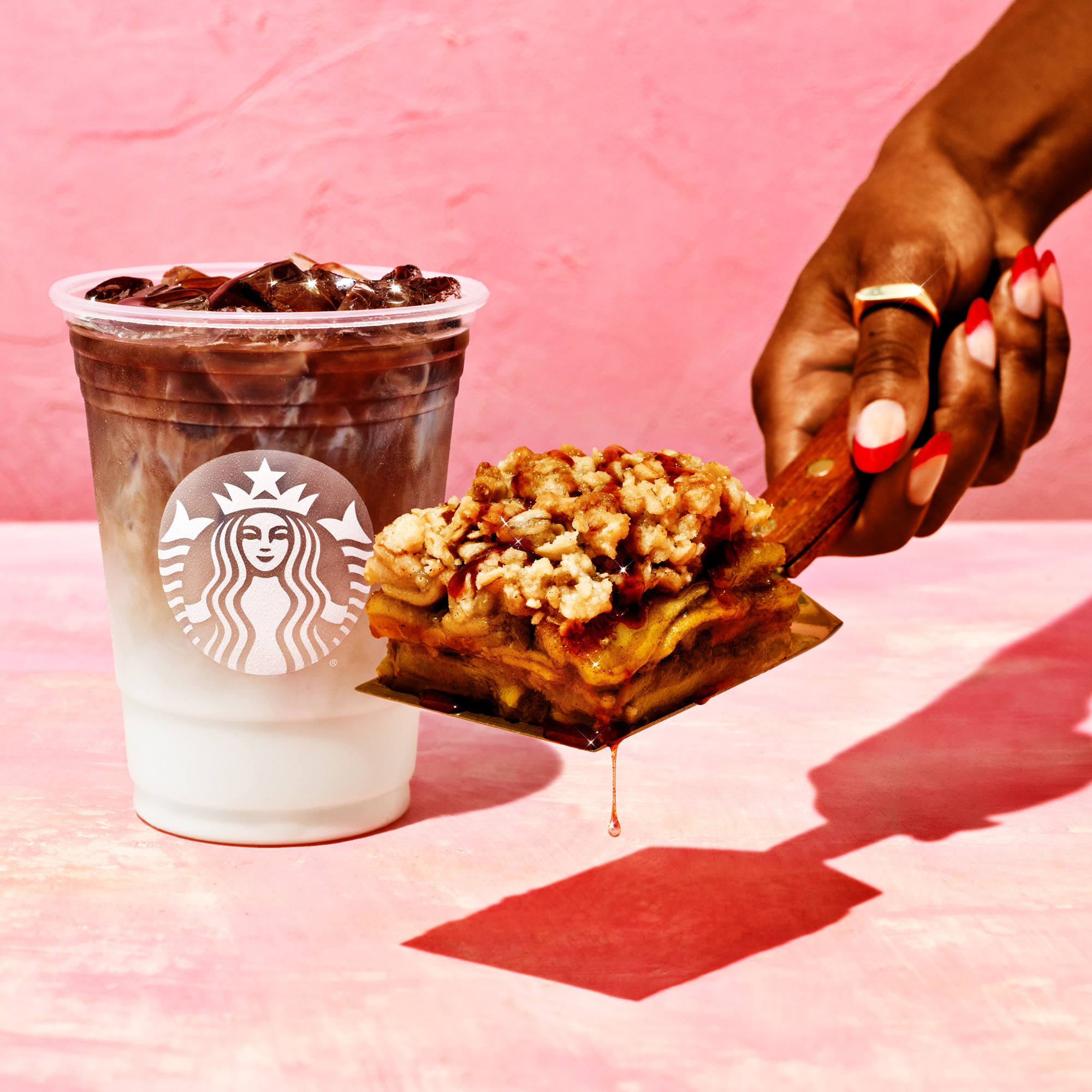 Starbucks
Initially inspired by the idea of a fall harvest, to develop the Apple Crisp Macchiato, the Starbucks research team tasted a variety of apple products, such as apple maple syrup, apple cider doughnuts, and a variety of apple pies and crisps. The team landed on a macchiato (which translates to "marked") format where espresso is poured over top of steamed milk and then further "marked" the drink with a spiced apple drizzle in a lattice pattern to evoke the top of a pie.
"Creating an ingredient with a spicy baked apple flavor was crucial to be able to bridge an autumn red apple to espresso," Powell said. "Consider how well a delicious slice of warm apple pie pairs with a cup of coffee or how well the combination of Starbucks roasty signature espresso pairs with warm spices such as cinnamon and nutmeg."
While the hot version of the Apple Crisp Macchiato was crafted to taste like apple-packed autumn baked goods, the iced version of the drink is meant to evoke the flavors of apple pie à la mode. "We are hopeful customers will enjoy their Apple Crisp Macchiato, hot or cold, and feel comfort as they take on all that fall has to offer," Powell said. "No matter our customers' traditions—football games, apple picking, or trick-or-treating—the Apple Crisp Macchiato is bound to bring comfort in a cup."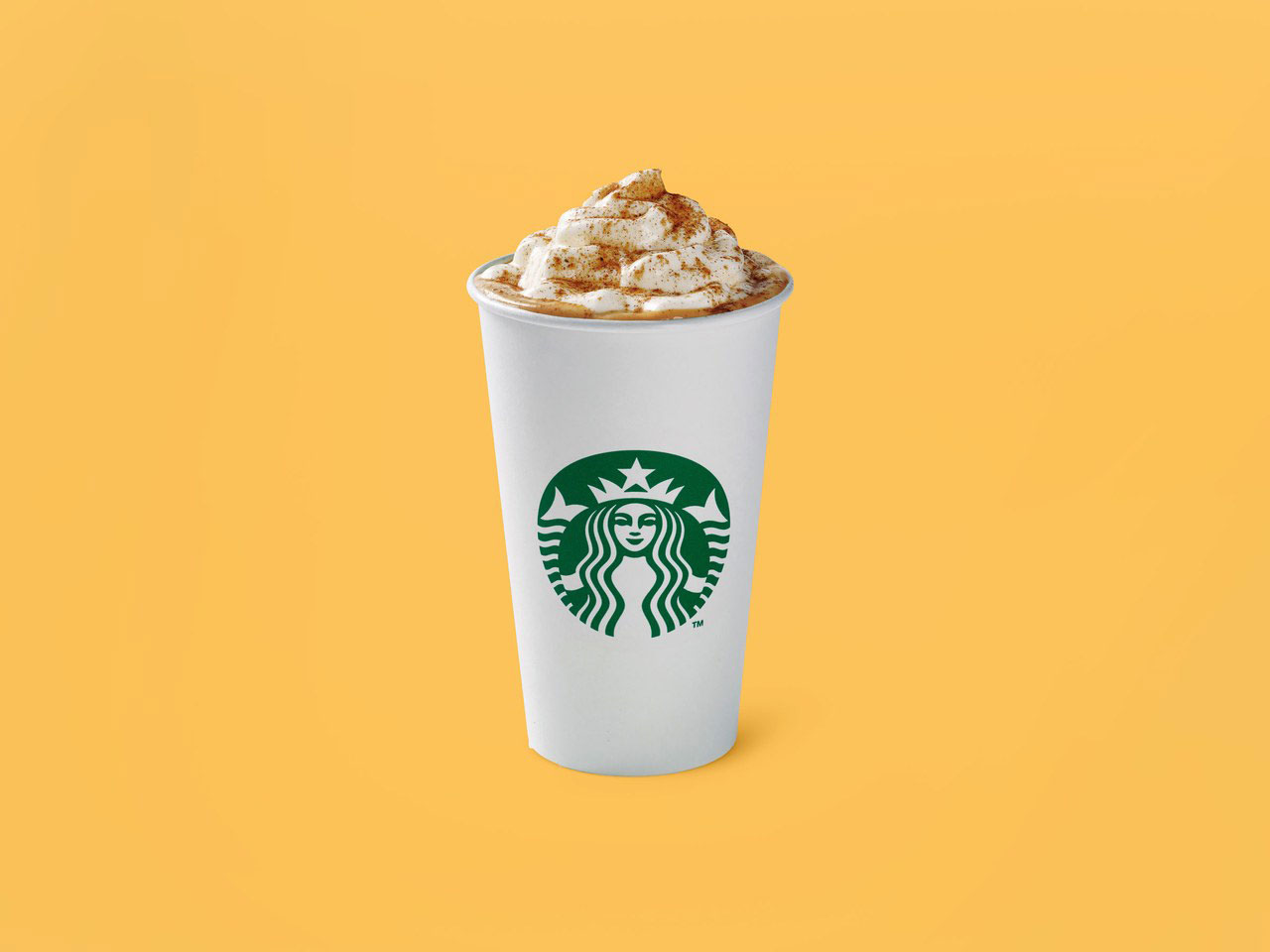 Starbucks
Is Starbucks' Pumpkin Spice Latte vegan?
While the new Apple Crisp Macchiato is easy to order sans animal products, the same is not true of Starbucks' famed fall beverage, the Pumpkin Spice Latte (PSL)—which also hit the chain's seasonal menu this week. In the United States, Starbucks makes its PSL with a pumpkin base that contains sweetened condensed milk and removing it would sacrifice the drink's signature flavor.
While the popular fall menu item is still not vegan, Starbucks just launched a PSL-inspired vegan creamer made with oat milk. The new Pumpkin Spice Flavored Non-Dairy Creamer is available for $4.99 per 28-ounce container at grocery stores nationwide.
Outside of the US, customers have many more fall options. In 2018, Starbucks removed the dairy from its PSL base in Europe to create the "Vegan Pumpkin Sauce with Spice Flavorings." The veganizable version of the PSL was initially available in the United Kingdom, Netherlands, France, Switzerland, and Austria. Customers in these regions can order the PSL hot, iced, frappuccino style, or as an Iced Cold Foam Macchiato and make it vegan by requesting plant-based milk. Starbucks UK locations also offer vegan whipped cream.
For more about vegan at Starbucks:
Essential Vegan Guide to Starbucks Fall Drinks
The Essential Vegan Guide to Starbucks Holiday Drinks
Starbucks' New Bottled Frappuccinos Are Made With Oat Milk