With pumpkin spice latte (PSL) season around the corner, Starbucks is releasing a new vegan creamer inspired by fall's most popular beverage. Available at retail stores this month as part of its fall line of products, the Pumpkin Spice Flavored Non-Dairy Creamer is made to taste just like the PSL but without any dairy products.
"Inspired by the fan-favorite Pumpkin Spice Latte, we crafted our creamer with a smooth, rich blend of almond milk and oat milk, and the delicious flavors of pumpkin, cinnamon, and nutmeg to pair with our coffee for a perfect taste of fall," Starbucks describes its new creamer. The new product joins a similar dairy-based creamer on grocery shelves, where both retail for $4.99 per 28-ounce container.
The PSL-inspired creamer joins a lineup of vegan creamers Starbucks added last July to its existing creamer line. The other creamer flavors are also made with oat and almond milk and are avaialbe in two varieties: Hazelnut (inspired by the Hazelnut Latte) and Caramel (inspired by the Caramel Macchiato).
Another new retail item this fall from Starbucks is Pumpkin Spice Cold Brew Concentrate which is perfect for PSL lovers who cannot wait for hot summer days to end before indulging in fall festivities. Available in a 32-ounce container for $9.99, the cold-steeped custom blend of coffee features pumpkin, cinnamon and nutmeg flavors and requires only the addition of water.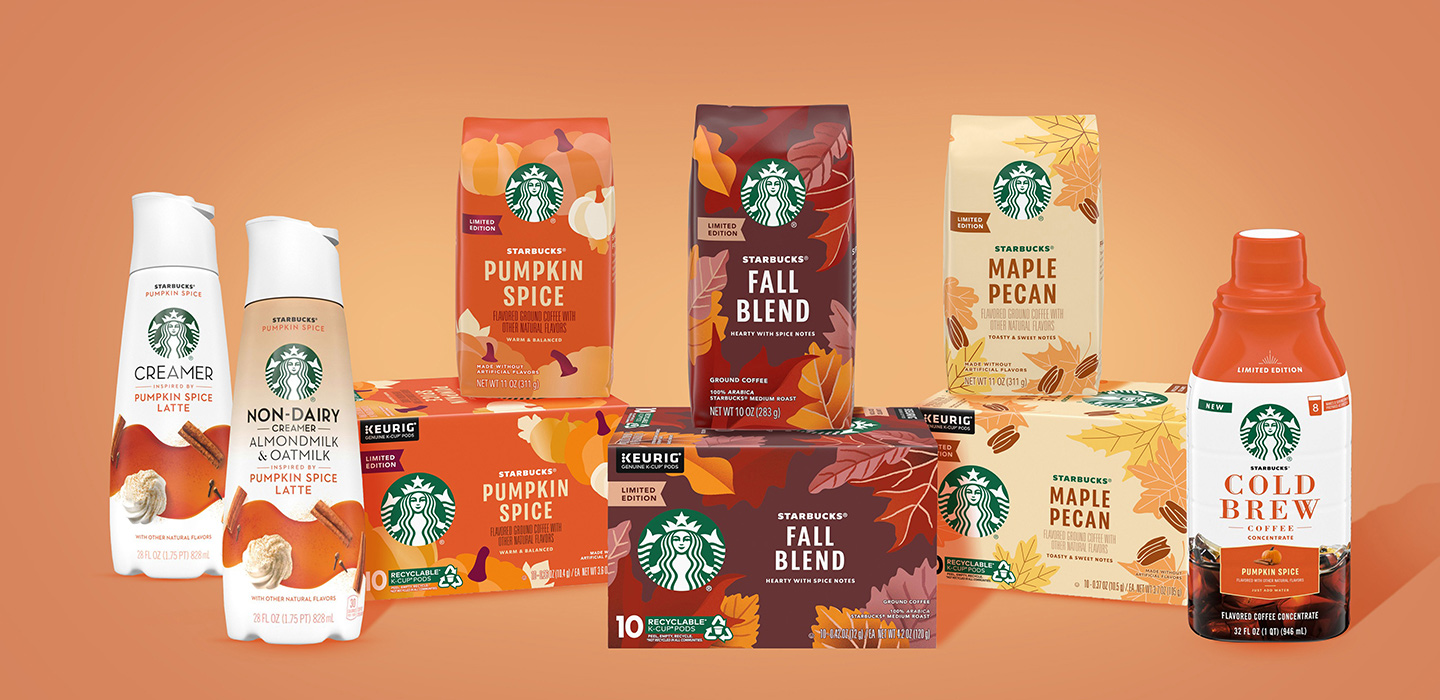 Is the Starbucks Pumpkin Spice Latte vegan?
Ordering a vegan pumpkin spice latte is easy, but you'll have to travel outside of the United States. In 2018, Starbucks removed dairy products from its PSL base to create the "Vegan Pumpkin Sauce with Spice Flavorings." The veganizable version of the PSL was initially available in the United Kingdom, Netherlands, France, Switzerland, and Austria. The August 2018 launch of the vegan-friendly PSL was so popular that UK locations reported running out of the beverage by October.
Customers in these regions can order the PSL hot, iced, frappuccino style, or as an Iced Cold Foam Macchiato and make it fully vegan by requesting plant-based milk. While Starbucks previously did not offer vegan whipped cream, that changed last year when UK locations added a dairy-free version of the sweet topping to its shops just in time for PSL season. To sweeten the deal, Starbucks UK locations also offered a vegan pumpkin spice cookie last year.
Stateside, the PSL is typically made with a pumpkin base that contains dairy-based condensed milk and therefore, it cannot be ordered vegan. Starbucks also does not offer vegan whipped cream in the US. VegNews has reached out to inquire if this year's PSL will continue to be made with dairy and Starbucks is not yet ready to share information about the launch of the popular latte—which is typically added to its menu at the end of August every year.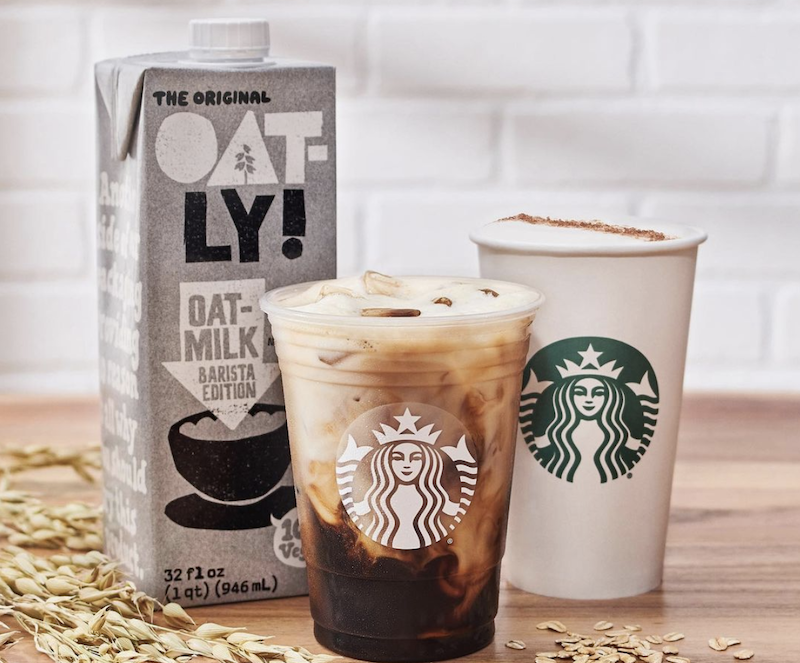 Oat milk at Starbucks
While everyone awaits the launch of the PSL—which may or may not contain dairy this year—Starbucks is exploring other vegan options in-store, particularly popular oat milk. In March, the chain added Oatly's oat milk to its national menu after testing the environmentally friendly vegan milk at 1,300 locations in the Midwest. Starbucks added oat milk as a choice, alongside almond, coconut, and soy milk, and featured it as part of the Iced Brown Sugar Shaken Oatmilk Espresso which combines brown sugar and cinnamon, and is then topped off with oat milk. In combination with other factors, the popularity of the beverage led to some Starbucks locations reporting shortages of oat milk by April.
Despite dairy accounting for 21 percent of the chain's carbon footprint, Starbucks continues to charge extra for substituting vegan milk. Small-but-mighty coffee chain Blue Bottle is turning that narrative on its head and is currently testing oat milk as a default at two of its locations to encourage customers to make environmentally friendly choices.
For more about seasonal drinks at Starbucks, read:
Essential Guide to Starbucks Fall Drinks
Starbucks Just Launched A Fall Drink Inspired By Apple Pie
Starbucks Just Launched A Funnel Cake Frappuccino