International fast-food giant McDonald's is getting into dairy-free desserts with the addition of the vegan KitKat McFlurry at its locations in Germany. The new McFlurry is made with a base of dairy-free soft serve—which McDonald's introduced in Germany in 2020—along with pieces of vegan KitKat V and sweet strawberry sauce.
"Vegan and vegetarian meals have not been a niche trend for a long time—and we as a brand also want to and will continue to develop here. Becoming better also means breaking new ground—for our company and our planet," Susan Schramm, Marketing Director at McDonald's in Germany, said in a statement. "Our new vegan chocolate soft serve combination brings even more variety to our colorful McFlurry world and thus meets the exact taste of our dessert fans."
The vegan soft serve base can also be ordered as part of a McSundae and, in addition to vegan KitKat bars, other vegan toppings include Oreo pieces. VegNews has reached out to McDonald's North America to inquire about its plans to introduce similar dessert items stateside.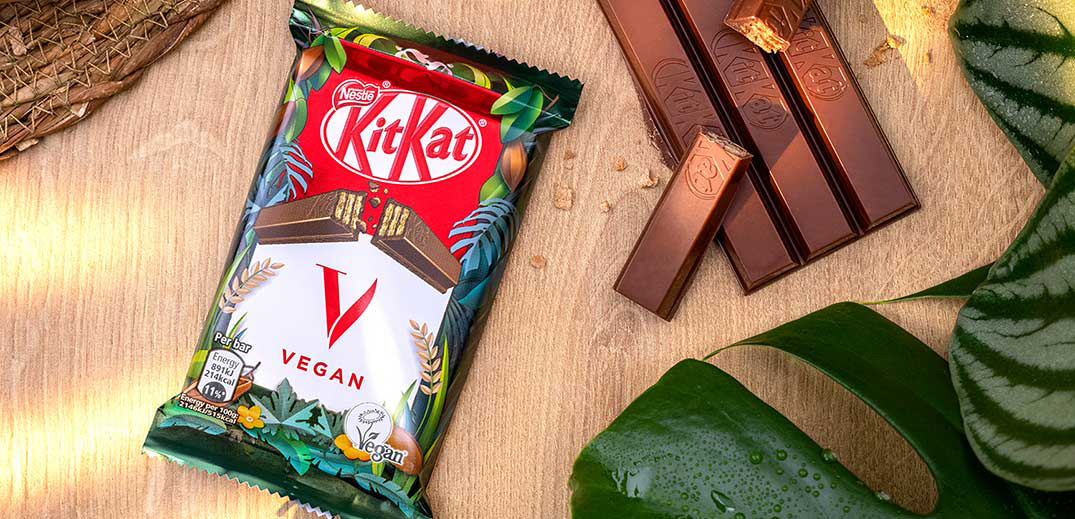 Nestlé
McDonald's puts vegan KitKat bars in its McFlurry
The new dairy-free McFlurry was made possible by the launch of vegan KitKat bars. Last year, Nestlé launched KitKat V—a vegan replica of KitKat chocolate bars—at stores across the United Kingdom. The vegan KitKat bars are also available in other regions across Europe, along with Australia, Brazil, and other countries.
"Our challenge when we set out to create a vegan-friendly KitKat was to recreate this iconic product using plant-based alternatives. To achieve this, we worked very hard to get the right balance between the milk alternative and the cocoa," Louise Barrett, head of the Nestlé confectionery product technology center, said in a statement. "The result is a vegan chocolate that we're very proud of, and I hope all KitKat fans will love it as much as we do."
While KitKat bars in most regions are produced by Nestlé, in the United States, they are produced by Hershey's, which has not announced its intent to launch vegan KitKat bars in the US.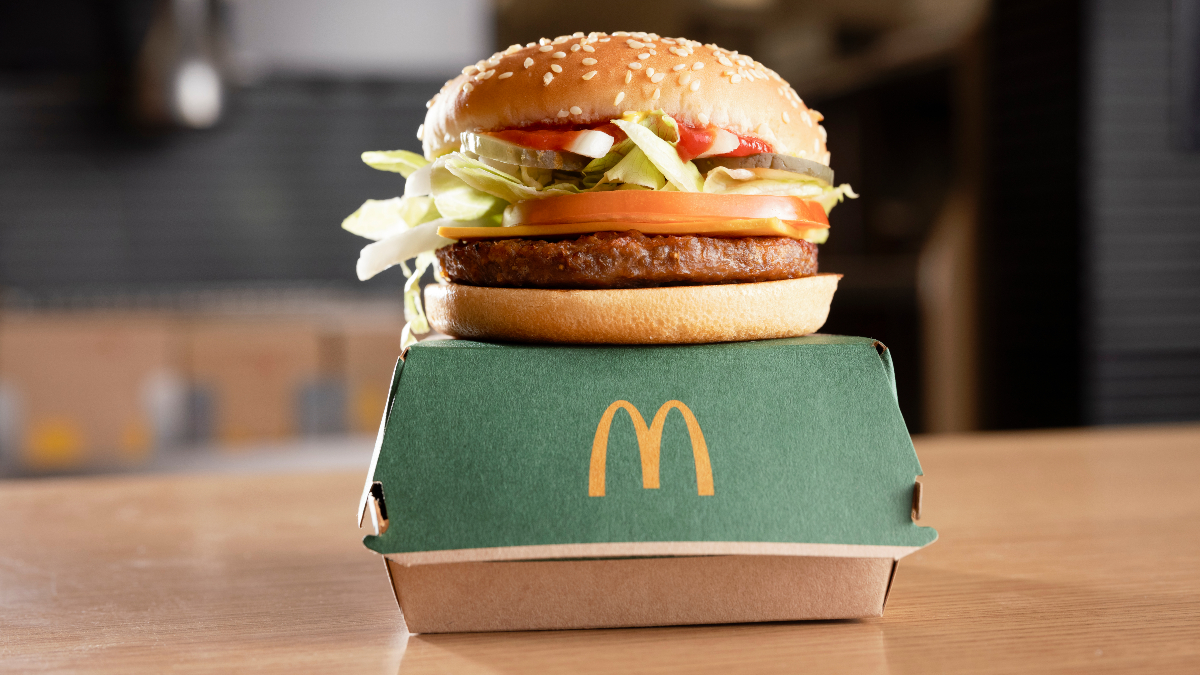 McDonald's
McDonald's rolls out the McPlant
While the vegan KitKat McFlurry has yet to hit the McDonald's global menu, the fast-food chain has been working with vegan brand Beyond Meat to explore plant-based food items through its McPlant platform. Thus far, the three-year collaboration has resulted in the launch of the McPlant burger at McDonald's locations across multiple regions.
In the UK, the McPlant hit the menu last September. There, it is served as a fully vegan build featuring a Beyond Meat patty with ketchup, mustard, vegan special sauce, onions, pickles, lettuce, tomato, and vegan cheese on a vegan sesame-seed bun. Upon adding the vegan burger to its menu, the chain announced its aim to become the market leader in vegan fast food at its UK and Ireland stores by 2025. The goal is part of its mission to become a net-zero business in the region by 2040 and globally by 2050.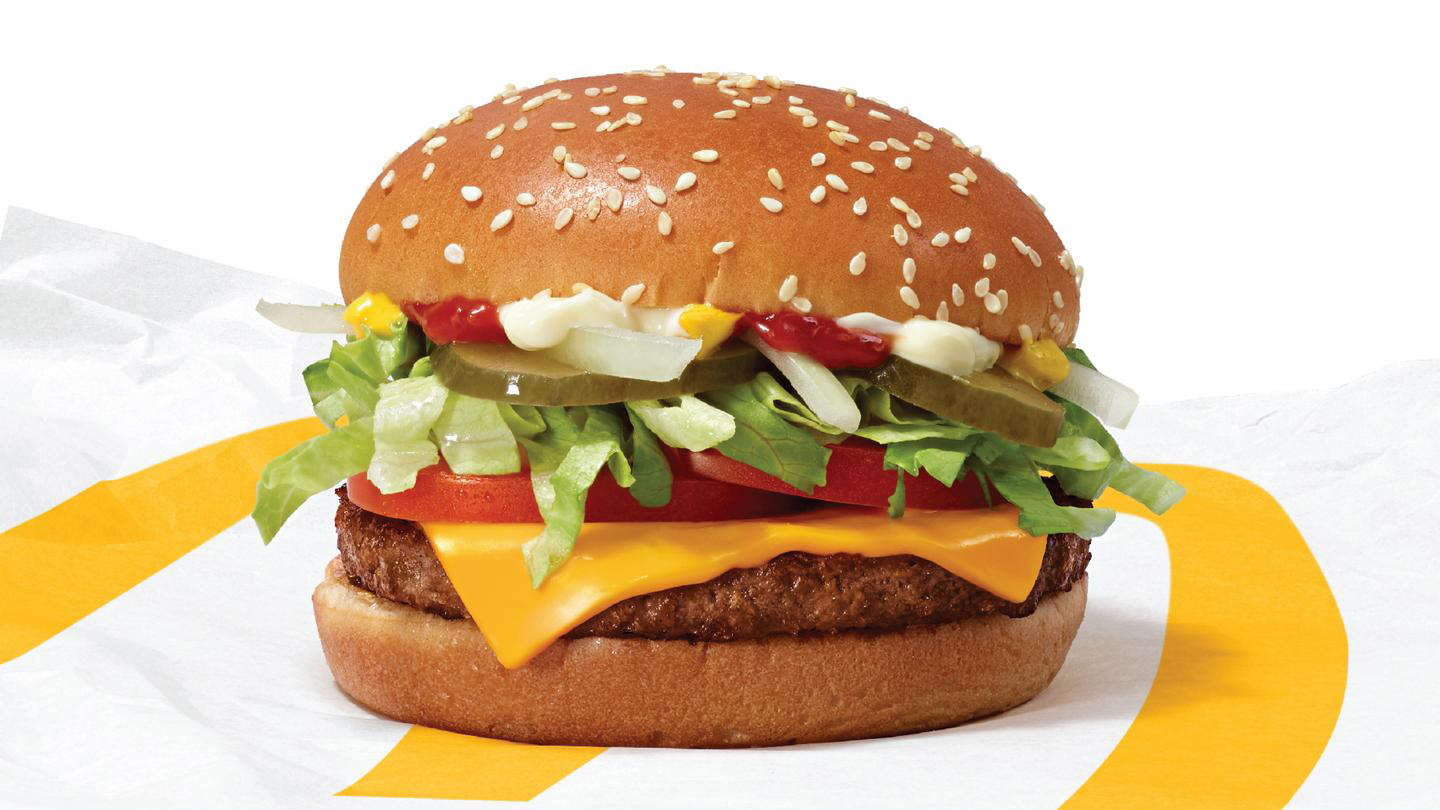 McDonald's
In North America, McDonald's McPlant test has been ongoing since last November when it launched the burger—which is served with dairy components—at select locations in the United States. After a successful initial trial, McDonald's expanded the test to approximately 600 additional locations in February. While reports about whether or not the McPLant will expand to McDonald's national menu have been mixed in recent weeks, Fast Company recently shared a video interview with Morgan Flatley, global CMO of McDonald's, that sounds promising.
"As we tend to do at McDonald's, we really want to make sure we get it right … we want to create a delicious product that is going to be loved by all of our consumers," Stanley said, mentioning that McDonald's operates 40,000 restaurants and serves 70 percent of the US consumer sector. "It certainly took longer than maybe you would have liked but the good news is that we're confident in what we have just launched with Beyond Meat and are really excited to get it out there."
For more about vegan at McDonald's, read:
How To Eat Vegan at McDonald's
Vegan Spam Is Back on the Menu at McDonald's in Hong Kong
McDonald's Signs Deal With Beyond Meat to Launch Plant-Based Options