Fast-food chain McDonald's is celebrating Earth Day with an announcement that OmniPork Luncheon Meat—which has been dubbed "vegan Spam"—is returning to its menus in Hong Kong. In October 2020, the chain first added the vegan pork to its menu as part of an egg sandwich across 280 McDonald's locations in Hong Kong and Macau and an additional 122 McCafé outlets in the region. McDonald's also expanded the option to select test locations in China—representing the first time that McDonald's added a plant-based meat to its menu there.
"Having proudly served over 3.7 million New Luncheon Meat since its launch in 2020, we are thrilled to offer a series of menu excitement [sic] with Green Monday and Oatly backed by your overwhelming support," McDonald's Hong Kong posted to social media.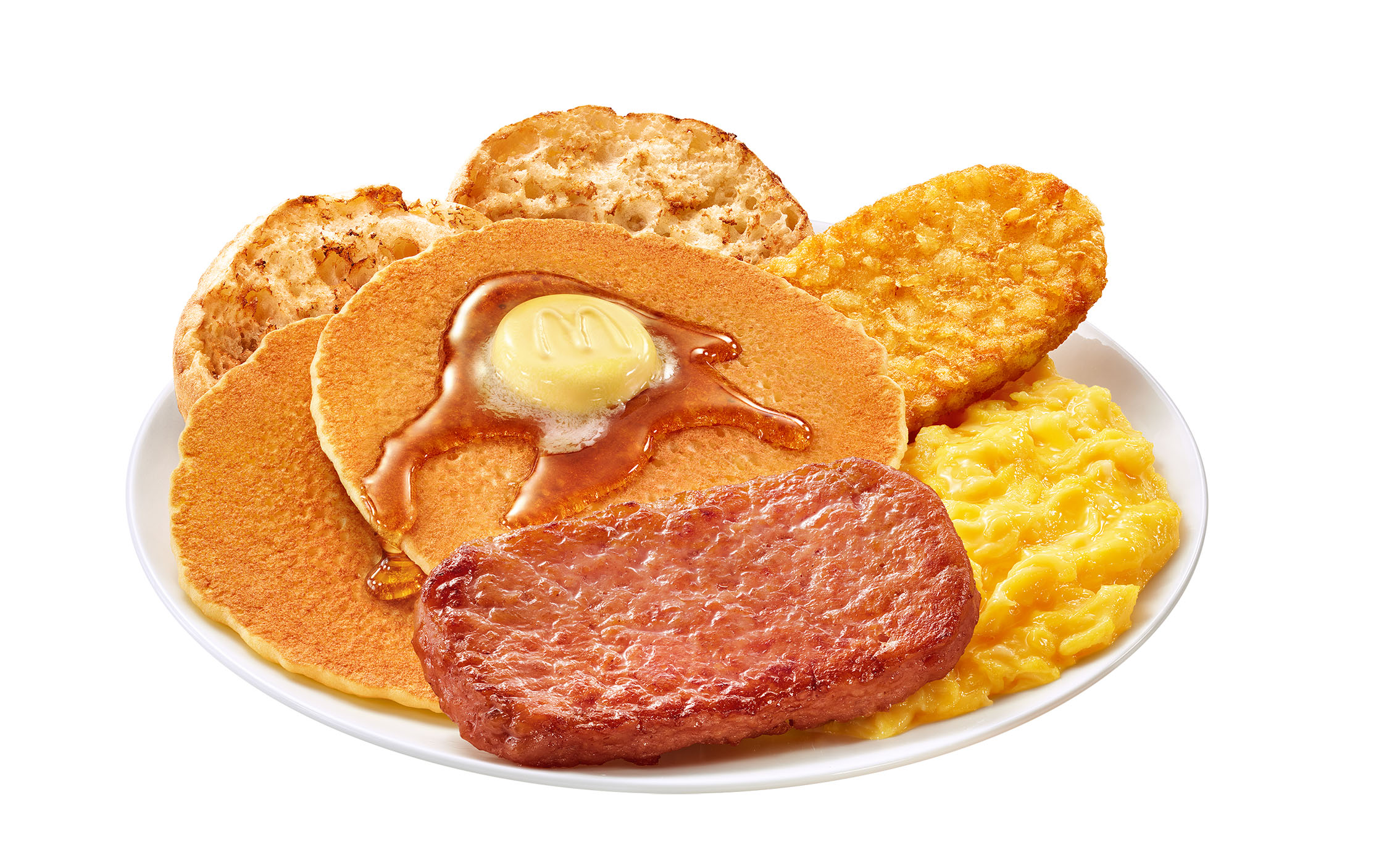 McDonald's Hong Kong
McDonald's Hong Kong is adding the vegan Spam—which has been reformulated to reduce salt content—as part of several meatless menu items: New Luncheon Meat McMuffin with Egg; New Luncheon Meat & Scrambled Egg Burger; New Luncheon Meat Deluxe Breakfast; and New Luncheon Meat Jumbo Breakfast. McDonald's Hong Kong is also adding OmniFoods' plant-based fish to its McCafé menu in three new menu items: New Tuna Cheesy Pizza Bread, New Tuna & Egg Mayo Ciabatta, and New Tuna Cheesy Baked Pasta. In the beverage department, a new coffee made with Oatly's oat milk is now on the McCafé menu, as well.
To celebrate the menu update McDonald's is hosting a giveaway via Instagram of 100,000 sandwiches made with OmniPork's Luncheon Meat.
McDonald's vegan Spam comes with sustainability mission
The vegan Spam served at McDonald's Hong Kong is produced by local brand OmniFoods which was founded by entrepreneur David Yeung, founder of social enterprise Green Monday and Green Common, a chain of vegan convenience stores and cafés.
Unveiled in 2020, OmniPork Luncheon is made from soybeans, wheat, beets, and coconut oil to provide consumers with a better choice to a local staple but with less sodium, no nitrates, and zero animal cruelty. The company also produces other plant-based pork products under its OmniPork brand, which have recently expanded to US menus and retailers to further Yeung's sustainability mission.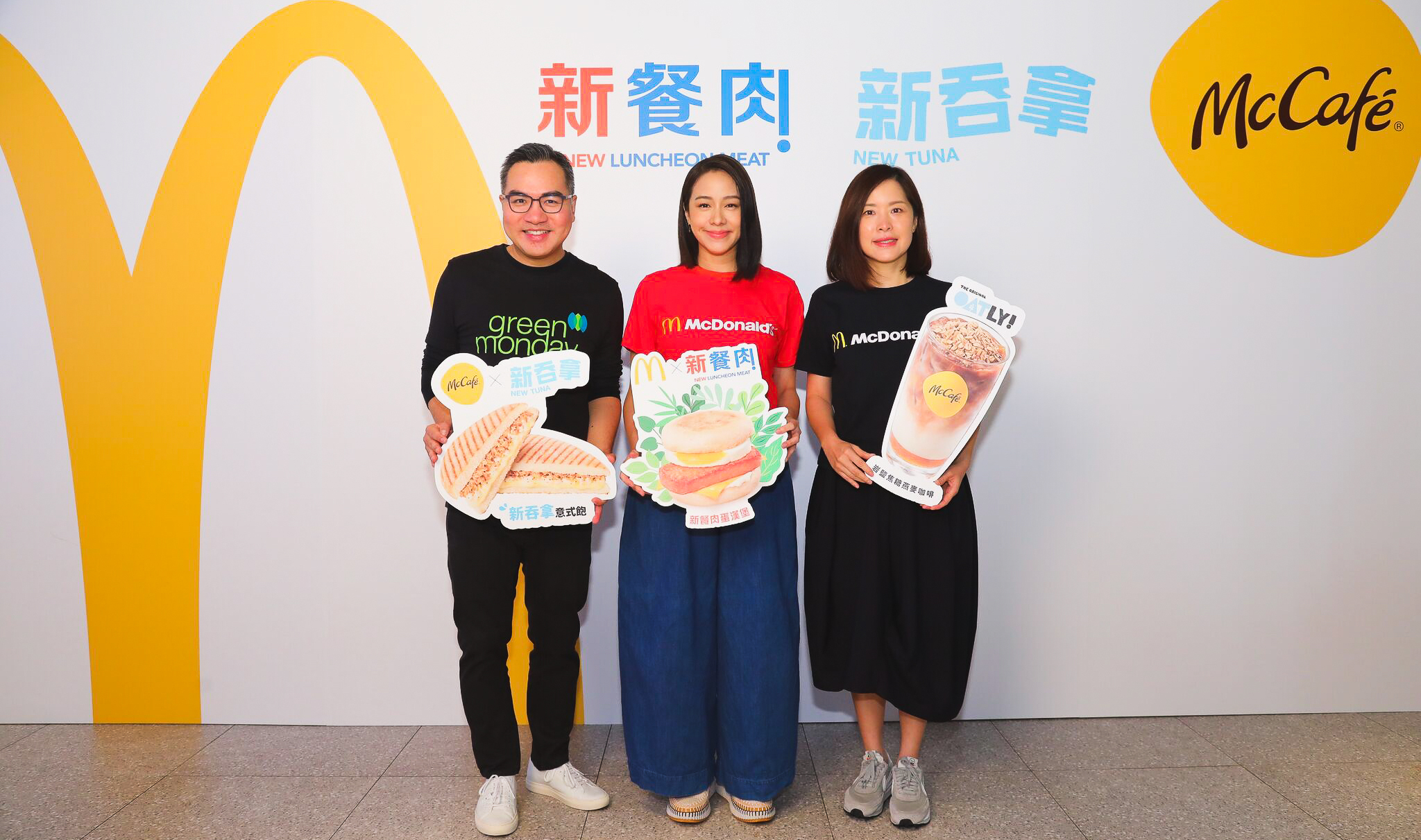 McDonald's Hong Kong
In fact, Green Monday is celebrating its 10-year-anniversary today as a leader in bringing awareness around the benefits of plant-based eating to the masses. Yeung founded Green Monday on Earth Day in 2012 and what started as a small, local initiative has grown to a phenomenon that gains new support, from individuals and major companies, every year. This year, the Green Monday campaign is supported by 400 retailers and restaurant outlets, including McDonald's, in Hong Kong that offer plant-based dishes and promotions for the month of April.
In addition to McDonald's in Hong Kong, OmniPork is on the menu at other multinational companies operating in the region, including Starbucks China where it hit the menu—alongside Oatly and Beyond Meat—at more than 4,200ocations in 2020.
"I would like to take this opportunity to express my sincere gratitude to all companies, corporate partners, and influential leaders for your support. This impact cannot possibly happen without our collaboration and shared mission," Yeung said in a statement. "That said, combating climate change and promoting a sustainable diet is a marathon. Today, the climate change crisis is more pressing than ever, not to mention the loss and disruption caused by the still ongoing pandemic. The clock is seriously ticking. Looking ahead, with the support from internal and external stakeholders, Green Monday will strive to dedicate our best innovation and efforts to contribute to a carbon net-zero future."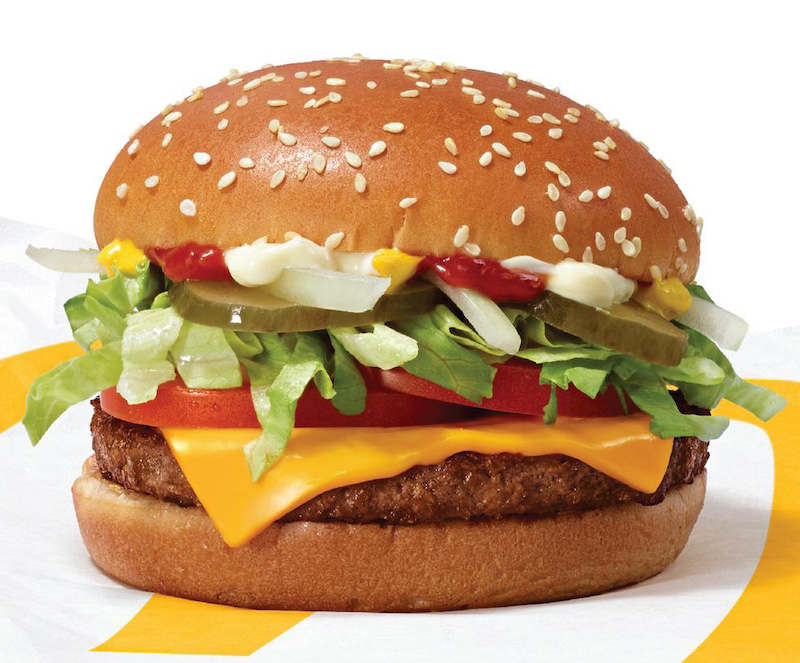 McDonald's US
McDonald's explores vegan meat
Elsewhere, McDonald's is working to modernize its menu with plant-based options with the help of Beyond Meat—with which the fast-food giant signed a three-year development deal of its McPlant platform. Thus far, the collaboration has resulted in the development of the McPlant, McDonald's first plant-based meat burger. The McPlant was initially tested in select European markets before making it to the menu in the United Kingdom—where it is served vegan, cheese and all.
The McPlant also hit the United States last year at eight test locations where, unlike its UK counterpart, the meatless burger was served with dairy cheese and traditional mayonnaise. After the McPlant outperformed expectations, McDonald's expanded the burger to approximately 600 additional test locations. The fast-food chain has yet to announce a permanent national launch of the McPlant.
For more about vegan at McDonald's, read:
How To Eat Vegan at McDonald'sWhy McDonald's UK Aims To Become Leader in Vegan Fast Food
The Meatless McDonald's McPlant Burger Is Finally Coming to America