On February 14, fast-food chain McDonald's will expand the test of its first meatless burger, the McPlant, to approximately 600 additional locations in the San Francisco Bay area and the Dallas-Fort Worth region. McDonald's first began testing the McPlant—which it developed in partnership with vegan brand Beyond Meat—in early November at eight test locations in Irving, TX; Carrollton, TX; Cedar Falls, IA; Jennings, LA; Lake Charles, LA; Manhattan Beach, CA; and El Segundo, CA.
The meatless burgers feature a plant-based patty made from peas, potatoes, and rice that comes topped with tomato, lettuce, pickles, onions, mayonnaise, ketchup, mustard, and a slice of American cheese. Both the mayonnaise and cheese are not vegan and the burger's patty is cooked on a shared surface with animal products. "McDonald's USA is expanding the test to select restaurants in your area to help us understand customer demand," the chain said in a statement.
Prior to this expansion announcement, Wall Street analysts were optimistic that McDonald's would expand the McPlant sooner than expected due to its successful performance in test markets. After only a month on the menu, the McPlant was hitting its sales targets of 70 burgers per day at each of the eight test locations. Analyst Michael Lavery, from investment banking company Piper Sandler, believes that a national rollout of the McPlant to McDonald's more than 13,600 US restaurants can occur as early as the end of the first quarter of 2022. Back in December, analyst Peter Saleh, of global finances firm BTIG, correctly predicted that the meatless burger will hit an additional 700 test locations in February. Saleh's prediction is that the McPlant will go national in 2023.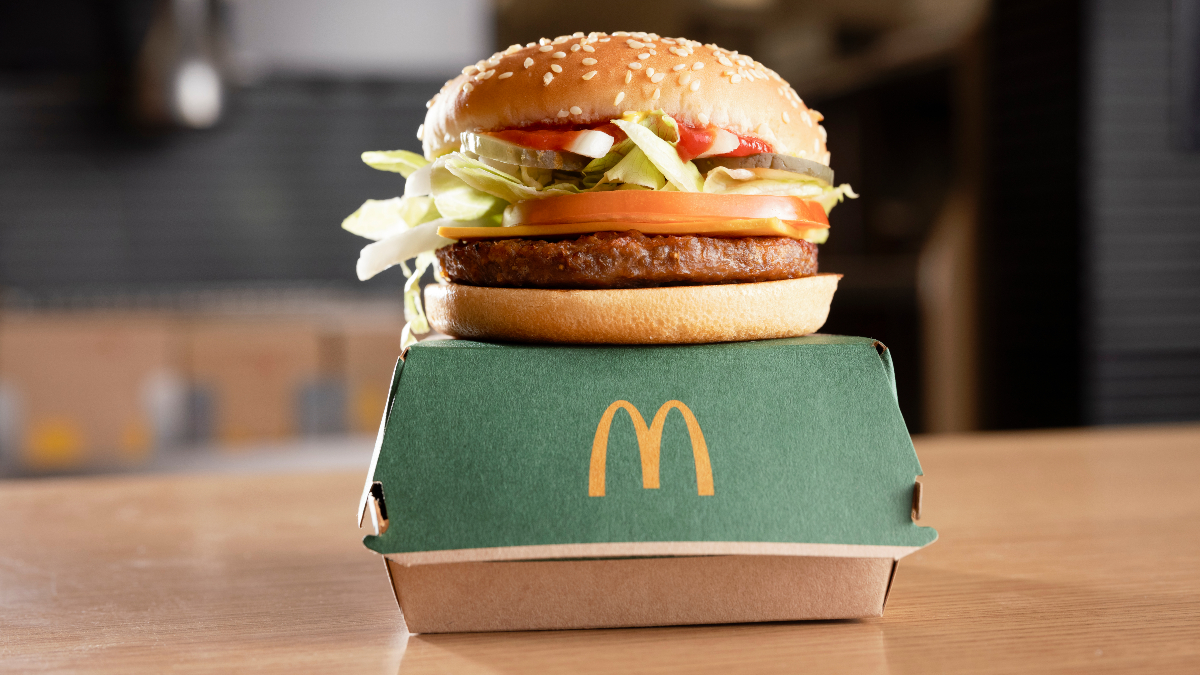 McDonald's
McDonald's goes meatless
In 2019, McDonald's tested the meatless P.L.T. (which stood for "Plant, Lettuce, and Tomato") burger made with Beyond Meat's Beyond Burger patty at 28 locations in Ontario, Canada. The test resulted in a three-year development deal between the vegan brand and fast-food giant to create the McPlant platform that will result in a global roll-out of region-specific plant-based items. While the partnership has thus far resulted in the launch of the McPlant burger, additional items—from plant-based chicken to breakfast options—are also in the works.
The McPlant burger made its debut earlier this year in several European countries, including in Sweden, Denmark, the Netherlands, and Austria. Last month, a fully vegan version of the McPlant—featuring vegan mayonnaise and cheese and cooked on a separate grill—landed at 250 locations across the United Kingdom with a full national rollout expected next year. In the UK and Ireland, McDonald's aims to become a category leader in the plant-based space to help it become a net-zero business in the region by 2040 and globally by 2050.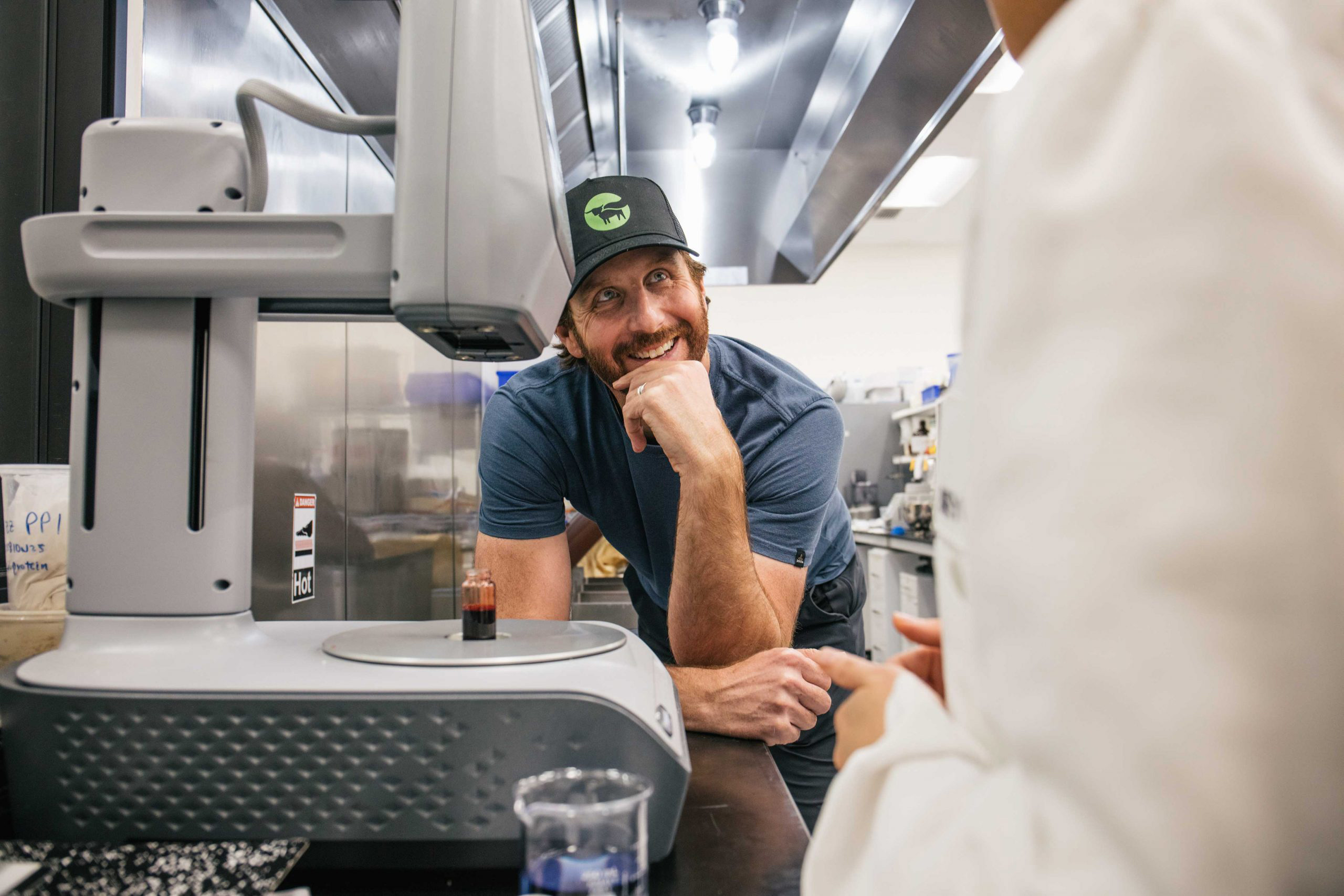 Beyond Meat
Beyond Meat meets its McDonald's goal
In 2016, when Beyond Meat Founder and CEO Ethan Brown initially launched the Beyond Burger, the entrepreneur already had his sights set on McDonald's. "I've set a goal for the company and for myself, and it is very personal to me," Brown told Fortune that year. "By the time my kids are 16—they are 11 and 12 today—they should be able to walk into a McDonald's or Burger King and be able to buy a Beyond Burger." Brown's children have now hit that age and his goal of them ordering a Beyond Burger at McDonald's anywhere in the country might soon become a reality.
"We are proud to enter into this strategic global agreement with McDonald's, an exciting milestone for Beyond Meat, and look forward to serving McDonald's as they bring expanded choice to menus globally," Brown told VegNews in November. "We will combine the power of Beyond Meat's rapid and relentless approach to innovation with the strength of McDonald's global brand to introduce craveable, new plant-based menu items that consumers will love."
In December, Beyond Meat brought on board two new executives, Bernie Adcock and Doug Ramsey, each with decades of experience working for meat giant Tyson. Ramsey—who previously oversaw Tyson's McDonald's business—is now Beyond Meat's COO and will help the company navigate its expansion plans with McDonald's.
For more about plant-based at McDonald's, read:How To Eat Vegan At McDonald's—Before The McPlant258 McDonald's Serve the McPlant Plus Everything Else You Need to KnowMcDonald's UK Announces Goal to Become Leader in Vegan Fast Food