Fungi are fascinating organisms with uses that span fashion, sustainable packaging, food, and more. For years, meat abstainers have been grilling portobellos in place of burgers and steaks and using shiitake mushrooms to stand in for bacon. However, the entire fungi organism has a lot more to offer than what we can see on the surface.
Mycelium are the fast-growing root systems of mushrooms and innovators are tapping into this underground world to find new solutions to making delicious meat without exploiting animals. That is the case for the Better Meat Co., a California-based company that uses its fungi-derived microbe (which it calls "rhiza") to create all sorts of alternatives to common animal products such as beef, chicken, fish, caviar, and more.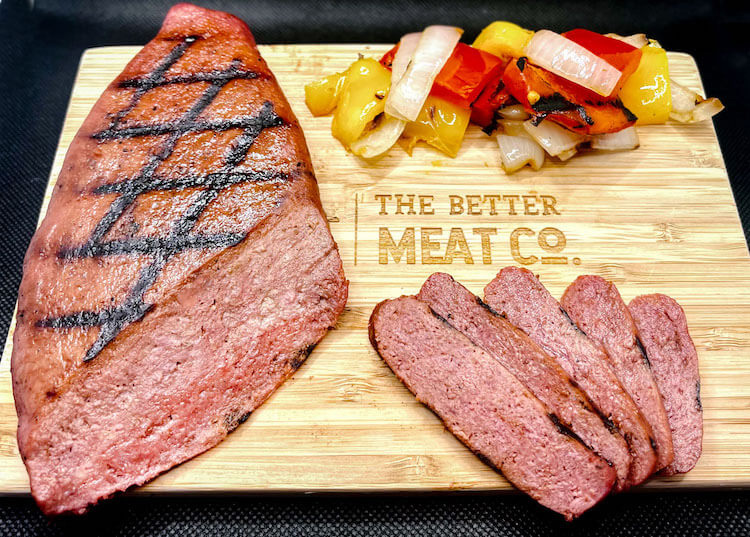 The Better Meat Co.
Instead of growing animals en masse on factory farms, the Better Meat Co. feeds starches—such as potatoes or other upcycled agricultural byproducts—to rhiza, which undergoes microbial fermentation to produce a base with many applications in the food world.
This week, consumers are one step closer to getting a taste of rhiza-powered meats thanks to a joint partnership the Better Meat Co. signed with Maple Leaf Foods, a Canadian meat company with a dedicated plant-based arm, aptly called Greenleaf Foods.
"Plant proteins are wonderful, but fungi proteins offer a unique way to recreate the meat experience without animals," Joanna Bromley, co-founder of the Better Meat Co., tells VegNews. "We look forward to working with our new partners at Greenleaf to take mycoprotein to the next level."
Through this partnership, the duo will develop a host of mycelium meats which could result in next-level vegan meats such as bacon, chicken breast, and hot dogs.
Maple Leaf's plant-based business
In 2017, Maple Leaf acquired two plant-based meat businesses, Lightlife Foods and Field Roast Grain Co., for $140 million and $120 million, respectively. While these purchases proved profitable, Maple Leaf reduced its Greenleaf arm by 25 percent this year after a downturn in the plant-based meat market experienced across the industry last year.
As for its most recent partnership, Maple Leaf Foods hopes to develop new vegan proteins together with Better Meat Co. to stake a claim in the growing industry of mycelium-made products.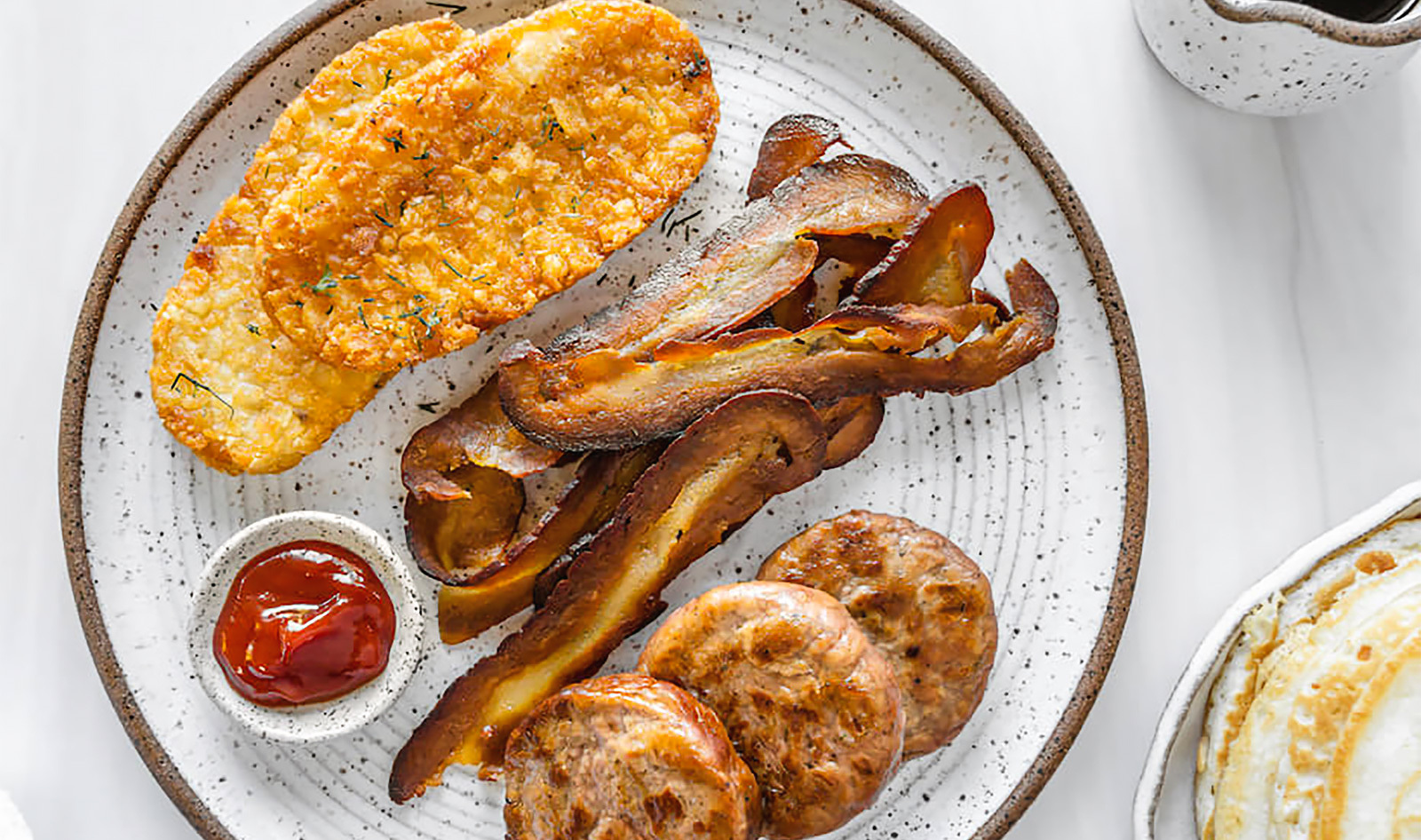 The Better Meat Co.
"We are looking forward to working with The Better Meat Co. as we continue exploring alternative protein ingredients to allow us to further diversify our portfolio of delicious, sustainably produced plant-based food," Jitendra Sagili, Chief R&D and Food Technology Officer at Greenleaf Foods, said in a statement. "Our current portfolio of over 50 plant-based items, which includes plant-based sausage, chicken, hot dogs, tempeh, and cheese, primarily leverages soy and pea protein ingredients."
"Working with The Better Meat Co. opens up new opportunities for us to innovate with other potential protein sources," Sagili said.
In 2021, the Better Meat Co. signed a similar deal with Hormel's venture company 199 Ventures under which the duo is working to bring new plant-based meat products to the market using the company's unique fermentation technology. The Better Meat Co. is also currently working to scale its production capacity to meet the demand that will emerge from these partnerships.
Better Meat Co. comes for cafeterias
The Better Meat Co. was founded in 2018 by vegan changemakers Bromley and Paul Shapiro with the purpose of creating mycelium meats that perform better than their animal counterparts on texture, taste, and every other metric that matters to consumers.
"Most people want to enjoy the experience of eating meat, but they don't care if it came from animals or not," Bromley says. "They key is for our movement to create animal-free foods that taste even better than conventional meat and outcompete on price. When that happens, the number of animals used for food will drop rapidly."
While the Better Meat Co. is capable of creating its own consumer goods, to make the biggest impact, the company aims to partner with major food companies like Hormel and Maple Leaf, through which Bromley says consumers will likely first encounter rhiza-powered foods.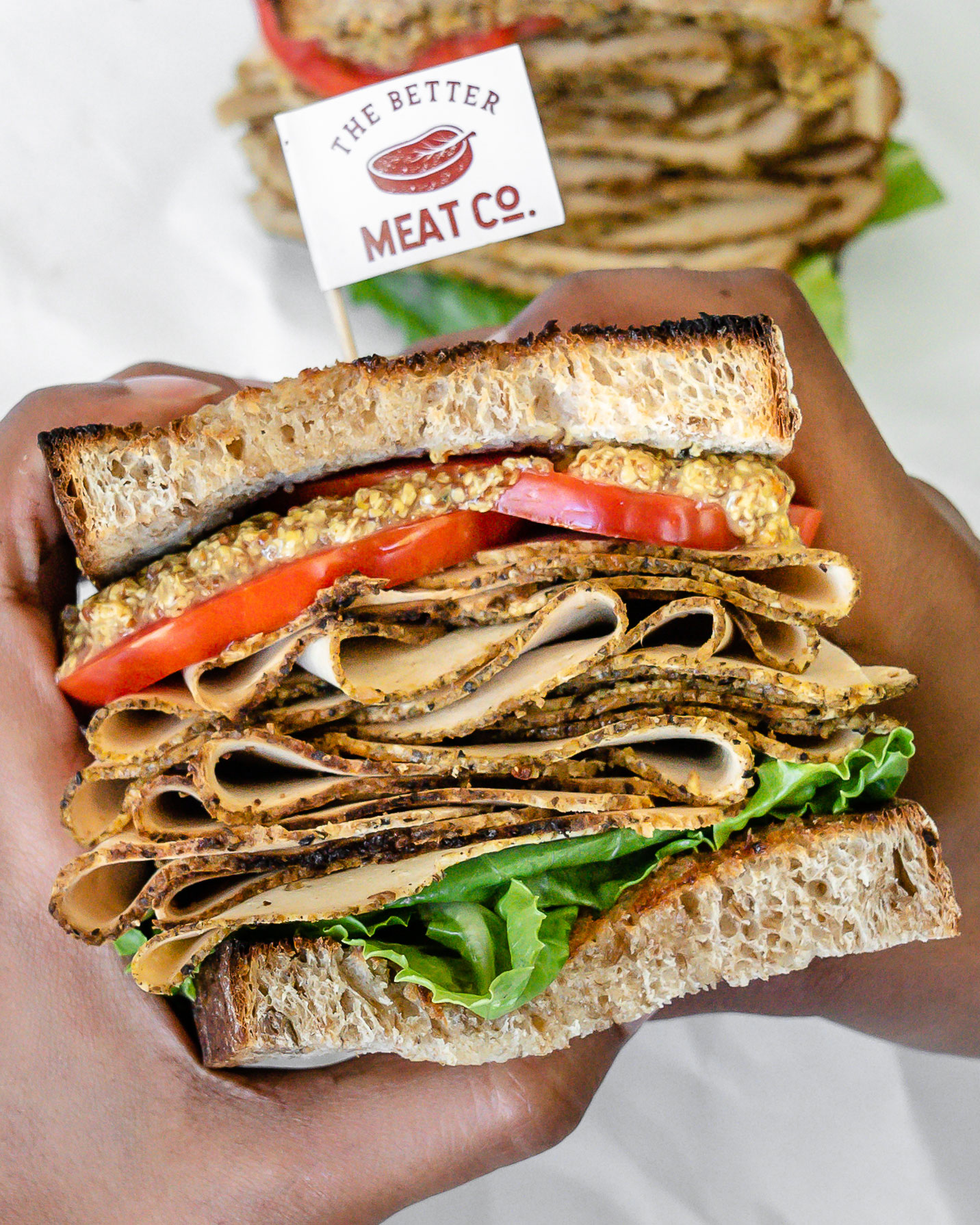 The Better Meat Co.
However, earlier this year, diners at the headquarters of social media platform LinkedIn got a little taste of the Better Meat Co.'s mycelium meats. At the Sunnyvale, CA cafeteria, the Better Meat Co. set up a one-week pop-up to showcase its innovations, including vegan turkey-stuffed sandwiches and mycelium foie gras (a cruelty-free alternative to the traditional version which is illegal to serve in California).
For the latest vegan news, read: