Football season is in full swing, and whether you're into the action or not, everyone can agree on gathering around a spread of hot vegan snacks. We're talking about the snacks to fake out your omnivore friends—think plant-based sausages, gooey vegan queso, and spicy jalapeño cheese dip. As if we needed another reason to look forward to game day, here are 12 meaty, cheesy vegan snacks to make your Mondays, Thursdays, and Sundays infinitely more appetizing—win or lose.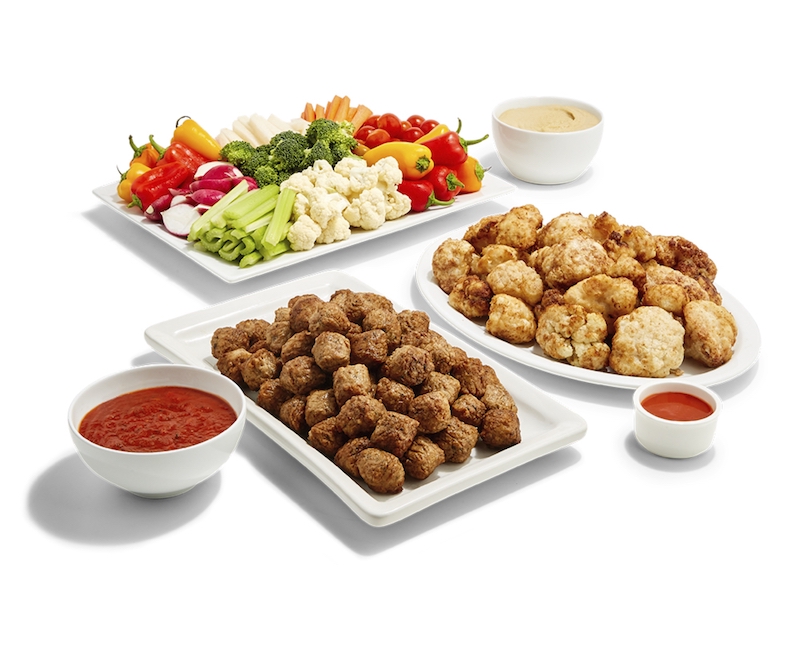 Whole Foods
1 Whole Foods snacking trays
This year, Whole Foods is offering catering trays for game day with vegans in mind. Snacking tray options include vegan Cauliflower Wings, Cocktail Meatless Meatballs with marinara or barbecue sauce, Black Bean Chili with Quinoa, vegetable crudités with hummus, and fresh fruit. This spread will certainly last your party through overtime.
Find it here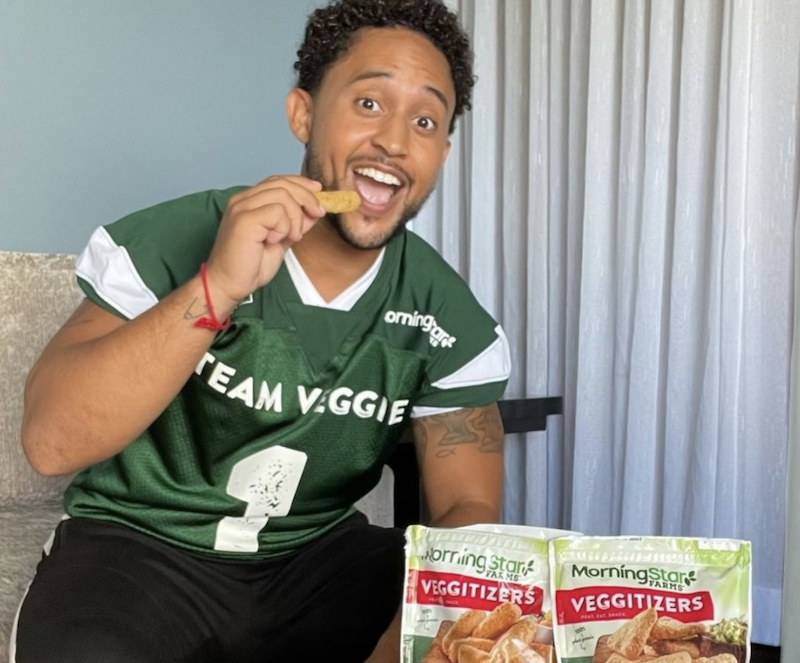 Morningstar
2 MorningStar Farms Veggitizers
This long-standing vegetarian staple harnessed real star power to launch these recent additions to its Veggitizer line. Actor Tahj Mowry is the face of Veggie Chorizo Nacho Bites and Veggie Chik'n and Cheese Taquitos. While some MorningStar products contain egg or dairy, both of these game-time apps are vegan.
Find it here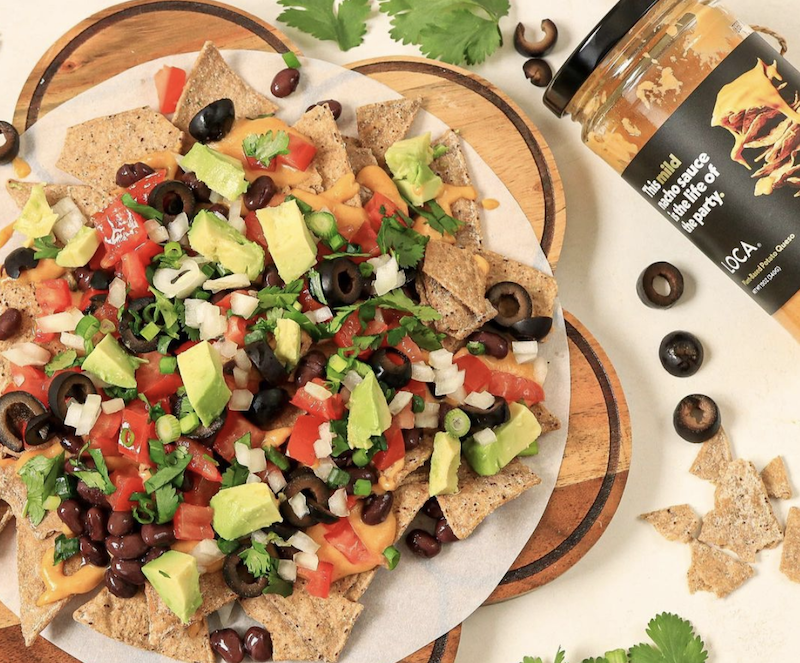 Loca
3 Loca queso
It's not a party until somebody brings the queso. Beyond the melty, velvety texture and amped-up cheesy taste, we love this dairy-free queso for its ingredient list, which is something you can't say about most quesos—vegan or otherwise. This bright orange, slightly spicy cheese blend is made from potatoes and other veggies, so be liberal when you dunk, scoop, and slather your favorite snacks with it.
Find it here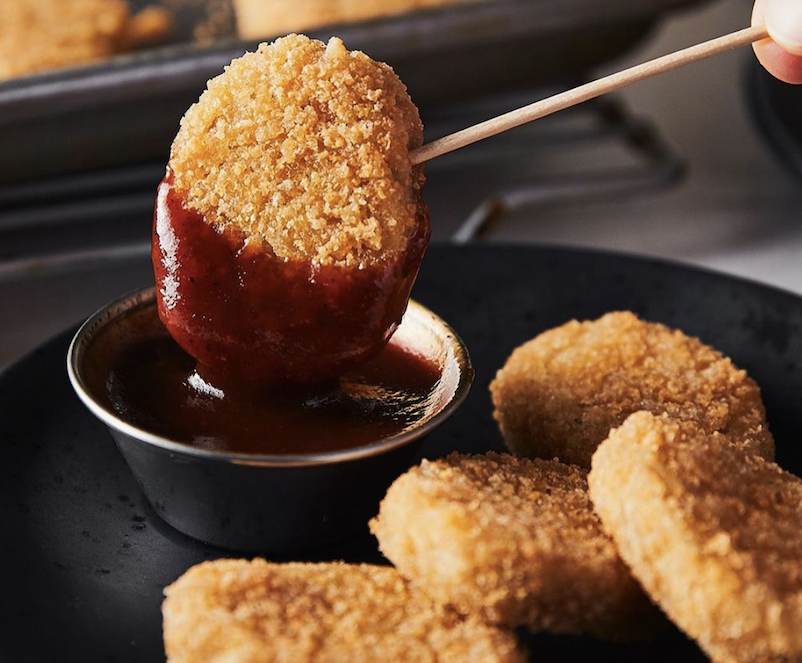 Field Roast
4 Field Roast appetizers
When you need some snacks in a pinch, reach into your freezer and scan your condiment drawer. Field Roast's frozen mini corn dogs and buffalo wings (formerly known as Fruffalo wings) are easy and satisfying solutions to the half-time hangries. Serve with mustard and vegan ranch.
Find it here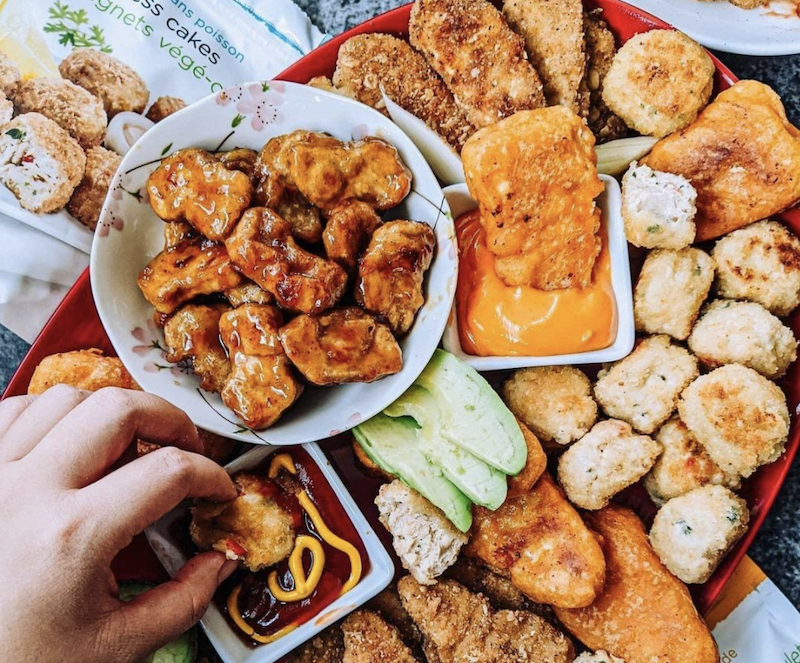 Emma Choo
5 Gardein crab cakes
Crabcakes may not be the first thing that comes to mind when you think "football," but they fit the category perfectly. They're meaty, creamy, crispy, and fried. With or without tartar sauce, these mini crabless cakes will be gobbled up before the second quarter.
Find it here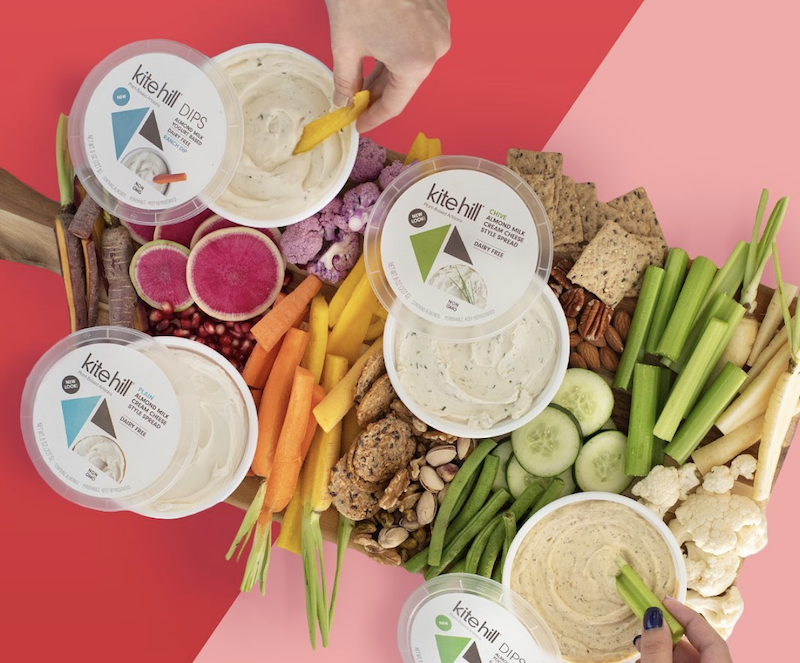 Kite Hill
6 Kite Hill French Onion Dip
Perfection is attained in the form of a ruffled potato chip plunged into a thick French onion dip. Not even chips and guac emit the same pleasure of this divine pairing. Kite Hill's almond milk-based French onion dip replicates the tang and bold onion taste we crave in this flavor-forward dip.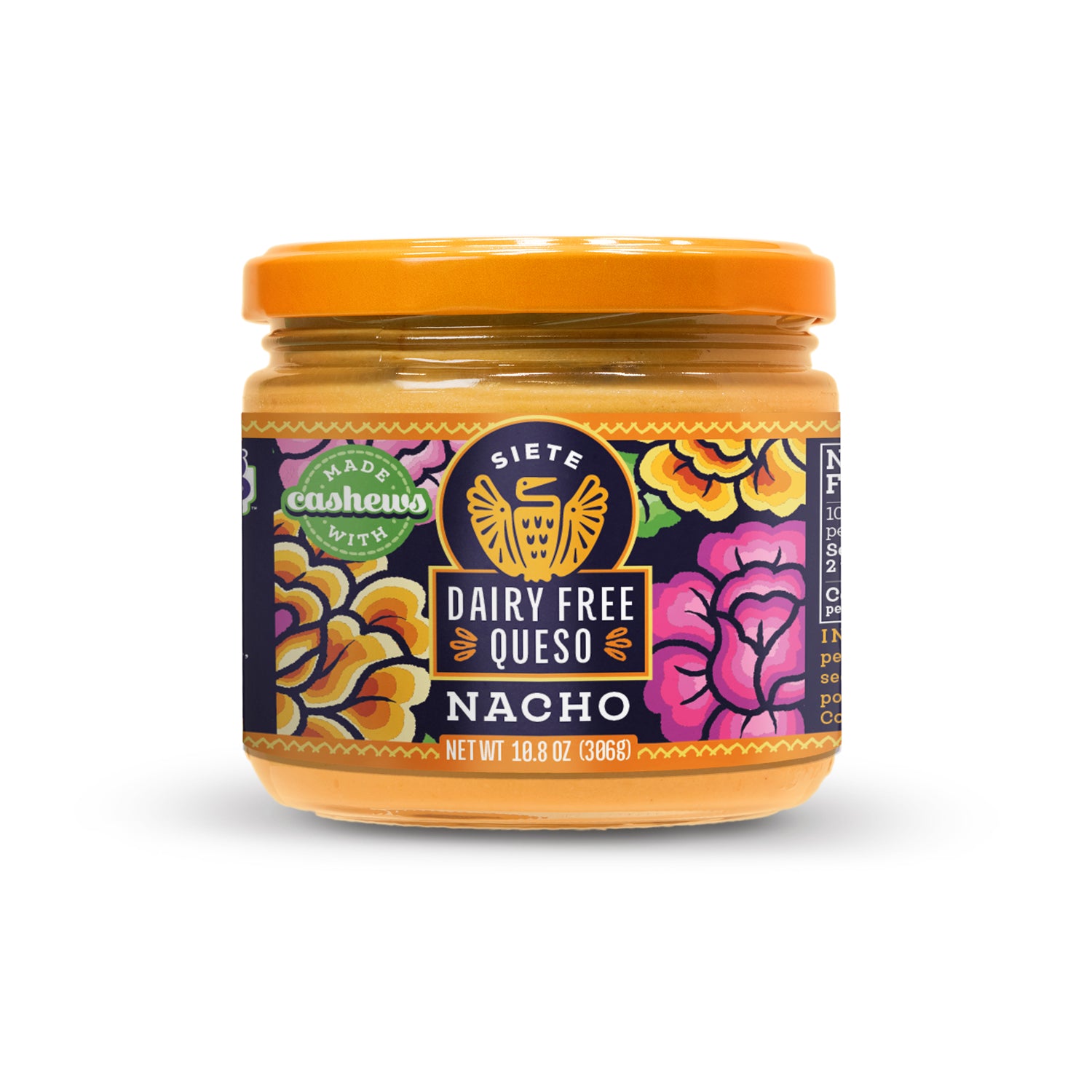 Siete Foods
7 Siete Foods dairy-free queso
What's game day without nachos? Made from a blend of cashews and veggies, Siete Foods' Mild Nacho and Blanco quesos are sure to please. Pair with your favorite tortilla chips or drizzle on a homemade vegan corn chip pie for the ultimate game day grub.
Find it here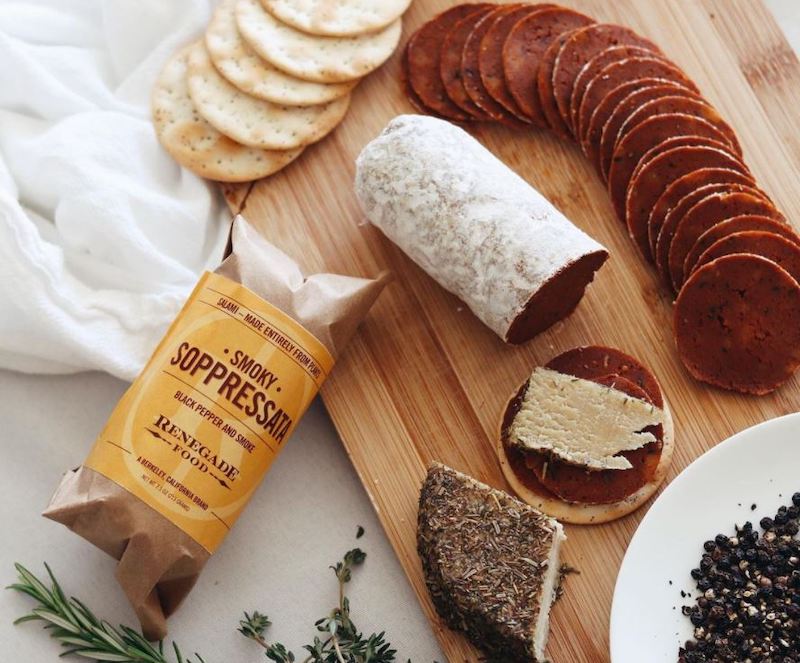 Renegade Foods
8 Renegade Foods vegan salami
For an elevated game day snacking platter, look no further than plant-based salami made by Renegade Foods. This women-owned company uses old world techniques such as smoking and fermentation to create these meaty, savory cuts. Pair with your favorite crackers and adorn with fresh fruits and herbs for the ultimate charcuterie board.
Find it here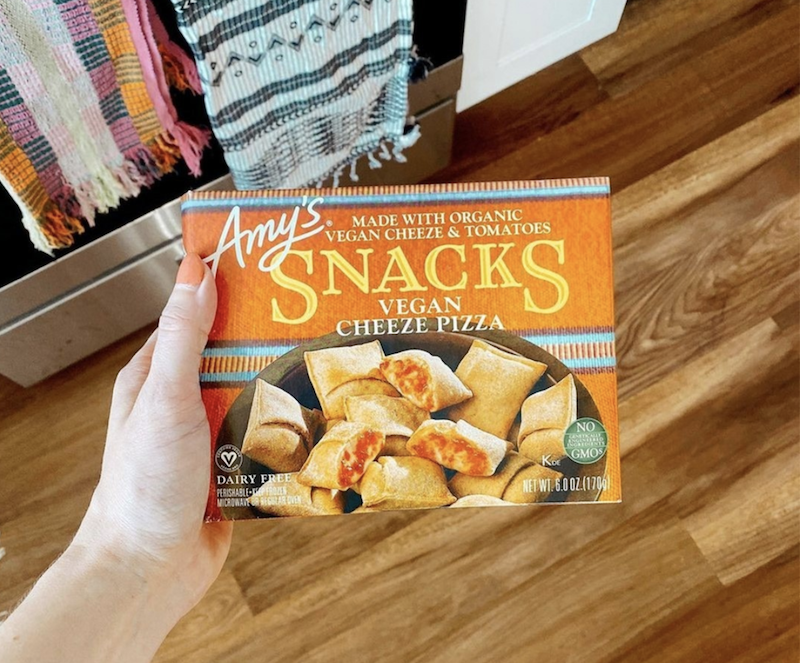 Amy's Kitchen
9 Amy's Vegan Cheese Pizza Snacks
No matter how many times we bite into a pizza roll too soon and scorch our taste buds, we never learn. These gooey, molten-hot vegan snacks always beckon us to bite before a safe internal temperature has been reached. Are they worth it? Always.
Find it here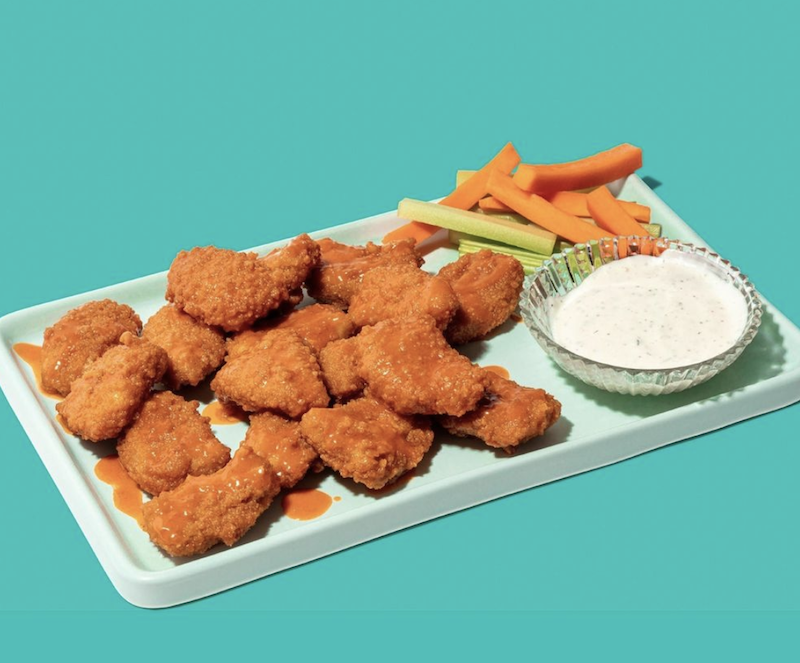 Nowadays
10 Nowadays Nuggets
For a heavier snacking tray that leans more toward a meal, a mound of vegan chicken nuggets is just the thing. There are dozens of plant-based nuggets on the market these days, but lately we've been enjoying Nowadays' version. Not only are we impressed with its solid nutritional profile (ingredients we can pronounce, only 3.5 grams of total fat, and 13 grams of protein), their texture is on point and they're perfectly two-bite-sized for heavy snacking purposes.
Find it here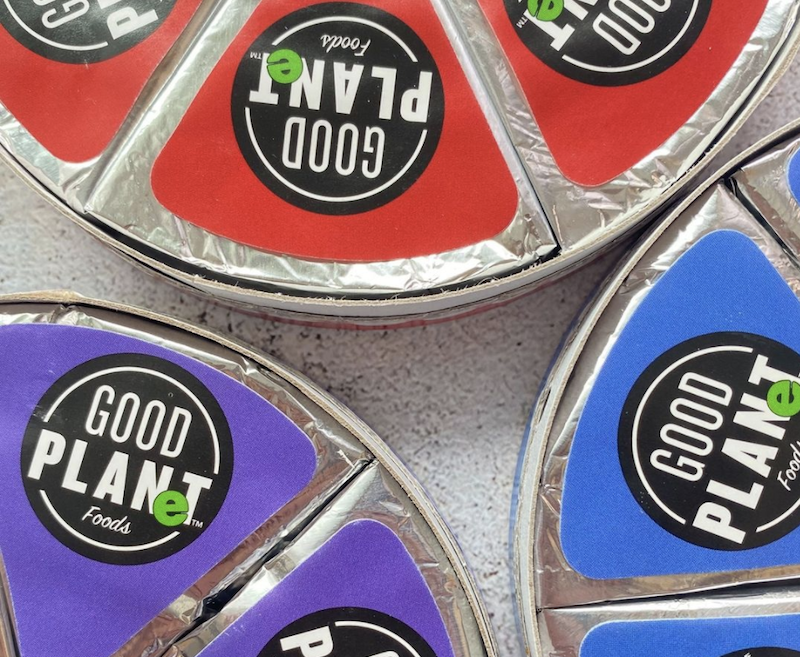 Good Planet
11 Good Planet Foods Snackable Wedges
Reminiscent of the Laughing Cow single-serve cheese wedges, this trio of vegan snackable, triangle-shaped cheeses are the perfect way to avoid the communal dip situation in a mixed crowd. Flavors include Original, Smoked Gouda, and Pepper Jack. Arrange a medley of these foil-wrapped cheeses on a tray with raw veggies, chips, and toasty pita triangles, and your snack-providing duties will be fulfilled.
Find it here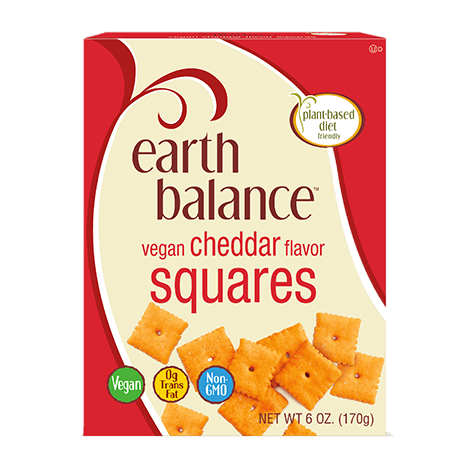 Earth Balance
12 Earth Balance Cheddar Squares
These vegan friendly cheddar squares are reminiscent of our favorite childhood crackers. Fill a bowl with these cheesy bites and watch as your guests' expressions go from ones of surprise to pure delight at this unexpected cheesy delight.
Find it here
For more vegan game day eats, read:
Cheesy Vegan Nachos with Quinoa Chili
Easy Vegan Veggie Fakeout Queso
Stuffed Vegan Chili Cheese Dog Bites