Vegan company GOOD PLANeT Foods just released a new line of vegan snacking cheeses in single-serve wedge form. The plant-based company is the first to produce and sell a line of dairy-free snack wedges. Similar to the popular Laughing Cow semi-soft cheeses, GOOD PLANeT vegan cheese wedges are packaged six to a round and individually wrapped for portability and portion control. The brand's vegan cheese wedges are available in Original, Pepper Jack, and Smoked Gouda flavors. Made with allergen-friendly and non-GMO ingredients, the cheeses are now available in more than 700 retail locations in the United States with further expansion on the way.
"We are committed to growing the [plant-based cheese] segment by making it easy for consumers to make a sustainable choice and choose plant-based," Co-CEO of GOOD PLANeT Foods Bart Adlam said. "With this innovation, we are delivering an allergen-free, keto-certified, plant-based snackable cheese wedge that delivers all the creaminess, satisfaction, and taste of dairy cheese."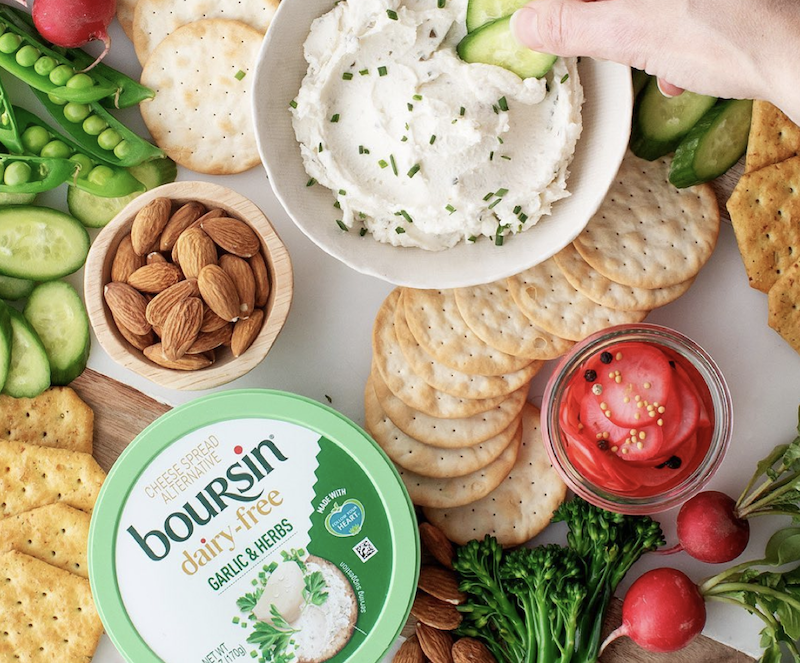 Love and Lemons
Bel Group promises more vegan cheese
French dairy company Bel Group is working to develop plant-based versions of its iconic cheese products, including red wax-encased BabyBel cheese rounds and the spreadable, foil-wrapped Laughing Cow cheese. Last year, Bel Group unveiled its first vegan offering: Boursin cheese spread in Garlic & Herbs flavor. The dairy-free cheese spread alternative was developed with the collaboration of Follow Your Heart, an established vegan food brand that originally developed Vegenaise. In March 2021, Bel Group also launched dairy-free arm Nurishh, a six-item range of plant-based slices and blended shreds.
The Bel Group's entry into the plant-based cheese space reflects the growing market of dairy-free goods and the pressure for dairy-based brands to diversify. While not the largest grossing plant-based dairy category (dairy-free milk tops the charts at $2.5 billion for 2020), the vegan cheese category surged to $270 million in 2020 with a 42.5 percent growth from the previous year.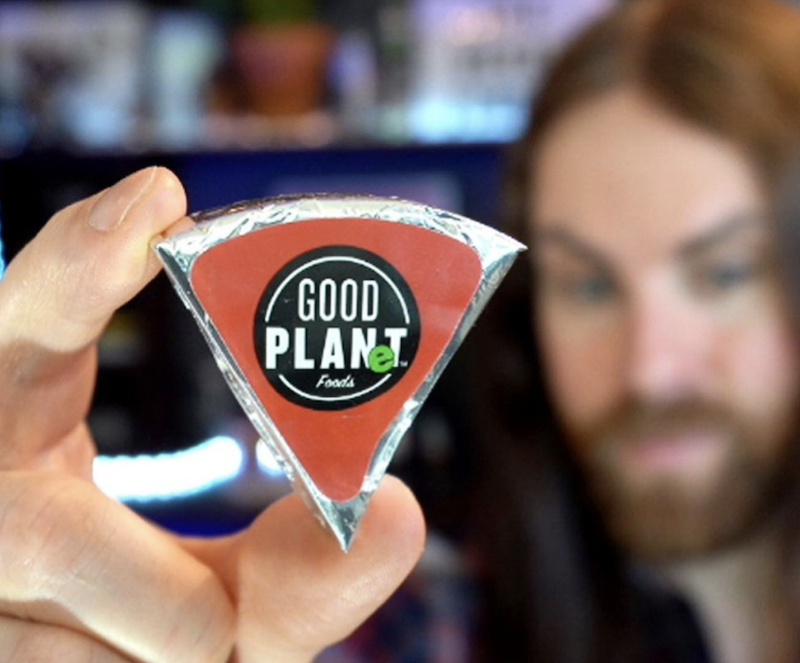 The Vegan Zombie
Allergen-friendly vegan cheese
Ingredients vary extensively when it comes to vegan cheese—there is no one way to make a plant-based mozzarella or smoked gouda. However, GOOD PLANeT's new vegan snack wedges are novel beyond the fact that they are first to the market. Most vegan cheeses rely on nuts or soy ingredients to obtain a certain creaminess or cheese-like structure. Both of these foods fall within the top seven allergens, creating a barrier to vegan cheese for those who suffer from specific and serious food allergies. Made from a blend of coconut oil, food starch, chickpea protein, and a few other allergen-free ingredients, GOOD PLANeT's wedges are free from nuts and soy.
Other vegan dairy companies such as Miyoko's Creamery have pivoted to offer more accessible options for the food allergy afflicted. While the brand's cornerstone artisan vegan cheese wheels still contain nuts, Miyoko's Creamery was the first to create an oat-based, spreadable vegan butter option that is free from nuts, soy, gluten, and animal products. Miyoko's Cultured Vegan Pepper Jack slices are also available in an oat milk-based option.
GOOD PLANeT's plant-based wedges can be found at HyVee, Wakefern, and other major retailers.